Shelby Houlihan posts update: "There are great days, terrible days, and a lot of days in between. I'm still continuing to fight to prove my innocence."
by LetsRun.com
September 5, 2021
Earlier today, Shelby Houlihan took to instagram to give an update on how things have been going since be banned for four years after testing positive. Y ou can read her full post below.
She also recently appeared on Mike Jay's podcast, " ", which can be accessed here.
Article continues below player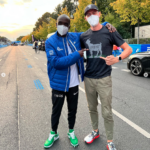 Kipchoge loves the 1:59:40 Shirt Get Yours Today
What a legend!
Talk about the Houlihan case on the LRC fan forum / messageboard:
MB: Anybody listen to Trackguy USA podcast with Shelby Houlihan?
MB: Alan Abrahamson writes column RIPPING Shelby H and all the journalists who have defended her & asks her to come clean
 

View this post on Instagram