Adel Mechaal (7:30 Euro 3K Record) Leads a Big Day for Spain at 2022 New Balance Indoor Grand Prix
By LetsRun.com
February 6, 2022
Spanish athletes and world leaders ruled the day at the 2022 New Balance Indoor Grand Prix at the Ocean Breeze Athletic Complex in Staten Island, NY. After Esther Guerrero got things started by winning a tactical women's 1500 in 4:11.87, male compatriots Adel Mechaal and Mariano Garcia earned two huge victories, with Mechaal blasting a Spanish and European indoor record of 7:30.82 to win the 3000m and Garcia upsetting American Bryce Hoppel to win the 800m in another Spanish indoor record of 1:45.12. 
In other distance action, Canada's Gabriela DeBues-Stafford also set a national record, using a killer 29.04 final lap to win the women's 3000m in 8:33.92, while Jamaica's Natoya Goule became the first women's 800 runner to dip under 2:00 in 2022, winning in 1:59.62.
Elsewhere, three of America's biggest sprint stars all earned victories. Trayvon Bromell stepped up to the 200 and won in 20.64, Noah Lyles stepped down to the 60 and won in a pb of 6.56, while Grant Holloway stayed in the event in which he owns the world record and has never lost over 42-inch barriers, the 60m hurdles, and won his season opener comfortably in a world-leading 7.37. American Mikiah Brisco also set a world lead in the women's 60 of 7.07.
Meet recap and analysis, starting with the mid-d and distance events, appears below. We talked to many of the stars after the race. Our post-race interviews from the meet can be found on the LetsRun.com youtube page. 
Women's 800: Natoya Goule goes sub-2:00

As expected, Natoya Goule of Jamaica dominated this race, leading wire-to-wire and winning in a world-leading 1:59.62, the first sub-2:00 clocking of 2022. Behind Goule, there were some big indoor pbs as the Atlanta Track Club's Olivia Baker lowered her best from 2:02.86 to 2:00.33 to finish second (just .25 off her outdoor pb) and 21-year-old Brit Isabelle Boffey took her indoor best from 2:02.45 to 2:01.37 in third.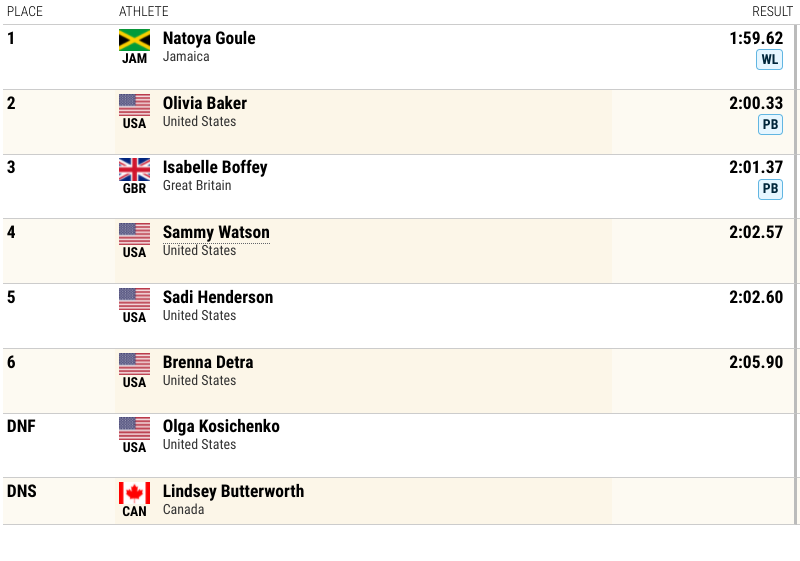 Men's 800: Mariano Garcia upsets Bryce Hoppel and breaks Spanish record
With a lap to go, it looked as if American Bryce Hoppel was on track for his second consecutive victory after opening up 2022 with a win at Millrose last week, but 24-year-old Spaniard Mariano Garcia had other plans. Garcia moved hard coming off the first turn of the final lap, and though Hoppel strained to go with him, Garcia was too good, using a stellar 25.93 final lap to run 1:45.12 and make it three Spanish victories in 45 minutes. Garcia's time was his fastest time ever, indoors or out (he had previously run 1:45.66 indoors last year) and, like Mechaal's run in the 3000, it was a Spanish record, surpassing Antonio Manuel Reina's 1:45.25 from 2002.
Behind him, 18-year-old Will Sumner of Woodstock, Georgia, was running for history. Having already set the US HS indoor records at 500 (1:01.25) and 600 (1:15.58) and run 21.66 for 200 and 47.69 for 400, Sumner took a crack at Josh Hoey's 1:47.67 indoor HS record. Running extremely even splits in the back of the field, Sumner ended up becoming just the second HSer to break 1:49 indoors as he ran 1:48.14 off with splits of 27.02-26.88(53.89)-27.30(1:21.18) – 26.96(1:48.14).
Article continues below player.
Will Sumner (1:15.30i 600 HSR) Racing Pro 800 at NBIGP on Sunday!
HS sensation Will Sumner 1:48.14 (#2 US indoor HS all-time) at NBIGP!! 
Quick Take: A defeat indoors is rare for Hoppel who injured his ribs this week
Since the start of 2019, Hoppel had won nine of his 10 indoor races, with his only defeat coming to Donavan Brazier at 2020 Millrose, where Brazier ran an American record. It took another national record to beat Hoppel in Staten Island, and while Hoppel didn't run poorly – 1:46.08 is a fine run – he was definitely outclassed on the final lap today by Garcia.
Afterwards, Hoppel said he hurt his ribs this week doing "some stuff he probably shouldn't have". He didn't disclose what it was, but up next is USAs for Bryce.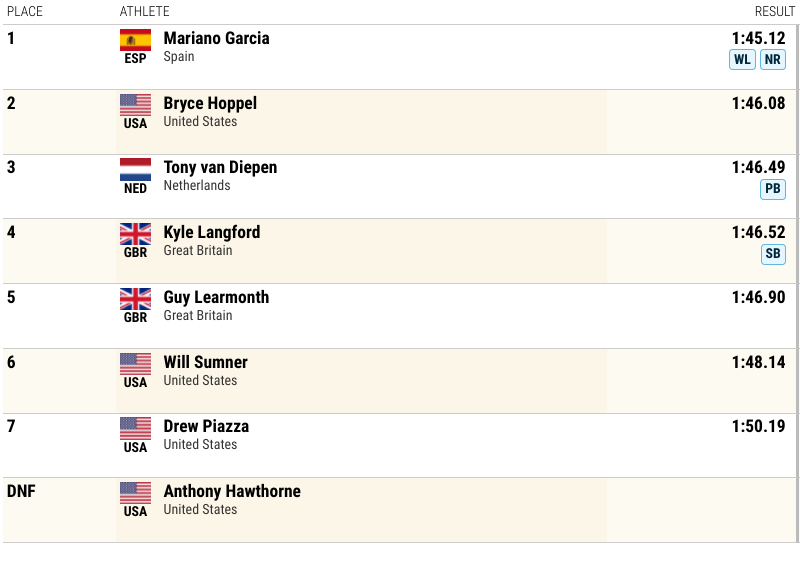 Women's 1500:  Esther Guerrero gets things rolling for Spain
Most of America's top women's 1500 runners not named Elle Purrier St. Pierre were in this field, but none were willing to follow the pacemakers early and as a result, Spain's Esther Guerrero was able to use her closing speed to take the win in 4:11.87 thanks to a 61.12 final 400. With two laps to run, six women were still in contention in a tightly-bunched pack led by 2021 Olympian Heather MacLean. But Guerrero was able to get around MacLean early in the penultimate lap and she would hold off all challengers over the final 300 meters, with the Americans duking it out for second in the home straight. MacLean wound up winning that battle in 4:12.29 just ahead of Nikki Hiltz (4:12.32) and Dani Jones (4:12.44).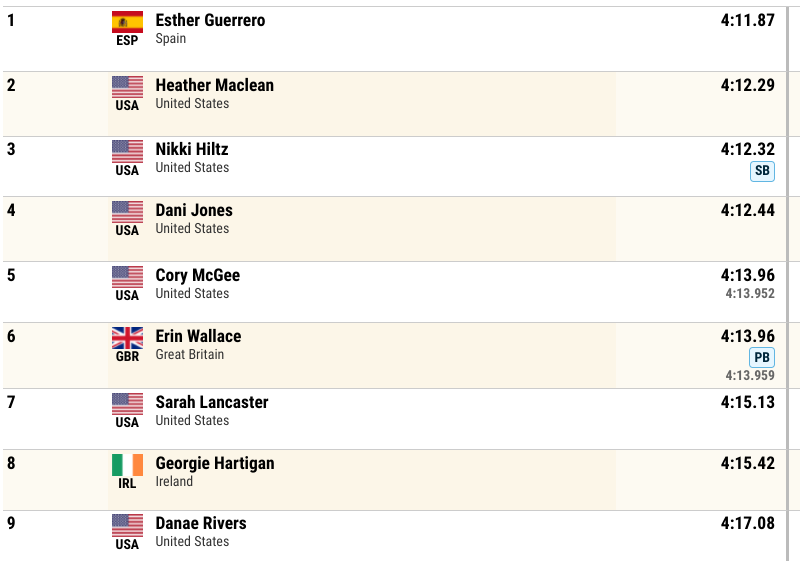 High school miles
Ellie Shea won the HS girls' mile in 4:48.60 as Gavin Sherry impressively ran 4:05.10 from the front to win the boys' mile.
Men's mile: Colby Alexander goes for it and gets run down by Ireland's Andrew Coscoran

Colby Alexander came into today's race looking to run fast, and halfway through it looked as if something special might be in the air as he had opened up a 20-meter lead on the field, passing the half-mile in 1:54.83, under American record pace (3:49.89 by Bernard Lagat). Alexander would slow over the next two laps, splitting 59.67 for his third quarter, but his lead had grown, from 1.41 seconds at the half to 2.95 seconds at the ¾ mark.
But behind Alexander, the kickers were readying to make their charge, and Ireland's Andrew Coscoran wound up timing his move perfectly, using a 55.76 final quarter to mow Alexander down at the end and take the win in a big pb of 3:53.64 (previous pb: 3:55.59 outdoors). Alexander wound up in an Irish sandwich as he finished second in 3:53.83 with Luke McCann third in 3:53.87, a big improvement on the 3:58.21 he ran in the B race at Millrose last week. American teenager Hobbs Kessler ran a pb of 3:57.10 to finish 7th.
🇮🇪 @AndrewCoscoran with the bounce back!

With a strong close, he wins the @NBIndoorGP men's mile in a 3:53.64 PB. pic.twitter.com/UruF767o04

— World Athletics (@WorldAthletics) February 6, 2022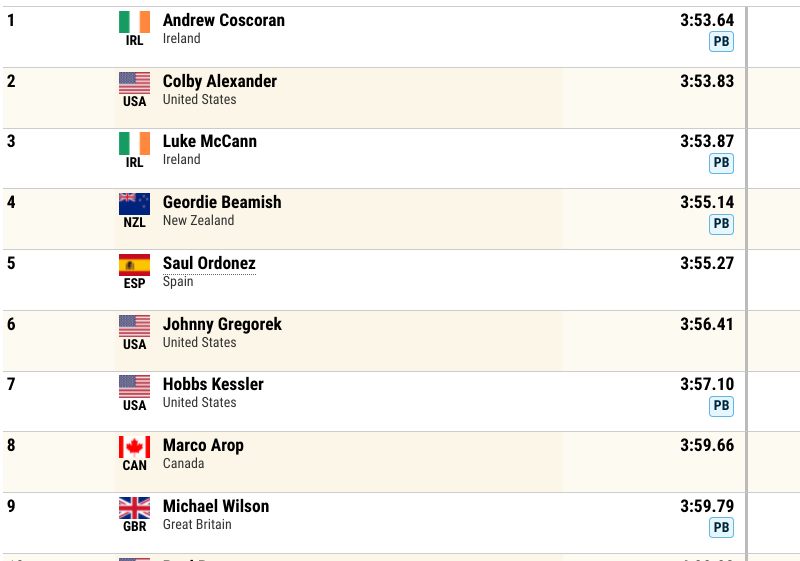 Quick Take: This was a fantastic race
A classic recipe for mile drama is someone going out just a little faster than they can manage and seeing if they can hold on as the rest of the field tries to kick them down. That's exactly what happened today, and though Alexander almost hung on, Coscoran played things exactly right to earn a big win.
Quick Take: The Geordie Beamish hype train loses some momentum
Early on, Beamish, who won a dramatic 3k at Millrose last week, was up with Alexander, running behind him in second through the quarter. He chose not to go with Alexander when he continued pushing the pace over the second quarter – understandable given how fast Alexander was running – but dropped back from second to fourth after splitting 61.62 for his third quarter. At that point, however, Beamish was still ahead of Coscoran, but Beamish's big kick was not there when he needed it today. Fourth in 3:55.14 is by no means a disastrous result but it's likely not what Beamish was hoping for going in.
Men's 3000: Adel Mechaal smashes the field and European record
Spain's Adel Mechaal showed he was in shape last week in Karlsruhe by running 7:36.57 for second behind Berihu Aregawi's world record attempt. This time around, Mechaal was the class of the field and put on a show as he took down countryman Sergio Sanchez's 7:32.41 European indoor record as Mechaal ran 7:30.82 to earn a dominant win.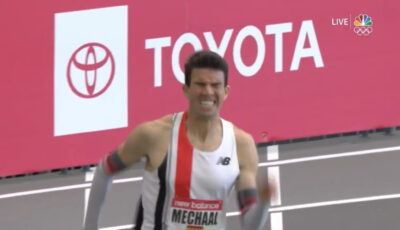 Mechaal followed pacemakers Robby Andrews and Jordan Mann for the first 10 laps, but was getting antsy as Mann approached 2k (5:04.91 for Mechaal) and seized the lead. Immediately, Mechaal opened up a gap on the rest of the field, grinding his way through a string of 29-second laps and closing with a 28.15 for a 2:25.91 final kilometer.
Though Mechaal was totally alone for the last five laps, the times behind him were still super quick as the top nine men all set indoor personal bests. That included Great Britain's Andrew Butchart, who closed in 27.38 to take second in 7:37.42, and Guatemala's Luis Grijalva, who was credited with the same time in third, his second national record in nine days after running 7:41.21 at Millrose. 1500m Jake Wightman stepped up and ran 7:37.81 for fourth, a 13-second pb.
Want to see @adelmechaal 🇪🇸 set a national and European record AND run the fastest 3K on U.S. soil?

Look no further. 👇 pic.twitter.com/g1SNgRpHS9

— World Athletics (@WorldAthletics) February 6, 2022
Quick Take: Mechaal could finally be in line for a global medal at age 31
Mechaal has been close to the medals at global championships for a while (he was 4th in the 1500 at the 2017 Worlds and 5th in the 1500 at last year's Olympics) but has never stood on the podium. This year could be his best shot yet. He has the 1500 speed to be a factor in a tactical race, but if Aregawi or someone else tries to make the World Indoor final into a super fast race, Mechaal has now shown he can run 7:30 – a time none of the big kickers at Millrose last week have ever sniffed in their career.
He was glad to get the European record before Jakob Ingebrigtsen runs the 3000 this year, as he expects Jakob to lower it.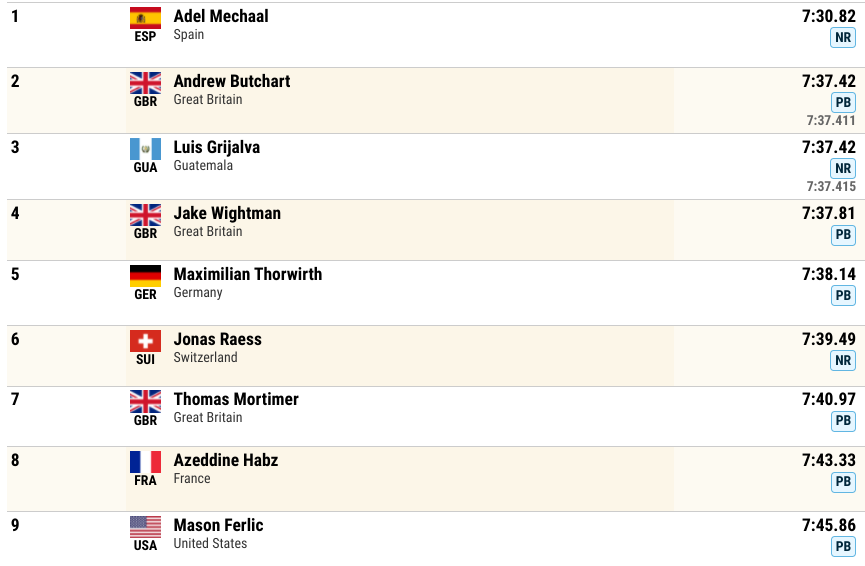 Women's 3000: Gabriela DeBues-Stafford uses supernova kick to smash Canadian record
After Elle Purrier St. Pierre scratched due to illness, there were three women in this race who stood out above the rest of the field: Canada's Gabriela DeBues-Stafford (5th in the Olympic 1500 final), Ethiopia's Mekides Abebe (4th in the Olympic steeple final), and the USA's Josette Norris (3rd in the Diamond League 1500 final and second in last week's Wanamaker Mile behind Purrier St. Pierre). Those three dropped the field by 1600m (4:36.43) and were still running 1-2-3 in close order with a lap to go, Abebe leading GDS and Norris.
Abebe surged at the bell as she and GDS began to separate from Norris, but GDS came over the top with a move of her own on the back straight, rapidly opening an enormous gap and smashing the final lap in 29.04 (13.81 final 100) to win in 8:33.92. The time took 12+ seconds off Jessica O'Connell's previous Canadian record (8:46.50) and means DeBues-Stafford now owns Canadian records in the 1500, mile, 3k, and 5k indoors and the 1500, mile, and 5k outdoors.
🇨🇦 NATIONAL RECORD 🇨🇦

Watch @gstafford13 run away from the field to win the #NBIGP women's 3000m in 8:33.92 💨 #WorldIndoorTour pic.twitter.com/ENCUabaD3Z

— World Athletics (@WorldAthletics) February 6, 2022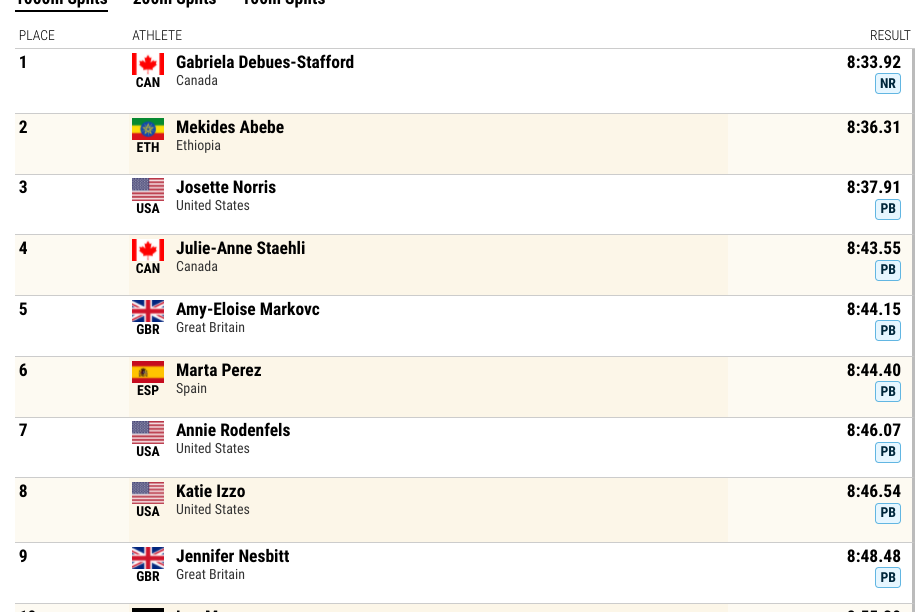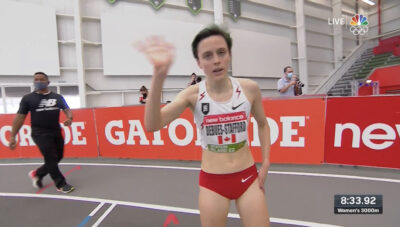 Quick Take: What a run from GDS
Coach Jerry Schumacher must have been delighted watching DeBues-Stafford because today's run could hardly have gone better. Not only did she run a big pb, she demonstrated incredible closing speed for the first week of February. That mix of abilities places her firmly in the medal hunt should she choose to run World Indoors this year.
Up next may be a North American 5000m record attempt in Boston next week and then World Indoors.
DeBues-Stafford said she deals with a lot of anxiety before and during races and felt that at the start of this one as it was the first race of the year. She also talked about how hard the Shelby Houlihan case was on her last year.
Women's 60: Mikiah Brisco gets a world leader
American Mikiah Brisco, the 2017 NCAA 100m champ, got out of the blocks in third but took the lead by 40 meters and won in a world-leading time of 7.07 as 19-year-old Briana Williams of Jamaica was second in 7.11. It was a good day for Williams however as she twice eclipsed her previous pb of 7.18 as she ran 7.09 in the prelims.
Men's 60: Noah Lyles wins and gets a PB
Noah Lyles got off to a good start and powered home to a win in a lifetime best of 6.56 seconds (previous pb of 6.57). Lyles was pumped as he raised his hand up at the line to celebrate.  Mario Burke of Barbados was second in 6.63. 
No better feeling than seeing a PB on the board 🤩@lylesnoah runs 6.56 FTW 💨 #WorldIndoorTour pic.twitter.com/AcLkflZvd2

— World Athletics (@WorldAthletics) February 6, 2022
Quick Take: After a subpar 2022 by his lofty standards, will we see peak Noah Lyles in 2022?

Time will tell but this was a very encouraging result. As is always the case with Lyles in shorter races, the start is crucial. After his 6.62 at Millrose last week, Lyles said he and his coach Lance Brauman felt good about where he is at with his top-end speed but knew he could go faster today with a better start.
"My coach and I have really been working on those first 20 meters, so I knew I had it in me," Lyles said. "It's just about being consistent and getting it right. I'm glad to see that's finally coming out. Now my goal is to make sure it happens every single race."
Men's 60h: Grant Holloway wins with his best season opener ever
Running in his first race since suffering his only loss of 2021 – the Olympic 110 hurdle final on August 5 — American Grant Holloway returned to his winning ways as he captured the men's 60 hurdles in 7.37 seconds. That time is the best season opener ever for the world record holder Holloway who extended his indoor winning streak to 42 over the 42-inch barriers (Last year Holloway opened up at 7.38 in Arkansas in the prelims and then ran 7.35 in the final on the same day).
.@Flaamingoo_'s 🇺🇸 season begins in a BIG way!

The world record holder runs 7.37 in a stacked field to win #NBIGP 🙌 #WorldIndoorTour pic.twitter.com/j0uEC62Tri

— World Athletics (@WorldAthletics) February 6, 2022
Women's 60 hurdles: Williams wins it
2015 100m hurdles champ Danielle Williams of Jamaica won in a pb of 7.83 as countrywoman Brittany Anderson was second in 7.88
Jamaica goes 1-2 in the women's 60mh 🇯🇲✨

Danielle Williams lowers her PB to 7.38 and Britany Anderson also improves with 7.88. #WorldIndoorTour pic.twitter.com/98fTV7Nnbu

— World Athletics (@WorldAthletics) February 6, 2022
Men's 200: Trayvon Bromell wins and walks off on his own power
Racing over 200 meters indoors for the first time in six years, Trayvon Bromell ran the exact same time as his last race at this distance, clocking 20.64 to earn the victory. Bromell started well and ran a strong first 100 but seemed uncomfortable coming off the turn, even though he was able to hold off the rest of the field, including American indoor record holder Elijah Hall.
Bromell spent several minutes lying on the infield after the race but later was able to walk away under his own power and said he was just tired from racing a longer distance than usual.
Women's 300: Gabby Thomas FTW
Olympic 200 bronze medallist Gabby Thomas led from start to finish and got the win in 36.21 over 2018 NCAA 400 champ Lynna Irby who had the best close. High schooler Shawnti Jackson – the #2 prep ever at 36.95 — was expected earlier in the week to take a crack at Sydney McLaughlin's US HS record of 36.82, was not on the start lists.
Field Events
Women's Long Jump: Ugen gets win
Britain's Lorraine Ugen, 30, got the win by jumping 6.71 in round 4, the #2 mark in the world this year, as Quanesha Burks of the US was second in 6.65.
Men's Triple Jump: Scott is clutch in 6th round
American Donald Scott won with a clutch 16.68 sixth-round jump as Jahnhai Perinchief of the Bahamas was second (16.55) and Will Claye third (16.46).
*All the post-race interviews here
Talk about the action on our world-famous messageboard.
Pre-Meet Coverage: After "failing" to win Olympic gold, Grant Holloway, Noah Lyles, & Trayvon Bromell are focusing on the positives as 2022 gets underway Some say Olympic favorites Trayvon Bromell, Grant Holloway, Noah Lyles failed in Tokyo. They don't agree. Learn how all three men are staying positive prior to Sunday's NBIGP.