2022 World Indoors Day 3 AM: Barega Bags 3000 Gold as Rojas Jumps 15.74 TJ WR
By LetsRun.com
March 20, 2022
BELGRADE, Serbia – The Olympic champion is now the World Indoor champion. On the final day of the World Athletics Indoor Championships on Sunday, Olympic 10k champ Selemon Barega of Ethiopia won his second global title, claiming the men's 3000 in 7:41.38 thanks to a terrific 26.04 final lap. Just as in the women's 3000 two nights earlier, Ethiopia went 1-2 with Barega's rival Lamecha Girma earning another silver medal to go with the ones he won in the steeplechase at the 2019 Worlds and 2021 Olympics. Marc Scott of the Bowerman Track Club earned the bronze in 7:42.02, the first medal for Great Britain in this event in 31 years.
Article continues below player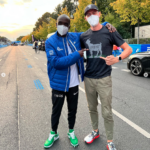 Kipchoge loves the 1:59:40 Shirt Get Yours Today
What a legend!
Off the gun, Barega went out in dead last for the first 100 (18.40), but he made a huge move between 100 and 300 (28.04) to grab the lead and it looked like he wanted to push the pace, passing 400 meters in 61.11, but he moved aside just before 800 meters and would not touch the lead again until taking it for good. In between, Kenya's Jacob Krop and Daniel Simiu Ebenyo and Girma would trade the lead but no one wanted to push the pace for long. Ebenyo led through 1600 in 4:11.58, but most of the 14-man field were still in contention with until a kilometer to go, when Girma started to string things out. Barega made a move past Girma to the front with 670 meters to go and would run control the rest of the race all the way to the finish line. His biggest challenge came at the bell, when Krop slid out to lane 3 in a desperate attempt to get around Barega. But when he couldn't make the pass, that left Barega, the best kicker in the field, with nothing but clear track in front of him for the final lap. Barega didn't gain any massive separation, but running the shortest distance has its benefits and he was able to hold on and add yet another medal to a growing pile.
Seven men had been in contention for a medal at the bell, and on the back straight, the eventual top four of Barega, Girma, Scott, and Ebenyo would break away. Who would be the odd man out? Ebenyo, as it turned out, as Scott moved around him on on the final turn and separated on the straightaway to earn the bronze behind the two Ethiopians.
Results 
1 Selemon BAREGA ETH 20 Jan 00 10 7:41.38
2 Lamecha GIRMA ETH 26 Nov 00 4 7:41.63
3 Marc SCOTT GBR 21 Dec 93 SB 12 7:42.02
4 Daniel Simiu EBENYO KEN 18 Sep 95 1 7:42.97
5 Jacob KROP KEN 4 Jun 01 6 7:43.26
6 Zouhair TALBI MAR 8 Apr 95 3 7:43.45
7 Adel MECHAAL ESP 5 Dec 90 9 7:43.60
8 Maximilian THORWIRTH GER 9 Jan 95 8 7:45.87
9 Dillon MAGGARD USA 16 Oct 95 PB 7 7:46.18
10 George BEAMISH NZL 24 Oct 96 15 7:46.91
11 Jonas RAESS SUI 8 Mar 94 13 7:47.28
12 Matthew RAMSDEN AUS 23 Jul 97 SB 11 7:49.82
13 Michael SOMERS BEL 2 Mar 95 2 7:51.65
14 Baldvin MAGNUSSON ISL 7 Apr 99 14 8:04.77
128 Isaac KIMELI BEL 9 Mar 94 5 DNS
Selemon Barega is building quite a resume and the Ethiopian federation needs to let him double at Worlds this summer
Officially, Barega is only 22 years old, and yet he's already compiled the following medal record:
1st 2016 World U20 5000m
1st 2017 World U18 3000m
2nd 2018 World Indoor 3000m
2nd 2019 World Outdoor 5000m
1st 2021 Olympic 10,000m
1st 2022 World Indoor 3000m
After the race, Barega repeatedly emphasized the word "control" when it came to his tactics, and that is exactly what he did over the final three laps. He dictated the race on his terms and was simply too good over the final 600 for anyone to get around him. In that way, it was very similar to Abdihamid Nur's win in the NCAA 3000 last week, and that makes sense. It's fairly simple logic, but if you're the best guy in the field and everyone else has to run extra distance in order to pass you, you're usually going to win.
Today's result was also further proof that the Ethiopian federation needs to allow Barega to double in the 5,000 and 10,000 at Worlds. They've been hesitant to allow athletes to tackle both events at recent Worlds/Olympics, but Kenenisa Bekele was allowed to do it back in the day and Barega is quickly making a case that he is a Bekele-type talent. Last year, Barega would have been favored in the 5k considering he beat Olympic 5k champ Joshua Cheptegei of Uganda in the 10k in Tokyo. When we asked Barega about it today, he said he was ready to attempt the double as the schedule (10,000 final on day 3; 5,000 heats on day 7; 5,000 final on day 10) is conducive to running both events, but he needs talk to the federation first to see if they will sign off on it. He also said he'd be interesting in taking a crack at a WR after the Eugene Worlds.
When we asked him about his earlier two losses in the year to Girma, he said that a lot was going on at home after becoming the Olympic champion and that he's just been building  fitness as the winter has gone on.
Marc Scott trusted his kick and it paid off
Scott's coach Jerry Schumacher told him before this afternoon's final that he just needed to make sure he was in position to kick and that if he could, a medal was a real possibility.
"We just wanted to stay in contention and not let anyone get away from me, knowing that I am dangerous over the last couple of laps," Scott said.
That's exactly what happened as Scott was fifth at the bell and moved past two guys over the final 200 to kick his way to a medal. His final 200 was close to 26.0, and when you do that in a World Championship final, it's usually going to be enough to medal. 
Scott's medal was Great Britain's first of the meet and a much-needed bright spot after the withdrawals of 800 stars Elliot Giles and Keely Hodgkinson earlier in the meet due to injury.
MB: Mark MF Scott! 
Dillon Maggard runs a pb for 9th
After finishing third at USAs, Maggard ran 7:48 in Friday's prelims (one second off his pb) to make the final and then clocked a pb of 7:46.18 in the final to finish 9th. Though he was clearly outclassed over the final two laps, he was just off the lead pack with 400 to go and overall acquitted himself very well in his first global championships.
"Wanted a little bit more, for sure, but at the end of the day, I'm pretty happy with it," Maggard said.
Outdoors, Maggard will be aiming for the 5,000 and 10,000 meters and hoping to get a sponsorship contract soon after being dropped by HOKA ONE ONE at the end of last year. He said his agent Josh Cox has been in talks with companies, but that right now it has been tough to support himself.
"To be honest with you, struggling financially," Maggard said. "My dad's helping me out with rent a few times and I'm really grateful for him and my mom just for their support and helping me chase this dream."
The OAC's Geordie Beamish: "That's the kind of race I think I can win… I was just wrecked from Friday."
Coming into this one, we were wondering if the OAC's Geordie Beamish of New Zealand might be able to be in the mix for the medals. However, the 2022 Millrose winner was never a factor and finished 10th in 7:46.91.
Afterward, Beamish admitted he just wasn't competitive today but had a good explanation for the subpar showing.
"I was just wrecked from (the prelim on) Friday. I normally take every single day off after a workout…I take two days off every week (Beamish cross-trains instead) and run 20, 30, 40 miles less than the people I train with so it (the prelim) takes a bit more out of me," said Beamish. "Even on a good day, who knows if I could have been competitive but on a day when my legs are destroyed, there's no chance."
Beamish said on Friday he felt absolutely amazing. "It was ridiculously easy to make the final and ridiculously hard to run half of that race on tired legs…On Friday I felt great, It was the easiest race I've ever run."
If the final was a straight final like it was for the women, Beamish thinks he'd be competitive for the gold, but made it clear that he thinks the women should run two heats rather than the men going to a straight final as he believes championship racing is all about who can run rounds
"That's the kind of race I think I can win… That's the world we're in though. You have to be able to run two 3ks. It's not about how well you can run one. No one cares where you come in the prelim. It doesn't matter how easy that one is," said Beamish.
We understand why Beamish thinks if it was a straight final he'd be competitive.
| | | |
| --- | --- | --- |
| | 2022 Millrose 3000 | 2022 Worlds 3000 |
| Last lap | 25.72 | 26.04 |
| Winning Time | 7:39.50  | 7:41.38 |
However, those splits don't tell the whole story. 
As a paced race, the Millrose splits were much more consistent and even than those tonight. Barega actually ran a tactically bizarre race. As mentioned earlier, he went out in last for the first 100 (18.30) yet had the lead by 300 after a 28.4 200 between 100 and 300. He still led at 700 but by 1k he was just 11th.
Below, we've totally nerded out and created a table showing you every 100-meter split for Beamish at Millrose as well as compared to Barega's splits tonight. At Millrose, with a rabbit, Beamish only ran two 100 -meter segments over 16 seconds. Tonight, Barega did that 7 different times in the first 1600 alone. (The timing system normally records every 100 meter split for all of the runners but only did so for 1600 today. So after 1600, the splits you see are leader to leader).
| | | |
| --- | --- | --- |
| | Barega/Worlds | Beamish/Millrose |
| 100 | 18.4 | 14.9 |
| 200 | 14.54 | 15.46 |
| 300 | 13.54 | 15.47 |
| 400 | 14.45 | 15.62 |
| 500 | 15.17 | 15.46 |
| 600 | 15.45 | 15.67 |
| 700 | 16.25 | 15.59 |
| 800 | 16.67 | 15.46 |
| 900 | 16 | 15.48 |
| 1000 | 17.12 | 15.38 |
| 1100 | 15.22 | 15.58 |
| 1200 | 16.39 | 15.48 |
| 1300 | 15.69 | 15.7 |
| 1400 | 15.28 | 15.96 |
| 1500 | 15.82 | 16.13 |
| 1600 | 16.37 | 16.11 |
| 1700 | 15.94 | 15.86 |
| 1800 | 15.91 | 15.8 |
| 1900 | 15.81 | 15.88 |
| 2000 | 14.98 | 15.76 |
| 2100 | 15.08 | 15.75 |
| 2200 | 15.06 | 15.68 |
| 2300 | 15.2 | 15.51 |
| 2400 | 15.48 | 15.45 |
| 2500 | 15.17 | 15.6 |
| 2600 | 15.07 | 15.09 |
| 2700 | 14.89 | 14.06 |
| 2800 | 14.31 | 14.02 |
| 2900 | 13.3 | 13.4 |
| 3000 | 12.82 | 12.32 |
Women's triple jump: Rojas goes insane, crushes world record in final round
At last summer's Olympics in Tokyo, Venezuela's
Yulimar Rojas
, with the win already locked up, jumped 15.67 in round six to break the world record. This afternoon in Belgrade, she did it again, launching 15.74 meters in round six to add 31 centimeters to her own indoor world record from 2020 and also surpass her outdoor record from last year. Rojas' leap today was the longest jump in history, indoors or outdoors, wind or no wind, and it was a full meter ahead of the runner-up,
Maryna Bekh-Romanchuk
of Ukraine (14.74m). Jamaica's
Kimberly Williams
took bronze with 14.62m, but today was all about Rojas, a generational talent operating at the peak of her powers.
Watch the WR yourself.
Men's high jump: Woo wins gold for South Korea
South Korea's Sanghyeok Woo, the fourth-placer from last year's Olympic final, earned his first global medal and it was a gold one as he was the only man to clear 2.34 meters today. Behind him, the other medals were decided on countback as four other men cleared 2.31. Switzerland's Loic Gasch was awarded the silver while Olympic champ Gianmarco Tamberi of Italy shared the bronze with Hamish Kerr of New Zealand.
Men's 4×400 prelims: USA is eliminated after Isaiah Harris is injured on anchor leg
The US's hopes of reclaiming the gold it lost to Poland at the 2018 World Indoors ended in tragedy on Sunday morning in heat 1 of the 4×400 prelims. Through three legs, the US was second in its heat behind Belgium after opening legs of 46.90 from Noah Williams, 46.95 from Donavan Brazier, and 47.17 from Amere Lattin. Rather than anchor with Trevor Bassitt, who ran 45.05 to take silver in last night's 400 final, the US opted for Isaiah Harris on the anchor with the aim of saving Bassitt's legs for Sunday night's final.
That approach seemed to be working as Harris – who was doubling back himself from last night's 800 final – was in good position to at least contend for one of the three time qualifiers. On the first turn of the final lap, however, disaster struck. Harris appeared to pull a muscle and was in obvious pain. But, knowing that his teammates needed him to finish the race, Harris decided to soldier on and limp-sprinted the remainder of the race, splitting 48.09 to preserve the US's runner-up finish in the heat before collapsing onto the ground in agony.
Unfortunately for Harris, the US's time of 3:09.11 was not fast enough to advance to the final, but his teammates cannot have asked for anything more from him given the circumstances.
True grit 😳

Despite pulling a muscle, Isaiah Harris 🇺🇸 runs through the pain in a bid to finish the race for @usatf's 4×400 team!#WorldIndoorChamps pic.twitter.com/BAv3qlHDRw

— World Athletics (@WorldAthletics) March 20, 2022
MB: Absolutely HEROIC. Isaiah Harris pulls muscle with 150m to go and LIMPS HIMSELF to 2nd in 4 x 400 But sadly the US didn't qualify.
Talk about the day 3 action on our world-famous fan forum/messageboard.