2022 Indoor Awards: Final Thoughts On A Fantastic 2022 Indoor Track Season + Meet the World Champ Who Trains on a Triangular Dirt Track
By Jonathan Gault
March 26, 2022
The 2022 indoor track & field season is over, and most athletes will be taking the next week or two easy before ramping up for the outdoor campaign and the drive to the 2022 World Championships in Eugene, which begin in 111 days. As a result, there isn't much racing going on right now, which gives us a nice opportunity to hand out some awards and reflect on a few things we've learned over the first three months of 2022.
The Awards
Article continues below player
On Sunday, awards season will draw to a close when the Oscars are awarded in Los Angeles. Ahead of the big bash in Hollywood, let's hand out some track honors.
Men's US distance performance of the season: Grant Fisher's 26:33 American 10,000 record
Okay, so this wasn't an indoor race, but since it happened on March 6, I'm classifying it as part of the indoor season. Whether or not you believe Fisher's 26:33.84 in supershoes at the TEN in California was worth more than Galen Rupp's previous non-supershoe AR of 26:44.36 set at the 2014 Prefontaine Classic, at the very least, the two performances were close in quality. And sure, Fisher had every possible advantage — shoes, Wavelight, perfect conditions, an all-star pacing crew — but he still had to physically run the time. He still had to average 13:16 for back-to-back 5ks, 4:16's for 6.2 miles, 63's for 25 laps in a row. It was a crazy fast run, and combined with his 12:53.73 American indoor 5,000 record in Boston on February 12, it showed Fisher will be one of the defining US distance runners of the 2020s.
Fisher may have surprised himself by finishing 5th in last year's Olympic 10,000 final, a race that went (relatively) slow in Tokyo's oppressive heat and humidity. Now he knows he belongs at the front of those races.
"I guess now I have some numbers to my name that might suggest that I can go to the front and hammer, but I don't think that would be something I'd want to do with [Joshua] Cheptegei or [Selemon] Barega sitting on me," Fisher said on the LetsRun Track Talk Podcast.
More: LRC Grant Fisher American Record Podcast Quite simply, this was one of the best interviews we've ever done. Fisher opened up about his preparation for the record, why fans should believe in his performances, and told us what it's really like to join the Bowerman Track Club and train under Jerry Schumacher.
Women's US distance performance of the season: Ajee' Wilson's 800 gold at World Indoors
With barely a lap remaining in the 2022 World Indoor 800m final in Belgrade, the question remained unanswered: what did Ajee' Wilson really have? Wilson, sitting in fourth place, had breezed through her first five regular-season races plus a prelim at Worlds without much trouble but had never run faster than 2:01.38, a time that would not be good enough to claim gold on this night. Last year, she didn't make the Olympic final. Did she have more in the tank? Or was her modest 2021 season a sign she's no longer a major player at the global level?
In the span of 10 seconds, we had a definitive answer. Wilson blew past Natoya Goule and Halimah Nakaayi, women who had run almost three seconds faster than her this year, as well as Ethiopia's Habitam Alemu into the lead just before the bell, and by the top of the backstraight had opened a gap that would only grow to the finish line as she crossed in 1:59.09 to win her first world title by almost a second and a half. It was a 29.59-second last lap and a move worthy of winning any championship.
Wilson said the key to her victory was the patience that allowed her to wait three laps before making her move. An appropriate virtue given Wilson earned two silvers and two bronzes in global championships over the past six years before finally grabbing gold in 2022. Hers was a unique path to the top, as Wilson had to contend with intersex athletes during her prime years in the 2010s and was overlooked last year as teenagers Athing Mu and Keely Hodgkinson took over the event. But Wilson has never been one to dwell on what might have been. She chooses to focus on reality, and the reality now is that Ajee' Wilson is a world champion at last.
"It's all a part of the journey and it's all a part of my story and I'm thankful for everything that has come before," Wilson said.
More: LRC Ajee' Wilson Wins 800m Gold at World Indoor Championships
Breakout athlete: Abdihamid Nur
At the start of 2022, Abdihamid Nur was mostly known as a cog in the Northern Arizona distance machine. A very important cog, granted — he was 7th at the last two NCAA cross country championships — but if you asked most observers, they'd peg Nur's teammate Nico Young as the superior professional prospect. But Nur came out like a man possessed in the 2022 indoor season, running pbs of 3:55, 7:40 (#4 all-time NCAA), and 13:19 (NCAA meet record) and sweeping the 3k and 5k at NCAA Indoors. It's still debatable which of the two Lumberjacks stars is the superior pro prospect — Young, at 19, is four years younger than Nur — but it's now clear that the Somalian-born Nur is a serious threat to make US teams moving forward. But maybe not until 2023 as this year the US 10,000 champs and NCAA regionals fall on the same weekend.
Biggest statement race: Marcell Jacobs' 60m win in Belgrade
After Italy's Marcell Jacobs won gold medals in the 100 meters and 4×100 relay last summer in Tokyo (doesn't it still seem crazy that Italy won the Olympic 4×100?), he did not feel the need to prove himself to anyone. He felt his accomplishments spoke for themselves.
"When you win two gold medals you cannot win by chance," Jacobs said.
And that is true. Yet it is also true that the man many expected to win the Olympic 100, Christian Coleman, was not in Tokyo. Jacobs' win in Tokyo did not carry an asterisk, but it did carry a yeah, but…
Perhaps not anymore. Jacobs may have skipped the remainder of the 2021 outdoor season after his Olympic win, but he then proceeded to do something no reigning Olympic 100 champ had ever done: he raced at World Indoors. He raced, even though he would go in as a definite underdog to Coleman, the reigning world champion and world record holder at 60 meters. His goal coming in was merely "to be as close as possible to Christian."
And then Jacobs edged Coleman by three-thousandths of a second to win the 60m world title in Belgrade, setting a European record of 6.41 in the process, and the discussion shifted. The question about Jacobs is no longer "How will he back up his Olympic title?" but "How is anyone going to beat this guy?" Before Belgrade, the 60 belonged to Coleman — he hadn't lost a race at that distance since 2016. If Jacobs is stepping down and beating him at his own game, how is anyone going to touch him in the 100 this year?
It seems strange that Jacobs is the athlete who made the biggest statement this season — after all, you can make no bigger statement in track & field than winning the Olympic 100 — but that is where we find ourselves in sprinting in 2022.
***
Other Takeaways
Where did Mariano Garcia come from?
If you told me at the start of 2022 that Ajee' Wilson would win the women's 800 at World Indoors, I would have responded, "What happened to Athing Mu and Keely Hodgkinson?" If you told me at the start of 2022 that Mariano Garcia would win the men's 800 at World Indoors, I would have responded, "Who?"
I follow track & field for a living, and even I had no idea who Garcia was until he upset Bryce Hoppel and ran a Spanish indoor record of 1:45.12 to win at the New Balance Indoor Grand Prix on February 6. He'd never broken 1:45, never advanced beyond the first round at a global championship and was only 3rd at the Spanish indoor champs last year. His most notable career accomplishment was finishing 4th in the 800 at Euro Indoors in 2019.
At World Indoors, I wanted to interview Garcia after his first-round heat but he politely declined my request, explaining that he does not speak English well. I thought the meet would come and go without learning his story until I received a DM from Spanish journalist Miguel Olmeda. It's a great one.
Garcia was a steeplechaser until 2019, when he began focusing on the 800 and won the Spanish indoor and outdoor titles at age 21. He repeated as Spanish outdoor champ in 2020 but missed the Olympics in 2021 due to appendicitis.
Olmeda says many in Spain knew Garcia was talented enough to break the national record but that he can be "crazy" in racing — though sometimes crazy like a fox, if you watched his last-to-first run in the World Indoor final.
"He usually doesn't follow his coach's tactics and races with the heart, that's why he didn't reach the final [at Euro Indoors] in Torun last year — he felt good, raced hard from 500m to go and got caught by the rest of the field," Olmeda says.
The coolest part of Garcia's story is his training setup. He's from a small village in Murcia, in southern Spain, and is definitely a country boy — Olmeda says Garcia felt uncomfortable while staying in New York between Millrose and NBIGP because he doesn't like the big city (and because of the language barrier). As a result, Olmeda says, Garcia does most of his training on a triangular dirt track — except on the days when the track is used as a market. He only uses a proper track (14 miles away) for his final specific workouts before a race. Here's what the "track" looks like (you can find it here on Google Maps):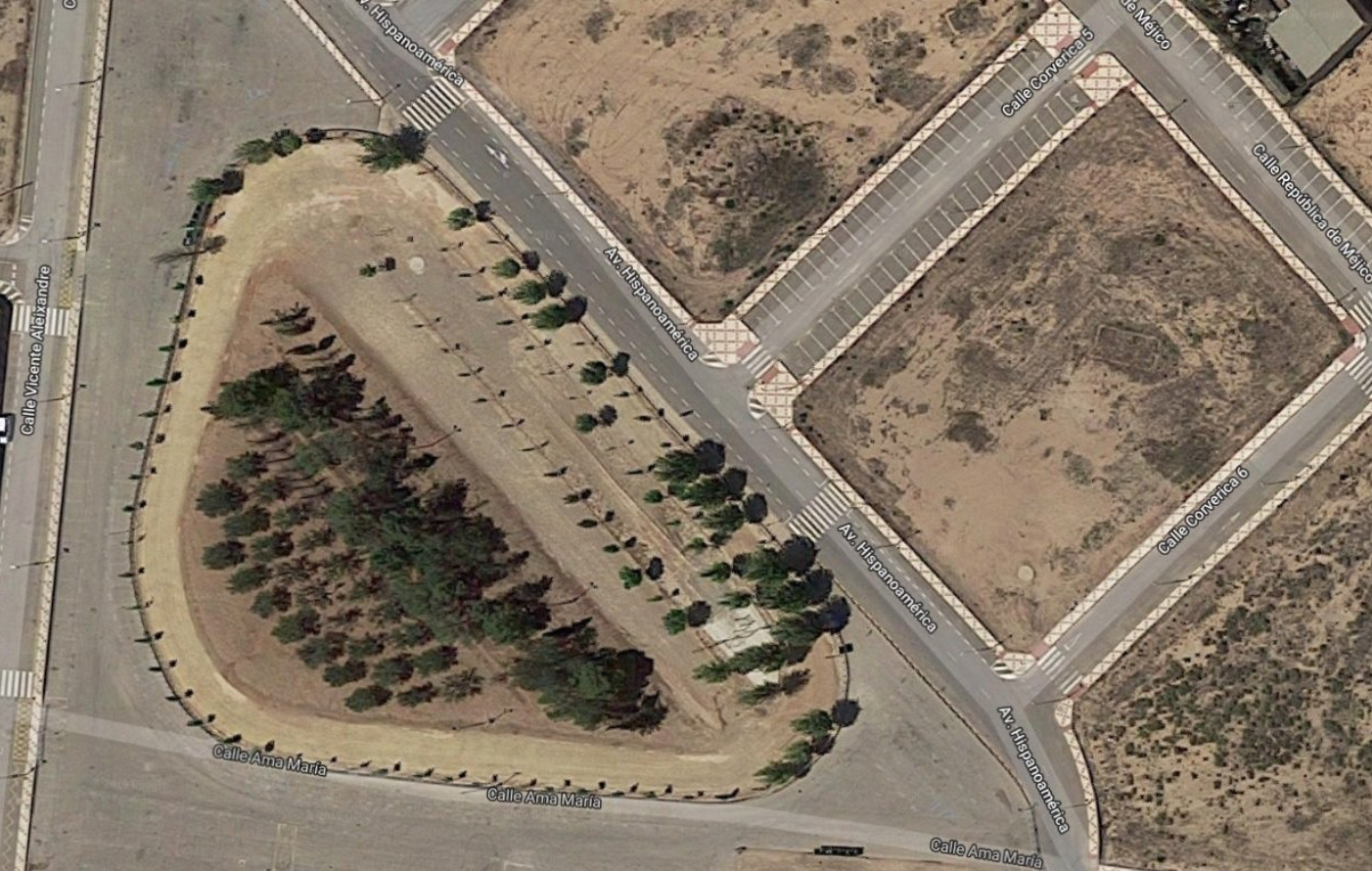 And here's what Garcia had to say about it recently (translation courtesy Olmeda):
It is a piece of land of 300 meters where I have run all my life. I'm comfortable, I have everything close by: the gym, which is 150 meters from the triangle, the physio, the podiatrist, the hairdresser, my house…Why change if things are going well?…On Saturdays they put the market around: there is the dirt track and the market. You are doing workouts there and those at the stalls know me, encourage me and say: "Do you want something?"
Just a reminder that you don't need the best facilities to become the best in the world. This is the "track" Joshua Cheptegei trained on in Uganda before his 5,000 and 10,000 world records in 2020.
New facilities are great for US track — but stakeholders must work together to maximize return
One of the truly encouraging developments for US track fans is the recent construction of a number of top-class indoor facilities across the United States. Last year saw the opening of the $68 million Virginia Beach Sports Center and the $53 million Norton Healthcare Sports & Learning Center in Louisville. This year, the Gately Park Track & Field Center was unveiled in Chicago and The Podium opened in Spokane. I got to visit the latter facility — situated on the north bank of the picturesque Spokane River, walking distance from downtown Spokane — during the USATF Championships and had a great experience.
And in 2023, The TRACK at New Balance will open in Boston. It is already set to host some big-time meets — the New Balance Indoor Grand Prix for the foreseeable future, and NCAAs in 2024 — with the aim of attracting more in the years to come.
All of this is great news for American track & field. Not only do new facilities benefit local youth and high school runners, but they give the NCAA and USATF opportunities to spread around their biggest events — any local authority that spends millions building a facility is going to want to show it off.
That sort of exposure is much-needed because it's not happening outdoors. The 14 USATF Outdoor Championships from 2008 through 2022 will have been staged at just three venues — Eugene, Des Moines, and Sacramento — with Eugene accounting for half of them. Meanwhile, 12 of the 14 NCAA Outdoor Championships from 2013-2027 will be staged in Eugene.
These new facilities offer the opportunity to grow the sport, but if that is to happen, the stakeholders of elite track & field must do a better job working together. Nothing epitomizes this more than February 11. On that night, Cole Hocker and Cooper Teare were going for the American record in the mile in Chicago, the Bowerman Track Club women were going for North American records in the 5,000 in Boston, and the Union Athletics Club was staging its own meet, the Lilac Grand Prix, in Spokane, with a world record attempt in the women's DMR. All three of those training groups are based in Oregon and sponsored by Nike. Yet rather than combine their efforts into one meet, they were spread across the country.
As it was, it was impossible to watch all three meets properly. Because the Hocker/Teare race was held as part of a college meet, the Big Ten Network held broadcast rights and did not grant anyone permission to stream live (the closest we got was an Instagram Live feed of the mile from OregonTF). The BTC race required a FloTrack subscription, while the Lilac Grand Prix was available on pay-per-view.
This — just like three different shoe companies sponsoring their own high school nationals and athletes skipping USAs or World Indoors to run time trials — is the sort of thing a commissioner would fix, if track & field had one. That's not happening. So it's up to the athletes, coaches, agents, and shoe companies to sort it out. But as long as the first three groups are incentivized to care only about the Olympics and World Outdoor Championships to the detriment of everything else, that's going to be difficult. If the sport is to be promoted in a more fan-friendly way, either the athletes, coaches, and agents need to agree to some collective sacrifices or the shoe company execs need to change the incentive structure.
The final session at World Indoors was track & field at its finest…what will it be like in Eugene this summer?
Before heading to Belgrade last week, I highlighted the final session of World Indoors on Sunday night as a must-watch session. Between Mondo Duplantis, Grant Holloway, and Jakob Ingebrigtsen, there were serious stars with world record potential, plus the presence of Serbia's best athlete — long jumper Ivana Vuleta — would ensure a big crowd. The session more than lived up to the hype, with Duplantis breaking the world record, Holloway tying it, and Samuel Tefera dramatically upsetting Ingebrigtsen in the 1500. But what took it from great to one of the best nights of track I've ever witnessed was the atmosphere. With Vuleta expected to contend for gold (she delivered, winning with a world-leading jump of 7.06m), the stands were close to full and the crowd was roaring whenever she was on the runway. That excitement carried over to the other events and was a reminder of how great this sport can be when everything comes together.
🎙Memorable final day at @WorldAthletics #WorldIndoorChamps in Belgrade, with @mondohoss600 & @TeamRojas45 setting new World Records, Serbian home heroine Ivana Vuleta winning 🥇 (my local announcing colleague literally bust his mic!), and 🇬🇧 medals for @loralski & @_MarcScott 👏🏼 pic.twitter.com/c0jpmathQI

— Kris Temple (@kristemple) March 21, 2022
Track and field as it should be. Packed house. Wild crowd. Gold for Serbia's Vuleta in LJ. pic.twitter.com/ise4iBm9Si

— LetsRun.com (@letsrundotcom) March 20, 2022
That said, not every session was as crowded. I was actually quite depressed looking around the arena on Friday night as attendance for that session was poor — a couple thousand, tops. World Athletics communications head Nicole Jeffery did note that capacity was reduced due to COVID protocols, but Friday still saw significantly fewer fans than Sunday. I asked Jeffery for complete attendance figures and she reported that over 20,000 fans attended over the course of the three-day meet but said she was still waiting on a session-by-session breakdown from local organizers.
I also spoke to a number of journalists in Belgrade who were excited about the prospect of a packed house and top atmosphere in Eugene for the World Championships this summer. Americans love sports, the US has the best track & field team in the world…that should translate into a great crowd, right?
Probably. If the Eugene crowds are anything like the ones that showed up for finals days at NCAAs or the Olympic Trials in 2008, 2012, and 2016, the atmosphere should be terrific. A couple of things worry me, however. Attendance at the Olympic Trials last year wasn't great, with a daily average of 5,197 ticketed spectators and a high of 6,586, even though up to 9,000 fans were allowed each day (data courtesy USATF).
Now that comes with a few caveats — COVID restrictions were still in place, and due to state guidelines, organizers couldn't commit to having fans until the last minute, making it difficult for out-of-town fans to plan trips. That is not an issue for the 2022 Worlds, but the cost could be.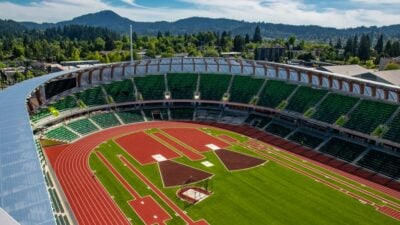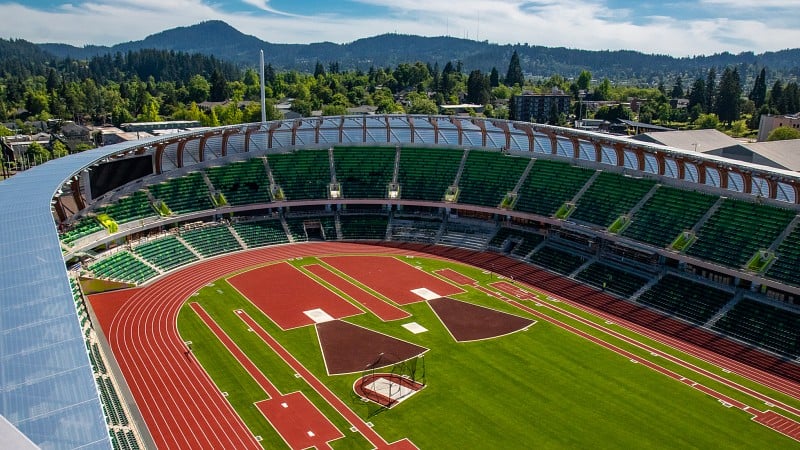 Let's say a couple wants to travel from Boston to watch the first four days of the meet. Here's a look at their expenses:
Flights: $1,236
Tickets: $840 (I went for the second-cheapest ticket for each evening session and skipped morning sessions)
Lodging: $3000 (It's probably at least $3k if you want to say in Eugene. If you are willing to go an hour south of town to Roseburg, it might only be $500, but then you are going to need more for gas)
Rental car: $600 (a necessity if you're staying out of town — which is where most of the remaining rooms are)
Meals/miscellaneous expenses: $1000
Total: $6676 (maybe $4176 if you are willing to stay out of town)
So you're looking at roughly $3000+ per person for a trip to Worlds from the East Coast. That's pricey, and I'm curious how many fans will be willing to pay it given many will have to stay an hour or more outside of Eugene to find affordable lodging and tickets on either straightaway for an evening session will cost a minimum of $150 each.
The good news is there is already a base of track fans in and around Eugene who won't have to worry about lodging, but I still wonder how many of the sessions will sell out — though it will be easier to sell out Hayward Field than at any previous Worlds as the stadium only seats 12,650 fans. Temporary bleachers will boost that total, but it's unclear by precisely how much (in any case, it will be well under the 30,000 seats World Athletics requires to host a World Championships).
All of which is to say this: expect the fans who do show up in Eugene to be loud and passionate. Most sessions will have the atmosphere deserving of a World Championships. But selling out those sessions is still going to be very tough.