Ajee' Wilson Wins 800m Gold at World Indoor Championships
by LetsRun.com
March 20, 2022
BELGRADE, Serbia – American Ajee' Wilson has her elusive world title.
Wilson, the most consistent 800m runner in the world the last decade, made a power move just before the bell and blasted a 29.55 final lap to destroy the field and win the 800m in 1:59.09 at the 2022 World Indoor Track and Field Championships in Serbia. Freweyni Hailu of Ethiopia passed reigning world outdoor champ Halimah Nakaayi of Uganda just before the line to nab silver in a distant second in 2:00.54.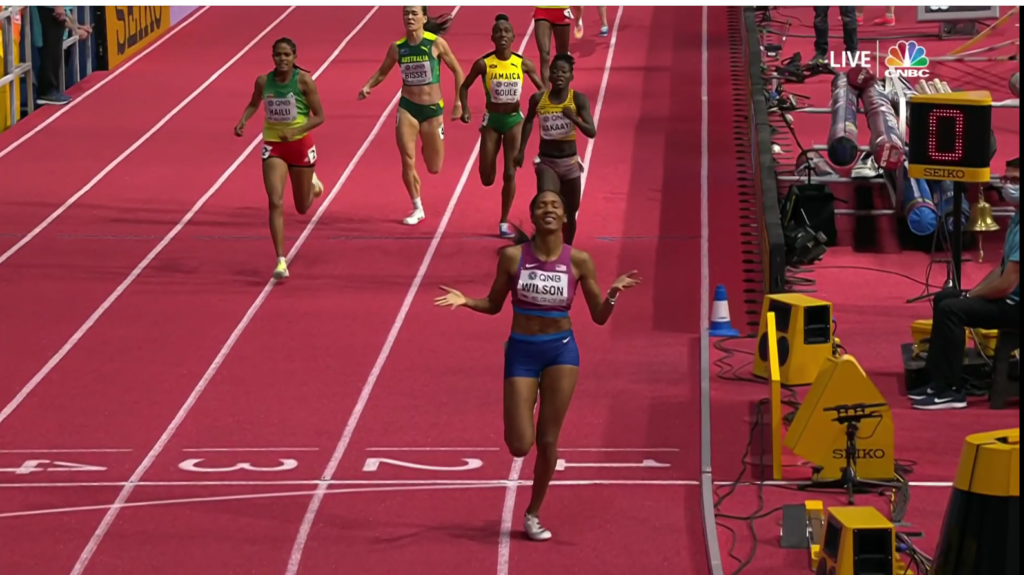 Article continues below player
Jamaica's Natoya Goule took the lead on the first gap and Wilson had to settle into an unfamiliar position of fourth, behind Goule, Nakaayi and Hailu. Goule would continue to lead at 400 (59.28) and onto the home stretch approaching the bell when Wilson decided to make her move. Wilson, still in fourth, went wide into the outside of lane two and quickly passed everyone in front of her and had the lead at the bell. Soon her lead was 5 meters, then she extended it on the backstretch. With 100 to go, the world title was hers unless she had kicked too early. That was definitely not the case as she only lengthened her lead to the finish, but Wilson had no idea what was happening behind or taking any chances. 
Ajeé Wilson runs away with GOLD in the 800m! 🥇

📺: CNBC | #WorldIndoorChamps | @usatf pic.twitter.com/tlvI2VxT20

— NBC Olympics (@NBCOlympics) March 20, 2022
"This was the first time ever I didn't look up. I was just [thinking], 'Go through the line, just run, don't worry about who is behind you. Just power through. You know everybody is coming.' I don't know how far [pthey finished behind me]," said Wilson in the mixed zone after the race.
Wilson said she only realized she was the World Champ once she hit the finish line when she flashed a smile after the finish and extended her hands.
"I was just elated and I was excited. To finally get gold, it means a bunch. I'm excited to go home [and] have my family, friends, my teammates, my coach wear that medal around their necks as it's just as much theirs as it is mine," said Wilson.
The world title was finally hers with a totally dominant victory of 1.46 seconds.
RESULTS
Ajee' Wilson gets her world title
Wilson first burst onto the world scene at the 2013 Outdoor World Championships where she finished 5th as a 19-year-old and ever since then had been dreaming of a gold medal at a global championships. Since then she won two outdoor world bronzes (2017 and 2019) and two indoor world silvers (2016 and 2018), in a sport that at the time was dominated by intersex athletes. At the Tokyo Olympics, the intersex athletes were no longer a threat due to new regulations, but teenage stars Athing Mu and Keely Hogkinson burst onto the scene. Had Wilson missed her window for gold? No.
Obviously the absence of Mu and Hodgkinson aided Wilson's chances for gold, but after missing out on multiple golds due to the intersex regulations – and handling the many questions about that fact with dignity and grace – Wilson has clearly earned the right to be called world champion.
Ajee' Wilson was the clear class of the field in and showed it on an utterly dominant last lap
After navigating the difficult situation of competing against intersex athletes with a huge testosterone advantage from 2016-18, Wilson finally caught a break in a major championship when pre-race favorite Keely Hodgkinson withdrew shortly before the prelims on Saturday morning. Though Wilson had taken silver at the past two editions of these championships and was undefeated on the season heading into this one, she did not make the Olympic final last summer and had not run faster than 2:01 this year before tonight.
However, those concerns overlooked the fact that Wilson had fully controlled her races in 2022 to this point – including a dominant victory over Goule at Millrose – and it was clear today that Wilson was capable of running a lot faster than she had shown as she clocked 1:59.09 for the win and was totally unchallenged over the final 200.
Wilson said she felt good throughout the race and was just looking for an opening. "I definitely felt comfortable… I knew as long as I got out (of the box) with 150 to go, I knew I could finish strong and I could finish hard. I was ready to be patient but lucky it came before that last lap."
Ethiopia's Freweyni Hailu doesn't make 1500 team, wins 800 silver to cap an amazing weekend for the Ethiopian women
Many (including us) overlooked Hailu coming into this one as she only ran 2:01.69 in her lone indoor 800 this year, placing 5th in Lievin on February 17 — some 3+ seconds behind Goule.
But make no mistake. She's a BIG talent. Last year at age 20, she ran 3:56.28 and placed 4th in the Olympic 1500 final and ran 1:57.57 for 800. This year, she ran three 1500s indoors and 4:02 or 4:03 in all three but the problem was she was third Ethiopian in each race, so she ended up in the 800 here at Worlds.
But she rose up and registered a new indoor pb in both rounds -a 2:01.70 in the semis, 2:00.54 in the final — to get her first global medal.
It also was the first global medal in the indoor 800 for the Ethiopian women in their history and it capped an amazing weekend for them. The Ethiopians went 1-2-3 in the 1500, 1-3 in the 3k, and got second in 800. 
Of course, their men weren't too shabby as they went 1-2 in the 3k and then Samuel Tefera shocked Jakob Ingebrigtsen in the 1500 later on Sunday night.
Natoya Goule was not satisfied with 4th but was proud of the way she came and competed
Goule led the entire race until Wilson's big move just before the bell, and while she was not satisfied to finish just off the podium in fourth, it was the closest she'd ever come to a global medal (she was 6th at the '19 Worlds and 8th at the '21 Olympics) and was proud of how she responded to a challenging last few weeks. Goule entered the meet as the top seed but said she "caught a cramp" two weeks ago, which threw off her preparations. Goule put herself in position to medal tonight through the first three laps but may have lost her focus slightly on the last lap as she allowed rival Nakaayi to pass her on the inside and was unaware of how quickly Hailu was moving up behind her.