Kenenisa Bekele Has Big Expectations for His New York City Marathon Debut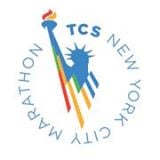 November 07, 2021
by Robert Johnson
November 4, 2021
NEW YORK – Prior to this year's Berlin Marathon, Kenenisa Bekele's coach Haji Adilo was full of confidence as he told us that Bekele was in better shape than when he ran the second-fastest marathon in history (2:01:41) in Berlin in 2019 (Bekele's agent Jos Hermens was a little less confident as Bekele's buildup was a bit abbreviated as he was coming off of a Covdi-19 infection) and talk of a new world record was in the air. Bekele certainly didn't run great in Berlin, however, as he ended up third in 2:06:47.
Six weeks have passed and Bekele and his camp seemed fully confident that things will go much better in his NYC Marathon debut on Sunday. Bekele said his less than stellar result in Berlin was the result of something that has plagued him several times in his career – insomnia. He said he was unable to sleep "even one hour" the night before the race "so that makes me very tired."
Article continues below player
His agent said it was worse than that. Since Bekele only travelled to Berlin on a redeye on Thursday, Hermens said he was lucky if he got two hours of sleep that night. Then a normal night's sleep on Friday, but none on Saturday night. So maybe one days worth of sleep total in the three days before the race. 
In New York, Bekele got here a day earlier (he got here Thursday) and while his sleep wasn't great last night, he sounded confident about his prospects for Sunday.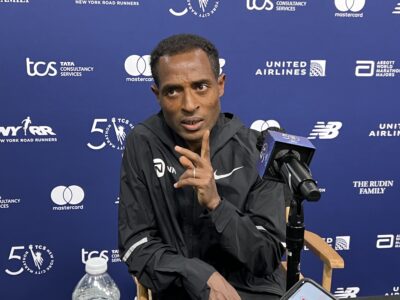 "I will do a good result actually. Of course, I will be in a good position… On Sunday, I expect a good day and good result. After Berlin, I recovered well," said Bekele, who said he didn't take any time off after Berlin, maybe a day. 
Bekele's dream will become reality on Sunday in NYC
"New York is fantastic. It's a famous city. To be here is fantastic. I dreamed to be in the New York Marathon so my dream will come true," added arguably the greatest distance runner in history.
Jos Hermens thought Bekele's less than superb showing in Berlin was also the result of "too short" buildup, as Bekele started training late after recovering from Covid-19 so Hermens thought the extra six weeks of training had been great for Bekele's prospects. He described Bekele as being "very motivated" and said Bekele will "certainly" be better than he was in Berlin.
"He's smart [at racing] and he's very competitive and there's no pacemakers so he will be perfect for this course," said Hermens. When we asked Hermens how much Berlin took out of Bekele, he responded, ""Nothing. It was a long run."
As for the hilly New York course, neither Hermens or the 11-time world cross country champion Bekele seemed concerned by the fact that Sunday's race will be the first hilly marathon of Bekele's career. While Bekele said comparing a cross country race to to a marathon is difficult as the surfaces are so much different, he said his normal training grounds are "challenging" and far from flat.
"I've never seen anybody running downhill like he does. Those things – [the] up and downhill, [the] turns – you know he's great at that," said Hermens. 
Could Bekele Break the Course Record? Run Boston?
Hermens said he's advised Bekele to run with the pack for 30k and then race the final 12k, but added he certainly thought a sub-2:05:06 clocking (course record) is well within the realms of possibility for a talent like Bekele. When we asked Bekele if he might try to go for the course record, he said he was going to "focus on a tactical race"
Americans, if you are pumped that Bekele is running in the US for just the second time in his career at 26.2 miles, we've got more good news to report. Hermens said he'll be talking to Boston Marathon organizers this week about their 2022 race. 
When Bekele was asked directly about whether he wants to run Boston, Bekele said he'd let his management team handle things, but did say it's a priority to run more races in the US. "For me, it's a very important thing to run in the USA," said Bekele. 
If I was a betting man, I'd predict Kipchoge goes to Tokyo and Bekele to Boston (and it wouldn't surprise me if Bekele did another race before Boston as he seems to struggle with motivation and health during long layoffs).
Odds and Ends
Bekele and most of the top African stars were asked by Dennis Young of the

New York Daily News

if they have been vaccinated. Everyone I heard respond said yes and acted like it was a no-brainer. Bekele said it was "really important for everyone" to get the shot.

Bekele also said the Civil War in Ethiopia hasn't impacted his training as it's mainly happening near the border.

Bekele said he thought he could keep competing and trying to run faster for a "couple years"

Hermens agreed and said he thinks both Bekele and Eliud Kipchoge are still motivated to break the  marathon world record
You can listen to nearly 20 minutes of our chat with Bekele below.
Kenenisa Bekele Part I
Kenenisa Bekee Part II
More:  Ben True Has a Sponsor, Molly Seidel (Kind Of) Discusses Her Buildup, and Is Abdi Nageeye the Man to Beat?
*Full 2021 NYC Marathon Coverage 
*2021 NYC Marathon Men's Preview: Kenenisa Bekele Comes to America, Big Debuts for Kibiwott Kandie, Ben True The greatest distance runner in history will race NYC for the 1st time as will American Ben True. Can True break the American NY course record? *MB: NYC men: How do Bekele and Kandie do? Can Ben True break the American course record and run 2:08 in NY?
*2021 NYC Marathon Women's Preview: Olympic Champ Peres Jepchirchir Tries to Join Frank Shorter as an Immortal; What Can Molly Seidel Do for an Encore? Not since Frank Shorter in 1972 has an athlete won the Olympics and doubled back to win a fall marathon later that year. That's what Jepchirchir is trying to do on Sunday in New York.