2021 NYC Marathon Men's Preview: Kenenisa Bekele Comes to America, Big Debuts for Kibiwott Kandie, Ben True
By Jonathan Gault
November 4, 2021
Some races blow you away with numbers. The 2021 TCS New York City Marathon is decidedly not one of those races. The men's elite field features just one man who has broken 2:06 in the marathon — the lowest tally of any Abbott World Marathon Major since LetsRun.com began tracking them in 2017.
So yeah, this year's NYC field could use a little more depth. But you don't need amazing depth to put on an exciting race. And this year's New York City Marathon proves it.
There may only be one sub-2:06 guy, but that guy is the greatest distance runner of all time: Kenenisa Bekele, who could well be racing on American soil for the final time in his glittering career. Abdi Nageeye of the Netherlands isn't a sub-2:06 guy — his pb is 2:06:17 — but I'm fairly excited about watching him run NYC as well. He is the Olympic silver medalist, after all.
Article continues below player.
This year's race also features the marathon debut of the first human to break 58 minutes in the half marathon: world record holder Kibiwott Kandie of Kenya. And if American debuts are more your style, how about Ben True?
It's going to be a great weekend — and a long-anticipated one for NYC running fans who have had to wait two full years for the return of their hometown race. LetsRun.com will have boots-on-the-ground coverage all weekend long, but before you check out any of that, you need to read our race previews. Our preview of the women's race, headlined by Olympic medalists Peres Jepchirchir and Molly Seidel, can be found here. Our men's preview? Just keep reading.
What: 2021 TCS New York City Marathon
When: Sunday, November 7. Women's race starts at 8:40 a.m. ET, men's race at 9:05 a.m. ET.
Where: New York, New York
How to watch: Live on ESPN2 starting at 8:30 a.m. ET (race will also be shown on ABC7 in New York).
*International TV/streaming information *Full elite fields
Bekele in the Big Apple
Can we just pause and appreciate how cool it is that Kenenisa Bekele is racing the New York City Marathon? For a few moments on Sunday morning, the patrons spilling out of bars on First Avenue or crowding the finish line in Central Park will get to witness the Michael Jordan/Tiger Woods of distance running whistle by them. It's a rare sight. NYC will be Bekele's first race on US soil in seven years — and quite possibly his last.
Kenenisa Bekele's races in the USA
| | | | |
| --- | --- | --- | --- |
| Date | Event | Distance | Result |
| 1/29/05 | Boston Indoor Games | 3,000m | 2nd, 7:41.42 |
| 2/3/06 | Millrose | Mile | 2nd, 4:01.57 |
| 6/8/08 | Pre Classic | 10,000m | 1st, 26:25.97 |
| 6/2/12 | Pre Classic | 5,000m | 4th, 13:01.48 |
| 5/31/13 | Pre Classic | 10,000m | 1st, 27:12.08 |
| 10/12/14 | Chicago Marathon | Marathon | 4th, 2:05:51 |
There is obviously a significant chance that the Bekele we see on Sunday will be akin to the Washington Wizards-era MJ. It's even possible that those fans waiting for Bekele in Central Park never actually see him — this is a man that has dropped out of three of his last seven marathons.
But there's also a chance this could be for Bekele what the 2019 Masters was for Tiger, one last opportunity for the fans to see him at his best on one of the sport's grandest stages.
I won't get carried away with that notion. Bekele, after all, is just six weeks removed from running 2:06:47 in Berlin, and while his agent Jos Hermens has explained the double as a way of keeping Bekele focused, there is virtually no historical example of someone being able to run two world-class marathons in such a short period of time. (Though the fact that Bekele made it through 26.2 miles in Berlin in one piece is a positive sign.)
But the fact is, this year's NYC field is not particularly deep. If Nageeye is off his game and Kandie struggles in his debut…well, there's not much left. Bekele may not need to be at his best to win in NYC — and a hilly, technical course could favor him given his status as the greatest cross country runner in the history of the world.
Who Is the Favorite?
The "safest" pick in the field is probably the Netherlands' Abdi Nageeye. Which is pretty wild considering he is not someone who seemed capable of winning a major as recently as three months ago. In Nageeye's last marathon before the Olympics, he finished 15th in Valencia in 2:07:09. In his 11 marathons prior to the Olympics, Nageeye finished higher than 7th just once — a fourth-place finish at 2019 Rotterdam when he ran his 2:06:17 pb. Somehow, at the age of 32, Nageeye ran the race of his life in Sapporo to take the silver medal — his first podium finish since his marathon debut in Enschede in 2014.
So how is Nageeye the safest pick in the field? Because there are major question marks about every other contender in the field. At least we know that Nageeye was in shape to medal at the Olympics 13 weeks ago. Here are the concerns each of the other contenders will have to overcome to win.
Kenenisa Bekele, Ethiopia, 39 years old, 2:01:41 pb
The question: Can he run two world-class marathons in six weeks?
We addressed Bekele above, but for the record, the answer is: "probably not."
Albert Korir, Kenya, 27 years old, 2:08:03 pb
The question: Where has this guy been?
Korir finished on the podium at each of his first 10 career marathons, the 10th coming in 2019 in New York when he was second behind Geoffrey Kamworor. Since then, however, he has just one result on his World Athletics profile, a 10th-place, 2:13:53 in Eldoret in June 2021. One marathon at altitude over the last two years is not a lot to go off of when assessing his chances in New York — and that's assuming it is the same Albert Korir (it's not uncommon for a domestic result by a lesser-known, same-named runner to show up on an athlete's World Athletics profile). He's good enough to win, but it's a bit of a gamble.
Kibiwott Kandie, Kenya, 25 years old, debut
The question: Can he win New York in his debut?
There is always a degree of risk in betting on someone to win in their marathon debut. That said, the last time a half marathon world record holder debuted in New York, they won the whole damn thing (Joyciline Jepkosgei in 2019). And Kandie's agent, Gianni Demadonna, believes it is a good course for him to make his debut, with the lack of pacemakers benefiting Kandie.
"If he's able to run fast the last 7k or 10k, whatever it is, you see in Boston what happened this year," Demadonna says. "Benson Kipruto ran 14:06 the last 5k [from 35k to 40k] but they didn't run [fast] before [that in the race]. They ran slowly, very slowly for athletes that are capable of 2:03 or 2:04. I don't think at the moment Kandie can run 2:03, 2:04. But if he can arrive fresh with energy the last 7-10k with the speed of a half marathon runner, [that] will be good for him."
Kandie has a lot going for him. His talent is obvious. We've never seen something like his 2020 season, when he broke 59:00 four times in the half, including that mind-blowing 57:32 world record in Valencia in December. And he's also a strong XC runner — he beat two-time World XC champ (and two-time NYC Marathon champ) Geoffrey Kamworor at the Kenyan XC champs last year.
The one other concern about Kandie is that he has been dealing with a nagging knee issue for most of this year. That's why he didn't run the 10,000 at the Kenyan Olympic trials as planned. He returned to running in July and has still been able to train well — he ran 26:51 in a road 10k in Geneva in October — but not without pain.
"As soon as he finishes the marathon, we have to put a stop in his activity to be able to recover the knee and to relax a little bit and not to train always with some pain," says Demadonna.
***
After Nageeye, Bekele, Korir, and Kandie, you get into the long shots. Ghirmay Ghebreslassie of Eritrea is a former world champ and dominated this race five years ago but has done very little in the five years since (though he showed some signs of promise by running 2:07:11 in Tuscany in April). Mohamed El Aaraby of Morocco was 11th at the Olympics but has never run faster than 2:09:16 or finished higher than 11th in a major. Eyob Faniel of Italy has run 2:07:19 and was 20th at the Olympics, but that's hardly the resume of a major champion.
Realistically, the odds are that at least one out of Nageeye, Bekele, Korir, or Kandie runs well, and if that happens, one of them will win the race. We could definitely see a surprise podium finisher — just as in 2019, when Girma Bekele Gebre of the West Side Runners finished a surprising third after paying for his own entry fee and starting with the mass field. Though that exact scenario can't happen in 2021 because for some reason, the elite men's race now starts five minutes before the mass race.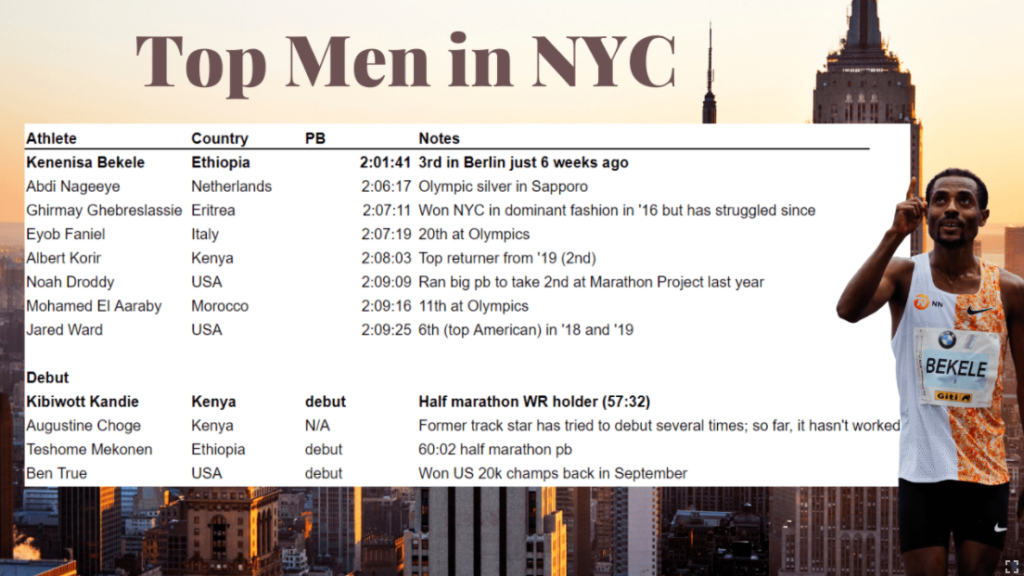 Who Will Be the Top American?
It is interesting to note that, as of Wednesday, two of the top American entrants in the men's field in New York were unsponsored: Noah Droddy, whose 2:09:09 at the Marathon Project last year moved him to #10 on the all-time US list (record eligible courses); and Ben True, who was fourth at the Olympic Trials in the 10,000 this year. (Both athletes were with Saucony until this year).
So let's start with them. Droddy has the fastest pb in the field, but it's not the time (which came on a super fast course in perfect conditions) that impresses me as much as who he beat: Colin Bennie (top American in Boston) and Scott Fauble. If he can produce that sort of performance on Sunday, he'll likely be the top American in New York.
There are a few potential stumbling blocks. This is Droddy's first marathon that isn't on a super flat course. This was also the first time that Droddy had to balance training with a full-time job — he works as the manager of SOS Hydration's warehouse in Longmont, Colo. Droddy told me that, after years of doing his workout and sitting on the couch all day, it was an adjustment for him to get up early to get his training in before (and after) work. But after taking a few weeks to get acclimated, he feels he has struck a nice balance. His bosses are understanding, and the company even has a set of NormaTec recovery boots that Droddy has access to in the warehouse.
It has been a challenging year for Droddy, but he feels the quality of work in this buildup has been similar to previous marathons he's run. He has his eye on one of the spots on next year's World Championship marathon team — which he (or anyone else) could clinch if he is the top American and in the top six on Sunday.
"I feel like basically any of the top Americans are gonna give you the same answer, but I feel like there's no reason I can't be the top American in the race," Droddy says. "And I feel like the top American in the race is going to be flirting with that top five. And so I think if I run to my ability and have a good day, I can finish top five in New York for sure."
Ben True is the most intriguing American in New York. True was a 5,000 specialist on the track who hated the 10,000 (even though he was good at it), which makes him a slightly odd candidate to move up to the marathon. But he's also thrived on a diet of long, hard training, and his forays into the longer distances on the roads have been very successful: three US 15K titles, a win at the 2018 NYC Half, and, most recently, this year's US 20k title on Labor Day.
True's coach Ray Treacy is very excited about his prospects. Earlier this year, after True ran a 10,000 pb of 27:14 in California, he was optimistic about his chances of making the Olympic team at that distance. But the grind of fast, hard training on the track — not just this year, but the decade that led up to it — left True broken down by the Trials. He toughed it out, contending for a spot on the team until the final lap, but by the end, he desperately needed a break.
Sufficiently recharged, True returned to training this summer and Treacy has been amazed with how well it has gone.
"He has absorbed the mileage a lot better than I thought he would," Treacy says. "Even when he was training for the track, the long runs always took a lot out of him. But not this time around. He says he feels 100 times better from the marathon training."
His mileage is up — around the 100-110 per week range, with a longest run of around 23 miles — but the lack of hard speed workouts has done wonders for True. Treacy is optimistic about True's chances in New York, especially since he has practiced on plenty of hills in his training base of Hanover, N.H.
"I would hope if everything goes well, that he's sub-2:10 [on Sunday], anywhere from 2:08 and 2:10," Treacy says. "That's one of the reasons he picked it. Because even the 2:04/2:05 guys have trouble running 2:07 [in New York]. Usually it's a 2:08, 2:09 race."
That might be a tad aggressive — only three Americans have ever broken 2:10 in New York ( the American course record is technically Meb Keflezighi's 2:09:13 but Alberto Salazar's 2:08:13 from 1981 that was 148 meters short is equivalent to 2:08:40ish) — but it speaks to Treacy's confidence in his pupil.
Who else could finish as the top American? Here are the other candidates:
Jared Ward, 33 years old, 2:09:25 pb: Ward is easily the most-credentialed marathoner in the field. He was 6th at the 2016 Olympics, finished as the top American in NYC in 2018 and 2019, and has run 2:09:25 in Boston. The problem is he's struggled in his last three marathons: 2:15:55 for 27th at the Olympic Trials, 2:12:38 for 17th at London, and 2:16:35 for 35th at the Marathon Project. He was also only 16th at the US 20k champs, almost 90 seconds behind True.
That said, Ward is a smart, experienced racer, and he basically ran London last year for fun — he didn't know he was running the race until two months before, leaving him little time to prepare. If he is healthy and on his game, he is the American to beat on Sunday.
Nathan Martin, 31 years old, 2:11:05 pb: Martin, who was 69th at the Trials last year, surprised many with a huge 2:11:05 pb at the Marathon Project this year. Finishing as top American would likely require another big leap forward. Can he do it?
Shadrack Biwott, 36 years old, 2:12:01 pb: Biwott has thrived on tough courses like Boston and New York, finishing 5th, 10th, and 9th in New York and 4th and 3rd in Boston. Problem is, he's now 36 and it's been three years since he last ran a great marathon.
Elkanah Kibet (2:11:31 pb), Kevin Lewis (2:12:02 pb), Brian Shrader (2:13:27 pb), and John Raneri (2:13:57 pb) are all longer shots who could be in the hunt for top American honors with a big day.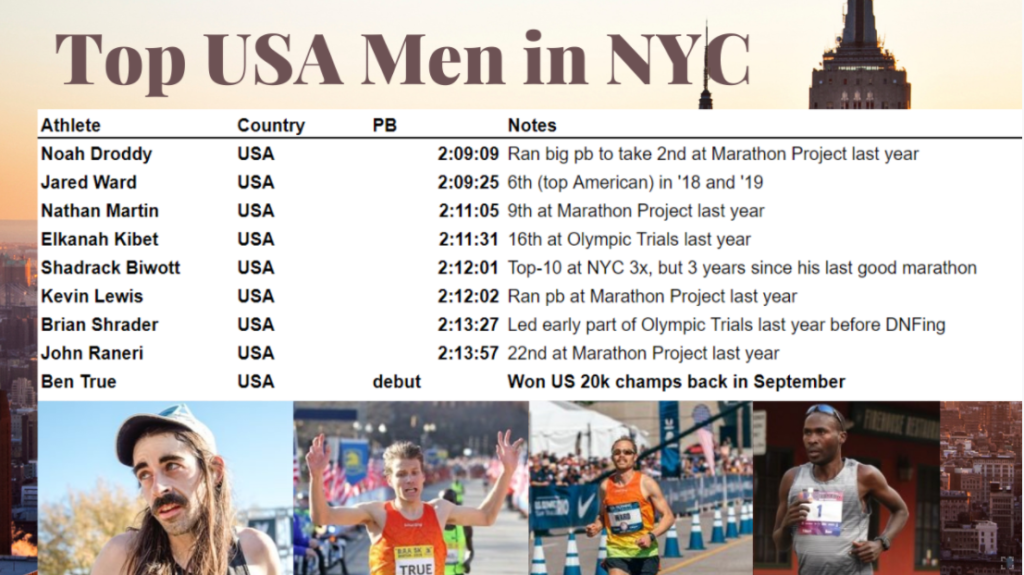 We also broke down the men's race in our podcast this week. You can watch that segment below. Full podcast here
and the American men:
Talk about 2021 NYC on the world-famous LetsRun.com fan forum / messageboard. MB: NYC men: How do Bekele and Kandie do? Can Ben True break the American course record and run 2:08 in NY?