2021 NYC Marathon Women's Preview: Olympic Champ Peres Jepchirchir Tries to Join Frank Shorter as an Immortal; What Can Molly Seidel Do for an Encore?
By Jonathan Gault
November 3, 2021
We made it. The six-week extravaganza that was the 2021 World Marathon Majors season is almost at its end, with Berlin, London, Chicago, and Boston in the rear-view mirror and only Sunday's TCS New York City Marathon still to come.
As usual in New York, there is plenty to talk about. The women's race boasts two-thirds of the Olympic podium from Sapporo with gold medalist Peres Jepchirchir and bronze medalist Molly Seidel. And despite the withdrawals of American Olympians Emily Sisson, Des Linden, and Aliphine Tuliamuk, New York also features the deepest field of Americans of any marathon this year: between Seidel, Sally Kipyego, Laura Thweatt, Kellyn Taylor, and Stephanie Bruce, are all in the field — five of the top eight from last year's US Olympic Marathon Trials.
NYC also marks the conclusion of Shalane Flanagan's "Project Eclipse" — her goal of running all five majors this fall (plus a virtual Tokyo) in 43 days. So far, Flanagan has managed 2:38, 2:35, 2:46, 2:40, and 2:35, and while she may well let it loose and go for a fast time in New York, she will not do so as a member of the elite field. That's a bit of a shame — even at 40, and with five marathons in her legs, would you bet against Shalane being near the front of the American pack?
Article continues below player.
With the race just four days away, here's your guide to the women's race in NYC (men's preview coming soon).
What: 2021 TCS New York City Marathon
When: Sunday, November 7. Women's race starts at 8:40 a.m. ET, men's race at 9:05 a.m. ET.
Where: New York, New York
How to watch: Live on ESPN2 starting at 8:30 a.m. ET (race will also be shown on ABC7 in New York).
*International TV/streaming information *Full elite fields
Who's Going to Win?
If you go strictly by personal best, the NYC women's field is not much deeper than last month's much-maligned Chicago field. There are only four women in the field who have run under 2:24 and only five under 2:25, identical to Chicago (in case you are wonderin, Boston had 13 sub-2:24 and sub-2:25 women). There are a few key differences, however.
For starters, NYC has four women under 2:21 compared to two for Chicago. And most of those women have been in good form in the last couple of years. Peres Jepchirchir (2:17:16 pb) just won the frickin' Olympics. Namibia's Helalia Johannes (2:19:52 pb) may be 41 was 11th in Sapporo and ran her pb less than a year ago. Abel Yeshaneh (2:20:51 pb) ran a half marathon WR of 64:31 last year — though she hasn't raced since November 2020. And Molly Seidel (2:25:13 pb) hasn't broken 2:21, but she has something more rare: an Olympic medal.
Outside of those four — Jepchirchir, Johannes, Yeshaneh, and Seidel — Ethiopia's Ruti Aga, 27, is the only other woman with a legitimate shot at the win. Aga has a 2:18:34 pb, six top-3 WMM finishes (including a win at 2019 Tokyo) and is also the top returner from the last NYC Marathon, taking 3rd in 2019. Most recently, Aga was 5th in the Ethiopian Olympic marathon trials back in May.
Jepchirchir has to be the favorite. It's not just that she's the Olympic champion; she's been on a hot streak for two years and counting. Here are her half marathon and marathon results since October 2019:
| | | | |
| --- | --- | --- | --- |
| Date | Race | Time | Place |
| 10/20/19 | Lisbon Half | 66:54 | 1st |
| 12/8/19 | Saitama Marathon | 2:23:50 | 1st |
| 9/5/20 | Prague Half | 65:34 | 1st |
| 10/17/20 | World Half | 65:16 | 1st |
| 12/6/20 | Valencia Marathon | 2:17:16 | 1st |
| 8/7/21 | Olympic Marathon | 2:27:20 | 1st |
The only concern is whether she can bounce back from her win in Sapporo 13 weeks ago and refocus to win New York. Historically, that has been difficult to do. No women's Olympic marathon champion has ever doubled back to win another marathon later that year. In fact, as far as I can tell, only one women's Olympic champ has even attempted to run a post-Olympic fall marathon: Romania's Constantina Dita, who was 4th in Chicago in 2008.
A few men have tried to double back, but it has been almost 50 years since an Olympic champ won a post-Olympic fall marathon. That man? America's own Frank Shorter, who in 1972 won Fukuoka 12 weeks after claiming Olympic gold in Munich. Here's the track record of the men and women who have tried to double up in that span:
| | | | |
| --- | --- | --- | --- |
| Year | Athlete | Fall marathon | Result |
| 1972 | Frank Shorter | Fukuoka | 1st, 2:10:30 |
| 1980 | Waldemar Cierpinski | Fukuoka | 6th, 2:10:24 |
| 1984 | Carlos Lopes | Chicago | 2nd, 2:09:06 |
| 1996 | Josia Thugwane | Fukuoka | DNF |
| 2008 | Constantina Dita | Chicago | 4th, 2:30:57 |
Jepchirchir, however, has one advantage over all of the athletes in the table above: super shoes, whose increased cushioning makes it significantly easier to bounce back and race again quickly. Already this year, we've seen a number of athletes come back from the Olympics and run terrific marathons. Sisay Lemma (London) and Ruth Chepngetich (Chicago) both won majors after racing in Sapporo. To be fair, neither finished the Olympic marathon. But silver medalist Brigid Kosgei did, and she ran 2:18:40 in London just eight weeks later. On the men's side, Galen Rupp was second in Chicago after taking 8th at the Olympics. Belgium's Bashir Abdi claimed bronze in Sapporo; 12 weeks later, he won Rotterdam in a European record of 2:03:36.
Jepchirchir took a couple of weeks off after Sapporo, during which time she made a number of appearances, including an audience with Kenyan president Uhuru Kenyatta. But don't think she's in town just to pick up her appearance check.
"She is not a girl that is happy just to go to a race," says Jepchirchir's agent Gianni Demadonna. "She is a girl that is motivated…She relaxed two weeks [after the Olympics, took] two weeks to start [running again], and the last preparation was eight full weeks. That is enough, if somebody is Peres Jepchirchir."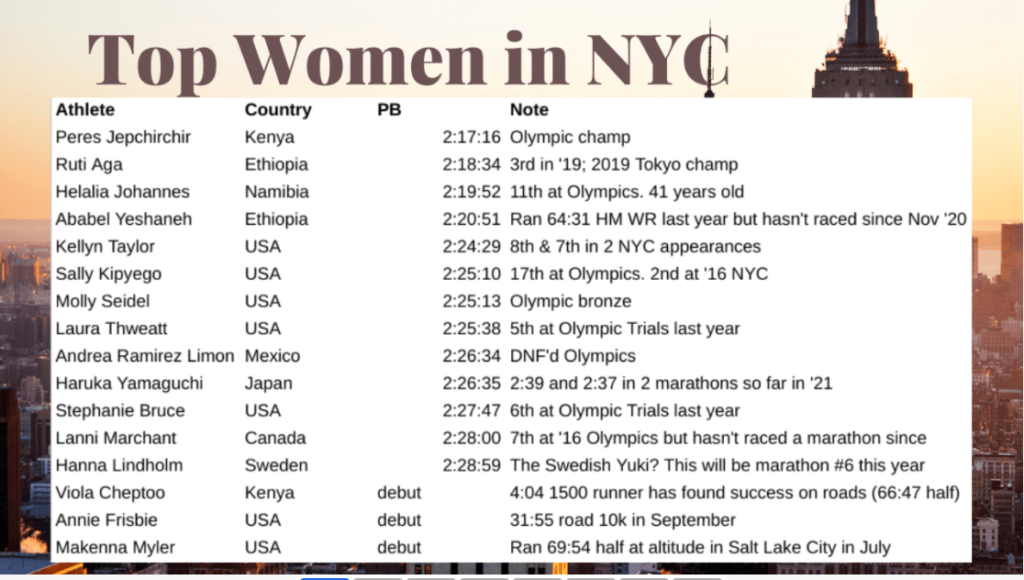 Could Molly Seidel Win? Actually, Yes.
Molly Seidel has run three career marathons, all of them in races that presented serious challenges and she's run well in all three races even though all of the races presented completely different challenges.
Her debut at the Olympic Trials in 2020? Hills and wind.
2020 London? Cold rain (and more wind).
2021 Olympics? Heat and humidity.
Seidel responded by hitting a home run at the Trials (2nd place), a solid double in London (a pb of 2:25:13), and a grand slam at the Olympics (bronze medal). Considering Seidel is still only 27 and went from marathon rookie to Olympic bronze medalist in the span of 18 months, she might not be done improving.
One thing has become clear about Seidel. She does not simply endure when a marathon gets tough; she excels. While the favorites peeled off, one after another, in Atlanta and Sapporo, Seidel bounced along, seemingly unaffected.
"She's just so tough," says her coach Jon Green. "That's one thing coming off the Olympics and doing New York has proved to me — and shown a new level of her toughness, to be honest with you. Her pain tolerance is through the roof."
The conditions in New York won't be bad — the Sunday forecast looks near-perfect for running — but it's the course itself, with its rhythm-breaking bridges and tricky finish in Central Park, that makes things tough. And for Seidel, tough = good.
Of course, like the other recent American women to win a major, she'll need to catch a break. If it's 2:22 race — like NYC was in 2018 and 2019 — Seidel is not going to win. She'll need Jepchirchir to falter — and maybe Ruti Aga as well.
But if that happens, and it turns into a 2:25, 2:26 race? Seidel could win that. Yes, her pb is only 2:25:13, but that's misleading for multiple reasons. First, she ran it in a rainstorm in London. Second, she was definitely fitter in Sapporo than she was in London. And third, evidence is piling up that suggests Seidel runs best on courses where place, not time, is the primary consideration — and New York is one such course.
Like many Olympians, Seidel told the NY Daily News that she experienced a post-Sapporo crash. She described the whirlwind of media attention and obligations as an "emotionally very fraught experience" and jarring to her routine — which is important to Seidel given she deals with obsessive-compulsive disorder. Her result on Sunday will show how well she was able to refocus for New York.
"We're going there and we're ready to race hard," says Green. "Our race strategy is going to be absolutely putting our nose on it and whatever happens on the day happens on the day. But I think Molly's really fit and absolutely ready to attack it."
The Other Americans
Seidel has finished as the top American in just one of her three marathons to date. Was her bronze in Sapporo a signal that she has left the domestic pack behind and will occupy the same role in the 2020s as Shalane Flanagan and Des Linden did in the 2010s? Or will the pack in New York reel her back in?
She'll have plenty of competition. Of the top eight finishers at last year's US Olympic Trials, six were slated to run NYC this fall:
| | | |
| --- | --- | --- |
| Athlete | Trials finish | Fall marathon plans |
| Aliphine Tuliamuk | 1st | NYC (withdrew) |
| Molly Seidel | 2nd | NYC |
| Sally Kipyego | 3rd | NYC |
| Des Linden | 4th | Boston, NYC (withdrew) |
| Laura Thweatt | 5th | NYC |
| Stephanie Bruce | 6th | NYC |
| Emma Bates | 7th | Chicago |
| Kellyn Taylor | 8th | NYC |
We covered Seidel above, and she has to be considered the favorite to finish as the top American on Sunday. But Kipyego, Thweatt, Bruce, and Taylor all have a legit shot at that honor. Let's run through them one by one.
Sally Kipyego, 35 years old (2:25:10 pb): Like Seidel, Kipyego is doubling back from the Olympics, where she finished 17th. Kipyego is definitely the most likely American to beat Seidel, for a number of reasons. First, she's got a better running CV than Seidel or any of the other Americans. With an Olympic bronze medal and four NCAA titles on her CV, Seidel is obviously a big-time talent. But Kipyego is an Olympic silver medallist (admittedly on the track in 2012) and 9-time NCAA champion. Second is that Kipyego has had success in New York before — she was 2nd in her "re-debut" here in 2016 — that is a better result than anything Thweatt, Bruce, or Taylor has ever done.
Laura Thweatt, 32 years old (2:25:38 pb): Thweatt ran one of the best marathons of her life to finish 5th at the Trials, but had a tough time returning to form in the aftermath as she balanced recovery from a physically grueling race amidst the onset of a pandemic. This summer, she parted ways with coach Joe Bosshard after two and a half years and has been coaching herself for the first time during this buildup. That brought plenty of uncertainty, but Thweatt ran well in her tuneup race, a 70:25 win at the San Jose Half on October 3, just 13 seconds off her pb — a result that gave her confidence that she's ready to race well in New York.

"That was my first race since Atlanta where I just clicked back into things and just really felt like myself out there," Thweatt says. "So I was really happy with it. It was a great confidence booster going into the last half of my block knowing that what I put together for myself was working."

Stephanie Bruce, 37 years old (2:27:47 pb): Bruce has been fairly consistent in her marathon career (DNF at the Marathon Project last year notwithstanding), but to finish as top American in this race, she'll need to uncork something special. Her run at the Trials was probably the best marathon of her life yet three of the women in this field still finished ahead of her. The good news is that she ran a half marathon pb earlier this year in April (69:55) and coach Ben Rosario reports that she has had a solid buildup. "[Stephanie and Kellyn Taylor] a

re just veterans," Rosario says. "They just tend to show up on these big marathon days for many years now. And so there's a calmness about going into New York with these two."

Kellyn Taylor, 35 years old (2:24:29 pb): Taylor has finished 8th and 7th in two appearances in New York, finishing as the #3 American in 2017 and the #2 in 2019. She's hoping for more in 2021 and has upped her mileage significantly — Rosario says that one 10-week stretch during this buildup (which included a 134-mile week, Taylor's all-time high) was the most miles she had ever run in a 10-week period. As a result, Rosario says Bruce got the better of Taylor in some of their workouts during this buildup, but as Taylor has begun to taper, she has looked fresher — a good sign heading into race day.
Bruce and Taylor will be hoping to salvage what has been a rough fall marathon season so far for HOKA NAZ Elite. The team underperformed in Boston (Scott Fauble 16th, Scott Smith 17th, Rory Linkletter 37th, Julia Griffey 30th) and have had two athletes withdraw from NYC due to injury (Tuliamuk and Matt Baxter). (Editor's note: Part of the group's struggles may be equipment-related. Recent lab testing has shown HOKA really doesn't have a super shoe. Take two minutes off Fauble's time from Boston and he'd have been right in the mix for top American honors.)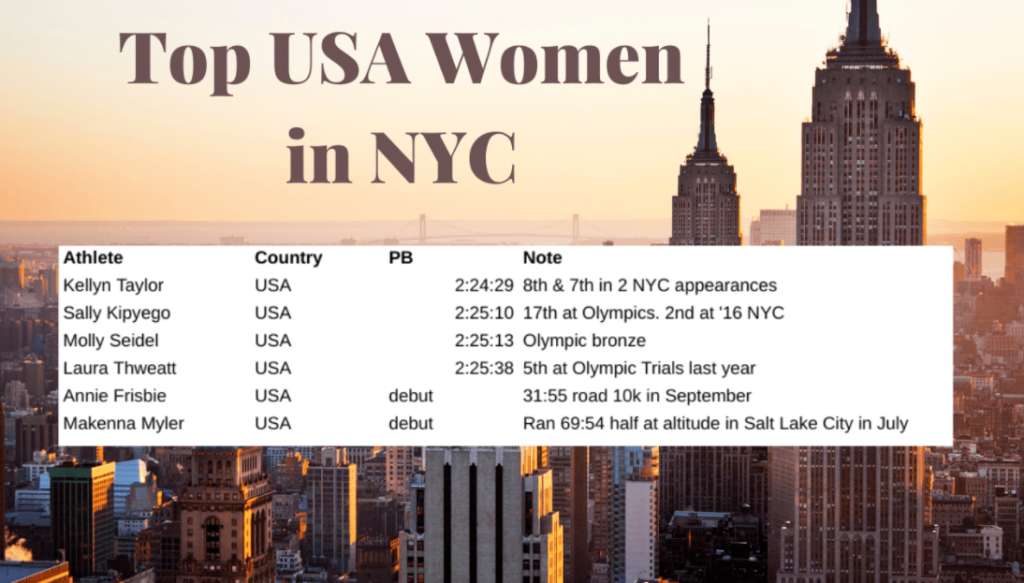 Talk about the 2021 NYC women's field on LetsRun.com world-famous fan forum / messageboard. MB: 2021 NYC Women's Preview: Could Molly Seidel win? Actually, yes but expect Peres Jepchirchir to extend her win streak to 2+ yrs.