WTW: Did John McDonnell Ever Have A 29:04 5th Man? Road Records Keep Tumbling Down, College XC Heats Up, and $250,000 for the Winner of the Nagoya Women's Marathon
The Week That Was in Running, September 27 – October 3, 2021
By Robert Johnson
October 6, 2021
If you missed our coverage of the 2021 Virgin Money London Marathon, catch up now, as I don't talk about that great race here: 2021 London Marathon Coverage.
Past editions of the Week That Was can be found here. Got a tip, question or comment? Please call us at 844-LETSRUN (538-7786), email us, or post in our forum.
****
Did John McDonnell Ever Have A 29:04 5th Man? / Arkansas Impresses At Home Despite Losing To 3 Division II Teams
Article continues below player
The depth of the NCAA xc this year is staggering.
At Arkansas' Chile Pepper Invite, in the men's race, the host Hogs, ranked 8th in the country, were just fifth with 192 points, losing to three Division II schools, #1 Colorado Mines (39), #4 Augustan (131), and #8 Western Colorado (178). I imagine some old-timers were thinking, 'Wow, the Hogs have really fallen, they were so much better under John McDonnell.'
That would be completely the wrong takeaway.
First of all, the Hogs deserve kudos for letting the DII teams race in their meet and not scoring them in a separate division which we've seen done time and again and it drives us nuts.
Secondly, the Hogs were running their B team. Their first runner in the race, Myles Richter, ran quite well and was 2nd overall in 23:33.5. And he's hoping to be the Hogs #5. And he's run 29:04 for 10,000.
"Our depth is our strength. We've got four amazing guys up top and we're looking to fill the fifth spot with 5-6-7. I'm already in that seven, I'm just looking to be that number five guy if that's what I need to be," said Richter after the race.
The Hogs top 4 – all from Kenya and all who started their college careers at other colleges – are pretty strong indeed.
Arkansas Top 4 / PBs / Previous School
Amon Kemboi (13:33/28:55 – Campbell)
Gilbert Boit (13:37/28:09 – Tenn. Tech)
Emmanuel Cheboson (13:41/28:42 – Louisville)
Andrew Kibet (4:02 mile, 8:50 steeple – Hutchinson CC).
Yes, under coach Chris Bucknam, the Hogs have only been on the podium once at NCAAs in cross country, but that begs the question 'Did John McDonnell ever have a 29:04 5th man?'
Granted this is the super spike era and comparing times across different eras isn't a perfect science, but how good were Arkansas' 5th men when John McDonnell's Hogs won their 11 NCAA xc titles?
It's a very hard to compare as the McDonnell Hogs had a ton of mid-d stars who stepped it up in xc.
Arkansas' 5th Men On Their NCAA XC Title Teams Under John McDonnell
1984 – Gary Taylor – 3:39 1500 runner
1986 – Chris Zinn – ??? – Was top 10 in xc in both 87 and 88.
1987 – Doug Consiglio – 3:38? ran 3:35 in 1988.
1990 – Nial Bruton – 3:47 1500. Would run 3:35 (1995)
1991 – Eric Henry – 3:59 mile
1992 – Niall Burton – 3:41 1500. Would run 3:35 (1995)
1993 – Michael Morin – 3:39
1995 – Matthew Kerr – I imagine the freshman's pbs wern't great but he'd eventually run 13:32 (2003) and 8:20 in steeple (2005)
1998 – Adam Dailey – 8:06/29:46? Ran 28:34 in 2000.
1999 – Matt Kerr – 3:41/7:53/8:32 st, would run 13:32 in 2003.
2000 – Ryan Travis – 3:41/3:59/7:56
If you know of any corrections, email me or post them on the messageboard:
MB: Who was John McDonnell's best 5th man? Did John McDonnell ever have a 29:04 5th man?
Update on October 6. Adam Dailey (or at least someone impersonating him) has posted on the messageboard stating tha the was Arkansas' 6th man in 1999 (39th overall). Later that school year, in May at Stanford, he ran 28:34.
****
NC State Women Roll
Speaking of incredible depth.
On the women's side of the NCAA ledger, last week, there were two #1 ranked teams in cross country as NC State and BYU were co #1s. That may surprise casual observers as BYU returns its entire top 7 from last year's title team.
But NC State showed they are worthy of that co #1 ranking as they were very good at Notre Dame's Joe Piane Invite which featured five of the top 10 teams in the land including #3 New Mexico. The results showed it will definitely be a two-team battle at NCAAs as NC State blew away the competition, scoring just 38 points with New Mexico best of the rest with 94. NC State had 5 runners across the line before New Mexico even had 2. They actually had five across the line before every other team in the race save for #6 Alabama.
****
Kalkidan Gezahegne Breaks The 10k WR
If at the beginning of the year someone told you that Bahrain's Kalkidan Gezahegne would win Olympic 10,000 silver and then go on to set a new road 10k world record of 29:38, you would have been shocked, but that's exactly what has happened as Gezahegne ran 29:38 at the Geneva Giants 10-K in Switzerland on Sunday to break Joyciline Jepkosge's 29:43 WR.
You would have been shocked as at the start of the year Gezahegne, 30, the world indoor champ at 1500 in 2010 back in an era when 4:00 was a super-fast time (her pb is 4:00.97), had never even run a 10,000. Her 5000 pb was just 15:07 on the track and 15:04 on the road. Gezahegne hadn't recorded any results at all since 2018 when she was the dominant winner of both the 1500 (4:07) and 5000 (15:08) at the Asian Games. But she's thrived in 2021 as she's moved up to the longer distances under the tutelage of controversial coach Jama Aden.
Now, the road record is still quite soft as there is no reason why it should be 37 seconds slower than the track record particularly since one can wear Vaporfly's on the roads and not the track, but it is good to see her racing and racing well. After her medal in Tokyo, some on the messageboard thought she'd be a one-hit wonder as there was speculation she wasn't in the out-of-competition testing pool heading into the year. The more she races post-Tokyo, the more credibility people like myself will give to her medal.
###
Gezahegne isn't the only one trying new distances in 2021. Behind her in the 10k results in Swizterland was 8:58 steepler Celliphine Chespol of Kenya (3rd in 30:28) as well as 3:58 1500 runner Dawit Seyaum (31:25).
La Bahreïnie Kalkidan Gezahegne s'empare le record du monde du #10K à #Geneve 03 oct. 2021. Podium « The Giants » 1er Kalkidan Gezahegne, 2e Agnes Tirop, 3e Celliphine Chespol. Voir 49 photos de la course https://t.co/wimxOf9Us1 pic.twitter.com/Is9ujoIpIZ

— Orbisswiss-photos (@orbisswissphoto) October 3, 2021
###
Thumbs up to Kibiwott Kandie, the world record holder in the men's half marathon, for being healthy enough to return to action for the first time since April in the men's race in Switzerland. A right knee injury kept him out of the Kenyan Trials but he won Geneva Giants 10-K on Sunday with a negative split 26:51 (13:29/13:22). Could a half marathon be in store for him next? Since he set his half marathon WR in Valencia last year, I assumed he'd race the Valencia Half on October 24, but his face is not on their website promoting the race as shown below.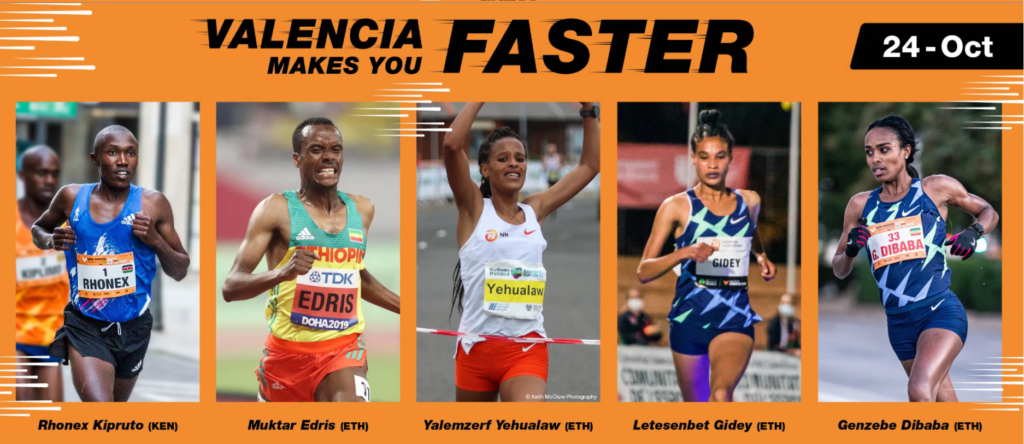 Update. But I forgot he's making his marathon debut in NYC this year. MB: Kibiwott Kandie 26:51 before NYC
###
Thanks to the new shoes, world records are falling all the time. Therefore they have less significance. Remember when Sifan Hassan's 10,000 WR on the track only lasted less than three days? Well, we almost had one last shorter than that last week as an hour before Gezahegne's world record 2019 world championships 5000 silver medallist Margaret Chelimo Kipkemboi of Kenya missed the world record by just 7 seconds in Valencia when she ran 29:50.
****
$250,000 To The Winner of the Nagoya Marathon Next March
While London 2021 went off without any hitches of note, it's worth noting the 2022 edition of London will still take palce next fall as well, not during it's normal spring date. With no spring marathon in London, that means Boston and Tokyo are likely to be better than normal. But for women, it will be interesting to see how good Nagoya is. In case you missed it, it was announced last week that the women's only marathon will offer $250,000 to the winner – the largest prize in the sport.
The $250,000 prize is gigantic, but we haven't seen reports on how much second place will pay. That will go a long way in determining how good the field is. I do know one thing, it's highly unlikely the course record will be 2:20:29 after next year. Five women ran under 2:19 in London this past weekend, thanks to a $75,000 bonus to everyone who did it.
2022 Nagoya Women's Marathon to offer $250,000 for 1st place. Nagoya is world's largest women-only marathon, only women's race with a @WorldAthletics Platinum Label, and only major JPN mass-participation marathon to go ahead so far in 2021: https://t.co/XUDful4b4t

— Japan Running News (@JRNHeadlines) October 1, 2021
MB: 2022 Nagoya women's marathon will offer $250,000 to the winner. Anyone know how much 2nd will get?
Speaking of Japan, high schooler Keita Sato continues to impress as he broke the Japanese HS 5000m record by running 13:31.19. Remembe, he also ran 3:37 for 1500m back in July. Not as fast as Hobbs Kessler, but he's a year younger. The guy is just 17. Now Sato has taken his talents to the 5k and run faster than Galen Rupp's US high school record of 13:37. Very impressive.
Discuss: Wow 17-year old Japanese High Schooler Keita Sato Runs 13:31
****
Let's hope he got comped entry fees
As part of the Medtronic Twin Cities Marathon weekend, there also is a 5k and 10k on Saturday and a 10 miler on Sunday. 31-year old Danny Docherty ran and won all three of the shorter races. And he ran an equivalent better performance in each and every race. At 7:15 am on Saturday, he won the 10k in 31:57. Then at 8:45 am, he won the 5k in 15:07. On Sunday, he won the 10 miler in 49:19 after running the first 5k in 14:55.
Docherty, a St Paul native who ran 29:16 for Loyola (Ill) in college, ran 2:15:55 in the marathon in Twin Cities in 2019.
****
Recommended Reads
To see our favorite reads from other weeks, go here.
***
Quotes Of The Day And Last Week's Home Pages
To see the quotes of the day from last week or last week's home page or any home page, go to our archive page.
Got a tip, question or comment? Please call us at 844-LETSRUN (538-7786), email us or post in our forum.