WTW: Elaine Thompson-Herah > FloJo, Emma Coburn > Courtney Frerichs and Andre De Grasse > Noah Lyles?
The Week That Was in Running – August 16 – August 22, 2021
By Robert Johnson
August 23, 2021
The Diamond League has returned to America with fans and thus it's time for me to bring back the Week That Was column.
Article continues below player
Past editions of the Week That Was can be found here. Got a tip, question or comment? Please call us at 844-LETSRUN (538-7786), email us or post in our forum.
****
The Pre Classic Delivers
For the first time in its history, the Prefontaine Classic was the first Diamond League meet after the Olympics. Pre certainly delivered as it produced seven world leads, six meet records, five national records, and three Diamond League records. Yes, there were a few clunkers (Laura Muir ran 4:05, Allyson Felix ran 22.60), which was to be expected as some stars may have been mentally and/or physically exhausted after Tokyo. Of course the biggest clunker came from Sha'Carri Richardson and she wasn't suffering from Tokyo fatigue — more on that later.
A buddy of mine texted me and said before the meet he told his wife he thought the "performances would be disappointing, that the runners would be too tired from all the travel after the Olympics." After the meet, he said he thought that was "largely proven true [except for Athing Mu], which just proves how otherworldly Athing Mu is."
So I decided to do a little research. What was the percentage of excellence to non-excellence at Pre?
I went event by event and took a look at the top three in every event on Saturday to see if they produced a better mark at Pre or in the Tokyo Olympics (if they were at the Olympics). Here are the results
How Many Of The Top 3 At Pre Were Better At Pre Than in Tokyo?
MTJ – 0 of 3
WPV – 0 of 2 (Third placer Olivia Gruver wasn't in Tokyo)
WHJ – 1 of 3 (Iryna Gerashchenko jumped 1.98 in both Tokyo and Eugene, Vashti Cunningham did 1.96 in Tokyo and 1.98 at Pre)
M800 – 3 of 3 (Emmanuel Korir's winning time in Tokyo was just 1:45.06; he ran 1:45.05 for 3rd at Pre)
W3KSC – 2 of 2 (Race winner Norah Jeruto wasn't in Tokyo; the fact that there were pacers and it was 20 degrees cooler helped people run faster)
M200 – 1 of 2 (3rd placer Josephus Lyles wasn't in Tokyo)
W100 – 2 of 3 (Shericka Jackson ran the same time, but if you factor in the wind — -0.6 in Tokyo, +0.9 in Eugene — it's 0 of 3)
W800 – 2 of 2 (Kate Grace wasn't in Tokyo)
MSP – 0 of 3
W1500 – 0 of 2 (3rd placer Josette Norris wasn't in Tokyo)
W400H – 1 of 2 (Gianna Woodruff ran a Panamanian record of 54.20 at Pre while runner-up Shamier Little wasn't in Tokyo)
M100 – 3 of 3 (If you factor in the wind — +0.1 in Tokyo, +2.9 at Pre — it's only 1 of 3, plus Ronnie Baker's time would be equal to what he ran in Tokyo)
W200 – 1 of 2 (Dina Asher-Smith didn't race the 200 in Tokyo)
MMile – 1 of 3 (Using the 1.0802 conversion to 1500, only Stewart McSweyn was better at Pre than in Tokyo)
Total 17 of 35
All together, 17 of the 35 top-3 performers at Pre on Saturday produced a better mark at the Pre Classic than they did in Tokyo.
So should we say we were both right?
In terms of historic marks, however, there is one we will almost certainly remember 10 years from now…..
****
Elaine Thompson-Herah Runs 10.54
The race of the meet was the women's 100 meters. And it lived up to the hype.
Jamaica's Elaine Thompson-Herah, the double Olympic sprint champ at each of the last two Olympics, produced the second-fastest women's 100 meters in history, blowing away the field in 10.54 seconds as Jamaica went 1-2-3 yet again. And as good as Thompson was, Sha'Carri Richardson was bad. Richardson not winning wasn't shocking. Her finishing dead last was.
Think about what was at stake for Thompson-Herah before this one. Yes, she was the double Olympic 100-200 champ, but if she lost to Richardson in Eugene, she wouldn't even be viewed as the best sprinter of 2021. Now, just over 10.5 seconds later, we are wondering if she's going to go down in history as the female G.O.A.T.
Remember, many, including Track & Field News, don't even recognize Florence Griffith Joyner's 10.49 world record as the evidence is pretty clear that it must have been heavily wind-aided.
For a great history of FloJo's record race, read this piece from Kevin Sully and then this report that Dr. Nicholas Linthorne of the University of Western Australia wrote for the IAAF. Based on how fast the entire field in FloJo's heat ran, Linthorne estimates the wind was between 5 and 7 m/s. Remember, that time came in the quarterfinals of the 1988 US Olympic Track and Field Trials and no one in her heat equaled their time later on at the meet. Most who have looked into it think FloJo's 10.49 was severely wind-aided (basically everyone in her heat ran way faster than expected) and that FloJo's 10.61 (+1.2 m/s) that she ran in the finals of the same 1988 US Olympic Trials should have been the WR.
Thompson-Herah equaled FloJo's 10.61 in Tokyo and now has broken it. Elaine Thompson-Herah should be viewed as the women's 100-meter world record holder.
****
Thompson-Herah's 10.54 Shouldn't Have Shocked Us
What's interesting about Thompson-Herah's 10.54 mark is that she didn't actually run better in Eugene than she did in Tokyo. It just seems that way.
She won the women's 100 in Tokyo by running 10.61 into a -0.6 m/s headwind. According to Jonas Mureika's 100m wind conversion calculator, that's equal to 10.57 in still conditions. Thompson-Herah's 10.54 in Eugene came with a 0.9 tailwind and it equates to 10.59 with no wind.
Wind, as Flo-Jo's 10.49 showed, plays a huge role in sprinting.
Many of the other Eugene sprint marks were also misleadingly fast because of the wind.
****
Noah Lyles' 19.52 Was Nice To See But There's A Reason He Got Beat in Tokyo
I was thrilled to see Noah Lyles look so much better in the men's 200 at Pre, where he recorded his second-fastest time of his career, 19.52 (his pb is 19.50 from Lausanne in 2019). When that race ended, I thought, "How did he lose in Tokyo? He's clearly the best 200 guy on the planet." However, an hour later, the Tokyo 200 champ Andre De Grasse of Canada looked better than ever in the men's 100 when he ran a windy 9.74 (+2.9 m/s).
So I crunched the numbers and used Mureika's calculator to see what the various marks are worth in still conditions.
The reality is when you factor in the wind the 19.52 that Lyles ran at Pre and the 19.74 he ran in Tokyo aren't nearly as far apart as it seems.
Lyles' 19.52 at Pre (+1.5 m/s) in lane 7 equates to a 19.64 in still conditions according to Mureika. Yes, that result is better than the 19.74 (-0.5 m/s) that Lyles ran in Tokyo as that equates to a 19.71 in no wind, but it's not leaps and bounds better.
And De Grasse won the gold in Tokyo by running 19.62 into a 0.5 m/s headwind, which equates to a 19.58 in still conditions. So the reality is, De Grasse is a very worthy 200m champion.
And as for De Grasse, he didn't suddenly get way better at the 100 at Pre. His 9.74 there (+ 2.9 m/s wind) equates to a 9.87 in no wind and he ran 9.89 for 3rd in Tokyo.
Comparing Tokyo and Prefontaine Sprint Time Factoring In The Wind
(Time Listed Is Their Performance with a Zero Wind*)

 
Tokyo
Prefontaine
Andre De Grasse (100)
9.89 (9.89, +0.1 m/s)
9.87 (9.74, +2.9 m/s)
Andre De Grasse (200)
19.58 (19.62, -0.5 m/s)
 N/A
Noah Lyles
19.71 (19.74, -0.5 m/s)
 19.64 (19.52, +1.5 m/s)
Elaine Thompson Herah
10.57 (10.61, -0.6 m/s)
10.59 (10.54, +0.6 m/s)
*All conversions via Jonas Mureika
****
Sha'Carri's DFL
Sha'Carri Richardson's performance or lack thereof was stunning when it unfolded live on worldwide TV. That being said, she's still a very good sprinter. Here are the best performers this year, adjusting for wind.
Best Sprint Performers Ajudsting for Wind in 2021
10.57 – Elaine Thompson-Herah – Tokyo Olympics – July 31 (10.61, -0.6 m/s)
10.69 – Sha'Carri Richardson – Mt SAC – May 9  (10.77, -1.2 m/s)
10.70 – Shelly-Ann Fraser-Pryce – Tokyo Olympics – July 31 (10.74, – 0.6 m/s)
10.72 – Shericka Jackson – Tokyo Olympics – July 31 (10.76, – 0.6 m/s)
The problem for Richardson is for the second straight non-pandemic season, she peaked too early. In 2019, she ran her best at NCAAs on June 8 (10.75, +1.6 m/s). When USAs rolled around on July 25, she also finished dead last in the final. In fact, her time then (11.72) was even worse than it was at Pre (11.14). Not a big deal though as she was a freshman in college.
It's worth noting, however, that no one in the history of the world has run as fast as Richardson has at her age. Her 10.75 at 2019 NCAAs is the fastest time by a U20 athlete by a whopping .13 of a second. And her 10.72 personal best from April is the fastest time ever run by someone age 21 or younger (the infamous Marion Jones is next on the list at 10.76).
For comparison, at age 21 Thompson Herah's pb was 11.17 and Fraser-Pryce's pb was 10.78.
Given how Sha'Carri looked this week, the best thing that could have happened to her was her marijuana DQ after USAs. She likely peaked too early and she would have been at best 4th in Tokyo. So instead of going to Tokyo and getting beaten, she's instead now a very well-known US celebrity who is being featured in Nike commercials.
The YouTube algorithm loves her — our post-race interview of her has racked up more than 300,000 views (nothing else has even 20,000).
Some people don't like her brashness/boldness. That's fine. But the reality is nearly everyone has an opinion about her and we think it's great for the sport. She moves the needle.
What we love most about Sha'Carri is she doesn't try to run and hide when things don't go well. She's the same — win, lose or draw. You need to own your decisions and life and she does. It drove me nuts in Tokyo when Sam Kendricks tested positive for COVID-19 and then wouldn't admit he wasn't vaccinated. If you are going to go unvaxxed, at least admit it. Don't run and hide when things don't go well.
Along those lines, have you checked out Sha'Carri's newest Twitter profile pic? She's embraced the meme that has gone viral on the Internet — that of SAFP smirking as Richardson gave her NBC post-race interview.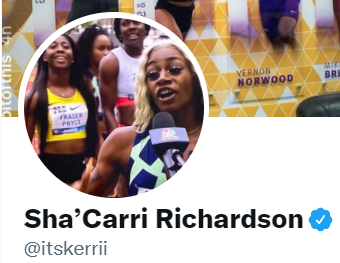 *****
Stat of the Week
1 year, 6 months, 9 days (556 days) – amount of days that have passed since Athing Mu last lost an 800-meter race.
I looked that up because after watching Mu obliterate the field at Pre and finish her undefeated 800 season in style with a 1:55.04 American record, I started wondering, "Will she ever lose an 800 race again? How in the world is anyone going to beat her?"
If Mu keeps this type of form, it's going to be next to impossible for anyone to beat her. Why? Well, while I don't have proof of this, I believe it's more probable than not every single woman in history under 1:55 was either on drugs on intersex. I do know for a fact that all of them either had ties to the Eastern Bloc or were named Caster Semenya or Pamela Jelimo.
With drug testing getting tougher and tougher and with the DSD regulations in place, Mu is way better than everyone else.
Here is her margin of victory in her 800s this year.
| | | | |
| --- | --- | --- | --- |
| Meet | Date | Time | Margin of Victory |
| Ted Nelson Invite | 1/16 | 2:01.07 | 8.58 |
| SEC Indoors | 2/27 | 1:58.40 | 4.45 |
| Michael Johnson Invite | 4/17 | 1:57.73 | 3.14 |
| US Olympic Trials | 6/27 | 1:56.07 | 1.59 |
| Olympics | 8/3 | 1:55.21 | 0.67 |
| Pre Classic | 8/21 | 1:55.04 | 2.56 |
Yes, half of the year, she was racing collegians but it's still impressive as hell. Only once all year did anyone come within a full second of her.
But instead of wondering how long her unbeaten streak is going to go, can we appreciate for a moment what Mu has accomplished this year? When she last raced an 800 before this year, it was pre-COVID at the US Indoors on Valentine's Day 2020. She blew up and ran 2:14 (including a 38.79 last 200) and didn't make the US indoor final a year after arriving by winning the 600m title indoors over Raevyn Rogers.
Because of COVID, Mu didn't get to run the rest of her senior year in high school but now she's untouchable. She was so good at the NCAA level that I expected her to go to US Olympic Trials and win. She did just that. I expected the same thing at the Olympics. And she did it. All at the age of 19.
The moment was never too big for her. She was totally unfazed by it all.
Can the people who say you need years of experience to learn how to tactically race as a pro, particularly in the 800, now officially not talk for the rest of eternity? Athing Mu (plus Patryk Dobek) officially killed off this argument.
The crazy thing is, if she gets much better, she's going to be giving the world record a scare.
Athing Mu's Progression
Age 14 – 2:10.85
Age 15 – 2:06.59
Age 16 – 2:01.38
Age 17 – 2:01.17
Age 18 – 1:57.73
Age 19 – 1:55.04
Age 20 – ???
###
Mu has said she will be skipping the Diamond League final and is instead going on a beach vacation. I'm fine with that. She's been racing since January. End with perfection.
That being said, I don't like when other Olympic champs call their seasons when the Diamond League is still going on (Sydney McLaughlin is an example). What about the sport? If World Athletics paid the athletes' salaries, there is no way they'd be allowed to do that. In the NFL, do you think the best teams really enjoy playing 17 regular-season games? No, but the league makes them do it. The shoe companies pay the bills though, so that's not the way it works in running.
****
Congrats to Courtney Frerichs, But Please Stop The Hyperbole
Courtney Frerichs made history at Pre by becoming the first American woman to break 9:00 in the steeplechase by running 8:57.77 — a much-deserved feat after her bold Olympic run of 9:04 in the heat of Tokyo.
That being said, can people who are asking if she's now the GOAT of American's women's steeplechasing please stop?
MB: Overreaction or fact? Frerichs officially passes Coburn as #1 US Steepler ever 
Let's play "Blind Resume." Take a look at the following stats and tell me who has had the better steeple career.
| | | |
| --- | --- | --- |
|   | Runner A | Runner B |
| Head To Head Wins | 16 | 2 |
| US Titles | 9 | 0 |
| Sub-9:10 Clockings | 13 | 6 |
| Global Medals | 3 | 2 |
| American Records | 3 | 2 |
| Global Golds | 1 | 0 |
| Time Spent as AR Holder | 783 days | 1130 days |
Runner A is Emma Coburn. Runner B is Courtney Frerichs.
Frerichs has never won a US title and has beaten Emma Coburn exactly two times in her entire life in the steeplechase. Coburn has beaten her 16 times, won 9 US titles, and broken 9:10 13 times, a feat Frerichs has done just six times. Plus Coburn has won three global medals, including a world title, while Frerichs has just two global medals. Yes Frerichs is the American record holder but so was Coburn. In fact, Emma Coburn has broken the American record three times in her career (four if you count Glasgow 2014, when Coburn ran faster than the AR but the record wasn't ratified because she forgot to take a post-race drug test) while Frerichs has done it twice.
Frerichs is the fastest American steeplechaser in history, but she's not the greatest.
LRC Courtney Frerichs Runs 8:57.77 To Become First American to Go Sub 9 in Steeple
MB: Overreaction or fact? Frerichs officially passes Coburn as #1 US Steepler ever 
*****
The US Major Marathon Fields Are Set
We now have four of the six elite fields for this fall's World Marathon Majors (still waiting on Berlin and Tokyo). We've made two charts where we compare the quality of the fields based on the entrants' personal best times. Take a look at the numbers below and what one thing jumps out at you in the men's fields and what one thing jumps at you in the women's fields?
Comparing The 2021 Major Marathon Fields Based On Their Elites' PBs – Men
Men
Sub-2:04
Sub-2:05 
Sub-2:06
Sub-2:07
Sub-2:08
NYC
1
1
1
2
4
 London
7
8
9
9
9
Chicago
1
3
6
8
9
Boston
0
2
6
11
13
Comparing The 2021 Major Marathon Fields Based On Their Elites' PBs – Women

Women
Sub-2:19
Sub-2:20
Sub-2:21
Sub-2:22
Sub-2:23
Sub-2:24
Sub-2:25
NYC
2
3
4
4
6
7
8
London
4
8
9
10
10
10
11
Chicago
1
1
2
2
3
3
3
Boston
0
3
6
9
15
16
16
It doesn't take a rocket scientist to realize the NYC men's and Chicago women's fields are very thin.
Yes, the NYC numbers are a little misleading as half-marathon WR holder Kibiwott Kandie isn't included in there but those numbers do include the great Kenenisa Bekele, who is known to often not show up at the start line (and will be doubling back from Berlin just six weeks earlier). That being said, I'm THRILLED Bekele was announced for NYC as I always thought a cross country ace like himself would thrive in a hilly, non-rabbitted marathon.
As for the Chicago women, let's just hope they add someone to the field soon. Heck, you likely don't even need to give them an appearance fee. If the prize money is still $75,000 for 2nd, $50,000 for third, $30,000 for 4th, and $25,000 for 5th, there would be plenty of sub-2:25 Africans likely to take their chances if you just give them a bib number and let them into the country.
***
Quotes Of The Day and Last Week's Home Pages
To see the quotes of the day from last week or last week's home page or any home page, go to our archive page.
Past editions of the Week That Was can be found here. Got a tip, question or comment? Please call us at 844-LETSRUN (538-7786), email us or post in our forum.