Athing Mu Caps An Incredible Year with a 1:55.04 American Record
by LetsRun.com
August 22, 2021
Athing Mu can finally go on vacation.
The Olympic gold medallist and American record holder ran 1:55.04 to dominate the Pre Classic in her final race of her incredible 2021 campaign and lower her American record from the 1:55.21 she set at the Olympics.
Article continues below player
Mu ends her season as the Olympic champion, undefeated at 800m, having run 1:55 twice. And she only turned 19 on June 8. Amazing.
The pacing was very fast with rabbit Kaylin Whitney going through 400m in 54.19 and Mu not too far back in 55.5. Jemma Reekie was the only soul brave enough to try to stick with Mu (55.9 at 400), but would pay the price the second lap and fade to 8th in 2:00.27. 
Mu slowed some the second lap (1:24.5 at 600), but nearly had enough to become the 8th woman ever under the 1:55 barrier, but settled for being the 8th fastest of all time in a dominant win. Kate Grace continued her strong DL season with a distant second in 1:57.60.
| | | | |
| --- | --- | --- | --- |
| 1 | USA | MU Athing | 1:55.04WLNRMRPB  |
| 2 | USA | GRACE Kate | 1:57.60  |
| 3 | JAM | GOULE Natoya | 1:57.71  |
| 4 | USA | ROGERS Raevyn | 1:58.01  |
| 5 | GBR | HODGKINSON Keely | 1:58.30  |
| 6 | UGA | NAKAAYI Halimah | 1:58.78  |
| 7 | USA | WILSON Ajee | 2:00.21  |
| 8 | GBR | REEKIE Jemma | 2:00.27  |
| 9 | USA | SOUTHERLAND Sabrina | 2:01.87  |
| DNF | USA | WHITNEY Kaylin |   |
QT: Mu's race was very different than Tokyo with a similar results, but this is what she needs to do if she ever wants to target the WR
In Tokyo, Mu ran a negative split (57.8, 57.4) for the 1:55.21 win. Today she went out much harder and ran slightly faster overall.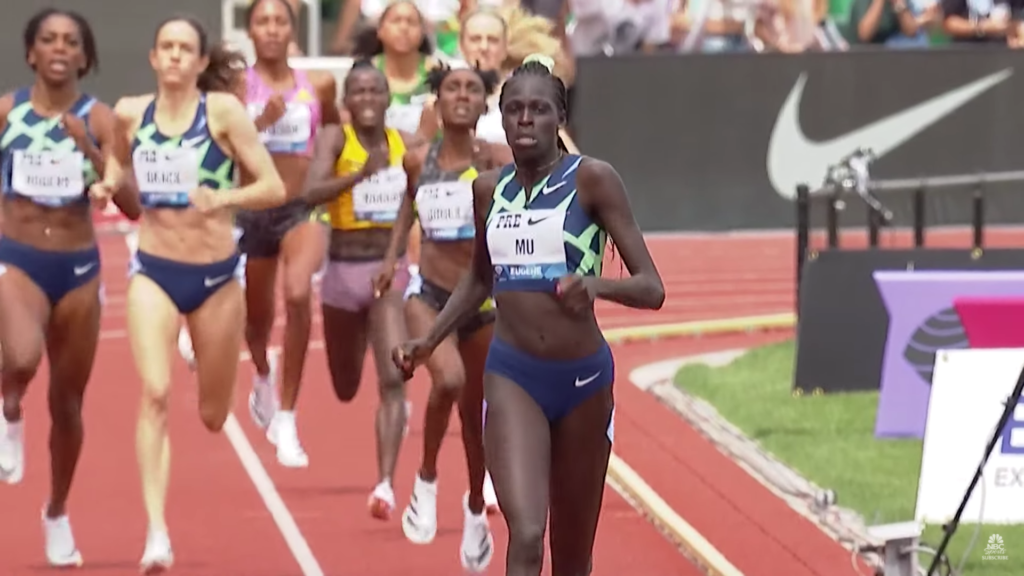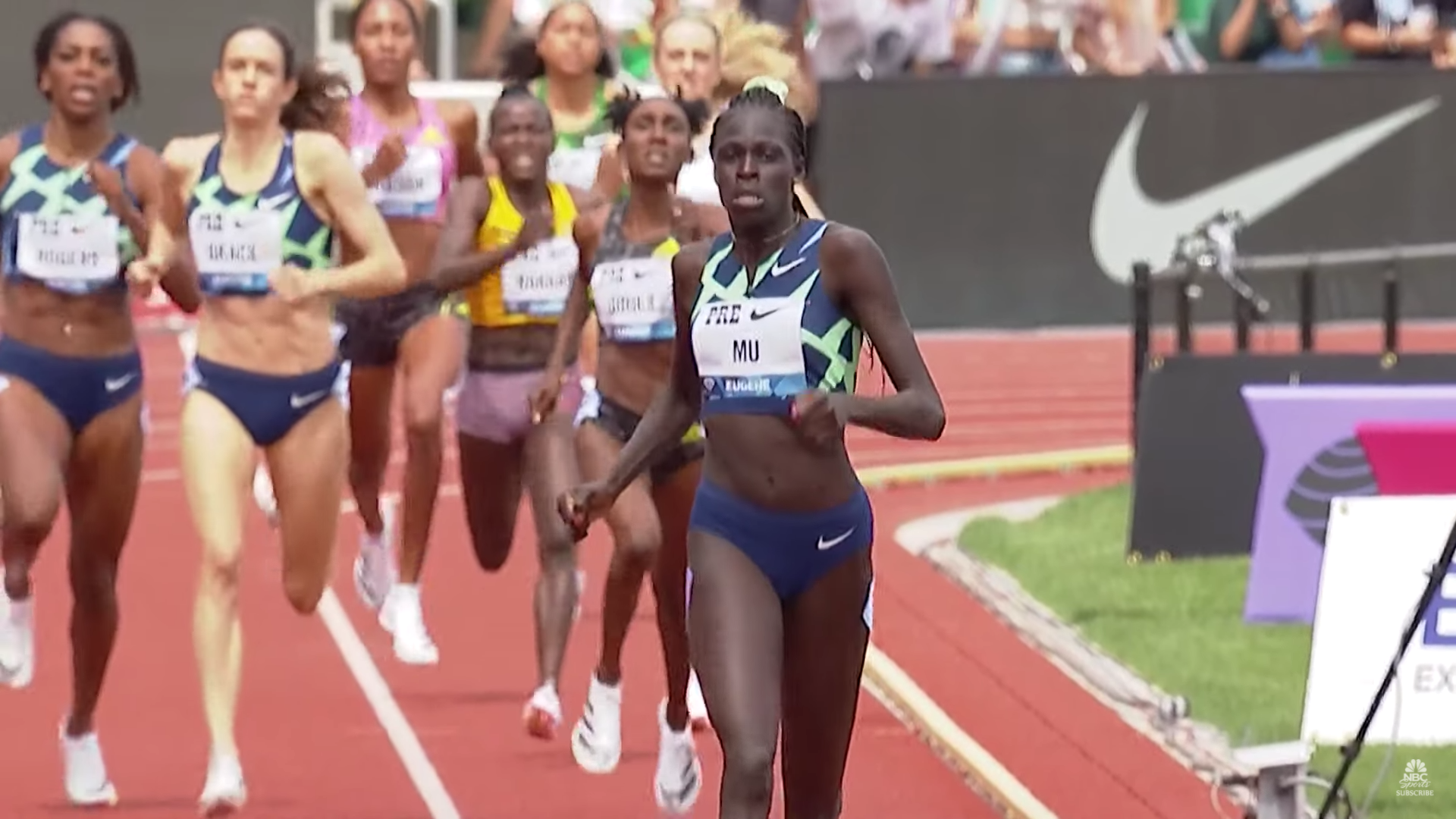 Going out fast is what she'll need to do if she wants to ever break Jarmila Kratochvílová's world record of 1:53.28. Talk of any non-DSD athlete breaking the world record would have seemed foolish at the start of the year. There is a reason the record has stood since 1983. It is viewed as almost untouchable. But now one has to start wondering if Mu can get the record.
She has the speed and this year developed the endurance. And she's only 19.
Having said that, 1:55 is a long way from 1:53.28, but the fact we're having this mental exercise shows what a year Athing Mu had.
QT: What a year for Athing Mu
After the race, Mu said it was her last one of the year for her. She's going on a hard-earned vacation. "I'm going on vacation with my friends and my brothers. So that will be fun. I'm just gonna relax, go to the beach, kick it back and do absolutely nothing," she said.
We'll forgive her for not running the Diamond League final. 
Her year was absolutely incredible and surprising. While Mu had set the American record at 600 prior to this year and shown amazing speed, she had never broken 2:01 for 800. Yet she ends it as the total dominant force in the women's 800. 
Mu was so good this year it is almost easy to take the mental shortcut and take her performances for granted. Don't. She had arguably the most impressive year by an American female distance runner ever. And we were wondering if she'd make the Olympic team two months ago.
Discuss: Athing mu 1:55.04