Tokyo Day 7 Morning Recap: Crouser Earns USA's First Men's Gold, Holloway Upset in Hurdles, & Men's 4×100 Fails to Qualify for Final
By LetsRun.com
August 5, 2021
TOKYO — The final morning session of 2020 Olympic track & field is in the books, and the United States finally has its first men's gold medal as shot putter Ryan Crouser broke his own Olympic record three times, including a 23.30-meter, sixth-round monster that ranks as the second-best throw in history. Crouser's gold (and a silver behind him by Joe Kovacs) was a much-needed source of relief for Team USA as the rest of the session did not go as smoothly. Grant Holloway was upset in the 110 hurdle final, running 13.09 for second behind surprising champion Hansle Parchment. In the triple jump, the US failed to medal after going 1-2 in the last two Olympics as Portugal's Pedro Pablo Pichardo leaped 17.98 meters for gold. And to cap it all off, the men's US 4x100m relay finished an embarrassing sixth in its heat and failed to qualify for the final.
Article continues below player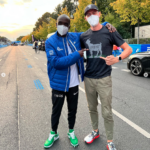 Kipchoge loves the 1:59:40 Shirt Get Yours Today
What a legend!
Men's 110 hurdles final: Grant Holloway fades late as Jamaica's Hansle Parchment storms to gold
Entering the Olympics, there was no bigger favorite for gold in a men's running event than Grant Holloway. The reigning world champion, Holloway broke the world indoor record for 60 meters in February, ran 12.81 at the US Olympic Trials in June (just .01 off the world record), and had not lost a hurdles race all year. Of the eight finalists in today's final, only two had broken 13.10 this year: Holloway, who had done so five times, and Jamaica's Ronald Levy, who had done it once (13.08).
But the margin for error is thin in all Olympic events, none more so than the high hurdles. Being the fastest in the world is not enough; you need to execute on the day as well to become Olympic champion. Not everyone can do it. Ask Lolo Jones. Ask Gail Devers.
Holloway can now add his name to that infamous list, as Jamaica's Hansle Parchment ran 13.04 to earn the gold medal as Holloway took silver in 13.09, outleaning Jamaica's Ronald Levy (13.10) for silver. 
It was a shocking result, not just because Holloway lost, but because Parchment won. Parchment entered the Olympics having broken 13.20 at just one meet all year: the Jamaican trials, where he only finished third. Parchment has run 12.94, which puts him in a tie for 13th on the all-time list, but that was way back in 2014. Parchment, 31, did not even make the Jamaican team for the last World Championships and had not broken 13.10 for six years before today's race.
Early on in the final, it looked as if Holloway would win the gold medal everyone expected. He got out well and had the lead by halfway. But over the final three hurdles, his form began to break down. He still led, narrowly, entering hurdle 10, but landed poorly and was passed by Parchment and Levy. It took all Holloway had — an almighty lean that would be the stuff of legend had it won him gold — to fight back and edge Levy for the bronze.
"Nerves got the best of me," Holloway said. "I got a little bit excited towards the end of the race."
Holloway, usually so expressive at the finish line, came across dejected with the silver, and though he said later he was happy to have won a medal, he was far from satisfied.
"I think everybody can see the disappointment on my face right now," Holloway said. "It sucks because of the hard work and dedication, sucks even more because it's my first loss of the season. But that's part of athletics. That's part of becoming a man."
| POS | BIB | COUNTRY | ATHLETE | MARK | REACTION TIME |
| --- | --- | --- | --- | --- | --- |
| | 2617 | JAM | | | 0.130 |
| | 3934 | USA | | | 0.136 |
| | 2597 | JAM | | | 0.146 |
| | 3901 | USA | | | 0.133 |
| | 1965 | FRA | | | 0.120 |
| | 1800 | ESP | | | 0.155 |
| | 2062 | GBR | | | 0.140 |
| | 1964 | FRA | | | 0.151 |
Quick Take: Grant Holloway refused to make any excuses
In Tokyo, our British journalist friends have been leading the charge on how big of an impact the MONDO track surface is having on the times. Yesterday, Dalilah Muhammad said the track helped her maintain 14 strides the whole way in the 400 hurdles. After the race, Matt Lawton of The Times mentioned that fact and asked if the bounce track might have impacted his rhythm.
"Oh hell no, no, not at all," said Holloway. 
Quick Take: Before you assume Holloway chocked, read this stat.
Holloway was certainly a massive favorite in this one but that was in part because no one else in the field had run really fast this year. If we'd known someone not named Holloway had run 13.04, would it have been that shocking that Holloway lost?
As LetsRun.com co-founder Robert Johnson pointed out on the messageboard, in the last 3 years, Grant Holloway has run the 110h 39 times and broken 13.04 a grand total of 4 times – just 10.3%.
Quick Take: Devon Allen would have medalled in every Olympics but one / This was the closest Olympic hurdle race since 1980
Only 0.06 of a second separated first from third in this one. That's easily the tightest gap between the medallists since 1980. In fact, the gap between first and fifth in this one — 0.12 — was actually tighter than any medal spread since 1980.
Devon Allen's 4th place time of 13.14 would have medalled in every Olympics in history except for 2012 when 13.12 medalled.
| | | | | | | | | | | | |
| --- | --- | --- | --- | --- | --- | --- | --- | --- | --- | --- | --- |
| | '20 | '16 | '12 | '08 | '04 | '00 | '96 | '92 | '88 | '84 | '80 |
| Winning Time | 13.04 | 13.05 | 12.92 | 12.93 | 12.91 | 13 | 12.95 | 13.12 | 12.98 | 13.2 | 13.39 |
| Bronze Time | 13.1 | 13.24 | 13.12 | 13.18 | 13.2 | 13.22 | 13.17 | 13.26 | 13.38 | 13.4 | 13.44 |
| 1-3 Gap | 0.06 | 0.19 | .20 | 0.25 | 0.29 | 0.22 | 0.22 | 0.14 | 0.4 | 0.2 | 0.05 |
Men's shot put final: Crouser breaks own Olympic record three times, defends 2016 gold
Every time Ryan Crouser competes lately, it is difficult to put his performance in context or explain its greatness. The men's shot put is as strong as it has ever been, and yet he is destroying every record and competitor in his path with ease.
Today he lived up to his heavy favorite status to win gold, became the only male individual track and field gold medallist from the Rio Olympics to defend his title, and delivered the second-longest throw of all time. He also had an incredibly consistent series.
Here are some stats to try to help you wrap your head around what Ryan Crouser accomplished on his six throws of the 16-pound sphere:
He broke his own Olympic record three times, throwing 22.83 meters on his first throw, 22.93 on his second, and 23.30 on his final toss.

That 23.30 is just seven centimeters short of

his own world record

and only the sixth 23+ meter throw of all time. Crouser has three of the six.

His WORST throw today was 22.54 meters, which would have gotten him silver and is better than the #12 all-time performer.

That 22.54 was better than the Olympic record entering today. Did you get that? Every single one of Crouser's throws was better than the Olympic record before today.

Only 30 men in history have ever thrown over 22 meters and Crouser has done it in all but two of his competitions this year.

He has now thrown 22+ meters 141 times in his career. No one else has done it more than 39 times.
Crouser's competition today was incredible — not quite as good as the 2019 World Championships, where 22.90 meters got the bronze medal — but American rival and reigning world champ Joe Kovacs and Kiwi Tom Walsh were not messing around. 
Kovacs went 22.19 meters on his first put and Walsh went 22.17 on his third. Then Kovacs put some pressure on Crouser with a fourth-round 22.65, his third-best throw ever. Kovacs would go on to toss another big one in the final round, 22.60 meters. Both his 22.60 and 22.65 would have won every single Olympic shot put competition ever, except today's.
Walsh had a 22.47 on his final put to remain in bronze position. This was the first Olympic shot put competition ever with three men over 22 meters, and these three finished in the same order as they did in Rio five years ago: Crouser gold, Kovacs silver, Walsh bronze.
Results (full series)
Crouser said afterwards he feels his sixth-round throw was the "definitely best throw of his life" given the conditions and the pressure of the Olympics
Crouser said given the heat he wanted to put up big throw early and that's what he did, but he surprsied himself by saving his best throw last.
"Yeah it's difficult [to deliver as the favorite], " said Crouser when asked how he was able to come through as the gold medal favorite when some other high profile Americans like Noah Lyles, Travyon Bromell, Grant Holloway came up short.
"I think a lot of people don't realize [how tough it is]. They see these huge performances on the international stage and it's easy to slip your mind that [the athletes are] thousands and thousands of miles away from home, eating food that's new to [them], walking everywhere in Olympic Village – that [walking everywhere] is a change for Americans at least –  and sleeping in different beds.
"I feel like I handle the pressure well but there's definitely, definitely changes and I think the today's performance was, in spite of adversity. I think my 2330 in the sixth round was definitely the best throw on my life can given the situation. It was a lot easier to throw 23.37 close to home at Hayward field, and so I'm proud of the performance today. I definitely can't knock any of those guys. I mean it's, it's really really difficult to perform on a stage like this and both I know Grant is  first time Olympian so to get a silver medal, and I know he can't be disappointed with that."
23.75 will have to wait for another day
On Tuesday, Crouser said he had seen Karsten Warholm obliterate the 400 hurdles world record by 1.6%, Crosuer revealed he had done the math and was hoping to throw 23.75 as a result today. We asked him if he was being serious when he said that and if he thought 23.75 was possible.

"That was more of a shout out, and congratulations to Warholm more than anything else anyone that can knock 1.6% off of a wall record by either going farther, or going faster, deserves a shout out," said Crouser who did say there is "more on the top end" and that he thinks he can break his own WR.
Men's 4×100 prelims: USA chokes again, misses final
Despite having 10 of the 17 fastest men in the world this year in the men's 100 this year, the United States missed the final in the 4×1, finishing sixth in the second heat. This time, they were not disqualified or a DNF (as was the case in the previous three Olympics), but they simply had one very poor exchange and did not have their best anchor on the track. The US men have not medalled in the event at the Olympics since 2004 and have not won gold since 2000. This was the first time in the past 41 global track championships that the US men have not either medalled or been disqualified/DNF'd in this event.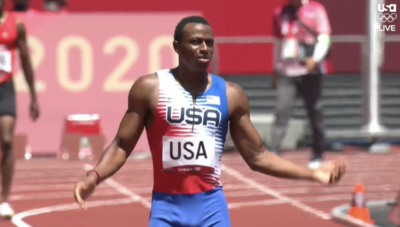 The team of Trayvon Bromell, Fred Kerley, Ronnie Baker, and Cravon Gillespie (in that order) ran 38.10, losing to the likes of Germany and Ghana in their heat. Bromell's leg and handoff to Kerley were serviceable, but Kerley appeared to readjust the baton halfway down the back straight, and his handoff to Baker was terrible. Kerley ran up on Baker and had to slow down, and by the time Baker got the baton to Gillespie, the team was in fifth or sixth. Gillespie got out quickly and moved into third but faded badly, chased down by Germany, Ghana, and Canada. The best possible US team would likely include 200-meter medalists Kenny Bednarek or Noah Lyles rather than Gillespie but that's no excuse when the full US Olympic 100-meter team, which consists of two finalists and the world leader, are in the race. Plus putting Bednarek or Lyles on the the team would have been risky as Bednarek told us after the 200 final that he hadn't practiced for the relay but wanted to run in the final.
South Africa, featuring 100 fourth-placer Akani Simbine, also missed the final after dropping the baton at the first exchange.
Two-time reigning Olympic champions Jamaica had the fastest time of the prelims, running 37.82 to win heat one. China won heat two with 37.92, beating Andre De Grasse and Canada by two thousandths of a second.
Quick Take: Another year, another relay disaster for the US men
Of the six fastest men in the world this year at 100 meters, half of them were on the US 4×100 squad today: Bromell, Kerley, and Baker. Gillespie was ranked 17th. Yet once again, Team USA will be going away from the Olympics empty-handed. If you expand the US's performance to include World Championships, their history is marginally better, but still well short of what you'd expect from a sprinting powerhouse. Here is how the US men have fared since the 2008 Olympics:
2008 Olympics: DNF final
2009 Worlds: DQ'd in prelims
2011 Worlds: DNF final
2012 Olympics: DQ'd in final
2013 Worlds: Silver behind Jamaica
2015 Worlds: DQ'd in final
2016 Olympics: DQ'd in final
2017 Worlds: Silver behind Great Britain
2019 Worlds: Gold
2021 Olympics: 6th in heat, did not qualify for final
So that's four DQs, two DNFs, one DNQ, and three medals from 10 races. And only two of those medals can be classified as a success. There's no shame in losing to a Bolt-led Jamaica team, and the US 4×100 in 2019 set a national record. But losing to Great Britain in 2017 after going 1-2 in the individual 100 is not good.
This sort of ineptitude has become expected by the US 4×100, but it does not make it any less galling. The US men haven't even finished the Olympic 4×100 final without being disqualified since 2004.
Quick Take: The Americans were at a loss to explain what happened, but it's clear they didn't practice with each other much
Speculating as to why the US relay squad underperforms has become a quadrennial parlor game. The individual athletes deserve some blame, but when this happens time and again, clearly larger issues are at play. The composition of the squad was fine for a prelim — actually, it was surprisingly strong for a prelim. But it was puzzling to see Baker — a fast starter who has not run a 200 since April 2018 — running the curve on leg three as well as Gillespie, the weakest of the four athletes, on the anchor leg.
Bromell did not stop to talk in the mixed zone, but did speak to Lewis Johnson on NBC. He said,  "I'm honestly kind of mad, not at these guys, they did what they can do. I did what I can do. Honestly, I can only speak for myself and this is [inaudible]. These guys did their job. I did what I could do on the first leg just, there's really some BS to be honest with you."
The other three members of Team USA stopped in the mixed zone. Kerley said the team had no excuses.
"We just ain't get the job done today, that's all," Kerley said.
Baker was more expansive. He put forward the theory that it was difficult to sync up handoffs between himself and Kerley because they were so fast.
"I mean shoot, Fred's run 9.8 this year," Baker said. "I've run 9.8. So honestly just trying to time that up perfectly with a couple practices, it's a little difficult."
The final comment is most telling. When asked how much the relay team had practiced, Baker said, "not much." "Not enough" is what Gillespie answered, noting that other countries' relay squads are often locked in months in advance but the US's is not due to the nature of the Olympic Trials. Meanwhile Kenny Bednarek, who was 4th in the 100 at the Trials and 2nd in the 200 in Tokyo, said that as of last night he didn't even know whether he would be running the relay. And Team USA didn't have a pre-Olympic training camp either.
Quick Take: Carl Lewis ripped USATF leadership and called Team USA "worse than AAU kids" today
Lewis was part of Olympic champion 4×100 teams in 1984 and 1992 and now coaches at the University of Houston, helping the Cougars to NCAA 4×100 titles in 2017 and 2018. He was not happy.
The USA team did everything wrong in the men's relay. The passing system is wrong, athletes running the wrong legs, and it was clear that there was no leadership. It was a total embarrassment, and completely unacceptable for a USA team to look worse than the AAU kids I saw .

— Carl Lewis (@Carl_Lewis) August 5, 2021
Here's our proposal. Make Carl Lewis the relay coach for 2022, 23 and 2024.
Women's 4×100 prelims: Great Britain leads the way with national record
The United States and Jamaica, who have split the last eight global titles in this event between them, both qualified for Friday's final, but it was Great Britain who posted the fastest time of the day, defeating both teams in heat 1 with national record of 41.55; since the last Olympics, only Jamaica has gone faster (at the 2019 Worlds). Included in the relay was 200m world champion Dina Asher-Smith, who failed to make the 100m final and scratched from the individual 200m due to injury.
Jamaica only finished third in its heat, but neither Elaine Thompson nor Shelly-Ann Fraser-Pryce, who went 1-2 in the individual 100, ran the prelims. The US ran a strong team of Javianne Oliver, Teahna Daniels, English Gardner, and Aleia Hobbs. 
Men's triple jump: Pedro Pablo Pichardo succeeds Christian Taylor as Olympic champion
Portugal's Pedro Pablo Pichardo, the 5th longest jumper in history, dominated the men's triple jump this morning in Tokyo. The world leader coming into the competition at 17.92 jumped 17.61 in each of the first two rounds, a mark that would have been good enough to win but he put up a 17.98 in round three to pretty much end all drama. 
"It was always one of my dreams to win the Olympic gold. This is what I have been doing (triple jump) since I was six years old," said the Cuban-born Pichardo, who had never won a global outdoor title before today (2013 and 2015 WC silver). "I feel a huge sense of happiness and I still have plenty of dreams ahead of me."
China's Zhu Yaming went from 4th to 2nd in round five with a 17.57 to snag the silver. Indoor world record holder Hugues Fabrice Zango of Burundi took the bronze with a third-round jump of 17.47. Seven-time outdoor global medallist American Will Claye, who earned the silver at each of the last two Olympics behind the injured Christian Taylor, was fourth at 17.44.
Results (full series)
Talk about today's action on our world famous fan forum / messageboard.