Molly Seidel Shocks the World With Bronze Medal, as Kenya's Peres Jepchirchir and Brigid Kogei Go 1-2 in 2020 Olympic Marathon
By LetsRun.com
August 7, 2021
In one of the most remarkable and unlikely runs ever by an American distance runner, Wisconsin native Molly Seidel earned a bronze medal in the 2020 Tokyo Olympic marathon, running 2:27:46 in the heat of Sapporo on Saturday morning. Seidel established herself near the front of the race early, and remained there throughout. Late in the race, Seidel was in a battle for bronze with Israel's Lonah Chemtai Salpeter, but with three miles to go, Salpeter stopped running, leaving Seidel in bronze-medal position, which she protected to the finish line.
Kenya's Peres Jepchirchir, the world record holder in the women's-only half marathon, pulled away from teammate Brigid Kosgei, the marathon world record holder, in the final two kilometers to take the gold in 2:27:20. Kosgei settled for the silver in 2:27:36, her first loss in her her last five marathons.
The story for American distance running fans was Seidel, running in only her third marathon of her life (her first was the Olympic Trials marathon in 2020 to get here). Seidel beat five sub-2:20 women. She entered the race with a 2:25:13 personal best and yet was in the conversation for the gold until the final 2k. She joined American running legends Joan Benoit Samuelson (gold in 1984) and Deena Kastor (silver in 2004), as the only American women to medal in the Olympic marathon.
The race
At race time, it was sunny and 76 degrees with 87% humidity, despite the race being moved up an hour because of the heat to start at 6 a.m. local.
Article continues below player.
As a result, the race went out slow, with 5K and 10K splits of 18:02 and 36:16 for the leaders (2:32:50 marathon pace at 10K). The lead pack remained about 40 or 50 women strong at the 10-kilometer split, but the effect of the heat was unmistakable, with women applying ice bags on themselves and running wide to get into the shade. By this point, US champion Aliphine Tuliamuk had fallen off the pace (she would eventually drop out).
From there, as the race advanced north on a slight downhill, it picked up. Honami Maeda of Japan took a few turns at the front, as did Americans Seidel and Sally Kipyego, but it was mostly shared. The next two 5K splits (17:31 and 17:41) were quicker and reduced the lead pack to less than 20 women by 20K. Zeineba Yimer, a 2:19 woman from Ethiopia, dropped out at the 17K mark.
The lead group went through halfway in 1:15:14, and the lead group was whittled down to 11 with Ethiopian contender Birhane Dibaba falling off the back.
| | |
| --- | --- |
| Overall | |
| Comfort | |
| Cushioning | |
| Durability | |
| Appearance | |
| Value | |
Americans Seidel and Kipyego remained in the lead pack of 12 at 25K (Volha Mazuronak of Belarus rejoined the lead pack between halfway and 25k), which the women went through in 1:28:51 (2:29:47 pace). Ethiopian Roza Dereje Bekele (2:18:30 pb) and Salpeter (2:17:45 pb), along with the three Kenyans, were pushing the tempo slightly.
After that split, as the women continued to weave through the north Sapporo suburbs and Hokkaido University, racers started dropping off the lead pack like flies: first Kipyego, then Mazuronak and then a big casualty — Ruth Chepngetich of Kenya, the reigning world champ, falling back around the 29K mark.
Meanwhile at the front, Seidel led the entire 18th mile in around 5:26. The lead group of nine went through 30K in 1:46:03 (17:12 previous 5K, quickest of the race). The Japanese spectators pulled for their countrywoman Mao Ichiyama, who was still there.
The 30-35K split was the quickest of the race (16:54) and those five kilometers caused the biggest carnage: four women, including Ichiyama and Dereje, the final Ethiopian, dropped off the lead pack.
Now with the group down to five and less than five miles remaining, and Seidel continuing to run with confidence and share the lead with the two remaining Kenyans, the curiosity surrounding Seidel turned into a real possibility…could she snag a medal?
Bahrain's Eunice Chumba dropped off just after the 35K mark, making it a four-woman race for three medals: Kosgei, Jepchirchir, Salpeter, and Seidel. Women with personal bests of 2:14, 2:17, 2:17, and 2:25. But in the summer Japan heat, the strongest women would win, not the fastest.
In the 24th mile, the Kenyans finally struck, Jepchirchir throwing in a surge and Kosgei covering it. They opened up a small gap on Salpeter and Seidel immediately, and Salpeter had a few meters on Seidel.
Before one even had time to process whether Seidel's fairytale quest for a medal was coming to an end, her fortunes changed drastically. At the 38-kilometer mark, Seidel caught Salpeter, who was still less than five seconds behind the leaders, but slowing slightly. Salpeter, however, was broken. Within a span of seconds she slowed to a walk and Seidel was into the bronze position, with the leaders still in her sights, Jepchirchir in front and Kosgei sitting on her.
At 40k, Jepchirchir and Kosgei were still together with Seidel only six seconds back, 31 seconds ahead of fourth place, comfortably in bronze position, barring a blowup. Seidel appeared to be closing on the leaders. Could she even get the silver or the gold?
Not quite. Jepchirchir had one final gold-medal move, dropping Kosgei just after the 40K split and quickly opening a 10-second gap. She would extend her winning margin to 16 seconds by running the final 2.195 kilometers at 5:23 pace.
Kosgei was fading slightly but so was Seidel. Both held their positions through the line, as Seidel could not quite summon the finish to get back to Kosgei and finished 10 seconds behind her in the bronze medal position.
Seidel yelled in delight as she crossed the finish line, while Kosgei looked slightly disappointed with the silver. The third American, Sally Kipyego, finished 17th in 2:32:53.
The temperature at the finish was 84 degrees with 67% humidity.
Analysis below top results (Full Results here)
Quick Take: Molly Seidel is one of the unlikeliest bronze medalists in the history of American distance running. But in the long term…?
The two previous American women to medal in the Olympic marathon are both on the Mount Rushmore of American distance running: Joan Benoit Samuelson and Deena Kastor. When both women earned their medals, it was far from a shock as they entered their Olympic medal races as the American record holder.

Molly Seidel? Not so much. She entered as a huge underdog and was +6000 to win on one betting site.
Now that she's medalled, one must wonder if Seidel could one day join Samuelson and Kastor on the Mt. Rushmore of American marathoning.
After all, Seidel was a Foot Locker champion in high school, a four-time NCAA champion in college, and after some struggles with injuries and an eating disorder, she has emerged as a terrific marathoner. In her debut 18 months ago, she surprisingly ran with the leaders and made the team by finishing second in 2:27:31. Then she ran London last fall on an abbreviated buildup and clocked a pb of 2:25:13 to take sixth in cold, wet conditions. And now, in the third marathon of her life, she is an Olympic bronze medalist in 2:27:46. It is clear that Seidel was born for the grind of the marathon, and it is also clear she is capable of running several minutes faster once she gets on a fast course in good conditions.
"I love the feel of the marathon," Seidel said after the race. "I love that slow grind and squeezing it down at the end. It is very different from some of the shorter races. I still love doing the shorter stuff and I hope to still do shorter races to keep that sharpness, but, man, I love this race."
This Olympic medal almost didn't happen. Eighteen months ago, it was a humongous shock that Seidel even made the US team. Her initial plan had been to skip the Trials and make her marathon debut a month earlier, at the Houston Marathon in January 2020. But she hit the Trials standard by running 70:27 at the Rock 'n' Roll San Antonio Half Marathon in December 2019 and figured if she was going to run a marathon, it may as well be at the Trials. Going into that race, she said anywhere in the 10th to 20th range would be a good day for her. Now she's got an Olympic bronze medal.
Quick Take: Seidel welcomed the hot conditions and planned to run aggressively
The most impressive part of Seidel's run today was not what she did but how she did it, refusing to allow the pace to lag and taking the race to East Africa's best. Even if she had finished outside of the medals, that type of bravery is worth celebrating. She said she was inspired by Courtney Frerichs' running in the Tokyo steeplechase final, as Frerichs made an aggressive move with a mile to go and took silver.
"I've seen other US athletes do such incredible things these Games," Seidel said. "Seeing my friend Courtney Frerichs win silver the other day was my inspiration. Seeing her do that and race aggressively was truthfully what gave me the strength to not be afraid to stick my nose in it."
Seidel also said her turns at the front were not done on a whim.
"I try not to have too many expectations. It is just to go out, stick your nose where it doesn't belong and try and make some people angry. My goal today was just to go in and for people to think, 'who the hell is this girl?'" Seidel said. "…After halfway, rather than follow, I wanted to make moves and be aggressive. These races are tactical, so I wanted to be a little bit of a bulldog and not let people walk all over me."
The heat and humidity played right into her hands.
"I wanted it hot and windy, knowing a lot of these women run really fast in conditions that are very good," Seidel said. "I think I thrive off a little bit of adversity. The course in Atlanta was a tough, hilly course. When the going gets tough, that's my strong suit."
Quick Take: Seidel is the first Foot Locker champ to win an Olympic medal
The Foot Locker Cross Country Championships have produced some winners who have gone on to outstanding success as pros, particularly on the men's side, including Bob Kennedy, Dathan Ritzenhein, Chris Solinsky (and Cole Hocker who is still an amateur), and Sara Hall. But until today, none had won an Olympic medal.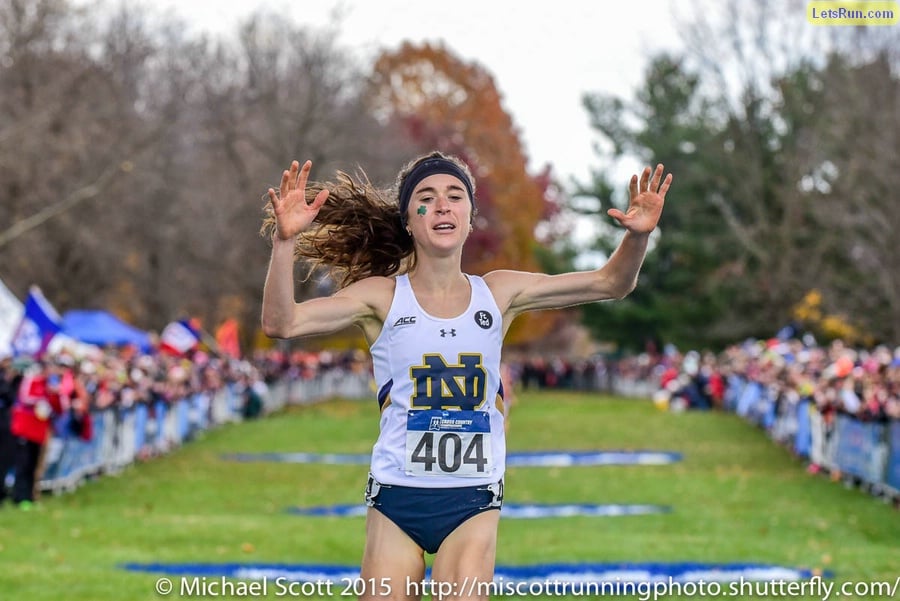 Heck, Seidel is only the second female FL champ to even make it to the Olympics, after 1984 champ Cathy Schiro O'Brien. Now Seidel, who ended the "Foot Locker NCAA curse" by becoming the first woman to win FL and NCAA XC in 2015, has ended another Foot Locker curse.
It has actually been a very good Olympics for Foot Locker champs. Seidel took bronze, Grant Fisher was 5th in the 10k, and Hocker is in the 1500 final with a chance to medal.
Quick Take: Peres Jepchirchir wasn't supposed to be here, either
Jepchirchir winning was a minor upset as her Kenyan countrywoman, world record holder Brigid Kosgei, had not lost a marathon in over three years. But we knew Jepchirchir was very, very good as she ran 2:17:16 to win Valencia in December.
At this time a year ago, Jepchirchir was not in the Olympic picture, however. Kenya initially named its Olympic team in January 2020 and Jepchirchir was not on it. Why would she be? She had only run three marathons in her life, and just one outside of Kenya: a 2:23:50 win in Saitama in December 2019.
Then Jepchirchir went out and had a career year in 2020, running two women's-only world records in the half (65:34 in Prague, 65:16 to win the World Half) and that 2:17:16 in Valencia. Those performances forced Athletics Kenya to sub in Jepchirchir for Vivian Cheruiyot on its Olympic team, and it proved to be a wise decision. In all, it proved to be a very good 12 hours for Kenya. Shortly after Faith Kipyegon dominated the Olympic 1500 final, Kenya became the first country to go 1-2 in an Olympic women's marathon (it hasn't happened on the men's side since 1912).
"It feels good. I'm so, so happy because we win as Kenya. First and second. I thank my god so much. I'm happy for my family. I'm happy for my country, Kenya," said Jepchirchir. "It was so hot, it was not easy. I'm just thankful I managed [to cope] with that weather."
Quick take: Dreams Do Become Reality, even if "experts" don't think so
On the LetsRun.com Track Talk Podcast, taped in the middle of the night just hours before the race, the LetsRun.com crew mostly discounted the possibility of an American woman winning a medal in the Olympic marathon (LRC co-founder Robert and Weldon Johnson totally discounted it, Jonathan Gault was open to the weather being an equalizer).
While a few fans were urging people to be open to the possibility of a medal, it was a true "Where Your Dreams Become Reality" type run and even Molly herself indicated she didn't really think she'd make the podium.
She told NBC's Steve Porino after the race that one of her coaches told her to bring her medal uniform to the course. She said, "And I was like 'why would I bring that with me?'" He responded, "Just in case you might need it."
She needed it.
When Deena Kastor got her Olympic medal, she was the 7th fastest female marathoner ever. When Joan Benoit Samuelson got her medal, she was the 2nd fastest female marathoner ever. Seidel is the 299th fastest ever. Not only were they way more accomplished than Seidel when they medalled, international women's marathoning is more competitive now. Seidel entered the race with the 20th best personal best in the field. Even if you took five minutes off her personal best, 10 women were still faster than her in this field. Yet she beat all but two of them.
Seidel was emotional on NBC when they showed her parents and friends cheering her for back home. She teared up and said, "We did it." Then she said, "I'm so tired. Please, drink a beer for me."
That's something every runner (who drinks) needs to do tonight.
Well done, Molly.
Like this article? Become a LetsRun.com Supporters Club member and get all the insights from Tokyo and the world of professional distance running. We are having daily video shows/podcasts from Tokyo, plus get exclusive LetsRun.com content throughout the year, big savings on running shoes (if you buy one shoe that will more than pay for a month of your membership), and a free LetsRun.com or 1:59:40 shirt if you join for a year. Join here.
Not yet ready to join? Follow us on twitter, instagram, subscribe to our free weekly podcast, or get our free newsletter.