Men's 1500 First Round Chaos! Nuguse DNS, Kerr and Simotwo Need Time Qualifiers, Lewandowski Falls, Hocker and Centro Good to Go
By LetsRun.com
August 3, 2021
TOKYO — Getting safely through the first round of the men's 1500 at the Tokyo Olympics was not an easy task for some big names in Tokyo.
The scariest moments went to reigning Worlds bronze medallist Marcin Lewandowski, who tripped and fell with 300 to go in heat two, British champ Josh Kerr, who finished only seventh in heat one, and Kenyan champ Charles Simtowo, who was only tenth in heat three.'
Embed from Getty Images
In the end, all three made it through, with Lewandowski being advanced by the officials and Kerr and Simotwo getting time qualifiers. World indoor record holder Samuel Tefera (Ethiopia) and 2017 Worlds bronze medallist Filip Ingebrigtsen (Norway) were not so lucky, as each failed to advance.
US champ Cole Hocker got through to the semifinals safely in his Olympic debut, looking composed and finishing fourth in heat one in 3:36.16. Reigning Olympic champ Matthew Centrowitz also looked comfortable, finishing second in heat two in 3:41.12. Medal favorites Timothy Cheruiyot (second in heat one) and Jakob Ingebrigtsen (fourth in heat three) also got through safely.
The third American scheduled to run in Tokyo, NCAA record holder Yared Nuguse, did not start due to a quad strain, as announced just minutes before the races began.
Discussion: Nuguse DNS, Engels does not replace him 
Analysis and athlete reaction below heat recap and results
Heat one: Kerr fades to seventh, Hocker's debut goes well
Article continues below player.
The first heat was stacked, including six men who had run 3:32 or faster this year, plus American champ Hocker. As a result, it went quick, requiring a 53.82 final lap (leader-to-leader) to win the heat.
Embed from Getty Images
Seven men finished with a margin of 0.29 seconds between them, with Aussie Oliver Hoare, Cheruiyot, and Hocker getting through safely, but the biggest surprises came at the front and back of that group: Belgium's Ismael Debjani won the heat with a strong finish on the outside, kicking past Cheruiyot and running the fastest time of the day in 3:36.00.
Kerr, on the other hand, faded hard in the final 10 meters after running on Cheruiyot's shoulder for much of the back half of the race. The heat was fast enough that he ended up getting the first time qualifier in 3:36.29.
Tefera and Filip Ingebrigtsen could not summon the kick to advance, finishing ninth and tenth.
Heat 1 Results
Heat two: Lewandowski falls, Kipsang, Centro and Wightman look good
The second heat was the slowest of the three as Centrowitz took the field through the first 400 meters in 62.4 seconds.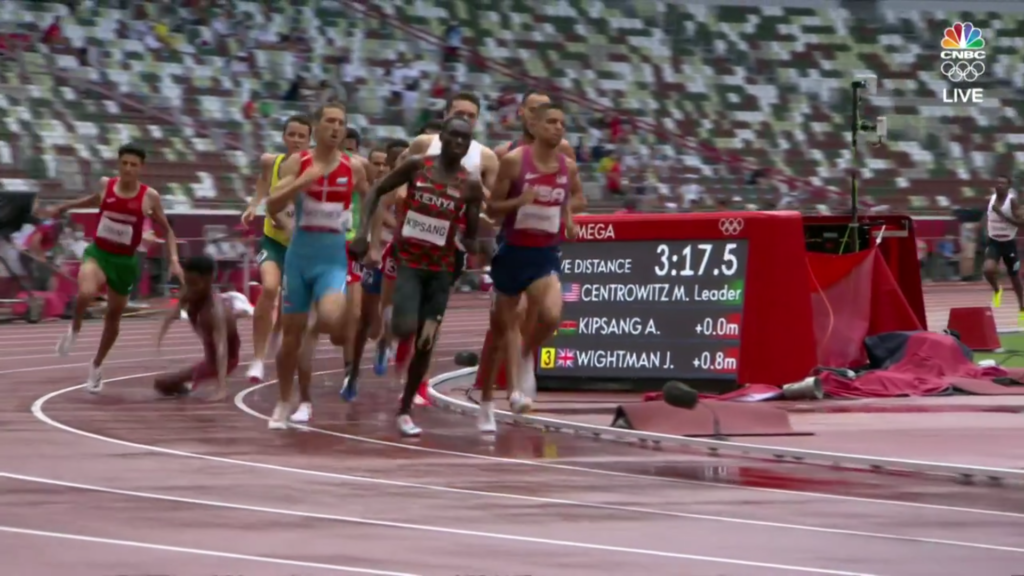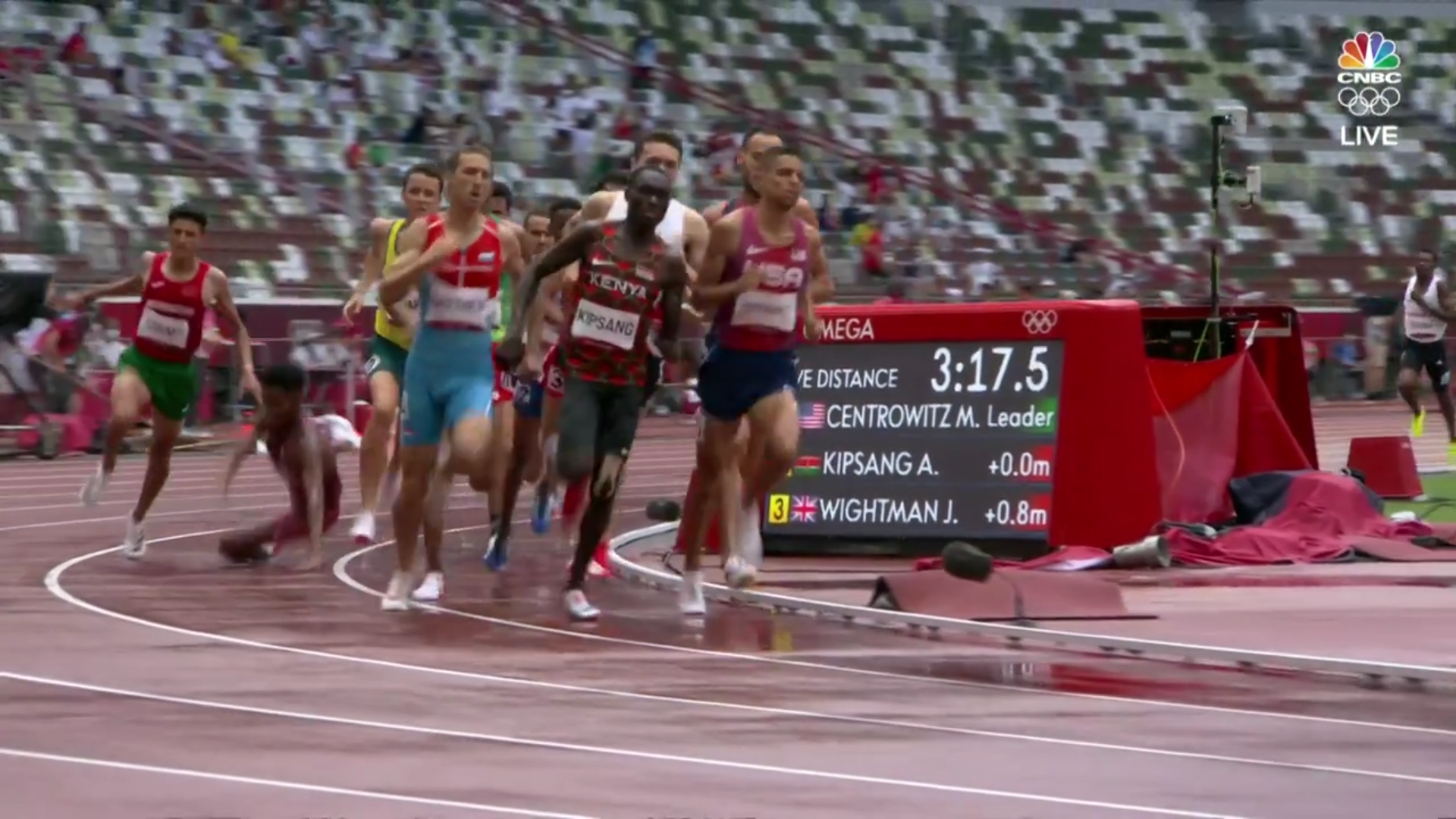 Kenyan Abel Kipsang had a strong final 300 meters of 39 seconds flat to take the heat in 3:40.68 ahead of Centrowitz and Brit Jake Wightman, but the fireworks occurred in the middle of the pack with about 300 meters to go.
Polish record holder Lewandowski made contact with Australian champ Jye Edwards and tripped and fell, getting spiked on the thigh on his way down.
Then Abdirahman Hassan would fall on the final turn.
Unlike Sifan Hassan yesterday morning, Lewandowski did not get up quickly and summon a wild kick, but he received a "qR" (qualified by referee) about 30 minutes later, so he's into the semifinal. Hassan did not finish the heat and was not eligible to be advanced.
Heat three: McSweyn makes it quick
Aussie Stewart McSweyn, a newly-minted sub-3:30 guy, took the field through 400 in 61.65 then decided to make the heat fast, dropping a 56.86 second lap and a 55.16 third lap. Great Britain's Jake Heyward was the only one to go with him — until the final 200.
Embed from Getty Images
Heyward wound up winning the heat in 3:36.14 while McSweyn cruised in for third, and Jakob Ingebrigtsen closed comfortably to run 3:36.49 for fourth.
The storylines came toward the middle of the results list: New Zealand's Nick Willis, a two-time Olympic medallist, made the semifinals of the Olympic 1500 for the fifth consecutive time. Djibouti's Ayanleh Souleiman raced for the first time since finishing fourth at the World championships in Doha in 2019. Both made it through as time qualifiers, as did Kenyan champ Simotwo.
Newly crowned steeplechase Olympic champion Soufiane El Bakkali started this race but dropped out on the final lap, saying after the race he was tired after staying up until 5 a.m. celebrating his steeple gold.
Quick Take: Cole Hocker proves he belongs, gains a lot of confidence as he still had another gear he didn't unleash, and hopes to contend for a medal
When someone closes as well as Cole Hocker did at USA and NCAAs, it's pretty obvious to true distance aficionados that he is world-class. But given his modest pb (3:35.28), some skeptics were still out there. Today, racing in a stacked first heat which featured eight guys who have broken 3:34 this year, Hocker ran a great race tactically and had plenty in the tank when it was time to kick for the auto spots.
Embed from Getty Images
"I felt really good, and that race gave me a lot of confidence because it's my first Olympics of course and first international race altogether so that was just a completely different experience," Hocker said. "I'm really happy with how I was able to handle myself in the most competitive race I've ever been in.
"It really builds my confidence. Like, of course [the first round is] not a race that people are going all-out but sort of on that last 100 meters a lot of the times people have to kick in to their all-out gear to guarantee that top six, and I didn't feel like I had to do that and I was able to lock  in that top six and that gives me a lot of confidence."
Considering Cole Hocker's 2021 campaign started six months and five days ago on January 29 with an indoor race in Arkansas, it was natural to wonder if Hocker would be feeling worn down after having had such a long season. Hocker himself admitted he wondered that but said he felt great.
"That was another thing — I was kind of wondering about going into this first race back in a month [if I would feel burned out], but I really think that month off really gave me time to recover, and I tried to recover during that month off and then sort of sharpen up right here at the end just because I've had that such a long season of building fitness I'm not going to lose it really with taking a little downtime."
World, watch out. Cole Hocker is still looking sharp and now he's playing with house money and hopes to contend for a medal.
"Yeah, that's something I had to keep telling myself like for so long. This was the goal to get here and then I'm putting this pressure on myself. I don't want to get out in the first round like [if that happens it's] almost like not worth coming out in my mind, which of course isn't true. But it's pretty interesting how my perspective changes just after one race and I hold myself to a much higher standard, but I do have to keep reminding myself like this [making it here] was the ultimate goal for so long. And now just take advantage of it.
"Pretty much after NCAAs, [my focus] switched to the Trials and then immediately after Trials it switched to Olympics and hold myself to like not just qualifying and not just making it to the final but performing well and hopefully contending for a medal."
Quick Take: Despite feeling flat, Matthew Centrowitz does what Matthew Centrowitz does and advances with ease
Embed from Getty Images
There is a reason why Matthew Centrowitz is one of the greatest 1500 runners of his generation, and it was on display today. 
He admitted after the race that he felt a bit flat after having arrived in Tokyo on Friday, but he was able to establish great position and get in the lead by the bell. That was important because his heat was the slowest of the three (there were no time qualifiers from his heat) and also allowed him to avoid getting caught up in two separate falls that affected his heat.
Centrowitz also said that while he was initially "extremely bummed" by his 3:49.26 in his attempt to break Alan Webb's 3:46.91 American record, that feeling only lasted one hour. After seeing how hard he went out in the race (54.5/1:51.6), Centro actually felt good about his ability to hold on and still run a pb. And he also put the race in context, knowing that in the grand scheme of things, it didn't mean much compared to the meet he's at now.
Quick Take: Yared Nuguse was in Tokyo and did his best to give it a go, but he was not ready to sprint and withdrew to protect his health
It has to take a pretty severe injury to miss your first Olympic race, but unfortunately for Yared Nuguse, he picked up a quad strain in the last few days and made the difficult decision to withdraw.
"He could still run and it was getting better so we were hoping he would be ready to sprint by today but he wasn't," Nuguse's coach Sean Carlson wrote in a text to LetsRun.com. "If you can't open up and sprint you don't have a chance and we weren't going to risk his long-term future. He will have a long career ahead of him and more opportunities to represent [the] USA the way he wishes he could have in Tokyo."
Quick Take: Josh Kerr: "There's no excuses for that. I just raced badly."
Embed from Getty Images
Kerr has been on fire in 2021 and looked set to grab an auto spot in heat 1 with 10 meters remaining. Then all hell broke loose as Kerr totally rigged up and found himself passed by Pole Michal Rozmys for the final auto spot at the line. Kerr said that his heat was very physical but he said that was not an excuse for how he ran today.
"I was so frustrated with my positioning and everyone — like you got the likes of Filip Ingebrigtsen and they're just punching and shoving — I was just getting frustrated, man," Kerr said. "I was like, I'm gonna make a hard move with 500 to go, and with 200 to go I was like, I'm really gonna pay for this on the homestretch."
Kerr lives to fight another day as he got a time qualifier, and he said that while he will have to sit down and "have a think" about what went wrong today, he still feels confident heading into the semifinals.
"It's just not a good round man. I'm fit, I'm ready, I've had no problems. There's no excuses for that. I just raced badly."
Quick Take: Jake Wightman is ready to take on all comers
Embed from Getty Images
Britain's 3:29 man Jake Wightman, who was 5th at Worlds in 2019, had some interesting things to say after qualifying with ease by running 3:41.18 to finish 3rd in heat #2.
"I'd have been disappointed if Cheruiyot wasn't here…. If you are going to win this thing, you want to beat the best people," said Wightman. When asked if he was in the best shape of his life, Wightman said, "That was the plan. We'll see if that's the case over the next few rounds."
He said he felt like he was perhaps a little bit "over-cooked" at the Gateshead DL where he ran just 3:55 in the mile.
Quick Take: Nick Willis is into the Olympic semifinals for the fifth time
Embed from Getty Images
In Nick Willis' first Olympics in 2004, he competed against Hicham El Guerrouj, who was born in 1974. Today, in his fifth Olympics, he competed against Jakob Ingebrigtsen, who was born in 2000. Both times, he advanced to the semifinals.
Willis had some help today from Australian Stewart McSweyn, who pushed the pace and ensured there would be some time qualifiers from their heat. Afterwards, Willis was grateful for how the race played out.
"Once I saw the times of the first heat, I thought I'm gonna need to basically run the best race of my last three years out," Willis said. "But the truth is, I haven't felt as good as this the last three years so I started giving myself peace I put in our pressure and I was really fortunate to get a nice clean run on the inside and a time trial race."
Willis, who medalled at the Olympics in 2008 and 2016, is realistic that another medal in 2021 is a long shot. He's trying to enjoy every moment as he knows this is his last Games. The only downside is that his family isn't here to see him, so he made sure to give his sons a shoutout on the broadcast on the start line.
"My [oldest] son is eight, I've been to five Olympics and he's never been to one of them to watch me so that was quite sad," Willis said.
Willis has also enjoyed serving as a mentor to fellow Kiwi Sam Tanner, who is just 20 years old, and says it has been cool to see the overlap in generations in Tokyo.
"The other athletes, as we're doing pre-race strides are like, Let's go Willis! They know me because they were like kids when I was running on TV."
Quick Take: Aussie champ Jye Edwards fails to advance
Edwards, who has lowered his pb from 3:41 to 3:33 this year, was 7th in heat #2 in 3:42.62 and disappointed to not advance. Afterwards, he said he was disappointed to not have moved on in the "messy" race where he felt like he "tactically got it wrong".

Edwards did admit it's been a long season for him particularly given the fact that he hasn't had much of a racing season in the last 3-4 years due to injury but said he should have at least made it to the semis here in Tokyo. He did say he tweaked his hamstring last week but said it was 90 to 95% today and didn't use that an excuse.
Quick Take: Sam Tanner's Olympic experience came to an end but he is "really proud" of his year
The 20-year-old Kiwi, who runs collegiately for Washington, didn't move on after finishing 9th in heat #2 but afterwards took a step back and acknowledged he's had a great year during which he lowered his pb from 3:38 to 3:34.
"I'm really proud of my year [but disappointed in the result]," said Tanner. Tanner really credited his Washington teammates for helping him out as he prepared for Tokyo saying it was a big mental boost for them to show up at practice each day and cheer him on in workouts and do long runs with him. He said they made the training "really enjoyable."
He also praised coach Andy Powell, who has great belief in his talent. "Sometimes he says things about me that even I don't believe," said Tanner. "It's pretty cool to have someone believe in you."
Looking ahead, we asked him if he was secretly hoping Cole Hocker goes pro so he can dominate the Pac-12, Tanner said not at all. He wants to face the best athletes out there. "How much of an accomplishment is it [otherwise]?"
Quick Take: Ayanleh Souleiman was back in action for the first time since 2019
2014 world indoor champion Ayanleh Souleiman of Djibouti, who was 4th in this event in Rio, raced today for the first time since the Doha Worlds. Souleiman was thrilled to have moved on to the next round as a time qualifier in heat three, where he ran 3:37.25 for 9th — beating the Kenyan champ Charles Simotwo by .01.
"I will be ok now," said a beaming Souleiman afterwards. "I'm happy."
Souleiman revealed that things have been very tough for him of late. During 2020, he was in Djibouti and said things were totally shut down due to COVID. This year, he relocated to Addis Ababa but quickly picked up a left hamstring injury. Due to COVID-19 restrictions, he couldn't leave or get proper treatment for it so he said he did absolutely nothing for three months. He's been back training for a month (we think that's what he said — maybe he means serious training) and sounded optimistic about his future prospects as he is only 28.
He said he's likely to run the Prefontaine Classic on August 21 and then re-evaluate from there.
Quick Take: Marcin Lewandowski is ready to put today behind him
It looked as if Lewandowski's Olympics would be over before they started as he fell in heat 2 — a bummer for a guy who was the bronze medalist at the most recent Worlds. But Lewandowski got up and finished and was quickly advanced to the semis due to his fall. He said that he was initially upset but that he is in great shape and feels grateful to have a second chance.