2021 Paris DL Recap: Francine Niyonsaba (8:19) Moves to #5 All-Time in 3000m & Elaine Thompson-Herah (10.72) Is Back on Top in 100m
By LetsRun.com
August 28, 2021
A busy week of Diamond League action concluded on Saturday in France with the Meeting de Paris, where a couple of Olympic champs restored order in their events and Burundi's Francine Niyonsaba won a deep women's 3000 meters.
Both Mondo Duplantis and Elaine Thompson-Herah were upset in their specialty events on Thursday in Lausanne, but both were in the winner's circle again today as Duplantis cleared 6.01m to win the pole vault while Thompson-Herah ran 10.72 to win a women's 100 without Shelly-Ann Fraser-Pryce in it.
Embed from Getty Images
Article continues below player
On the distance side, there was a win for Wyclife Kinyamal in the 800 (1:43.94) and a world leader for Benjamin Kigen in the steeple (8:07.12), which also featured a nasty fall from Olympic champ Soufiane El Bakkali. But the most impressive result of the day came in the women's 3000, where Niyonsaba ran 8:19.08 to beat Ethiopia's Ejgayehu Taye (8:19.52) as the two moved to #5 and #6 on the all-time outdoor list.
Full meet recap & analysis below. Full results here.
Women's 100: Elaine Thompson-Herah keeps it rolling with 10.72 win
Shelly-Ann Fraser-Pryce pulled out of her third matchup with Elaine Thompson-Herah in 8 days with a tight hamstring and that meant it was no contest as Thompson-Herah dominated, getting the win in 10.72. 
Thompson-Herah was nonplussed looking at the clock afterwards. She wasn't used to seeing a 10.7 next to her name. 10.72 is a time only five women have bettered and is Sha'Carri Richardson's pb, but it was Thompson-Herah's slowest time since the Olympics. Starting with the Olympic final she now has run 10.61, 10.54, 10.64, and 10.72.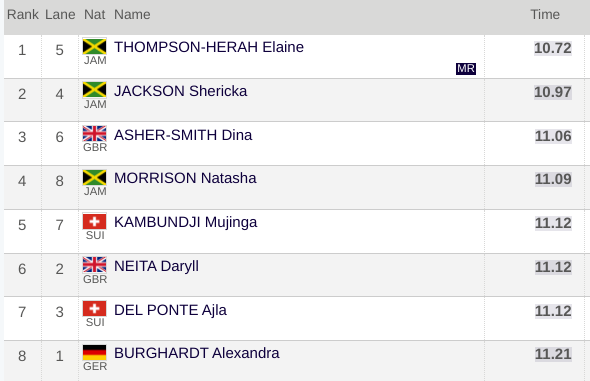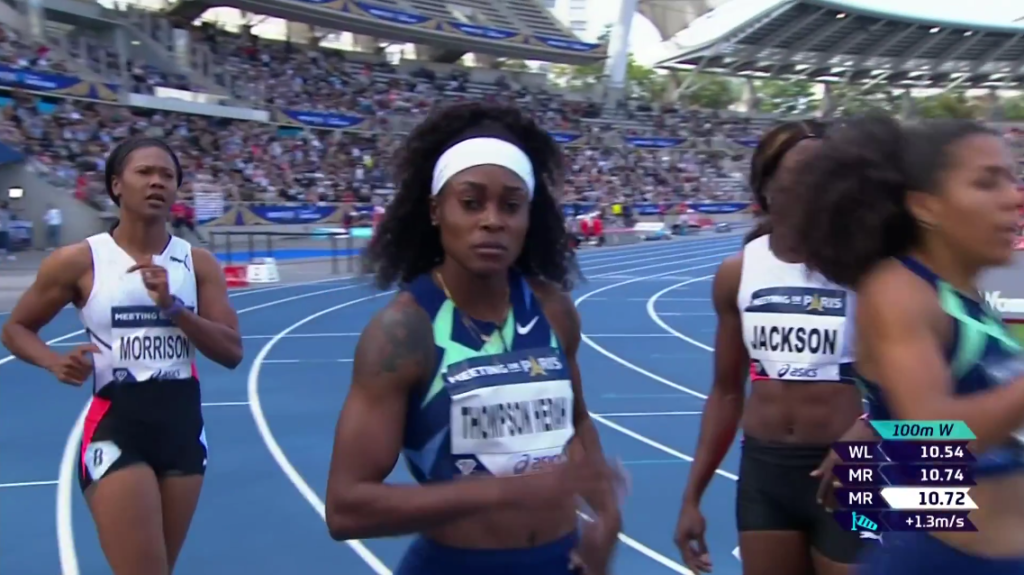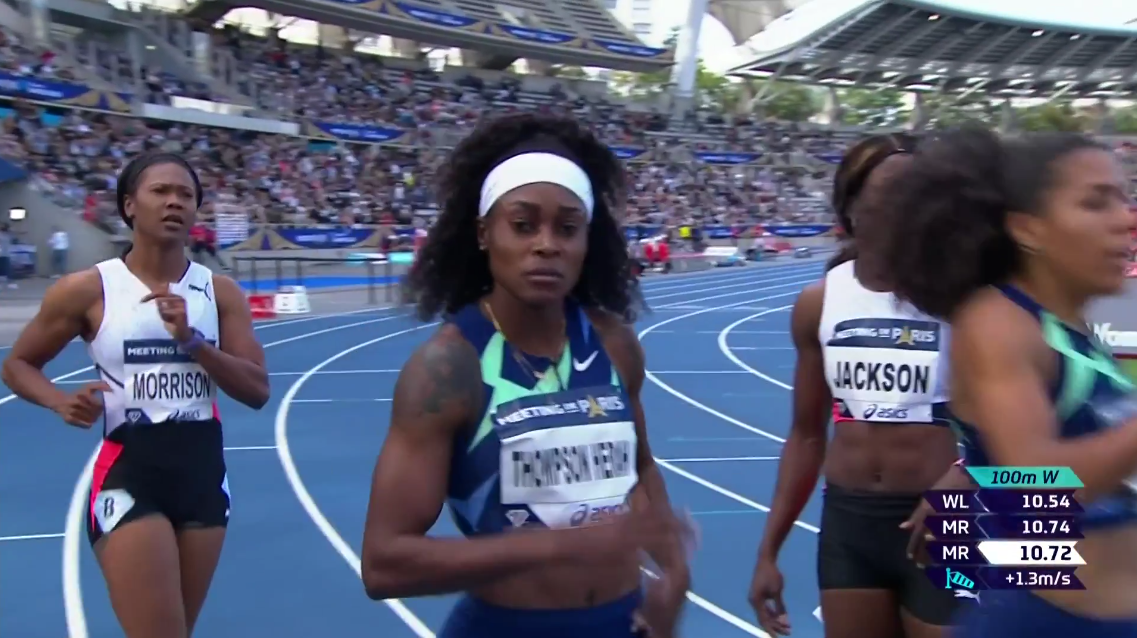 Women's 3000: Francine Niyonsaba moves to #5 all-time outdoors in a super fast race
The pacemakers were tasked with hitting 67-second laps and did a great job of that through 1600 (4:28), at which point Francine Niyonsaba took over and strung out the four-person lead pack that also included 2019 Worlds silver medalist Margaret Kipkemboi, 14:14 5k runner Ejgayehu Taye (5th at the Olympics), and 2019 Worlds bronze medalist Konstanze Klosterhalfen. Niyonsaba's move totally dropped Klosterhalfen and left Taye and Kipkemboi seven meters back at two kilometers.
Despite how fast Niyonsaba was running, she could not fully shake Taye and Kipkemboi, however. By the bell, her lead had shrunken to four meters as Kipkemboi moved into second. Then, with 200 to go, Taye blew past Kipkemboi and by 150 to go had pulled up on Niyonsaba's shoulder. Recognizing the danger, Niyonsaba found an extra gear and was able to hold off Kipkemboi for the win in a world-leading 8:19.08, Kipkemboi just behind in 8:19.52.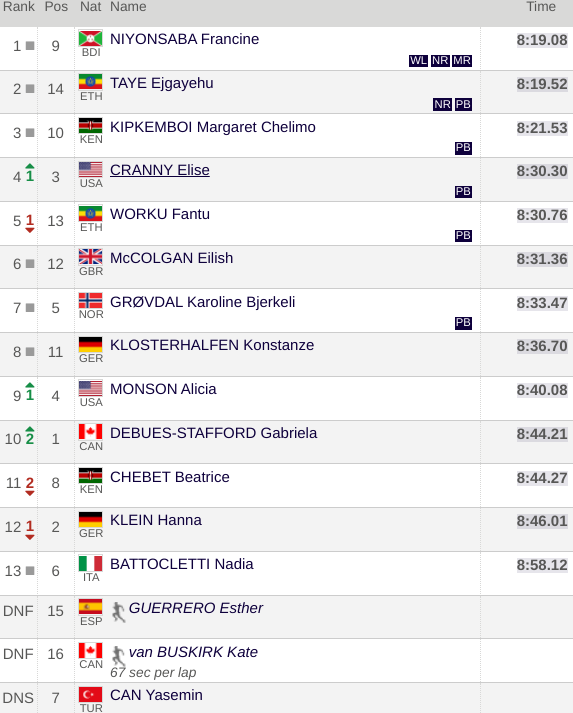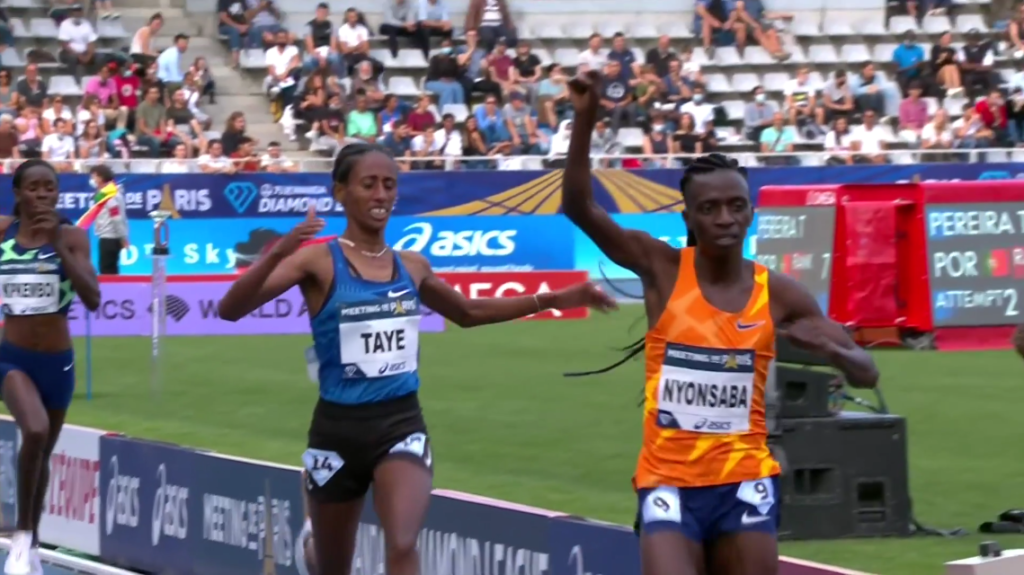 Quick Take: Times were very, very fast today
How rare is it for two women to break 8:20 in the same race? Consider that before today, only six women had ever broken 8:20 and you'll get a sense of the accomplishment.
Niyonsaba's 8:19.08 makes her the fifth-fastest woman of all time outdoors, with Taye, who broke Letesenbet Gidey's Ethiopian outdoor record, just behind her in sixth (Genzebe Dibaba has run 8:16.60 indoors but her best outdoors is 8:21.29).
If anything, however, that is underselling how fast Niyonsaba and Taye ran today. Four of the other five women to break 8:20 outdoors were drug-fuelled Chinese women from September 1993. Which means the only non-Chinese to run in the 8:10s outdoors are Niyonsaba, Taye, and Sifan Hassan (8:18.49).
In all, six of the top seven women in the field ran personal bests. US 5k champ Elise Cranny was one of them, clocking 8:30.30 to take fourth. Among Americans, only Mary Decker Slaney, Jenny Simpson, and Shannon Rowbury have gone faster outdoors (Karissa Schweizer, Shelby Houlihan, and Colleen Quigley have all gone faster indoors as well).
Quick Take: Niyonsaba puts more pressure on World Athletics' DSD regulations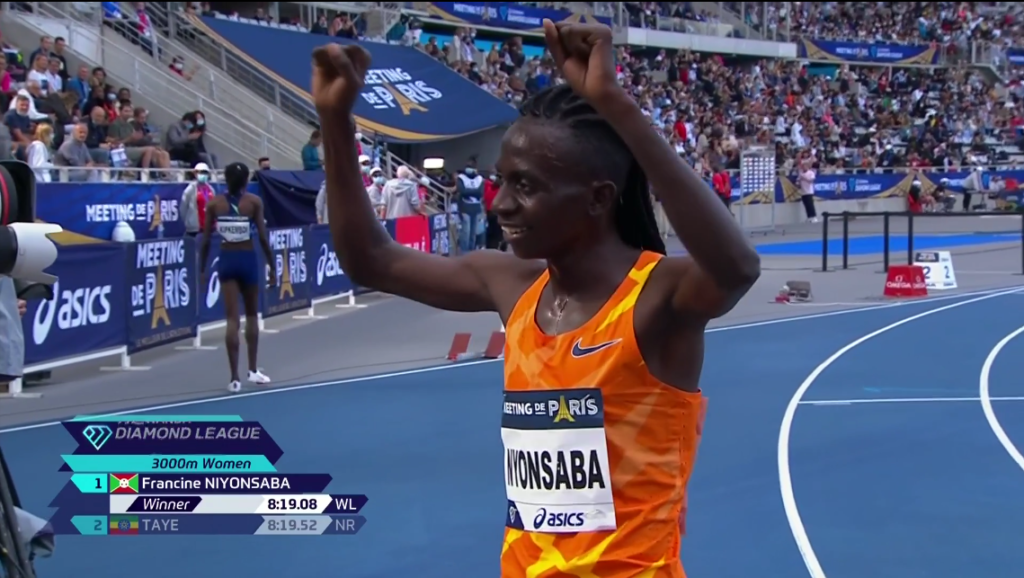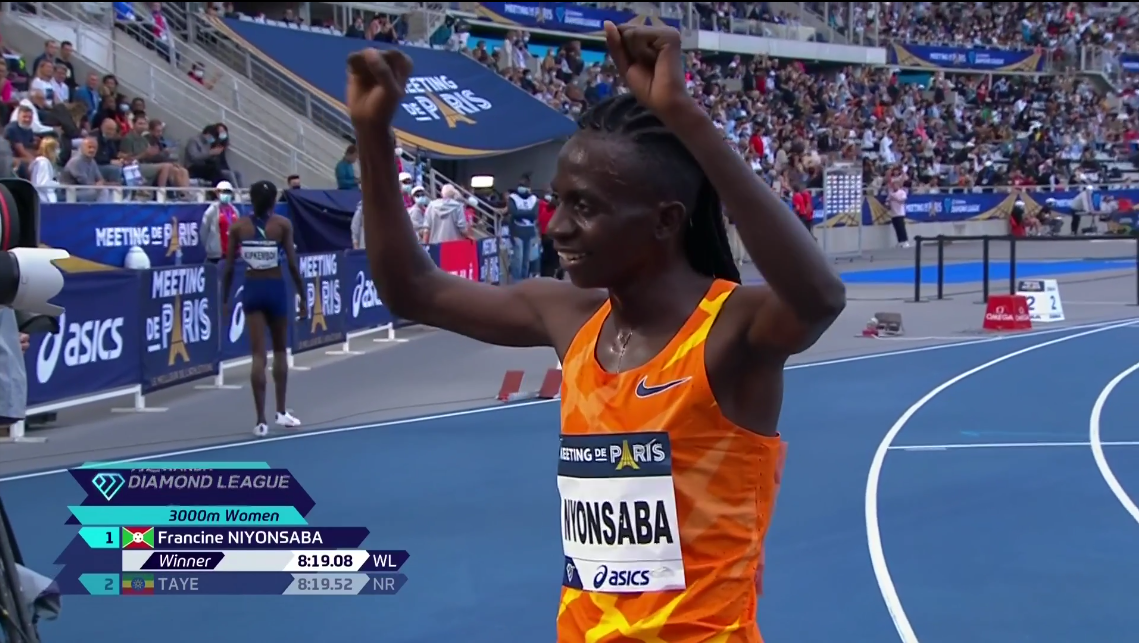 World Athletics' DSD regulations were put in place because DSD women like Niyonsaba gain an advantage from the amount of testosterone circulating through their body — far greater than any athlete in the typical female range. World Athletics limited the restricted events to the 400 through mile, because those were the only events where it could prove an advantage, but left the regulations open to revisitation should more evidence emerge. And in 2021, that evidence does appear to be emerging.
While Caster Semenya fell short of qualifying for the Olympics (she could only manage 15:32 in her attempt to qualify in the 5k) and Margaret Wambui has not raced at all, Niyonsaba is now one of the fastest 3000m runners in history and was 5th in the Olympic 10k. On the other end of the spectrum, DSD athletes Christine Mboma and Beatrice Masilingi of Namibia were both Olympic 200m finalists, with Mboma claiming the silver medal. Whether their accomplishments qualify as enough to change the regulations remains to be seen. But we'd be shocked if World Athletics doesn't try to expand the restricted events in the near future.
Regardless of whether you believe Niyonsaba should be allowed to compete without lowering her testosterone levels, her resilience and ability to reinvent herself in a totally different distance is very impressive.
Men's steeple: Kigen leads Kenyan 1-2-3 as El Bakkali goes down hard on first barrier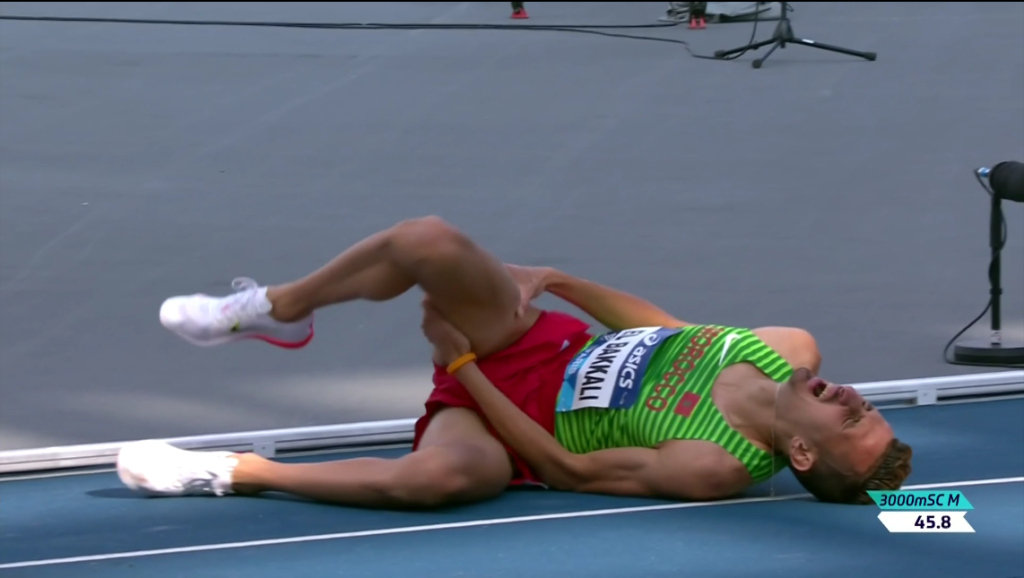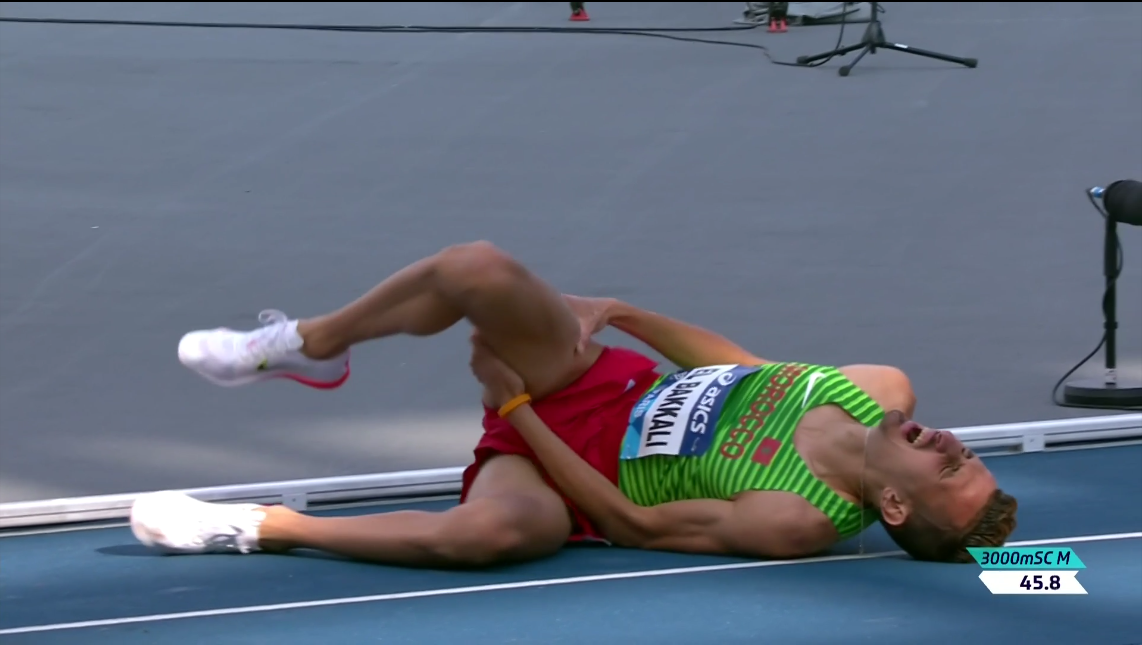 Kenya's Benjamin Kigen, who infamously kicked a lap early in Monaco last month when the officials rang the bell with 800 to go, did not suffer from any such mistakes today in Paris, closing hard over the last lap to win in a world-leading 8:07.12. It was a Kenyan 1-2-3, as Abraham Kibiwot (8:09.35) and Leonard Bett (8:10.21) grabbed second and third.
The big news in this one, however, surrounded Olympic champ Soufiane El Bakkali, who went down hard on the first barrier and injured himself. El Bakkali, running in the middle of the pack, appeared to get his leg tangled with Kibiwott as he attempted to hurdle the barrier. He hit the ground, grabbing his leg after opening a nasty gash on his right thigh, and was immediately tended to by medics, ending his race.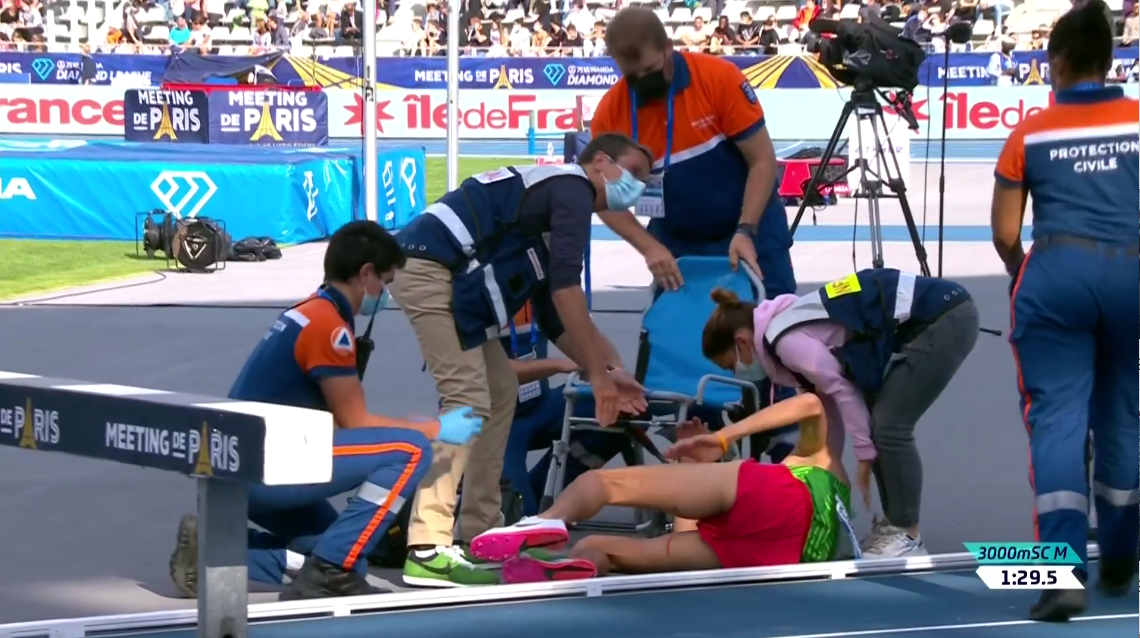 With El Bakkali and gone and Olympic silver medalist Lamecha Girma a pre-meet scratch, the Kenyans dominated this one, with Bett taking the lead from Kibiwot just before the bell. Neither had dropped the big kicker Kigen, however, and Kigen struck early in the final lap before upping the ante with an even bigger move with 200 to go. No one could match him as he streaked away to the fastest time in the world this year.
3000 Metres Steeplechase - Men  - Diamond Discipline
                                                             Pts        
    1 KIGEN Benjamin                   KEN   8:07.12        8.00        
    2 KIBIWOT Abraham                  KEN   8:09.35        7.00        
    3 BETT Leonard Kipkemoi            KEN   8:10.21        6.00        
    4 WALE Getnet                      ETH   8:13.31        5.00        
    5 HUGHES Matthew                   CAN   8:13.77        4.00        
    6 HAILESELASSIE Yemane             ERI   8:15.24        3.00        
    7 ZOGHLAMI Osama                   ITA   8:17.24        2.00        
    8 ABDELWAHED Ahmed                 ITA   8:19.14        1.00        
    9 BOR Hillary                      USA   8:21.02                    
   10 SIME Abrham                      ETH   8:23.35                    
   11 BELHADJ Mehdi                    FRA   8:34.29                    
   12 ZERRIFI Abdelhamid               FRA   8:37.97                    
   13 RAITANEN Topi                    FIN   8:42.00                    
   14 TINDOUFT Mohamed                 MAR   8:46.82                    
      CARRO Fernando                   ESP       DNF                    
      EL BAKKALI Soufiane              MAR       DNF                    
      KIPRUTO Conseslus                KEN       DNF                    
      MARTOS Sebastián                 ESP       DNF                    
      ZOGHLAMI Ala                     ITA       DNF                    
Quick Take: Let's hope El Bakkali is okay
El Bakkali looked to be in a lot of pain after hitting the ground, with an ugly cut on the inside of his thigh. Hopefully he will be okay moving forward.
Quick Take: Conseslus Kipruto still hasn't finished a race since 2019
Kipruto, the two-time defending world champ, was entered here and was actually in the lead through one kilometer. But, just as earlier this year in Florence, Kipruto dropped out. Which means that he still hasn't finished a race since winning the world title in Doha in 2019.
Chris Dennis on the international broadcast said Kipruto's agent told him he was in good shape, but clearly that was not the case.
Men's 800: Wycliffe Kinyamal get convincing win in 1:43.94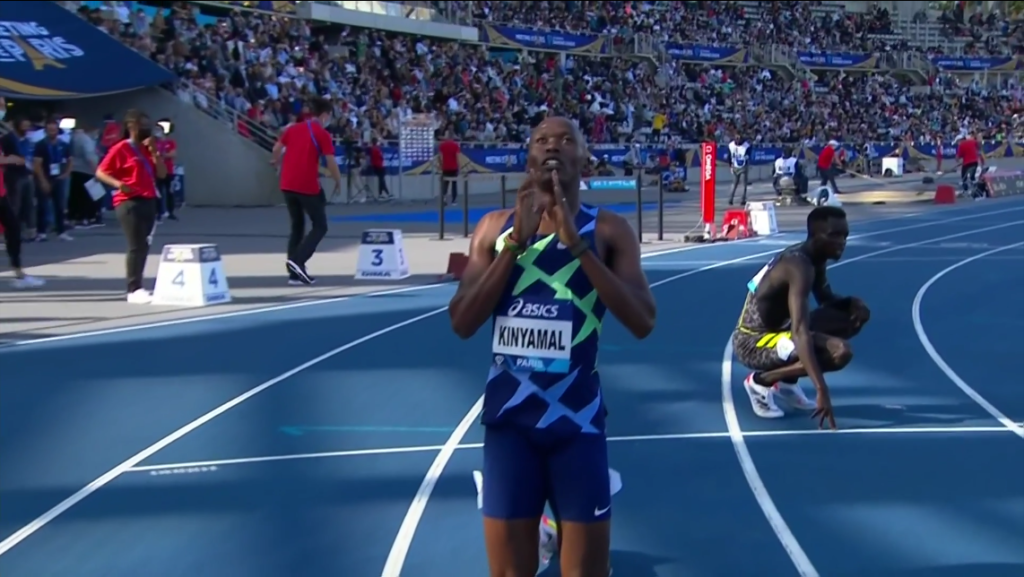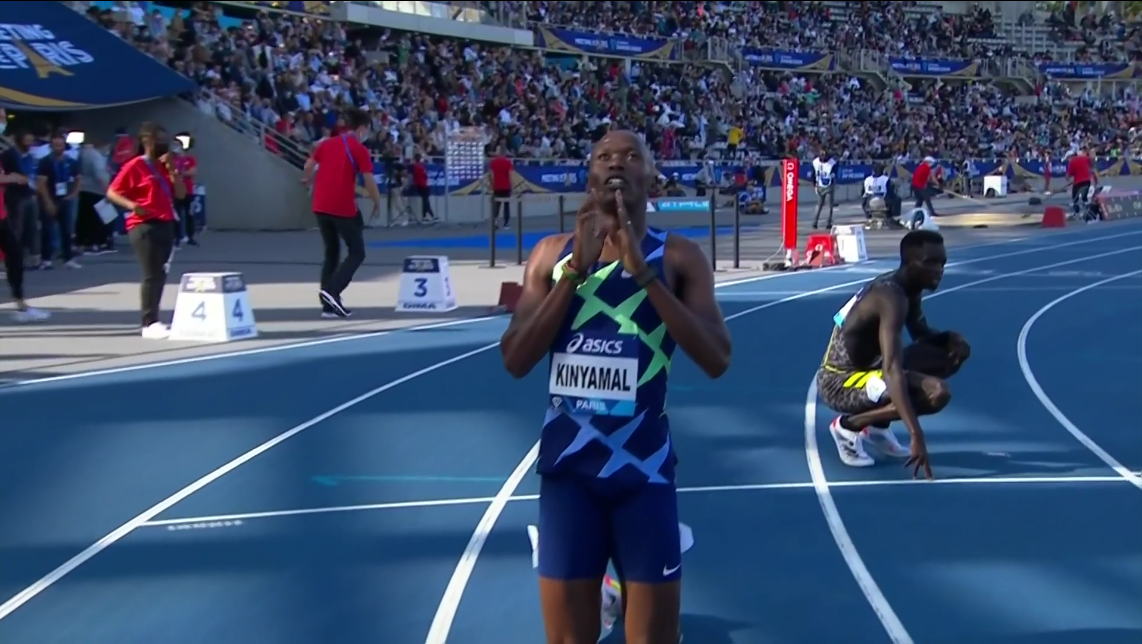 Wycliffe Kinyamal missed out on the Olympic Games, but he showed he might have been a factor in Tokyo had he been there, as he blew by Marco Arop coming into the homestretch and powered to the convincing 1:43.94 win, as the Olympic silver medallist Ferguson Rotich moved up for second with Arop hanging on for third.
The rabbit took this out in a very honest 50.17 and the field was tightly bunched. Elliot Giles took over after the rabbit and led on the backstretch until Arop took the lead with 200 to go. He'd hold that until the homestretch where it was all Kinyamal.
This was Kinyamal's 2nd DL win of the year (he won the season opener in Doha) and 5th ever (he had two in 2018 when he was the Commonwealth champ as well).
800 Metres - Men  - Diamond Discipline
                                                             Pts        
    1 KINYAMAL Wyclife                 KEN   1:43.94        8.00        
    2 ROTICH Ferguson Cheruiyot        KEN   1:44.45        7.00        
    3 AROP Marco                       CAN   1:44.74        6.00        
    4 BOL Peter                        AUS   1:44.88        5.00        
    5 GILES Elliot                     GBR   1:44.92        4.00        
    6 TUAL Gabriel                     FRA   1:45.05        3.00        
    7 TUKA Amel                        BIH   1:45.37        2.00        
    8 BEN Adrián                       ESP   1:45.40        1.00        
    9 MURPHY Clayton                   USA   1:45.60                    
   10 DOBEK Patryk                     POL   1:48.37                    
      SIERADZKI Patryk                 POL       DNF                 
QT: 800 is wide open this year
Marco Arop, who didn't make the Olympic final, had won the last two Diamond Leagues. This one was won by a guy who didn't even make it to the Olympics, just showing that the 800 is wide open this year.
QT: Clayton Murphy's 2021 peak was at the Olympic Trials
This was Murphy's third race since the Olympics. His 1:45.60 today was his fastest since Tokyo, but it got him his worst finish (9th). Looking at the season as a whole, it is clear Murphy's peak was at the Olympic Trials, where he ran 1:43.17 for the win. Since then his best race was his 1:44.18 to make the Olympic final. If he could reverse when his two best races were, he might be the Olympic champ but that's not how it works.
Men's 200: Fred Kerley outleans Bednarek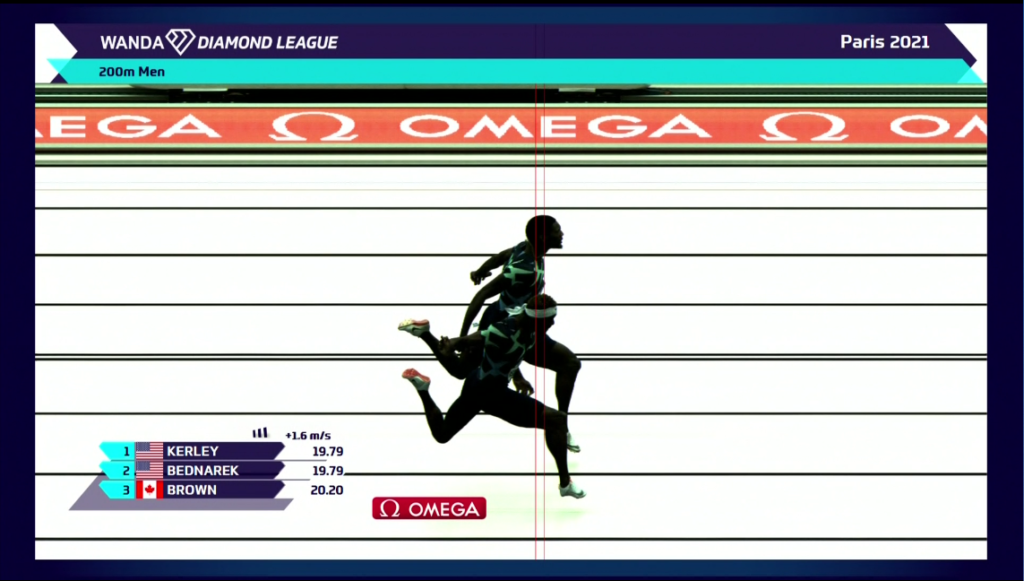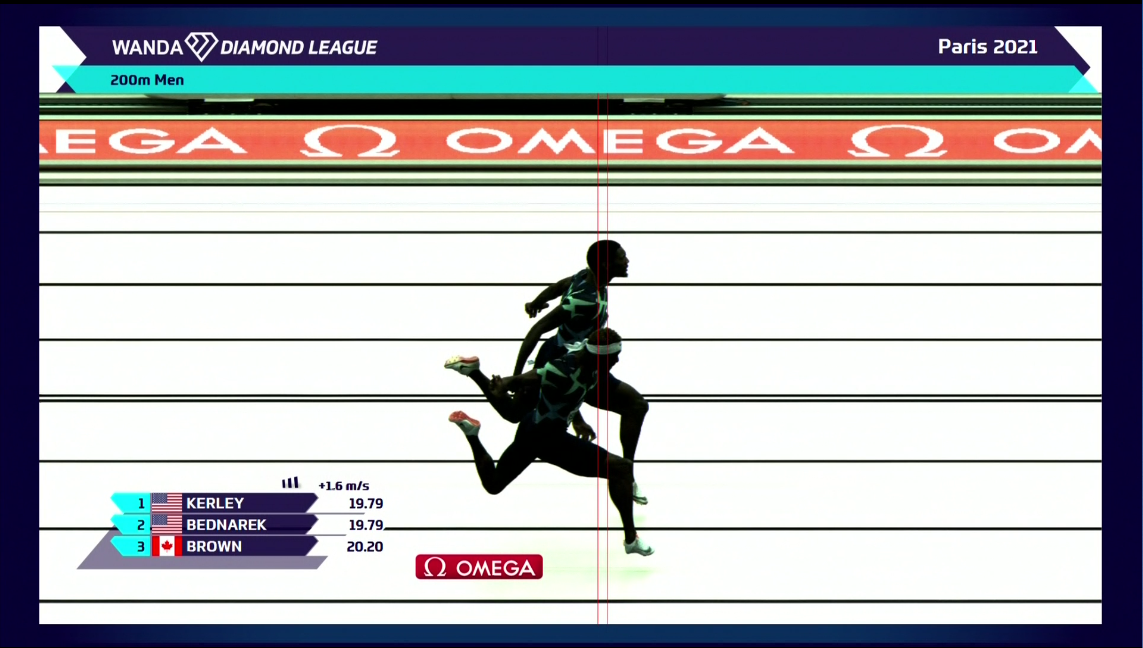 Fred Kerley outleaned Kenny Bednarek to get the win as both were clocked in 19.79. Bednarek was in front but this was neck and neck down the homestretch with Kerley closing. The difference may have been the lean as Kerley timed his right as Bednarek leaned just after the finish.
The top two was a rematch of the Lausanne meet on Thursday where Bednarek got the win in a wind-aided 19.65.
200 Metres - Men  - Diamond Discipline           Wind: +1.6 m/s
                                                             Pts        
    1 KERLEY Fred                      USA     19.79        8.00        
    2 BEDNAREK Kenneth                 USA     19.79        7.00        
    3 BROWN Aaron                      CAN     20.20        6.00        
    4 MARTÍNEZ Yancarlos               DOM     20.22        5.00        
    5 MAKWALA Isaac                    BOT     20.26        4.00        
    6 LYLES Josephus                   USA     20.37        3.00        
    7 DESALU Eseosa Fostine            ITA     20.41        2.00        
    8 FALL Mouhamadou                  FRA     20.46        1.00        
Men's 110m Hurdles: Olympic champ Parchment runs season's best for the win
We didn't get to see this race as the international feed went out early in the United States, but Olympic champ Hansle Parchment continued his fine 2021 season with the win in a season's best 13.03 as Devon Allen ran a season's best of 13.08 for 2nd.
Prior to this year Parchment had not run under 13.10 since 2015. He ran 13.04 to win the Olympics and then responded with a clunker in Lausanne two days ago where he ran 13.58 for last. But in that race, he got out well and was leading until he completely lost his rhythm after he hit a hurdle. 
110 Metres Hurdles - Men  - Diamond Discipline   Wind: +0.7 m/s
                                                             Pts        
    1 PARCHMENT Hansle                 JAM     13.03        8.00        
    2 ALLEN Devon                      USA     13.08        7.00        
    3 ROBERTS Daniel                   USA     13.16        6.00        
    4 LEVY Ronald                      JAM     13.24        5.00        
    5 MANGA Aurel                      FRA     13.40        4.00        
    6 POZZI Andrew                     GBR     13.49        3.00        
    7 KWAOU-MATHEY Just                FRA     13.50        2.00        
      MARTINOT-LAGARDE Pascal          FRA        DQ                    
                                                                
Women's 100 Hurdles: Former world champ Danielle Williams wins
Williams, the 2015 World champ, who did not make the Jamaican team after finishing 4th at the Trials, ran a season's best of 12.50 to get the win over Nadine Visser, the 5th placer at the Olympics.
100 Metres Hurdles - Women  - Diamond Discipline Wind: +1.7 m/s
                                                             Pts        
    1 WILLIAMS Danielle                JAM     12.50        8.00        
    2 VISSER Nadine                    NED     12.58        7.00        
    3 TAPPER Megan                     JAM     12.66        6.00        
    4 AMUSAN Tobi                      NGR     12.69        5.00        
    5 CUNNINGHAM Gabriele              USA     12.86        4.00        
    6 CLEMONS Christina                USA     12.96        3.00      
Men's 100: Marvin Bracy wins non-DL event in 10.04
Bracy, who has run 9.85 at two relatively obscure meets this year, ran 10.04 to get the win in this non-DL event.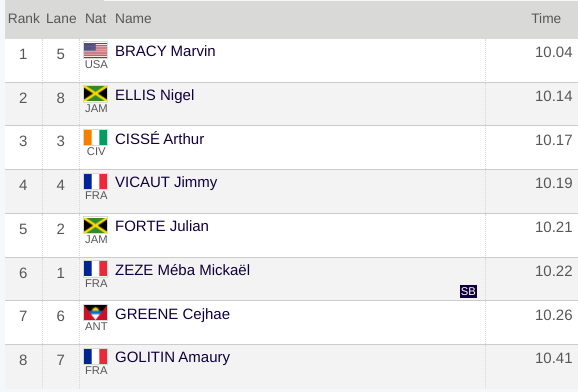 Women's 400: Paulino makes it two wins in three days
Allyson Felix, running her first Diamond League since 2017, got out well and was in contention for the win entering the home straight alongside Olympic semifinalist Sada Williams of Barbados and Olympic silver medalist Marileidy Paulino of the Dominican Republic. Ultimately, it was the 24-year-old Paulino who got the better of her rivals, pulling away late to win in 50.12 to Williams' 50.30 and Felix's 50.47.
400 Metres - Women  - Diamond Discipline
                                                             Pts        
    1 PAULINO Marileidy                DOM     50.12        8.00        
    2 WILLIAMS Sada                    BAR     50.30        7.00        
    3 FELIX Allyson                    USA     50.47        6.00        
    4 BOL Femke                        NED     50.59        5.00        
    5 HAYES Quanera                    USA     50.81        4.00        
    6 KACZMAREK Natalia                POL     51.32        3.00        
    7 MCLEOD Candice                   JAM     51.41        2.00        
    8 BROSSIER Amandine                FRA     52.79        1.00     
Women's 400 hurdles: Gianna Woodruff earns first DL win
With the three Olympic medalists absent, today's meet seemed a perfect opportunity for Shamier Little — 4th at the US Olympic Trials and 2nd at her last four Diamond Leagues — to finally win a Diamond League in 2021. But Little was totally off her game today, finishing last in 57.18, leaving this race wide open.
Coming off the turn, it looked like little-known American Cara Hailey would steal it in lane one, but Hailey faded late and Panama's Gianna Woodruff came on strong in lane 7 to win in 54.44.
400 Metres Hurdles - Women  - Diamond Discipline
                                                             Pts        
    1 WOODRUFF Gianna                  PAN     54.44        8.00        
    2 RYZHYKOVA Anna                   UKR     54.59        7.00        
    3 RUSSELL Janieve                  JAM     54.75        6.00        
    4 HAILEY Cara Nnenya               USA     54.78        5.00        
    5 TKACHUK Viktoriya                UKR     54.93        4.00        
    6 ZAPLETALOVÁ Emma                 SVK     55.61        3.00        
    7 COUCKUYT Paulien                 BEL     56.36        2.00        
    8 LITTLE Shamier                   USA     57.18        1.00   
Men's pole vault: Mondo is the only man over six meters
Mondo Duplantis bounced back from a surprise defeat in Lausanne on Thursday to take the win today as he was the only man over six meters (6.01). The surprise came in second place as the Philippines' Ernest John Obiena cleared a national record of 5.91 to finish ahead of Olympic silver medalist Chris Nilsen and world champ Sam Kendricks.
Mondo took three attempts at the world record of 6.19 but came up short.
Pole Vault - Men  - Diamond Discipline
                                                             Pts        
    1 DUPLANTIS Armand                 SWE      6.01        8.00        
    2 OBIENA Ernest John               PHI      5.91        7.00        
    3 NILSEN Christopher               USA      5.81        6.00        
    4 KENDRICKS Sam                    USA      5.73        5.00        
    5 LIGHTFOOT KC                     USA      5.73        4.00        
    6 LAVILLENIE Valentin              FRA      5.65        3.00        
    7 LISEK Piotr                      POL      5.55        2.00        
    8 CORMONT Ethan                    FRA      5.55        1.00        
    9 MARSCHALL Kurtis                 AUS      5.45                    
   10 LAVILLENIE Renaud                FRA      5.30                    
      COPPELL Harry                    GBR        NM                 
Women's high jump: McDermott earns first DL points win
Olympic silver medalist Nicola McDermott of Australia, who was third in Lausanne on Thursday, turned the tables on Olympic champ Mariya Lasitskene and got the win today in Paris. Though both McDermott and Lasitskene cleared 1.98 meters, it took Lasitskene three attempts and McDermott just one. After both missed all three attempts at 2.01, McDermott clinched her first DL win in a points event (she won in Brussels last year when there was no full DL season).
High Jump - Women  - Diamond Discipline
                                                             Pts        
    1 MCDERMOTT Nicola                 AUS      1.98        8.00        
    2 LASITSKENE Mariya                ANA      1.98        7.00        
    3 GERASHCHENKO Iryna               UKR      1.95        6.00        
    4 PATTERSON Eleanor                AUS      1.95        5.00        
    5 MAHUCHIKH Yaroslava              UKR      1.95        4.00        
    6 LIĆWINKO Kamila                  POL      1.92        3.00        
    7 VALLORTIGARA Elena               ITA      1.92        2.00        
    8 MAXWELL Laureen                  FRA      1.89        1.00        
    9 GICQUEL Solène                   FRA      1.89                    
    9 LEVCHENKO Yuliya                 UKR      1.89                    
   11 MCPHERSON Inika                  USA      1.81                    
Women's discus: Perkovic takes it
"Justice" prevailed in this event as the athletes in the Final Three finished in the same order as in rounds 1 through 5. Sandra Perkovic, with a best throw of 66.08 in round 2, nearly matched that in round 6 (65.68), which gave her the victory over world champ Yaime Perez and Olympic champ Valarie Allman. 
Discus Throw - Women  - Diamond Discipline
                                                             Pts        
    1 PERKOVIĆ Sandra                  CRO     66.08        8.00        
    2 PÉREZ Yaimé                      CUB     65.31        7.00        
    3 ALLMAN Valarie                   USA     64.51        6.00        
    4 CÁ Liliana                       POR     62.43        5.00        
    5 ROBERT-MICHON Mélina             FRA     62.42        4.00        
    6 CABALLERO Denia                  CUB     61.95        3.00        
    7 PUDENZ Kristin                   GER     61.78        2.00        
    8 VITA Claudine                    GER     58.09        1.00        
    9 STEINACKER Marike                GER     54.24                    
Men's javelin: World champ Anderson Peters wins
The jav was a battle of the last two world champs, Anderson Peters of Grenada and Johannes Vetter of Germany, and it was Peters who emerged victorious. Even though Vetter had the two best throws of the day (86.28 in round 2, 87.20 in round 3), he could only throw 80.23 in the all-important round 6 while Peters got out to 84.84.
Javelin Throw - Men  - Diamond Discipline
                                                             Pts        
    1 PETERS Anderson                  GRN     85.98        8.00        
    2 VETTER Johannes                  GER     87.20        7.00        
    3 MARDARE Andrian                  MDA     85.43        6.00        
    4 VADLEJCH Jakub                   CZE     85.17        5.00        
    5 KATKAVETS Aliaksei               BLR     82.40        4.00        
    6 VESELÝ Vítězslav                 CZE     80.73        3.00        
    7 WEBER Julian                     GER     80.40        2.00        
    8 ČAKŠS Gatis                      LAT     80.06        1.00        
    9 TUPAIA Teura'itera'i             FRA     77.91                    
   10 MIALESHKA Pavel                  BLR     75.03                   
Men's triple jump: Hugues Fabrice Zango wins
It was a rather lackluster day of triple jumping as Yasser Mohamed Triki had the best jump of the day at 17.16 but that wasn't in the crucial round 6. Zango saved his best jump for last and got the win in 16.97.
Triple Jump - Men  - Diamond Discipline
                                                             Pts    Wind
    1 ZANGO Hugues Fabrice             BUR     16.97        8.00    +1.7
    2 TRIKI Yasser Mohamed             ALG     17.16        7.00    +1.7
    3 PEREIRA Tiago                    POR     16.66        6.00    +1.1
    4 PONTVIANNE Jean-Marc             FRA     16.62        5.00    +1.4
    5 BENARD Chris                     USA     16.61        4.00    +1.2
    6 HEß Max                          GER     16.56        3.00    -0.1
    7 BOCCHI Tobia                     ITA     16.53        2.00    +0.2
    8 SCOTT Donald                     USA     16.44        1.00    +0.9
    9 COMPAORÉ Benjamin                FRA     16.24                +1.7