2020 Olympic Women's Steeplechase Preview: In A Race With 5 Legitimate Gold Medal Contenders, Can Emma Coburn Bring Home The Gold To The USA?
By Karl Winter
July 29, 2021
Prelims: Saturday, July 31, 8:40 p.m. ET
Final: Wednesday, August 4, 7:00 a.m. ET
Medals for Americans in distance races are rare at global championships, and at this year's Tokyo Olympic Games, only a small handful of Americans can be considered serious medal contenders in any race above 800 meters. As we mentioned in our women's 800 preview, only two American women have ever won an Olympic gold medal in a mid-distance or distance race (Madeline Manning Mims in the 800 in 1968 and Joan Benoit Samuelson in the marathon in 1984).
Nine-time US champion Emma Coburn is the best bet to take home some hardware for the USA in any event above 800, but can she top the podium?
The women's steeplechase in Tokyo has no distinct favorite, as the world leader (Norah Jeruto, not eligible to represent her country) and reigning Olympic champ (Ruth Jebet, suspended for doping) are not running and the reigning World champ and world record holder (Beatrice Chepkoech) has not returned to top form since 2019. That gives Coburn a fighting chance.
Are we biased toward Coburn's chances because she is American and gave us one of the most memorable moments in American distance running history at Worlds in 2017?
Article continues below player.
Hardly. Coburn is the owner of three global medals, one of each color. She upgraded from fifth in 2015 to bronze at Rio in 2016 to gold in 2017, then earned silver behind Chepkoech in 2019. She also ran a personal best in all three medal-winning races. She always times her peak perfectly for the global championships.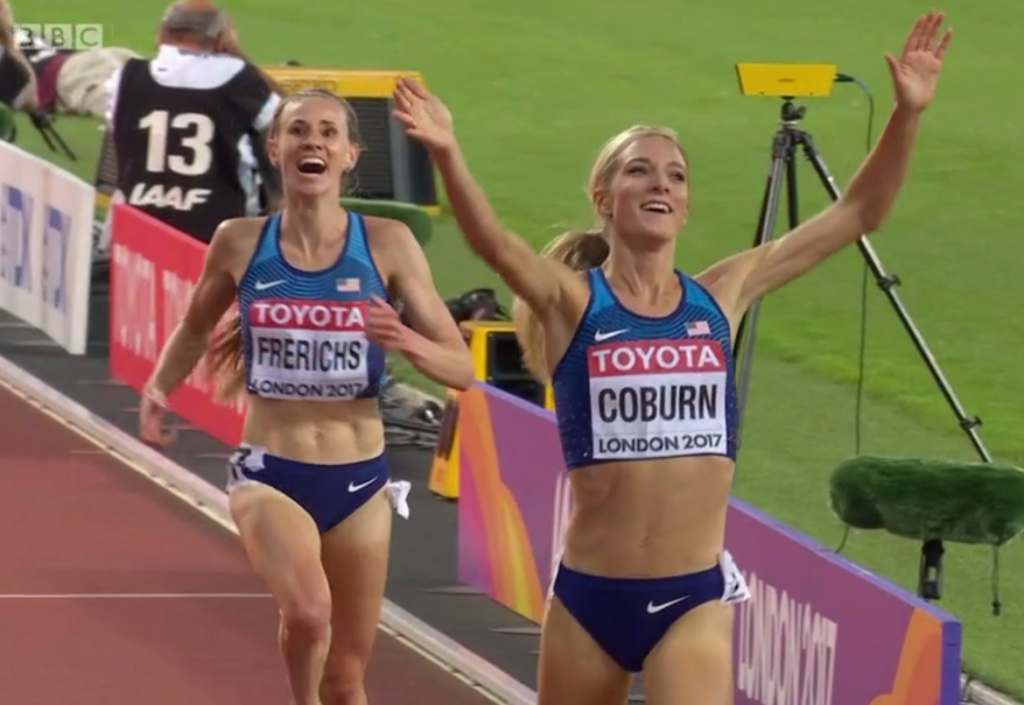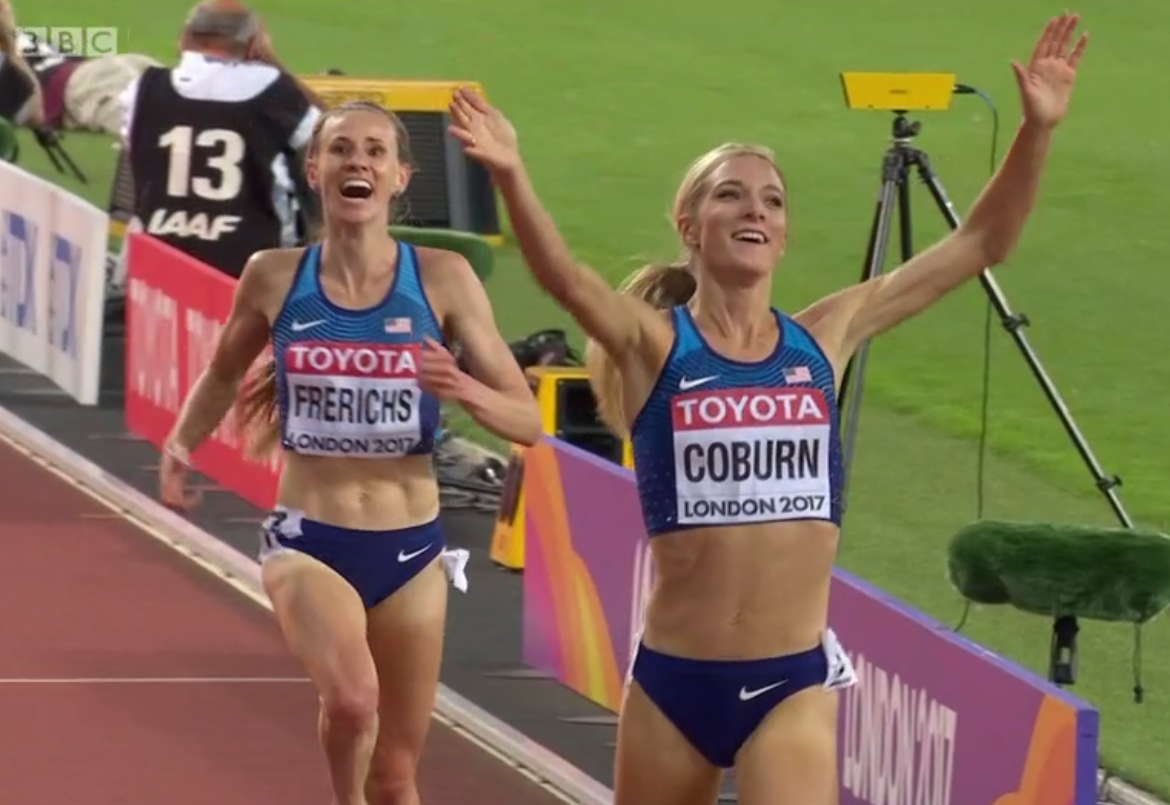 2019 Worlds results
Beatrice Chepkoech, Kenya 8:57.84
Emma Coburn, USA 9:02.35
Gesa Felicitas Krause, Germany 9:03.30
Winfred Mutile Yavi, Bahrain 9:05.68
Peruth Chemutai, Uganda 9:11.08
2021's fastest performers (among women entered)
Mekides Abebe, Ethiopia 9:02.52
Winfred Mutile Yavi, Bahrain 9:02.64
Hyvin Kiyeng, Kenya 9:03.82
Beatrice Chepkoech, Kenya 9:04.94
Emma Coburn, USA 9:08.22
Besides whether she can win, the question of whether Coburn can run a personal best is significant, because if she improves on her current pb of 9:02.35, she could become the first American woman to get under the nine-minute barrier and take the American record (9:00.85) from Courtney Frerichs.
Unlike the other distance races, the steeplechase is rarely tactical and slow in a championship event – it's just not the nature of the event — if it goes too slow, people are super bunched and could fall early in the race or late when it turns into an all out sprint.  The best performer on the day of the final will normally take it at least mid race, and this year, any of five women have a legitimate shot at the gold, including three veterans who have won a global title before.
The World Record Holder
At the World Championships in 2019, it would have been a major upset for anyone other than Kenyan Beatrice Chepkoech to win. Entering that race, Chepkoech had won 15 of 17 steeple races in 2018 and 2019, including an outrageous 8:44.32 world record in Monaco.
That's no longer the case.
Since her dominant win in Doha, Chepkoech has won just one of five steeple races and hasn't run faster than 9:04.94. Yes, that's right. She hasn't come within 20 seconds of her pb in her last 5 steeples. She can't be discounted, though, as she has improved in each race this year, and that 9:04.94 came in her last race – a second-place finish in Monaco on July 9. She also set the world record in the road 5k this year (14:43) and holds a quick 1500 pb (4:02.09).
The Best So Far in 2019
Based on past accomplishments and 2021 results, Kenyan Hyvin Kiyeng probably deserves to be considered the favorite.
Her credentials in championships are just as good as Coburn's: Gold in Beijing in 2015, silver in Rio in 2016, and bronze in London in 2017, before an eighth-place finish in 2019. In three races against top Olympic contenders this year — the Doha, Stockholm, and Monaco Diamond Leagues — Kiyeng has finished fourth, first, and first. She also beat Chepkoech at the Kenyan Olympic Trials.
In the Monaco race, Kiyeng kicked a lap early and yet she still won in 9:03.82. Coburn fell on the final water jump of that race, but there's no telling which of the two women would have won without the fall. Perhaps Coburn, but if Kiyeng hadn't kicked a lap early, she gets the edge. Past history also gives her a significant edge over Coburn. Head to head, Kiyeng and Coburn have raced 24 times and Kiyeng has beaten Coburn in 17 of those races. Kiyeng has also raced the world record holder Chepkoech 24 times and it's a dead heat – 12 wins apiece.
The American 
Coburn did not race the Stockholm DL, but she has also improved throughout the year: fifth place in Doha in her first steeple in 20 months, a dominant win at the US Olympic Trials after a slow first kilometer, and the race in Monaco where she challenged for the win and the sub-9 but stumbled on the final barrier. She also has good closing speed, with 800/1500 PRs of 2:01.10 and 4:03.82. 
Those are the top three veterans who have a global title on their CV: 30-year-old Emma Coburn, 30-year-old Beatrice Chepkoech, and 29-year-old Hyvin Kiyeng. It could be the final chance for each of them to win an Olympic gold.
A couple other veterans deserve a mention even though they won't challenge for gold –  are Gesa Felicitas Krause of Germany, who will turn 29 the day before the final, and American record holder Courtney Frerichs, 28.
Krause earned bronze at Worlds in 2015 and 2019 and has been a finalist in every global steeple final since 2011. She beat Chepkoech in Stockholm but was not a factor in Monaco, running 9:15.03. It will likely require a personal best from Krause, like she produced in Doha in 2019, for her to threaten for the podium.
Frerichs earned a miraculous silver at Worlds in 2017 and ran the current American record in Monaco in 2018, and ran a 14:50.06 5000-meter pb in 2020, but she hasn't approached world-beater status since. She was sixth at Worlds in 2019 and Coburn has beaten her soundly at the last three US championships.
The third American in the field, Val Constien, is a great story. The 25-year old Colorado grad works a full-time job and ran a pb of 9:18.34 to get third in her first US Championships, but she will not be a medal contender.
The New Kids on the Block
We've gone more than 15 paragraphs of this preview without mentioning the two fastest women in the field this year — Mekides Abebe of Ethiopia, who turns 20 years old today, and 21-year-old Winfred Mutile Yavi of Bahrain. Both have a good chance of knocking the vets off the podium.
Abebe marks the steeplechase revolution in Ethiopia, which produced the Worlds silver medallist and Diamond League champ on the men's side in 2019. Since the women's steeplechase was added to the Olympics in 2008, Ethiopia has exactly one medal in the event, a bronze in 2013, compared to Kenya's nine medals. A crop of talented youth could change that, as Abebe is actually the oldest member of the Ethiopian women's steeple team: Ethiopian Trials runner-up Lomi Muleta is 19, and U20 national record holder Zerfe Wondemagegn is 18.
Muleta and Wondemagegn are exciting talents to watch in the future, but Abebe's time is now. Abebe ran 9:02.52, a 23-second PR, and kicked hard behind Jeruto to take second in Doha, shattering the Ethiopian national record and showing the ability to measure her race well. She then won the Ethiopian Trials in Hengelo on June 8 but hasn't recorded a result since.
Abebe has the talent to get Ethiopia's first silver or gold in the event. Because she has not raced at all in nearly eight weeks, she's a bit of a wild card, but she has the highest ceiling of anyone in the field not named Chepkoech. If anyone would completely shatter the nine-minute mark in this race, it might be her.
If she wins the Olympic gold, it will in hindsight be obvious we have a prodigal talent on our hands here. An African junior champion at age 15 in 2017, a World finalist at 18 and Olympic champion at 20.
Not racing much is something that is par for the course for Abebe. In 2019, prior to Worlds which were at the end of September, she raced once in May, once in July, and once in August before Worlds. All together, she PR'd  in four of those races including both races at Worlds. If she PRs in the Olympics, she's likely will challenge for gold.
Yavi has proven her ability to be competitive with the top runners in the World: fourth at Worlds in 2019 as a teenager (plus eighth in 2017), third at the Doha DL this year in 9:02.64 (ahead of Kiyeng and Coburn), and third in Monaco. However, Kiyeng and Chepkoech beat her in Monaco and Coburn would have beaten her if she had not fallen, so recency tells us that Yavi is not a favorite to beat the other top women.
KW prediction 1) Coburn 2) Kiyeng 3) Abebe
As I alluded to earlier, I see this as a five-woman race between Chepkoech, Kiyeng, Coburn, Abebe, and Yavi.
When I think of how the race will play out, the more I consider the possibility that it goes Coburn's way. The Kenyans, Chepkoech and Kiyeng, will press the pace early and make it honest. Coburn will have no interest in going to the front and neither will Abebe (based on Coburn's history and Abebe's inexperience). Both will move on the final water jump and Coburn will have the better jump and final 150. Kiyeng, the savvy racer, will hold off Abebe for bronze. Unless Abebe or Chepkoech breaks the field early, Coburn has a fighting chance to win.
Book it: Emma Coburn, PB, AR, Olympic gold.
This time, it won't be because Chepkoech made the mistake of missing the water jump. It won't be a fluke. If she gets it, Coburn will be the undisputed best in the world.
Talk about the women's steeplechase on our world-famous fan forum / messageboard.
MB: Official Women's Steeplechase Discussion Thread: Can Emma Coburn Win Gold?