Rai Benjamin Rips 46.83 (#2 All-Time) to Win 400m Hurdles at 2020 US Olympic Trials
By LetsRun.com
June 26, 2021
Barely half an hour after Grant Holloway ran 12.81 to become the second-fastest 110m hurdler in history, Rai Benjamin decided to match Holloway's feat, clocking 46.83 in the 400m hurdles, the #2 time ever behind only Kevin Young's 46.78 world record from the 1992 Olympic final. Benjamin did make some history, however, breaking the 33-year-old Olympic Trials record of 47.37 set by the legendary Edwin Moses.
Benjamin, running in lane 5, did not get out hard; after five hurdles, he was level with Kenny Selmon on his outside in lane 6 and Khallifah Rosser in lane 8. But with 150 meters to go, Benjamin accelerated, rapidly making up the stagger and opening up a comfortable lead entering the home straight. From there, it was Benjamin against the clock and the ghost of Young, a battle he almost won, missing the WR by an arm's length.
After the race, Benjamin told NBC's Lewis Johnson that the world record was not his priority, although he knew he was going to run fast.
"I was just trying to make the team," Benjamin said. "I knew I was going to run 46 because of how I felt in the rounds…I'm just happy. I'm so freaking happy right now."
Article continues below player.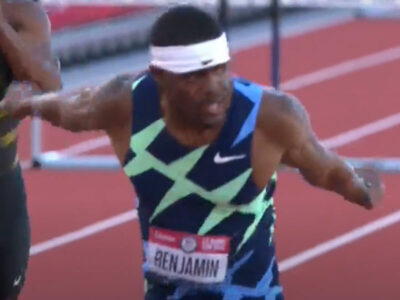 In addition to becoming the second-fastest man in history, Benjamin is now faster than his rival Karsten Warholm of Norway, the two-time defending world champion who beat Benjamin in the 2019 World Championship final and 2019 Diamond League final, where they became the first men in history to break 47 seconds in the same race. Warholm opened his 2021 outdoor season on June 4 in Oslo with a 33.26 world best in the 300m hurdles.
All-time sub-47 list
46.78 Kevin Young               Estadio Olímpico, Barcelona (ESP) 06 AUG 1992
46.83   Rai Benjamin             Hayward Field, Eugene (USA) 26 JUN 2021
46.87 Karsten Warholm       Olympiastadion, Stockholm (SWE) 23 AUG 2020
46.92 Karsten Warholm       Letzigrund, Zürich (SUI) 29 AUG 2019
46.98 Abderrahman Samba Stade Charléty, Paris (FRA) 30 JUN 2018
46.98 Rai Benjamin    Letzigrund, Zürich (SUI) 29 AUG 2019
Including Benjamin, the top four men ran personal bests, but only the top three qualified for the Olympics in Tokyo, with 2018 Us champ Kenny Selmon (48.08) and David Kendziera (48.38) claiming the final two spots on the team as Aldrich Bailey (48.55) just missed out.
Amazingly, today's final featured the exact same 1-2-3 as the 2018 NCAA final in Eugene, with Benjamin winning the title for USC, Selmon taking second for North Carolina, and Kendziera third for Illinois. Until today, neither Selmon nor Kendziera had ever run faster than that race.
2018 NCAA 400H Results Top
Rai Benjamin – JR- USC  47.02
Kenny Selmon – SR – North Carolina – 48.12
Dave Kendziera – SR – Illinois – 48.42
Fourth-placer Bailey has quite the story as well. Mostly a 200/400 man in college at Texas A&M and later Texas, the 27-year-old Bailey had never made an individual NCAA or US outdoor final entering 2021. He had also never run a 400 hurdles race. But after opening up with a 52.05 in his debut in Tyler, Tex., on March 13, Bailey steadily dropped his times, PRing in nine of his 10 races this year, including all three rounds of the Olympic Trials. He entered the meet with a pb/sb of 50.04, tied for #23 in the US this year, but ran 49.99 in Thursday's prelims, 49.20 in Friday's semis and 48.55 in today's final to just miss out on his first Olympic team.