Emily Sisson Secures First US Title & Olympic Berth with a 10K Masterpiece
By LetsRun.com
June 26, 2021
EUGENE, Ore. — The spirit of Molly Huddle lives on. Last week, Huddle announced her withdrawal from the 2020 US Olympic Trials, her 36-year-old body no longer able to generate the speed or smoothness that had carried her to five straight US 10,000-meter titles and an American record. But on a sunny Saturday morning at Hayward Field (82 degrees in Eugene at start), Emily Sisson delivered a run her erstwhile training partner would have been proud of, methodically squeezing the life out of the women's 10,000-meter field to win in a meet-record of 31:03.82 despite 86-degree temperatures.
Actually, we know Huddle was proud of the effort.
A Huddle comparison is selling Sisson short, however. This was dominance at a level we are unaccustomed to seeing at an Olympic Trials, particularly in an event in which 13 women in the field entered with the 31:30 Olympic standard. Only seven Americans (including Sisson) have ever run faster than her 31:03.82 today, achieved in the morning sun and without the aid of pacemakers. Her 12.70-second margin of victory left her almost a full straightaway clear of runner-up Karissa Schweizer. 
Sisson had sealed the victory by building a 30-meter lead with three laps to go and would only pick it up from there, going 71.47-71.25-69.26 to close out a 15:14.67 final 5k and 4:44.45 final 1600. Schweizer took second in 31:16.52 to make the Olympic team at a second distance (she also made it in the 5k on Monday), while Alicia Monson gave On Athletics Club another Olympian by taking third in 31:18.55.
Article continues below player.
The top five women in this race will all be running in Tokyo — the top three in the 10k and fourth- and fifth-placers Elise Cranny and Rachel Schneider in the 5k.
Sisson lapped everyone in the field save for the top seven. The last person she lapped — in the final 100 meters — was none other than 2016 Olympian and 2015 world championship bronze medallist Emily Infeld, who stuck with the lead pack for 6k.
The Race
The race had been shifted to a 10 a.m. start to avoid the hot weather (forecast to reach 100 degrees when this race would have originally been run at 6:44 p.m.), though the conditions were still hot and sunny when the gun was fired. Sisson took the lead just before two kilometers, dropping the pace from 78's and 78's to consistent 75's, whittling the pack to 10 by 5k (15:49.15). Sisson would continue tightening the noose all the way home. She dropped the pace to 74's just after halfway, which was enough to drop former New Mexico teammates and new US citizens Weini Kelati and Ednah Kurgat, as well as 2016 Olympian Infeld by four miles.
By 6800, Schneider, Hall, and 2012 Trials runner-up Natosha Rogers had been dropped as well, leaving a four-woman battle for three spots between Sisson, Cranny, Schweizer and Monson. After running consistent 74's, Sisson let a 75 slip in for her 18th lap. From there, however, Sisson's pacing was masterful: each of her final seven laps was faster than the one that preceded it. A 72.58 fifth-to-last lap gave her a 10-meter gap with a mile to go, and with 41 starters, it became hard to keep up with who was where as Sisson had been lapping multiple runners per lap. She would press on to win in dominant fashion, while Schweizer, who trailed Monson by 3.5 seconds at the bell, would use a big last lap (68.81, fastest in the field) to take second, with Monson safe in third, over 16 seconds up on Schweizer.
For the record, Schweizer said she plans on running both the 5k and 10k in Tokyo.
Top 15 Results
Analysis below results. Full results here.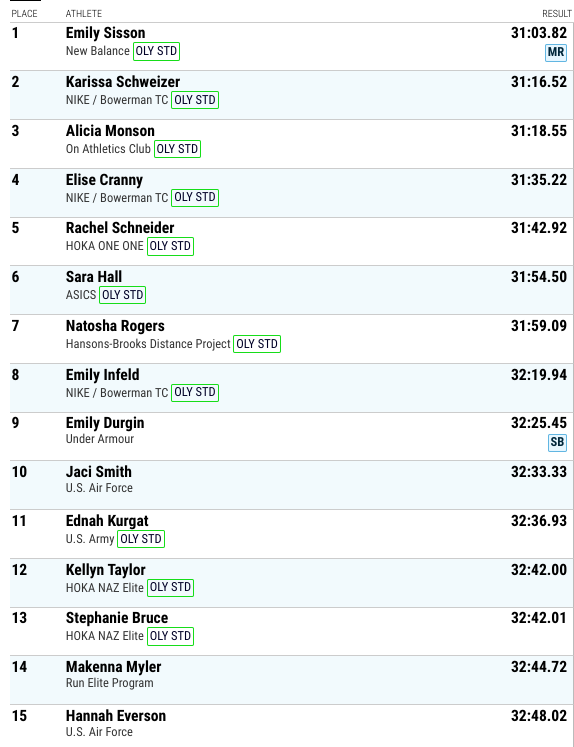 Quick Take: Total masterclass
Sisson has had some great performances in her career (she's made two Worlds teams at 10k, won two USA road titles, and won two NCAA titles), but she had never had one like this.
Not only did she make her first Olympic team and win her first USATF track title, she put on a wonderful performance. She took the lead after the mile and never gave it up. She started clipping off 75-second laps (5:00/mile) through halfway. That whittled the lead pack down to 10. Then she upped the ante again, lowering the pace to roughly 74s through 8k. That made it a four-woman race for the three Olympic spots. Then she started running 72s or better and it was game over.
Black page for Emily MF Sisson? That was incredible.
Quick Take: Redemption for Sisson, who used the extra year to her advantage
When we spoke to Sisson a month ago, she admitted that had the Trials been held as scheduled in 2020, she likely would not have been in contention to make the team. Her body felt broken after dropping out of the Olympic Marathon Trials on a brutal Atlanta course, and after a stellar 2:23 debut in London in 2019, she struggled to make sense of the result.
"Usually I'm good at moving on from bad races, but I struggled with that one," Sisson.
It didn't help that, after COVID postponed the Trials, there was nothing to move on to.
But eventually, Sisson was able to get back on track (she praised her husband, her former Providence College teammate Shane Quinn, for his support) and work back to incredible fitness. In December, she ran 67:26 to miss Huddle's American record in the half marathon by one second, and she looked strong in her three track 5k's this spring, running 14:55, 14:53, and 14:59. She had never broken 15 minutes prior to this year.  Her plan today was to play to her strength and make it a fast race, as she knew she was in the best shape of her life.
"There were some workouts where I had to ask [my coach Ray Treacy] to repeat my splits, like what did I just run?" Sisson said.
QT: Alicia Monson pushed her body to the brink (and to the hospital) to make her first Olympic team
The newly-formed On Athletics Club (editor's note: On Sponsored the Road to the Trials on LetsRun.com) got its second 10k Olympian at the Trials as Alicia Monson finished 3rd to make the team, joining teammate Joe Klecker who was 3rd in the men's 10k on the first night of the Trials.
Coach Dathan Ritzenhein had been very bullish on Monson heading into the Trials, but how would she perform on the biggest stage and in the heat? Superbly well. While Monson was overtaken by Karissa Schweizer on the final lap, she was the last athlete to get broken by Sisson.
However, the effort really took its toll.
After the race, Monson did not look well. She eventually was resting in the shade in the bowels of the stadium, and was brought back out for an interview by NBC's Lewis Johnson, where Schweizer helped support her. Monson said in the interview, "I have never gone to that point in a race before and I've always kind of wanted to. I think today was a good time to do that."
Monson was able to go to the victory stand and do the award ceremony for the top 3, but the heat was still taking its toll.
Later as first reported by Sarah Lorge Butler, it was revealed that Monson collapsed after the medal ceremony and started vomiting and was taken to the hospital.
Ritzenhein told LetsRun he believes Monson will be okay, adding "she is just the toughest person I've ever met." For anyone who remembers Ritzenhein's all-out racing style, that is high praise indeed. Ritz even said she'd be available for an interview after she left the hospital. That definitely is a LetsRun.com first.
Quick Take: Sisson & Monson's all-in bets pay off
When USATF switched the schedule to put the women's 10k after the women's 5k, athletes who qualified in both had a choice to make. If you thought your best shot to make the team was in the 10k, would you double — and perhaps wear yourself out with a heat and final in the 5k — or give yourself only one shot to make the team and focus on the 10k?
Both Sisson and Monson (and their coaches) felt their best shot was in the 10k and both decided to skip the 5k entirely. That paid off when both made the team today.
But both Schweizer and Cranny decided to attempt the double, and that decision worked out nicely for them as well, as Schweizer made the team in both events and Cranny was the US champ in the 5k. All four women are first-time Olympians.
Quick Take: Sara Hall's Olympic dream is denied yet again, but she achieved her career-best Olympic Trials finish in 6th
Some great US runners over the years have failed to make an Olympic team. Chris Solinsky, the #2 US man ever at 5,000 and 10,000, never made an Olympic team, and Sara Hall, the 2nd-fastest US women's marathoner ever at 2:20:32, may also end up with that label. Hall, 38, finished 6th in today's race in 31:54.50, which was a career-best finish for her at the Olympic Trials.
Sara Hall at the Olympic Trials
2004 – 11th in 5000
2008 – 9th in 1500
2012 – 8th in steeple
2016 – DNF in marathon, 14th in 5000
2020 – DNF in marathon, 6th in 10,000
"I made all the right moves I needed to, I just didn't have it. You know, those girls are really strong," said Hall after the race. "Sisson, I'm really happy for her… I'm so happy she made the team, she's so deserving… I respect all those women so much… I thought I had a shot at this team but at the same time that's my highest Olympic Trials finish… I'm thankful I was able to do that today."
Hall said she was rooting for her fellow marathoner Sisson — the US's 8th fastest marathoner in history at 2:23:08 — to make the team.
"Emily's run was so impressive, I didn't doubt that she could do this… living in Phoenix, I'm pretty sure we're all gonna wish we were living in Phoenix like she is… I was rooting for her so much because of the disappointment in Atlanta that was similar to mine," said Hall, who said she'll be announcing a fall marathon soon.
Saying Hall won't make the team in 2024 may not be wise. The date for the 2024 marathon trials isn't set yet, but they might be less than 2.5 years away and Hall is running better than ever. Bernard Lagat made an Olympic team at 41 in 2016. Hall will be 40 when the 2024 Olympic Marathon Trials take place. Of course, the difference is Lagat had been on many teams before.
Regardless of whether she makes a team, Hall's late-career transformation has been incredible. At the 2016 Trials, Hall had pbs of 32:44 for 10k and 2:30:06 for the marathon. Now her pbs are 31:21 and 2:20:32.
Quick Take: Sisson handled the heat like a pro
At the last Trials, Sisson said she was "pretty out of shape and I actually overheated." She handled the heat with ease today. That may be because she lives in Phoenix, Arizona (although she hasn't been there since March, spending her buildup in Flagstaff and then Providence).
She wore sunglasses during the race but they weren't hers. She often runs with glasses in Phoenix but didn't have any today, so she just borrowed her husband's pair before the race.
Quick Take: Emily Durgin has a strong run in 9th
The top 8 spots were all filled by people with the Olympic standard of 31:25. The first person without the standard was 9th placer Emily Durgin of Under Armour. No one in today's race ran a PB, but Durgin came the closest. When her collegiate career at UConn came to an end in 2017, she had pbs of 16:00.93/33:49. Now she's improved them to 15:24/32:22 and she ran 32:25 for 9th.