Day 9 Recap: Gabby Thomas (21.61) Moves to #2 on All-Time List to Win 200, Erriyon Knighton Runs 19.88 World U20 Record, DeAnna Price 80.31m Hammer American Record
By LetsRun.com
June 26, 2021
EUGENE, Ore. — The all-time world lists underwent some serious revision on day nine of the 2020 US Olympic Track and Field Trials at Hayward Field, as we saw athletes in the men's 110 hurdles (Grant Holloway 12.81), men's 400 hurdles (Rai Benjamin 46.83), women's 200 (Gabby Thomas 21.61), and women's hammer (DeAnna Price, 80.31 meters) move to #2 on the all-time lists in their events. It was a night conducive to fast sprinting, with the hot temperatures (almost 100 degrees) that sprinters enjoy, but few could have predicted the times those conditions would produce. Holloway and Benjamin got their own articles, as does Emily Sisson, who won the women's 10,000 meters in dominant meet-record fashion this morning.
We recap the rest of the day nine action below, highlighted by Thomas' sparkling 21.61 and a world U20 record of 19.88 by 17-year-old Erriyon Knighton in the men's 200m semifinals.
Women's 200: Gabby Thomas blasts 21.61 to move to #2 performer on all-time list
The national attention may have been on Allyson Felix in the 200, but Gabby Thomas showed she is the new American queen of the event as she ran 21.61, the third fastest time ever, to dominate the Olympic Trials 200 and make her first Olympic team. The only woman ahead of her is Florence Griffith-Joyner who ran faster twice.
For Thomas it capped an incredible Olympic Trials. The former Harvard star and current Texas grad student had never run under 22 seconds before the Trials, but she did it in each round here (21.98, 21.94, 21.61). All three times were 2021 world leaders.
PUMA athlete and former Oregon star Jenna Prandini ran yet another personal best of 21.89, bettering her first career sub-22 yesterday, to finish second and make the team. Ohio State's Anavia Battle ran a personal-best 21.95 to become an Olympian, beating Alabama's Tamara Clark (pb 21.98), who beat Battle for second at NCAAs.
Quick Take: Thomas is the biggest surprise of the evening's shocking sprint marks
In a remarkable night of sprinting at Hayward Field, which featured three #2 all-time marks and a world U20 record, Thomas is the biggest surprise. Sure, Thomas finished sixth at the Olympic Trials 200 in 2016 at the age of 19 and broke the NCAA indoor record with a 22.38 at age 21 in 2018 before going pro early. But as a pro, to be honest, she hadn't done much. 
Article continues below player.
Her wind-legal pb before this weekend was the 22.17 she ran in her season opener at the end of March although she had run a windy 22.12 on May 9. So she improved her PB by more than half a second at the Trials. This is a woman who on April 30 only managed 22.93 in Austin (wind-aided), finishing 4th, 0.71 behind Prandini.
Even after her excellent first round and semifinal, she was nowhere near the world all-time top 10 list. Contrarily, Rai Benjamin was already the fourth-fastest performer of all time in his event before tonight, Grant Holloway is the reigning world champ and indoor world record holder before his ridiculous run tonight, and Erriyon Knighton already did great things yesterday. Thomas dropped jaw-dropping marks in three consecutive days, but today's was ridiculous.
Quick Take: Does this change the Olympic outlook?
The 200-400 double is virtually impossible at the Tokyo Olympics, so 400-meter world runner-up and 21.74-second 200 woman Shanaue Miller-Uibo of the Bahamas will likely be forced to choose one or the other. Miller-Uibo hinted earlier this year that she is leading toward running the 200, but will this race cause her to change her mind? Will she choose to avoid Thomas and reigning world champ Dina Asher-Smith in the 200 and instead try her hand in a potential rematch with reigning world champion Salwa Eid Naser in the 400? If we were her, the answer would most definitely be yes — especially considering Naser hasn't raced all year and may not be eligible if the Court of Arbitration for Sport overturns the decision in her whereabouts case.
Quick Take: Allyson Felix gets standing O
While Rai Benjamin, Grant Holloway, and Gabby Thomas got big ovations by their great performances on the track (they all became the #2 performers of all-time in their respective events), the only standing ovation came for Allyson Felix. A rejuvenated Felix had already made the team in the 400 and she was trying to double dip in the 200, an event which used to be her forte, but she hadn't competed in at USAs since 2017.  Felix had to settle for a 5th-place finish tonight, but was interviewed over the PA system and the crowd gave America's new #1 mom a standing ovation. "For those of you who have watched me grow up and become a mother, thank you," Felix said.  
Men's 200 semifinals: Erriyon Knighton runs 19.88 — U20 world record, US high school record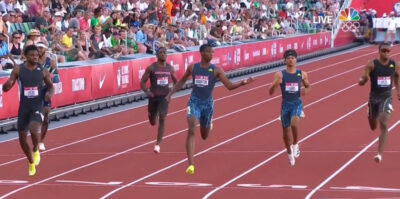 A 17-year-old American has broken a Usain Bolt record. 
After beating Noah Lyles' American high school record (and Lyles himself) in yesterday's first round, running 20.04, Erriyon Knighton did himself one better in today's semifinals. During an evening showcase of incredible sprinting in the Eugene heat, Knighton ran 19.88 (+1.1 m/s) to beat Lyles (19.91, second in the heat) and beat Bolt's world U20 record of 19.93 from 2004. Coincidentally, the record was 17 years old and Bolt was 17 years old when he ran the mark.
Lyles charged off the turn in the lead in lane 8, but Knighton chased him down in the following 50 meters, then shut it down in the final 30 meters of the race. 
The rising high school senior from Tampa is now tied for the second-fastest mark in the world this year.
Lyles ran 19.91 for second in the heat and looked smooth doing it. Kenny Bednarek ran 19.90 (+0.9 m/s), the second-fastest time of the day, to win the first heat. 
Reigning world champ Lyles, Bednarek, and Knighton have to be the favorites to make the team for tomorrow's final. Lyles is the proven competitor, Bednarek has been solid all year, and Knighton looked like he was shutting it down in the final quarter of the race, despite his record-setting performances today and yesterday.
Fred Kerley, 2019 400-meter world medallist and 2020 Olympian at 100 meters, ran a strong final 100 again to go 20.08, a personal best, in heat 1 and make the final. Kerley needed a time qualifier to make the final and his first 100 will need to be much better if he hopes to make the 200 team.
NCAA runner-up Terrance Laird (formerly of LSU, now an adidas pro) is the world leader at 19.81 (+0.8 m/s) but has appeared tired in these rounds, as he only managed 20.22 in heat 2 today. He made the final with an auto Q with that mark, so he'll have a chance to prove that assessment wrong tomorrow.
Women's 400 hurdles semifinals: McLaughlin, Muhammad, Little cruise
The three overwhelming favorites showed no sign of weakness in the semifinals of the women's 400 hurdles, being the only women under 54 seconds and qualifying easily to the final. New Balance's Sydney McLaughlin, the world leader, ran 53.03 to dominate heat 1.
In heat 2, Shamier Little and Dalilah Muhammad went 53.71 and 53.86, respectively.
It was the first time this year that world record holder and reigning world champion Muhammad (52.16 pb) ran under 54 seconds, giving the USA three of the top four women in the world in the event in 2021. Muhammad, who admitted yesterday that she got COVID in February and dealt with abbreviated training since, got out hard in the first 200 but was tracked down by Little in the second turn.
NCAA champ Anna Cockrell of USC ran 55.10 (third in heat 2) to make the final but likely will miss the team because the US is so stacked in this event.
Our question is this: Will McLaughlin (or anyone else) make an attempt at the world record in tomorrow's final? Watch above, she looked so effortless today. Muhammad has broken the world record the last two times she has faced McLaughlin in a championship final.
Field Events
Women's Hammer: DeAnna Price is second woman ever over 80 meters
Reigning hammer world champ DeAnna Price had a series for the ages as she twice broke her old American record of 78.60, throwing 79.98 in round 2 and then becoming just the second woman in history over 80 meters at 80.31 in round 5. All told, Price had four throws over 78 meters and all five of her legal throws were farther than world #2 Brooke Anderson, who ended up second in 77.72. Former American record holder Gwen Berry, who is #3 in the world this year at 76.79, squeaked her way onto the team with a 73.50 in round 1 which just edged Janee Kassanavoid's 73.45.
Only reigning two-time Olympic gold medallist Anita Włodarczyk of Poland has thrown farther than Price. Włodarczyk's world record is 82.98 and she has recorded six throws farther than 80.31. Włodarczyk, 35, has best throw this year of just 74.06, however.
Women's pole vault final: Nageotte claims first US title, moves into tie for #3 all-time outdoors
Katie Nageotte has been in terrific form this year, winning her last four competitions before the Trials, including pbs of 4.93 and 4.94 meters. She went one centimeter higher today and her reward was her first US outdoor title and first Olympic berth at the age of 30.
Nageotte cleared 4.80 meters without a miss, which was enough to clinch the title, then went over 4.95 on her second attempt. She took three attempts at 5.07, which would have been a new world record, but missed all three. Nageotte is now tied for #3 on the all-time outdoor list, with only Sandi Morris having gone higher among Americans (Jenn Suhr has also cleared 5.03m indoors).
Morgan LeLeux, the 2016 NCAA runner-up for Louisiana-Lafayette, was second, clearing a pb of 4.70, while Morris, the three-time defending champ and silver medalist at the last three global champs, had to sweat it out but made the team in third. Both Morris and Olivia Gruver cleared a best of 4.60 and missed all three attempts at 4.70, but Gruver took two attempts at the opening height (4.35 meters) — a height Morris passed — and that proved to be the difference.
Women's long jump final: Brittney Reese delivers yet again
Brittney Reese is 34 years old and did not long jump at all in 2020. Entering this meet, her best wind-legal jump this year was 6.83 meters, putting her in a tie for 7th on the 2021 US list. But there is a reason why Reese has won 13 national titles and eight global titles (indoors and out). The woman knows how to perform when it matters.
Reese showed that again today, taking the lead with her 6.94 (+2.4 wind) in round 1 and never relinquishing it. Reese then improved to 7.11 in round 4 and 7.13 in round 5 — her best wind-legal jumps since her last world title year of 2017 — and added another windy 7.02 in round 6. Reese now sits #3 on the 2021 world list and is in position to contend for her second Olympic gold to go with the one she won in 2012.
Tara Davis, the NCAA champ from Texas, also went beyond seven meters with her 7.04 in round 5 to finish as the runner-up, while Quanesha Burks jumped a personal best of 6.96 meters to finish third and book her ticket to Tokyo in a very deep final.