Carmela Cardama Baez Wins 2021 NCAA 10K, Becomes First Oregon Duck to Win NCAA Title at New Hayward Field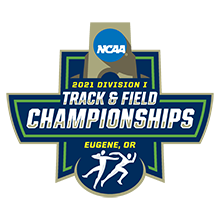 June 09, 2021 to June 12, 2021
By LetsRun.com
June 10, 2021
Two years ago, Oregon's Carmela Cardama Baez came up just short in the 2019 NCAA 10,000-meter final. Trailing New Mexico's Weini Kelati by almost five seconds with a lap to go, Cardama Baez mounted a heroic comeback, almost drawing level in the home straight, only for Kelati to outsprint her for the NCAA title.
Denied multiple opportunities for redemption, Cardama Baez had to live with the memory of that race for 24 months. She was out of cross country eligibility and did not compete for the Ducks in the fall of 2019. She qualified for the 2020 NCAA Indoor Championships in the 3,000 and 5,000 meters, but the meet was cancelled at the last minute due to the COVID-19 outbreak. That wiped away the 2020 outdoor season too, at which point Cardama Baez, who graduated last year, wasn't even sure if she would return. She ultimately decided to stay in Eugene and pursue a master's degree (her last final is on Friday), but without cross country or indoor eligibility in 2020-21, Cardama Baez had to wait over a year again until she could compete for Oregon.
Article continues below player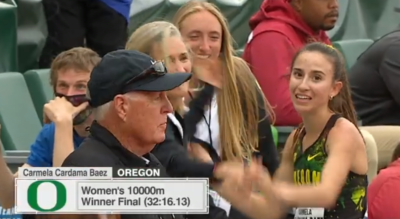 Tonight, Carmela Cardama Baez earned redemption. Just like two years ago in Austin, the women's 10,000-meter final tonight at the NCAA Outdoor Track & Field Championships came down to two women battling it out over the final lap: Cardama Baez of Oregon and Spain and Mercy Chelangat, the Kenyan cross country champion from Alabama. And this time, Cardama Baez wrote herself a different ending, using a 70.51 final lap to pull away from Chelangat to win in a personal-best 32:16.13. Chelangat finished a well-beaten second in 32:22.11, but still well clear of the chase pack, which was led by third placer Maria Mettler of Air Force (32:34.05).
Watch the final lap below.
An impressive final lap of the 10000m by @OregonTF Carmela Cardama Baez!!#NCAATF Champion 🏆 pic.twitter.com/CNenlxJ9LI

— NCAA Track & Field (@NCAATrackField) June 11, 2021
Cardama Baez became the first Oregon Duck to win an NCAA title at the rebuilt Hayward Field, which is perhaps appropriate given the path she traveled to get here. Cardama Baez first heard of Hayward Field as a 17-year-old in 2014; she had hoped to compete there at the World Junior Championships for Spain, but came three seconds short of qualifying. Three years later, Cardama Baez, then a sophomore at Florida State, made it to regionals in the 5,000 meters but fell, killing her chances at making it to nationals at Hayward. A year later, after transferring to Oregon, she psyched herself out and failed to advance out of regionals in the 10k, and when she did make it to NCAAs in 2019, the meet was in Austin. This year, she finally made it to NCAAs at Hayward and made it a night to remember.
"It just means so much, because it's been a long process," Cardama Baez said.
With good conditions for distance running and Chelangat pushing the pace from the early stages, times were fast across the board; a night after 10 men ran under the previous meet record in the men's 10k final, 11 of the first 19 finishers ran personal bests, with the top 11 breaking 33 minutes.
There were five field event finals as well today, highlighted by Cal's Camryn Rogers twice breaking the collegiate record in the hammer:
The Race
Chelangat, the NCAA leader at 32:13, wasted no time getting to the front. And while the first 5k wasn't particularly slow (16:30), 17 women were still within two seconds of the lead at the halfway mark.
Chelangat led for the first 13 laps, then ceded it briefly to Weber State's Lexie Thompson and Rice freshman Grace Forbes. After 6k, Chelangat made a big move, seizing the lead back and reeling off a string of 75- and 76-second laps. The move immediately broke the pack apart, and Cardama Baez was the only one to cover it and go with Chelangat. Forbes led the chase pack, but the gap between Cardama Baez in second and Forbes in third was 20 meters by 8k.
It became a two-woman race; as Chelangat continued hammering the fast pace, Cardama Baez sat in her wake, showing no signs of breaking but refusing to lead. With 900 meters to run, Cardama Baez struck, taking the lead for the first time.
"I know she's a really strong runner, and I knew if I waited too long, she might get me in a kick," Cardama Baez said. "I don't feel like I'm that strong of a kicker."
It was a strong move but Chelangat covered it, and both women ran 72-second penultimate laps.
At the bell, Cardama Baez surged again, and this time, Chelangat broke. Cardama Baez poured it on, not looking back and closing in 70.51 for her final circuit, while Chelangat could only manage 76.11.
There was a five-woman pack vying for third place at the bell, and Air Force senior Maria Mettler battled with Arkansas' Katie Izzo over the final lap, with Mettler eventually taking third in 32:34.05, just 0.11 ahead of Izzo. Both women closed in 71 seconds and ran seasonal bests. *Full Results
Quick Take: Carmela Cardama Baez has had some stressful moments over the past year (haven't we all?) but tonight was all about fun
While many runners left their college campuses once the pandemic struck last spring, Cardama Baez stayed in Oregon. And while the restrictions in Oregon were not as bad as back home in Spain, the early days of the pandemic still stressed her out. She felt guilty that she could go on a run while her parents were stuck inside.
"The situation in Spain was not good, and me being here, being able to go out, being able to go run while my parents were in a lockdown, that was really tough," Cardama Baez said.
Cardama Baez was eventually able to go home in November 2020, and after returning to Oregon, she put pressure on herself to do well in her final season as a Duck. But when the championship season began, her mindset shifted. Though she still wanted to win, she wanted to make sure her final races as a collegian were filled with fun, rather than stress. Her approach tonight was one of gratitude rather than expectation.
"Today, [I] was just happy to be here," Cardama Baez said. "This is my last race as a Duck. Tomorrow I have my last final in grad school in Oregon. It's just a lot of things to celebrate, regardless of how I would finish."
(How much has Cardama Baez studied for tomorrow's final? "I don't know if my professor is going to watch this, so I don't want to say anything," she said with a laugh on the post-race Zoom call.)
Quick Take: It took a big negative split to win
The 16:30 opening 5k was not slow, as only nine collegiate women had broken 33 minutes in 2021 prior to this race. Chelangat ran 79- and 80-second laps to lead the field for most of the first half, but when she made her decisive move with 4k to go and began to run 75s, she turned the race on its head.
Cardama Baez ran 16:30 for her opening 5k and came back in 15:46 for her final 5k, going from 33-flat pace to just seven seconds off Sharon Lokedi's meet record (32:09.2). The top 11 finishers all ran negative splits, as Northern Arizona junior Jessa Hanson went 16:31-16:24, but finished only 11th. Chelangat made it happen that way, breaking most of the field with 10 laps to go, but couldn't muster anything at the end.
Quick Take: Both NCAA XC champs wind up as runners-up on the track
NCAA XC was less than three months ago, and while both champions — Conner Mantz of BYU last night and Mercy Chelangat tonight — ran well in Eugene, both were beaten in the NCAA 10k finals at this meet. Maybe that is simply a testament to the depth of talent in the NCAA right now (also, Cardama Baez didn't have XC eligibility), but it also shows that there is a difference between cross country — where both earned convincing wins — and the track.
Talk about today's NCAA action on our world-famous fan forum / messageboard.