Weini Kelati Turns Back Carmela Cardama Baez Over the Final 100 Meters to Win an Epic NCAA 10K Final
By LetsRun.com
June 6, 2019
AUSTIN, Tex. — Last night, BYU coach Ed Eyestone called the 10,000 meters "the most exciting event in track & field" — albeit after a 24-lap setup. Tonight, we saw why.
With one lap to go in the women's 10,000 final at the 2019 NCAA Outdoor Track and Field Championships, New Mexico's Weini Kelati held a near five-second lead and looked to be on her way to her first national title. And then things got interesting.
Kelati had broken away from an eight-woman pack with six laps to go and steadily grew the lead lap over lap — from 1.79 seconds with five to go to 3.18 seconds with four to go to 4.74 with three to go to 5.38 with two go. However, on the penultimate lap, her lead shrank to 4.96 seconds as Oregon's Carmela Cardama Baez and Washington's Isobel Batt-Doyle both gained on Kelati on that lap. But it wasn't until Cardama Baez — who was just 4th at the Pac-12 meet last month and didn't even make this meet last year — took off at the bell that it seemed like any of them had any realistic chance of catching her.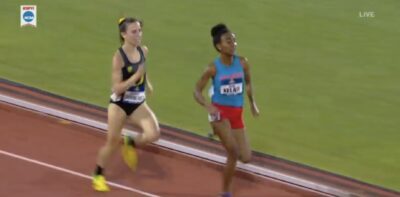 When Cardama Baez went, though, she went. Down by nearly five seconds and more than 25 meters at the bell, she had the lead down to just over 2 seconds and 10 meters with 200 meters remaining and she was continuing to gain on Kelati around the final turn. With 100 to go, Cardama Baez had cut the lead to two strides and swung wide for what seemed like the inevitable winning move.
Except Kelati wasn't having it. Cardama Baez may have been able to claw back 25.25 of the 25.5 meters that she trailed by, but Kelati would not let her have the final half meter. Just as it looked as if Cardama Baez would blow by her, Kelati responded, fighting off Cardama Baez's move before launching one of her own with roughly 55 meters to go. Cardama Baez, spent from the effort, could not fight back, and Kelati prevailed in 33:10.84 to Cardama Baez's 33:11.56. Cardama Baez's 68.72 final lap, which we estimate to have been 35.6-33.2, was just not quite good enough for the win as Kelati closed in 72.96 (38.6/34.4).
What a race. Watch the finish for yourself.
"Not today." – Weini Kelati #ncaaTF 10,000M Champion pic.twitter.com/ktztxv1Vgc

— NCAA Track & Field (@NCAATrackField) June 7, 2019
The race
The race started slowly, with no one wanting to force a fast pace. Not a surprise for while even though the sun had set, it was still warm at 78 degrees with 78% humidity. Kelati and Notre Dame's Anna Rohrer, both noted front-runners, traded leads over the first 19 laps, with a group of 17 women coming through 5k in 16:56.
Though that pack would whittle down slightly over the second half of the race, it mostly stayed intact until Kelati's big move with six laps to go. The result was a winning time of 33:10 — over a minute slower than the meet record of 32:09 set by Kansas' Sharon Lokedi a year ago. Behind Kelati and Cardama Baez, Washington's Isobel Batt-Doyle was 3rd in 33:17.81 as Arkansas' Taylor Werner picked up five valuable points in the team battle, finishing 4th in 33:20.68. Michigan's Erin Finn, a four-time NCAA runner-up who battled back from hip surgery earlier this season to make the NCAA meet as a sixth-year senior, was 12th in her final collegiate race, running 33:40.88.
Results
1 Weini KELATI SO New Mexico 33:10.84 FR
2 Carmela CARDAMA BAEZ JR Oregon 33:11.56
3 Isobel BATT-DOYLE SR Washington 33:17.81
4 Taylor WERNER SO Arkansas 33:20.68
5 Caroline ALCORTA SR Villanova 33:20.70
6 Anna ROHRER SR Notre Dame 33:25.91
7 Paige STONER SR Syracuse 33:32.80
8 Amy DAVIS JR Wisconsin 33:34.20
9 Ednah KURGAT SR New Mexico 33:34.67
10 Abbie MCNULTY SR Stanford 33:38.55
11 Makena MORLEY JR Colorado 33:39.27
12 Erin FINN SR Michigan 33:40.88
13 Weronika PYZIK SR Oregon 34:00.66
14 Amanda VESTRI SO Iowa State 34:02.78
15 Laura DICKINSON SO Syracuse 34:03.76
16 Kaitlyn BENNER SR Colorado 34:06.39
17 Margaret ALLEN SR Indiana 34:16.09
18 Militsa MIRCHEVA SR Florida State 34:29.41
19 Maddy DENNER FR Notre Dame 34:58.38
20 Megan HASZ SO Minnesota 35:03.50
21 Monica HEBNER FR Duke 35:28.28
22 Ivine CHEMUTAI SO Louisville 35:35.93
Samantha HALVORSEN SO Wake Forest DNF
Jacqueline GAUGHAN FR Notre Dame DNF
Quick Take: Weini Kelati knew someone was coming for her and prepared herself accordingly
Kelati is not a kicker; her trademark is to try to break the field with a hard late-race move from a mile or two out, as she did today. The first two times she tried it this year, it almost worked. At NCAA XC in the fall, she gapped the field but Colorado's Dani Jones came storming back down the final straight to relegate Kelati to second. At NCAA indoors, Kelati again broke everyone in the field but one, with Wisconsin's Alicia Monson kicking by her on the final lap.
Article continues below player.
So tonight, Kelati knew somebody would come for her at the end of the race.
"I know that some runners have [a] really good finish, and I just prepare mentally and physically, how am I going to deal?" said Kelati, who grew up in Eritrea before moving to the US while she was in high school. "I'm not going to give up, whatever comes."
Kelati had been tracking her lead on the scoreboard at the end of each lap, but she said that as she hit the bell, the video feed had switched to a field event; instead, she knew that Cardama Baez was starting to close because of the reaction of the crowd. Then with 100 meters to go, she saw Cardama Baez's shadow and realized how close she was.
"I was like, woah, there is someone coming to me, but I'm not going to give up until the finishing line because I will run until I faint," Kelati said.
| | |
| --- | --- |
| Overall | |
| Comfort | |
| Cushioning | |
| Durability | |
| Appearance | |
| Value | |
Fortunately, Kelati didn't have to run that hard to win her first national title.
Quick Take: Carmela Cardama Baez stunned herself by finishing 2nd, prepped for Austin by training in a heat chamber
You could have been forgiven for doubting Cardama Baez, the Spaniard who was only 4th in the 10k at Pac-12s.
"Being honest, being a runner isn't easy…I doubt myself a lot," Cardama Baez admitted after tonight's race.
Fortunately, she has her teammates and coach Helen Lehman-Winters to pick her up. Cardama Baez said that it can be intimidating watching teammates such as Jessica Hull (the reigning NCAA 1500 champ) and Susan Ejore (who advanced to the 800 final today) rip fast reps in practice while she's grinding along at 10k pace. But they could tell she was getting fit.
"They're like Carmela, we're so excited to watch your race, your next 10k, you look so good," Cardama Baez said.
Cardama Baez also gave props to Lehman-Winters, who is her third coach in three years. She transferred to Oregon from Florida State in the fall of 2017 to work with former Ducks coach Maurica Powell, but only ran under her for one year before Powell decamped for Washington last summer. But Cardama Baez has thrived this year under Lehman-Winters, going from 19th at the West regional in 2018 to 2nd at NCAAs in 2019.
Cardama Baez said that Lehman-Winters has believed in her all season and told her if she could close in 68 for her last lap, she would be a national champion. Ironically, Cardama Baez did close in 68 tonight, but that wasn't quite enough.
"You were wrong for the first time!" Cardama Baez joked after the race.
Cardama Baez also noted that with Pac-12s in Tucson and NCAAs in Austin, she has done some of her training runs in a heat chamber to prepare for the conditions. It certainly seemed to help today.
Quick Take: Erin Finn's career didn't end the way she wanted it but she believes she's got A LOT to look forward to. "I know that I'm going to be a marathoner…That's going to be my baby I'm sure. I cannot wait to run a marathon."
We had a long chat with Finn that we'll probably turn into its own article next week when we have more time, but if you have 7+ minutes, we highly suggest you give it a listen. When you're a four-time NCAA runner-up, you're never going to be satisfied with a 12th-place showing but Finn knew coming into the meet that she wasn't fit. She was proud to have made it to the meet as a few weeks before Big 10s, she thought she might have to pull the plug on her season. She called it a "humbling" experience and hopes to get back to her old form when she could run 80-second laps in her sleep.
The good news is Finn believes she's solved the injury bug and has tests showing her bone density is way up. Next year, she's starting medical school, but let there be no doubt, Finn plans on running as a pro. Finn said she's always thrived when she's had a tough academic load and she's looking forward to moving up to the 26.2-mile distance.
"I know that I'm going to be a marathoner. I know most people say you can't know you are going to be a marathoner until you are a marathoner but I'm going to be a marathoner. Right now, it would be very silly to think about the marathon too soon because I've been running like (just) 55 miles per week for the past 8 weeks. I need to stay healthy for a year before I think about doing the kind of mileage you need for a marathon but that's going to be my baby I'm sure. I cannot wait to run the marathon."
P.S. Off-camera, Finn told us to tell the LetsRun.com messageboarders who had pointed out that Finn is very old for an NCAA athlete at age 24 that she has not been screwing around during her 5th and 6th year of college. She's earned a master's degree.
Quick Take: Washington's Isobel Batt-Doyle (who was third tonight in her last NCAA race) wants to have a pro career, as does Villanova's Caroline Alcorta (5th), and Syracuse's Paige Stoner (7th in her last race).
Batt-Doyle:
Alcorta (her NCAA career isn't over as she's still got the 5k):
Stoner:
Quick Take: The only thing not great about this race was the announcing, both on ESPN and in-stadium
This race featured an incredible finish. The crowd was so excited they gave the top two a standing ovation when it was done.
It's a shame the announcing of the final lap didn't come close to conveying the excitement, either in person or on ESPN. ESPN, we'll repeat ourselves. You can't expect to broadcast a distance race competently without a professional play-by-play announcer and a distance analyst. Dwight Stones, a former Olympic high jumper who is doing play-by-play for ESPN nowadays, is a great field analyst. He's not a play-by-play professional. Jill Montgomery, a former heptathlete, is doing color commentary. She's also a good sprint/field analyst. Neither is a professional play-by-play person and neither is a distance expert.
A distance expert can fake it in the sprints/field events MUCH easier than the reverse because in a sprint there is less than a minute to show your lack of expertise. In a women's 10k, there is more than 30 minutes to fill. After we were done with our 10,000 interviews, we eagerly pulled up the Twitter highlight to see see what we thought would be an unbelievable replay and boy were we disappointed.
In-stadium, there are two different announcers and whenever Mike Jay isn't doing an event, his absence is clearly felt. Unfortunately, he wasn't on duty for the 10,000.
More: Talk about the race on the letsrun.com fan forum / messageboard.