2020 Olympic Trials M3000SC Preview: In the Absence of Jager and Kebenei, We Will Have New Blood on the Team
By Karl Winter
June 19, 2021
Several familiar faces will be missing from the starting line in the men's steeplechase at the 2020 US Olympic Track and Field Trials.
Seven-time US champion, 8:00 runner and American record holder, reigning Olympic silver medallist and the best American men's steepler of all time, Evan Jager, will not be racing. Jager has suffered recurring injuries since 2018 and tore 16 centimeters of calf muscle when trying to run through injuries this year, he announced this week in an Instagram video. The second-fastest American in history, two-time world finalist Stanley Kebenei Sr. (8:08), who was in second place entering the final barrier at the 2016 Olympic Trials but ended up 13th, also scratched. 2019 US team member Andy Bayer, the seventh-fastest American ever who finished top-four in the country four times and had the Olympic standard, retired in April.
But this preview is about the guys who will be racing the Trials.
2019 national champ and HOKA ONE ONE pro Hillary Bor is still here and he'll be the favorite, but seasoned steeplers Isaac Updike, Mason Ferlic, and Benard Keter have all stepped up their game in 2021 and are seeking to make their first US team. The speediest man in the field by flat PRs is Bowerman TC's Sean McGorty, but McGorty only ran his steeple debut in May.
One way or another, this event will allow Olympic dreams to be realized for a new crop of US men's steeplers.
Article continues below player.
Before or after you read the preview, you can still change your picks on our prediction contest before an event begins: LRC $200,021 LRC Running Warehouse Trials Prediction Contest is Here!
Schedule/entries * TV/streaming information * LRC Trials coverage hub
Notable entrants *Full entries
Athletes with 8:22.0 Olympic standard in bold *Athletes who would get in to the Olympics via World Rankings quota in italics
| | | | |
| --- | --- | --- | --- |
| Name | Affiliation | SB | Note |
| Hillary Bor | HOKA ONE ONE | 8:22.55 | 2019 national champ won Gateshead DL in May |
| Isaac Updike | Empire Elite | 8:17.74 | Journeyman Alaskan burst onto scene by winning USATF Grand Prix at Hayward in April |
| Mason Ferlic | Very Nice TC | 8:18.49 | 2016 NCAA champ has been running well since 2020, beating Paul Chelimo in XC race and also running 3:35 recently |
| Benard Keter | Army WCAP | 8:20.40 | Has never made a US team but has PR'd twice in the steeple this year |
| Sean McGorty | Nike Bowerman | 8:20.77 | Debuted in the steeple this year. Flat PRs of 3:36/7:37/13:06 |
| Daniel Michalski | Tracksmith | 8:21.25 | 8:21 run at the USATF Golden Games was an 8-second pb |
| Obsa Ali | ASICS | 8:22.67 | 2018 NCAA champ has PR'd in steeple and 5K this year |
| Brian Barraza | adidas / Tinman Elite | 8:24.39 | Fell on final lap of 2018 NCAA steeple, has run flat PRs of 3:43/7:47 this year |
| Craig Nowak |   | 8:27.18 | Appears as a pacer often, hadn't broken 8:35 until this year |
| Donald Cabral |   | 8:27.25 | 2012 and 2016 Olympian has an 8:13 pb |
| Alex Rogers | Reebok Boston TC | 8:27.29 | 6th at NCAAs for Texas in 2019, ran PRs this year in steeple and 1500 (3:39) |
| Alec Basten | Univ. of Minnesota | 8:29.03 | NCAA runner-up |
| Anthony Rotich | NIKE / U.S. Army | 8:30.10 | Rojo loves this guy. Ran 8:21 back in 2013 |
| Jackson Mestler | Univ. of Oregon | 8:27.65 | Oregon grad just got the Trials standard on Sunday, June 13 |
Bor holds the best pb in the field by far at 8:08.41 – good for #3 all time in the US – and has finished top eight in the world twice (2016 Olympics and 2019 Worlds). He ran 8:13 or faster in four consecutive years between 2016 and 2019, a time which only one other man in the field has ever touched — Donn Cabral, who hasn't run that fast since 2015.
Bor is the class of the field and also ran a 5,000-meter pb of 13:26.74 in February. The only problem? He lost that race to Mason Ferlic, who is in this field. Then, in April, Bor lost his first steeple race of the year at the USATF Grand Prix at Hayward Field to two men who are in this field — Isaac Updike and Ferlic, who beat Bor by 4.81 and 4.06 seconds, respectively.
Since then, Bor bounced back nicely, winning his first Diamond League ever in Gateshead in his second steeple of the year. Yes, the time was a very slow 8:30, but so what? The guy who was second in that race, Leonard Bett, just won the steeplechase at the Kenyan Trials in 8:17 at altitude. The third placer in Gateshead, Djilali Bedrani, ran 8:15 at the Florence DL a few weeks later.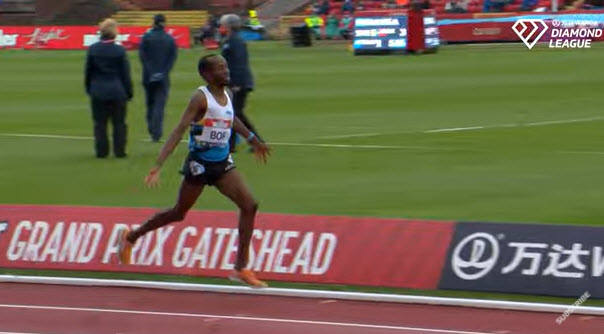 Updike and Ferlic are both great stories and contenders for the team with breakout seasons in 2021.
Updike, 29,  hails from Ketchikan, Alaska and walked on at NAIA Eastern Oregon University. He runs for Empire Elite Track Club, a group founded earlier this year by Tom Nohilly and John Trautmann, two former assistants with the HOKA NJ/NY group. Nohilly was an 8:16 steepler back in the day who finished 4th at both the 1992 and 1996 Trials while Trautman made the 1992 Olympics for the US in the 5000 (13:20 pb). Updike's best finish at a US championship is eighth in 2019. This year, he's the top-seeded American in the field based on his winning run at the USATF Grand Prix, which was a nearly 8-second pb.
Ferlic, 27, finished fifth at the Trials in 2016 and fifth at USAs in 2019, but he has shown dramatic improvement this year. The 2016 NCAA champ for Michigan and continues to train in Ann Arbor under Ron Warhurst and alongside Very Nice Track Club teammates Nick Willis and Hobbs Kessler. Ferlic first gave a hint of what was in store this year when in November 2020 he beat Olympic 5k silver medallist Paul Chelimo in a cross country race at the XC Town USA Meet of Champions. He hasn't looked back since.
He entered the year with PRs of 3:42/8:21/13:37 in the 1500/steeple/5K — all from 2016. This year he's gone 3:35/8:18/13:24, winning both of his 5Ks and winning his most recent steeple (May 28) with his second 8:18 of the year. 
Now there's the new kid in the event, Stanford grad and 2018 NCAA 5k champ Sean McGorty, who is taking the reins from Jager as the Bowerman Track Club's men's steeple representative. McGorty is the third-quickest 5,000 guy in the country this year at 13:06.45 and he declared to run that event too, but the steeple is first. McGorty ran 8:20.77 to win his first-ever steeple race May 9 at Mt. SAC, but Ferlic beat him by 3.96 seconds at the Portland Track Festival on May 28.
Another breakout American man also defeated McGorty in Portland: Nike / US Army soldier-athlete Benard Keter. The Kenyan-born Texas Tech product ran a 3+ second pb of 8:26.13 for fourth at the USATF Golden Games at Mt. SAC, but he was behind three Americans, including the winner, McGorty. Two weeks later, Keter ripped another big pb of 8:20.40 to beat McGorty for second in Portland.
The other men in this field who could get into the Olympics via the standard or World rankings quota are Tracksmith's Daniel Michalski and ASICS' Obsa Ali, both of whom beat Keter at Mt. SAC. Ali, a Minnesota product, won the 2018 NCAA title after the leader at the bell, Brian Barazza, fell hard on the final lap. Michalski, conversely, was leading the 2019 NCAA final for Indiana entering the final water jump, and he fell hard off the barrier, eventually finishing seventh. Michalski ran a huge 8+ second pb of 8:21.25 to finish second behind McGorty at Mt. SAC, while Ali has run 8:22 twice this year after entering the year with a pb of 8:28.
Barazza, now running for Tinman Elite, is also in this field and has also had a fine season, running an 8+ second pb of 8:24.39 for fifth at the Portland Track Festival. Barazza also PR'd in the 1500 and 3K (3:43.16 and 7:47.19) this year.
Two longtime stalwarts in the event to keep an eye on are Cabral and Anthony Rotich, both of whom seek to return to former glory. Rotich was basically unbeatable in college as a three-time NCAA steeple champion for UTEP (2013-2015), who also won an NCAA indoor mile title over Lawi Lalang, but hasn't broken 8:27 since 2013. Once he got his US citizenship in 2019, before COVID hit, he was starting to flash some of his old form as he won the US road 5k in November of 2019, then the US xc title in January of 2020 before getting second at USAs in the 3k in February right before the pandemic shut everything down. 
Since returning to action, nothing has been nearly that good. In his most recent race on May 29th, in the race where Ferlic ran 8:18, Rotich ran just 8:30 for 10th, losing to six Americans.
Cabral finished second at the 2012 Olympic Trials behind Jager and third behind Jager and Bor in 2016, but he hasn't run faster than 8:25 since 2017, managing only 8:40 and 8:27 in his two races this year. 
Other rising young stars to watch are NCAA runner-up Alec Basten of Minnesota and recent Oregon grad Jackson Mestler, but both are well outside the World Rankings top-45 quota and would likely need to achieve the 8:22.0 Olympic standard to make the team.
And finally: Michael Jordan of the Nike / US Army is a veteran of the event and has the coolest name in the field, but unfortunately has no chance of making the team.
KW Prediction: 1) Bor 2) Ferlic 3) McGorty
The reason that Bor will win this race is not just because he is most experienced at this level and has the fastest PR — it's his closing speed. Bor closed in 60.61 to defeat the field at the 2019 US Championships by more than a second. He closed hard to take second at the 2016 Olympic Trials behind Jager after being in fifth at the bell. He also crushed the field in Gateshead with a 61.3 final lap in miserable conditions. If he is rounding into form like his season progression suggests, he should take his second consecutive US title.
Though it seemed like the United States' chances at a men's steeple medal in Tokyo are gone with Jager out, Bor may have a slight window if he has an incredible performance. Remember, he's already beaten the Kenyan champ this year and several other top contenders may also be missing. Three-time reigning Olympic/World champ Conseslus Kipruto failed to make the Kenyan Olympic team and is dealing with a defilement case in Kenya, while Ethiopian world leader Getnet Wale and 2019 World silver medallist Lamecha Girma did not run the steeple at the Ethiopian Olympic Trials. That's three of the top five men in the world rankings possibly not racing in Tokyo.
Behind Bor, things will get interesting. I could see any combination of Ferlic, Updike, Keter, and McGorty making the team on the right day. Crazy things can happen in the steeple.
I'll go with Ferlic for second because he's beaten McGorty head-to-head this year and has been running consistently well for the entire year. Plus 3:35 in the 1500 is fantastic speed for a steepler. Updike will be a great story if he makes the team, but I think the superior raw speed of Ferlic and McGorty may give them an edge. Updike has only raced once since that 8:17 steeple he put in April and he only ran 3;41 for 1500, finishing 11th in New York. Yes, that was almost a PB but please tell us why a 3:41/13:48 guy is going to beat McGorty in the steeple.
If it happens, it's because of the barriers and McGorty's inexperience in the event.