Meet the OAC: Coach Dathan Ritzenhein Raves About Potential of His Team
Alicia Monson "could be someone like Shalane and Deena" and Olli Hoare has a skillset "unique to five or ten other people in the world."
By LetsRun.com (Sponsored by On)
May 7, 2021
Coach Dathan Ritzenhein.
It doesn't sound quite as familiar as athlete Dathan Ritzenhein, but it soon may. Ritz is the head coach of the newly formed On Athletics Club (OAC), which has four NCAA D1 champions on its roster (Leah Falland (O'Connor), Alicia Monson, Olli Hoare, and Geordie Beamish), and is starting to turn a few heads as the OAC athletes are running well in the club's first year of existence.
The club is based out of Boulder, Colorado, Ritz's old collegiate stomping grounds, and features four US athletes — Falland, Monson, Joe Klecker (Colorado star) and Emily Oren (nine-time NCAA D2 champion) — and four international athletes — Australia's Hoare, New Zealand's Beamish, nine-time NCAA D2 champ and 2019 Worlds steepler Alicja Konieczek of Poland, and 2019 Pan Am Games 1500 champ Carlos Villarreal of Mexico.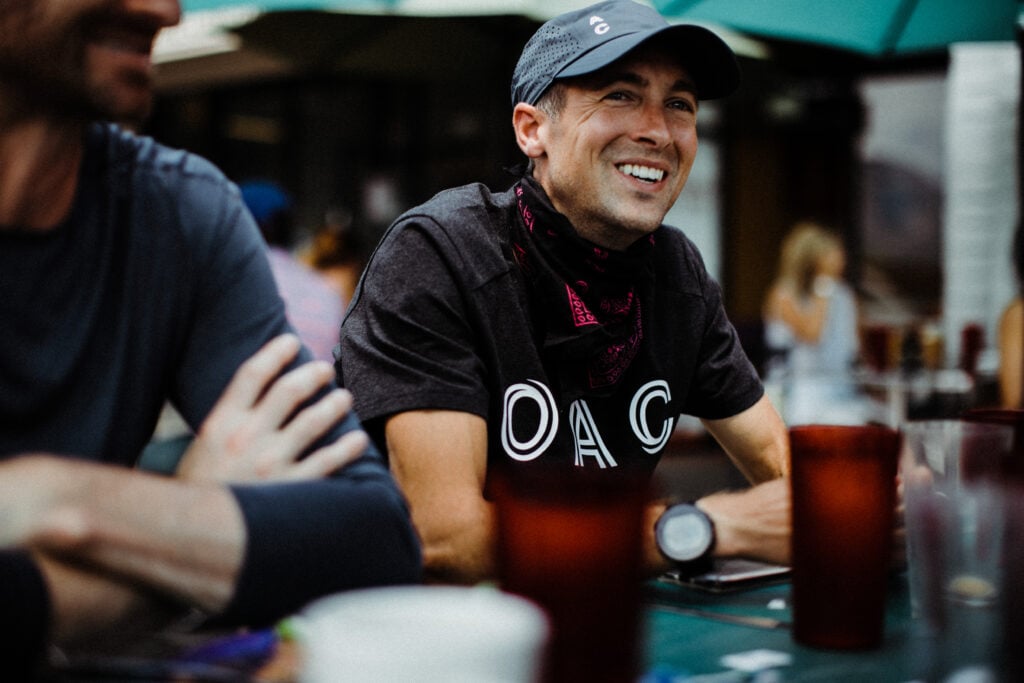 Ritz joined us on this week's LetsRun.com Track Talk podcast to discuss his nascent club and launch the LetsRun.com Countdown to the Trials, the On-sponsored partnership where we will be bringing the stories of the OAC and other On athletes (including Olympic marathoner Jake Riley) to light in the leadup to the Trials and Tokyo.
You can listen to the podcast with Ritz here or in the player below (Ritz joins at 63:29).
Article continues below player.
The OAC has had instant success under Ritz as three runners have already vastly improved their PRs and run under the Olympic standard. Hoare has lowered his 1500m best from 3:37.20 to 3:32.35 and gotten big wins at the New Balance Indoor Grand Prix and USATF Grand Prix, Klecker lowered his 5k PR from 13:30.39 to 13:06.67, and Monson lowered hers from 15:31.26 to 15:07.65 and ran 31:10.84 for 10k. But if we were betting men, we would say only Hoare and Konieczek are likely to be in the Olympics in Tokyo.
That doesn't stop Ritz from having very big goals for his entire team. 
"We only have eight runners, but I think that pretty much almost everybody on our team has a really good chance [of making the Olympic team]," Ritzenhein said. "They have a chance at least. And if you have a chance, if your heart is in it, the people that make the Olympic teams are the ones that want it, the ones that have the fire in the eyes."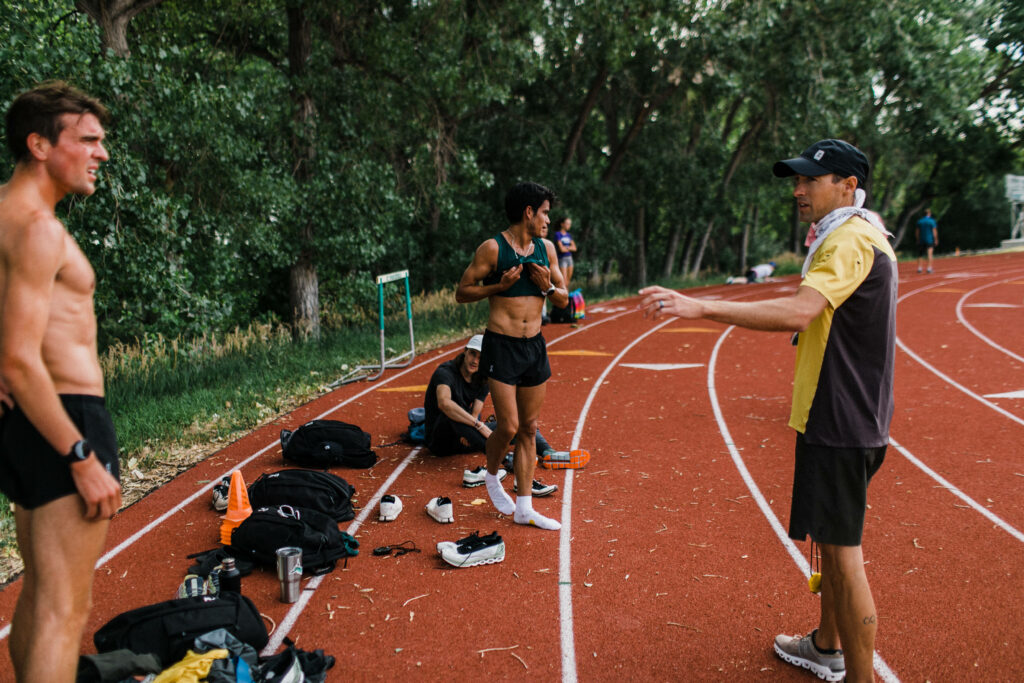 Ritz himself was a three-time Olympian, world junior medallist in cross country, world senior medallist in the half marathon, and an American record holder at 5,000m. It is clear that is the level of success he wants for his team.
"[I tell them], don't put limits on yourself. There's a process to get there no matter what. Some people (in the OAC) are further back and it might take a couple of years to get there, but belief is everything. If you don't believe it, it never happens."
Olli Hoare — a "freak of nature" with a skillset "unique to five or ten other people in the world"
When Ritz talks about Hoare, it quickly becomes apparent Ritzenhein has much bigger goals than just making the Olympic team this year. 
"Olli is just an absolute freak of nature," Ritzenhein said. "I could give him 120 miles a week and I think he'd still do well…Mentally he's there, physically, he can do these things…He's going to be just an amazing 1500-meter runner…He's got some skillset that is truly unique to probably five or ten other people in the world."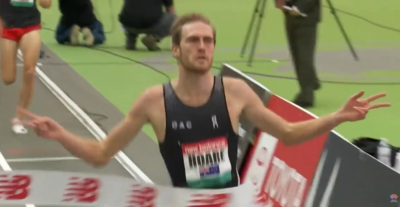 When asked if the goal for Hoare was to run sub-3:30 and contend for Olympic medals down the road, Ritz moved the road up to this year.
"He is ready for those things now. He wants it bad right now. He's got the fire and I want him to continue to use that this summer," Ritz said before casually comparing the strength of Hoare to 1500m stars Timothy Cheruiyot and Jakob Ingebrigtsen.
Ritz is impressed with Hoare's racing acumen developed in the NCAA ranks, his speed (he ran 24-point for a 200 last week), but most importantly his strength. When scanning the results of the 5000m at the Sound Running Invite on March 6, one might not be too impressed with Hoare, who finished seventh in 13:22, nearly 20 seconds behind winner Grant Fisher. However, Ritz said that with 1200m to go, none other than Bowerman Track Club coach Jerry Schumacher came up to Ritz and told him, "You might want to tell Olli to go because it looks like they're going to slow him down right now." Olli ended up getting his doors blown off over the final 800m, but Schumacher, the coach of the greatest collection of men's 5000m talent in America, was super impressed with Hoare with three minutes left in the race.
Creating a team, not a training group
In his career, Ritz trained under some of the most prominent coaches in America: Mark Wetmore in college, Brad Hudson when he first turned pro, the now-banned Alberto Salazar when he set his American 5000m record, and Kevin Hanson at the end of his career.
One thing Ritz learned from his experiences was he wanted to try to create a real team.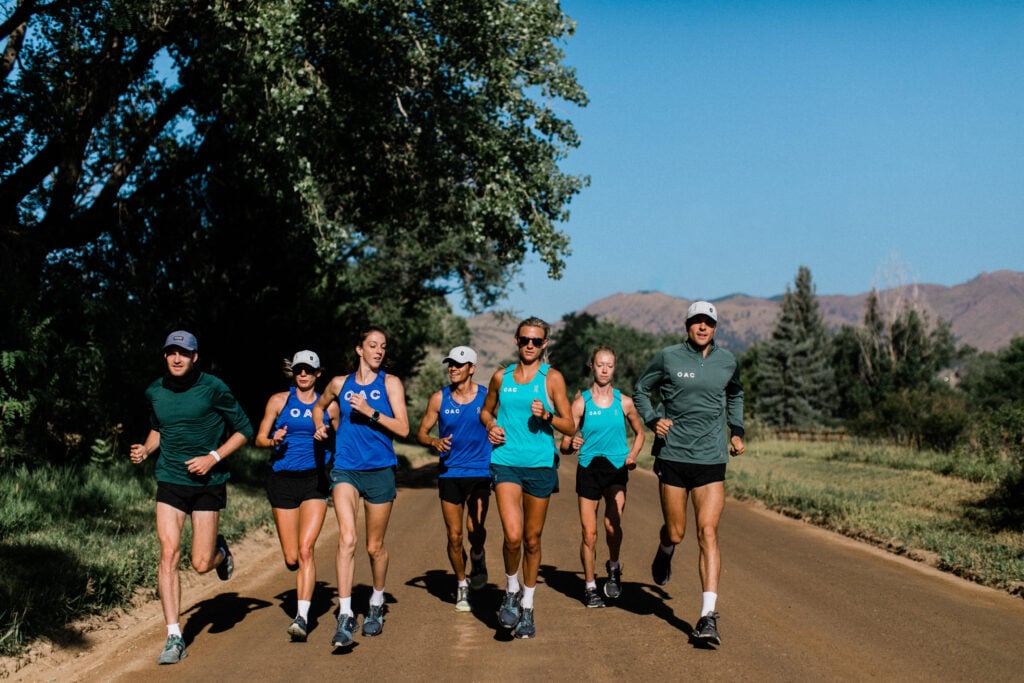 "We didn't want a training group," Ritzenhein said. "There's a lot of training groups. We wanted to create a real team."
Getting the team environment right is not easy, especially for a group starting from scratch. Ritz said he learned from Hanson that he needed to go all-in on the job and make it part of his life. Ritz not only had to relocate his family to Boulder, but he has them actively involved with the team. On weekends when the team is at the Roll Recovery training center, Ritz's kids can often be found playing there. When some of the male runners had to move apartments last weekend, Ritz and his son were helping them move. When someone needs to get picked up at the airport at midnight, sometimes Ritz is the one doing it.
Olli Hoare's family is 8,000 miles away in Australia and Ritz texts with Hoare's dad about how Olli is doing.
Ritz realizes he may not always have to be so involved, but establishing trust and creating the proper team environment is important in any new group, especially one that is so young. Leah Falland at 28 is the oldest member of the group, and the majority of the athletes are on their first pro contract, living as adults not in the collegiate environment for the first time.
Initial success is helping
One thing Ritz said is helping the group establish itself is the initial success of Hoare, Monson, and Klecker in particular. 
"Joe and Olli, Alicia, they believe 100 percent, and you can see the results right away. Now we've created the environment for the rest of them. And I think it's continuing to grow and they're continuing to thrive off each other. There's a synergy that happens and I'm seeing it in the group," said Ritz.
Ritz started coaching in a volunteer capacity with Andy Powell at the University of Oregon in 2014, then took a volunteer job at DII Grand Valley State upon returning home to Michigan. Eventually, as his own running career was winding down, he began coaching pros, including Falland and 2:10 marathoner Parker Stinson. At this point, Ritz feels he has a good grasp of the X's and O's part of the job, but he believes coaching is much more than designing workouts. 
"Coaching is not about writing training plans and it's not about anything like that. It's about a relationship that you can build with them to make them confident," he said.
Based on the recent results of his team, Ritz has established the trust with his athletes. Right now the team is all-in for the next two months trying to qualify for the Olympics. The US athletes will know their fate by the end of the US Olympic Trials on June 27 and the international athletes by July 1. 
Alicia Monson "could be someone like Shalane and Deena"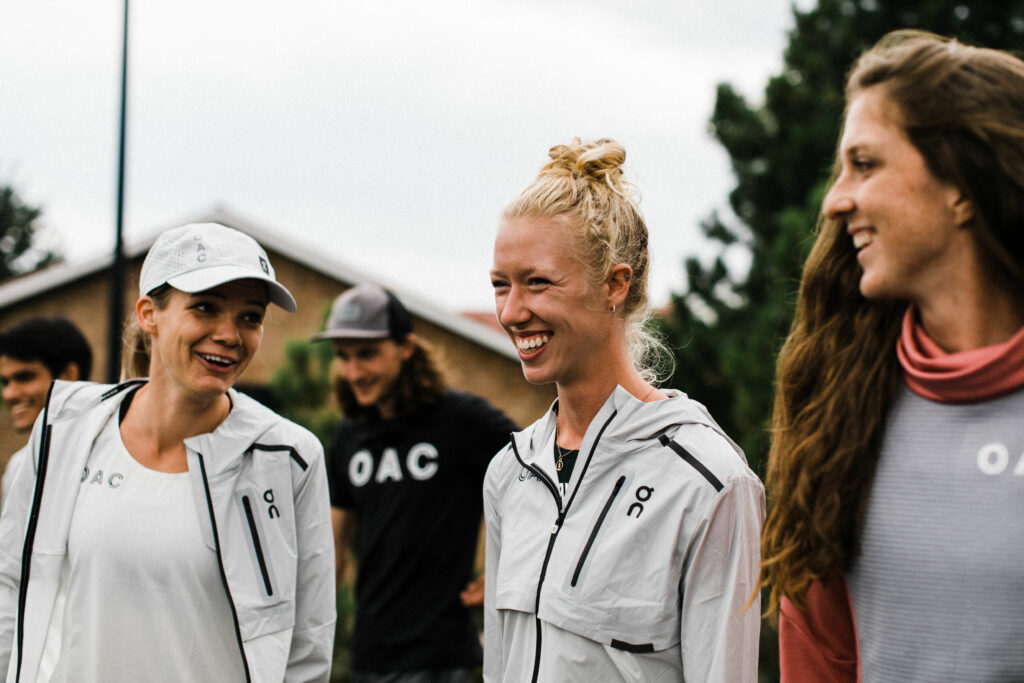 While the one-year COVID delay gave the OAC the opportunity to try to get a few people to the Olympics in Tokyo, Ritz has his eyes on the longer term. 
"From a longevity standpoint, I know in my own career, eventually you have to draw it back just a little bit to continue just to stay hungry and fresh," he said.
When Ritz looks into the future, he has big things in mind for members of his team, in particular Alicia Monson. Ritz posted an OAC video to his Instagram account where he said of Alicia, "Alicia is someone who has the potential to be the next great American female distance runner." 
That's a very bold statement. When asked about it, Ritz didn't back down. 
"She just has the demeanor and physically has the skillset. She could be someone like Shalane [Flanagan] and Deena [Kastor]. She has those characteristics up here and physically. It's probably my fault if she doesn't do that, honestly, cause she has those things, you know?"
Before Monson can become the next Shalane Flanagan or Deena Kastor, she, like everyone else in the OAC, needs to make her first Olympic team. Over the next few months we'll be sharing the stories of some of the members of the OAC on LetsRun.com.
Note: This is content is sponsored by On, but they did not have approval of it.
Brief bios of current OAC members
Likely Olympians
Olli Hoare, Australia
3:32.35 1500m PB, 2018 NCAA 1500m champion at Wisconsin
Hoare has been on a hot streak since joining the OAC, picking up dominant wins at the New Balance Indoor Grand Prix and USATF Grand Prix this year. His only loss in the 1500/mile since joining the group was a second place finish to Jye Edwards when Hoare returned to Australia last year for the Christmas holidays.
On that trip, Hoare had to quarantine in a hotel room for two weeks, without a treadmill. Not an ideal training environment, so Hoare didn't return to Australia for their Olympic Trials last month where only the winner of each event was guaranteed a spot on the team. Hoare looks to be a good bet to be selected for the team, however, if he keeps running well.
Alicja Konieczek, Poland
9:36.09 steeplechase PB, 2019 Worlds competitor, nine-time NCAA D2 champion
Konieczek is currently only the second-best steeplechaser in the OAC (she got beat by Leah Falland at the Drake Relays), but is more likely to be on the Olympic team because she competes for Poland and not the United States. Alicja is currently #29 in the World Rankings criteria for the Olympics with 45 athletes being selected. She's a virtual lock for Tokyo.
Running really well right now
Alicia Monson, USA
15:07.65 5000m PB, 31:10.84 10,000m PB, 2019 NCAA Indoor 5000m champion at Wisconsin
Ritzenhein is very bullish on Monson, but getting top three at the US Olympic Trials in the 5,000 or 10,000 won't be easy. Monson currently is the 16th fastest American at 5,000 during Olympic qualification and 8th in the 10,000. Considering Monson ran the 15:07 after 3 weeks of training and the 31:10 in her first serious crack at the 10,000m there is room for improvement.
Joe Klecker, USA
13:06.67 5000m PB, 2019 NCAA cross country runner-up
Klecker, a star at the University of Colorado, is one of those guys who might have been an NCAA champion if the 2020 season didn't get canceled. He has lowered his 5,000 PR from 13:30 to 13:06 in the OAC, but finishing top three at the Trials isn't an easy task. Klecker is now #8 on the list of Americans at 5,000m in the Tokyo qualifying window.
Could his best shot to Tokyo be in the 10,000? Klecker has great long distance genes. His mom, Janis, won the 1992 US Olympic Marathon Trials and both his mom and dad were the American record holders at 50km. Klecker is making his 10,000m debut next week at the Sound Running Track Meet.
Leah Falland, USA
9:18.85 steeple PB, two-time NCAA champion at Michigan State
Falland was a two-time NCAA champion in college and in contention to make the US Olympic team in the steeple until the final lap at the 2016 Olympic Trials. Then she suffered a series of injuries that sidelined her career. Ritzenhein started coaching her when they both were in Michigan before the formation of the OAC. She ran her first steeple in nearly four years at Drake two weeks ago and won in a meet record of 9:32.53. It's a great comeback story that Ritz takes a lot of pride in. "When I started working with her three years ago, she was one and a half feet in the grave ready to retire." Falland provides a lot of experience and perspective for the young OAC team, but her problem in terms of Tokyo is in the names Emma Coburn, Colleen Quigley, and Courtney Frerichs, all Americans and all top 10 in the world right now in terms of time in the steeple. If any of them falter, Falland has put herself back in the mix.
1500 crew
Geordie Beamish, New Zealand
3:38.09 PB, 2019 NCAA indoor mile champ at NAU
Beamish struggled with injuries in college and when he first joined OAC, but Ritz said "Geordie is going to surprise people very soon," adding "we're starting to find the right balance and Geordie has that kind of talent." Beamish's best bet to make the Olympics seems to be to hit the 3:35.00 automatic qualifying standard.
Carlos Villarreal, Mexico
3:37.22 PB, 2019 Pan Am Games 1500m Champion
Villarreal's best finish in the NCAAs was 4th in the mile while at Arizona, but he did win the Pan Am Games 1500m. His best bet for Tokyo is to hit the auto standard of 3:35, but he's only run 3:45 this year. Ritz said they are finding the right training mix for Carlos. Ritz said Carlos "hit a few bumps along the way, but he's really trained very well now." Part of the issue for Carlos, Ritz said, was getting him to not compare himself to the workouts Olli was doing.
Longest Shot
Emily Oren, USA
9:40.65 steeple PB, 9 time NCAA D2 Champion
Oren has lowered her 1500m PB to 4:14 from 4:19 while in OAC but her best time is 9:55 in the steeple this year.
Note: This is content is sponsored by On, but they did not have approval of it.
Listen to the podcast with Ritz here or in the player below (Ritz joins at 63:29).