Brigid Kosgei DOMINATES 2020 London Marathon, American Sara Hall Shocks Field To Finish Second
By David Monti, with quick take analysis added by LetsRun.com
(c) 2020 Race Results Weekly, all rights reserved

(04-Oct) — On a cold and rainy morning in Central London today (10C/50F), women's marathon world record holder Brigid Kosgei of Kenya continued her domination of the sport by successfully defending her Virgin Money London Marathon title by more than three minutes in 2:18:58. 
The pandemic-delayed, 40th edition of the event was held with elite athletes, only, on a secured, 19.76-lap course with no spectators in St. James's Park. It was only the second race of the Abbott World Marathon Majors which could be held this year because of the coronavirus.  The other was the Tokyo Marathon back in March which was also held for elite athletes, only.
KOSGEI CRUISES TO VICTORY
Article continues below player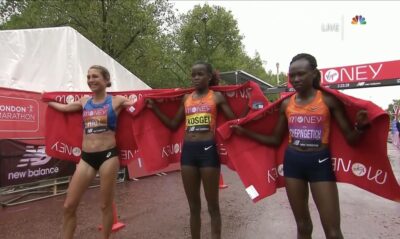 Men and women ran in separate sections today, and the women went first at 07:15 BST. Many of the competitors wore caps, gloves, or arm warmers to shake off the morning chill, including Kosgei who wore black gloves.

Kosgei lined up next to her main rival and compatriot, Ruth Chepngetich, the reigning world champion, and the race quickly turned into a duel between the two Nike-sponsored women who wore matching orange and blue uniforms.  By the time the pair reached the halfway point in 1:08:12 behind the pacemaking of Vivian Kiplagat (a 2:21 marathoner herself), their nearest chasers were nearly a minute behind.  Kosgei, who removed her gloves in the sixth kilometer, was trying to get into a rhythm, but she wasn't enjoying the weather.

"You know, due to corona we have not prepared well, and then the weather affect us," Kosgei told the Abbott World Marathon Majors media team after the race.  "There is some wind and there is rain all the way.  So, it makes our muscles to be cold; nobody becoming warm."

Nonetheless, the pace was strong.  Organizers were hoping that the lead women could threaten the World Athletics women-only world record of 2:17:01 set by Mary Keitany on the regular London Marathon course back in 2017. Through halfway they were still inside of that pace.

But after Kiplagat finished her pacing duties at 25 km, the race turned tactical.  Kosgei and Chepngetich covered the next 5 kilometers in 17:01, well off of the world record pace.  Kosgei felt that was too slow, and sensing weakness in her rival –who had athletic tape on the back of her left leg– she decided to increase the pace.

"Nothing I planned; just that I feel good," she said later when asked why she decided to move around the 30-K mark.

Covering the five kilometers from 30 to 35-K in 16:42, Kosgei quickly built a 46-second lead which would prove insurmountable.
"You don't need to do anything flashy in this situation," said Olympic marathoner Mara Yamauchi who was commentating on the world feed.

Her form never changing –although she looked back several times– Kosgei glided to the finish on The Mall, collecting her eighth career marathon win.

"I tried my best; I finished good," she said modestly.  She added: "My legs could not move, so I tried my best."

Behind Kosgei, a dramatic battle for second place was playing out.  American Sara Hall had been in eighth place at the halfway mark, but had been steadily moving up.  She was in sixth position by 25-K, fifth by 30-K, and fourth by 35-K.  She would soon pass Ethiopia's Ashete Bekere to take over third place, but at 40-K she was still a sizable 40 seconds down on Chepngetich.

"I was fighting that whole way, catching people," Hall said in her Abbott World Marathon Majors interview.  "Seeing the world champion in the last lap, that definitely motivated me to give it my all."

Remarkably, Hall began to close the gap to Chepngetich. Making the final turn onto the finish straight on The Mall, the Asics-sponsored athlete went into a full sprint passing the world champion just 15 seconds before she finished.  Hall got second in a career best 2:22:01, four seconds ahead of Chepngetich.  Hers was the first podium finish by an American woman in London since Deena Kastor won the race in 2006.

"I'm still kind of in shock to be honest," she said.  "Deena was was my teammate when she set the American record and won the race.  I just feel honored to be able to be enjoying my career at age 37.  Hopefully, more to come."

Down the finish order, there were several noteworthy performances.  American Molly Seidel, running in only her second marathon, ran a personal best 2:25:13 to finish sixth.  Seventh place Gerda Steyn of South African ran a career best of 2:26:51, not far off of Colleen De Reuck's national record of 2:26:35 set back in 1996.  Forty-three year-old Sinead Diver of Australia ran 2:27:07 in eighth place.

But it was not great day for British women who were both running for Olympic Games qualifying times (2:29:30 or better) and the U.K. Athletics national title.  The two top-seeded women, Steph Twell and Lily Partridge, both dropped out.  That left the door open for Natasha Cochram and Naomi Mitchell who, in 13th and 14th place, respectively, were the top two British women.  Cockram ran 2:33:19 to Mitchell's 2:33:23.  Mitchell set a personal best.
Quik Take Analysis by LetsRun.com:
Quick Take: Brigid Kosgei's dominance over the past two years is ridiculous
Kosgei has now won four straight marathons. And while that streak isn't even half as long as Kipchoge's 10-race streak that ended today, it's more impressive in one respect: margin of victory. The closest race in her streak was still decided by 1:54 — a colossal margin considering we proclaimed 2019 London the greatest women's marathon field ever assembled. Her pb is almost three minutes faster than the next-closest active runner. In women's marathoning right now, there's Kosgei, then a humongous gap, then everyone else.
Brigid Kosgei's four-marathon win streak
| | | | |
| --- | --- | --- | --- |
| Race | Place | Time | Winning margin |
| 2018 Chicago | 1st | 2:18:35 | 2:43 |
| 2019 London | 1st | 2:18:20 | 1:54 |
| 2019 Chicago | 1st | 2:14:04 (WR) | 6:47 |
| 2020 London | 1st | 2:18:58 | 3:03 |
Quick Take: A rough day for Vivian Cheruiyot
Cheruiyot, the 2018 champion, was viewed as one of the few women who might be able to challenge Kosgei today, but never really tried to run with the leaders. A more conservative early effort — like the one that helped Cheruiyot win London two years ago — actually made sense today on a day when almost everyone ran a positive-split, but Cheruiyot could never get things going and wound up dropping out after 25k.
Quick Take: Even a dedicated women's-only race couldn't prevent the broadcast from having issues
One of our biggest complaints about major marathons broadcasts is that TV producers, with stunning regularity, manage to miss the most important part of the race: the moment when the eventual winner breaks away from the pack. Watching the world feed today on NBC Sports Gold, we finally thought we wouldn't have to worry about it. 
They couldn't miss the break by showing the men's race, since the men's race didn't start until the women's race was over. They couldn't miss the break by showing the mass race, since the mass race was cancelled. And they couldn't miss the break by showing a commercial, since the world feed doesn't have commercials.
They missed the break.
Marathon fans, they said that given the conditions today it was impossible, but they've done it @LondonMarathon. There's no men's race right now. No mass race. No commercials. Yet the tv producers STILL MISSED THE BREAK. We can't help but laugh/cry. https://t.co/flk4BCg6q5

— LetsRun.com (@letsrundotcom) October 4, 2020
Yes, for some reason the broadcast was showing us third-placer Ashete Bekere while Kosgei made her winning move. By the time the lead vehicle left Bekere to catch up to Kosgei, it was too late: the move had been made.
Quick Take: What a run for Sara Hall
We have a separate article on Sara Hall's great run, but one thing we didn't do is compare how she ran against the others. On a day no one else was coming close to a PR, Hall PR'd. Here's how the top 5 did compared to their PRs.
| | |
| --- | --- |
| Athlete PR Prior to London | London Result |
| 1 Brigid Kosgei 2:14:04 | 4:54 off PR |
| 2 Sara Hall 2:22:16 | 15-second PR |
| 3 Ruth Cheptngetich 2:17:08 | 4:57 off PR |
| 4 Ashete Bekere 2:20:04 | 2:37 off PR |
| 5 Alemu Megertu 2:21:01 | 3:22 off PR |
Talk about 2020 London on our fan forum / messageboard.
Article on Sara Hall's Great Run: American Sara Hall Runs The Race Of Her Life To Finish 2nd in 2020 London Marathon In 2:22:01
Men's Coverage: