I Was Bored, So I Watched Lynn Jennings Win 1992 World XC on Home Soil
Throwback Thursday #13
By Jonathan Gault
July 2, 2020
Welcome back to Throwback Thursday. With limited live events during the coronavirus quarantine, I'm plumbing the depths of YouTube and watching/sharing my thoughts about one classic race per week. If you missed any of the first 12 installments, click here.
Lynn Jennings turned 60 years old on Wednesday. In honor of the big day, this week I'm throwing it back to the last time the USA hosted the World Cross Country Championships, and the last time an American won. That would be 1992, when World XC came to Boston's Franklin Park and Jennings, a Massachusetts native, won her third straight World XC title on the on the same course on which she won two high school state titles (The boys' champ when Jennings won her first title in 1975? Alberto Salazar).
Article continues below player
The other races were packed with stars as well. Kenya's John Ngugi became the first man to win five World XC titles, doing so in dominant fashion, while the junior races featured future stars Paula Radcliffe, Haile Gebrselassie, and Hicham El Guerrouj. It was quite a day.
With that as preamble, let's throw it back to March 21, 1992, on a snow-covered course in Boston…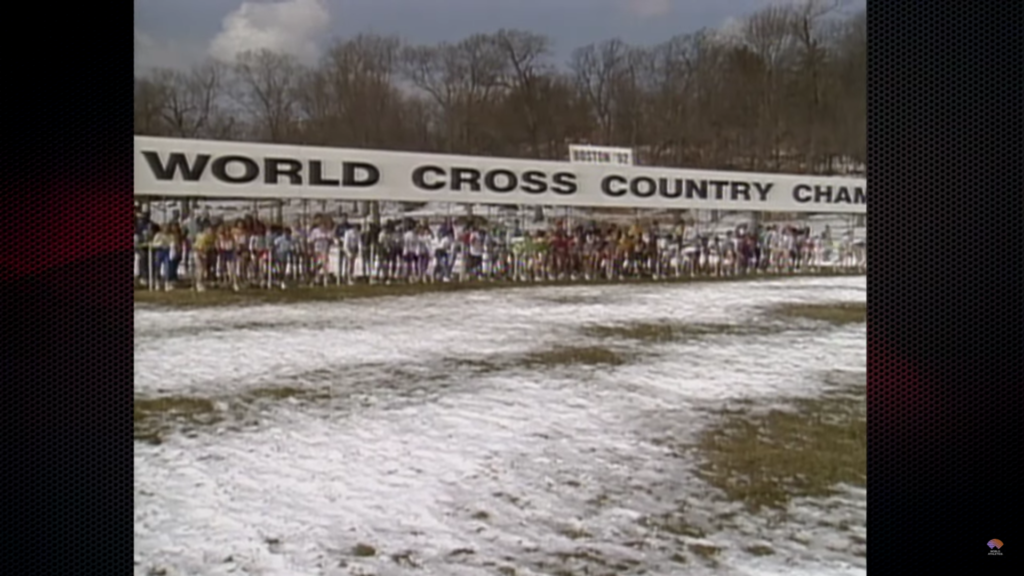 0:11 I've raced at Franklin Park many times, but the start looks totally unfamiliar. For one, it's March, and there's snow on the ground (it's cold, in the low-30s F). For another, they're not using the the modern start line but starting instead on the golf course across the street, to enable a longer opening straightaway. They spent $350,000 on improvements to the course to make it fit to host World XC.
Footing does not look great. This is not fresh snow — it's the kind that fell several days ago and has since been packed down into an icy mess. Not great for running cross country.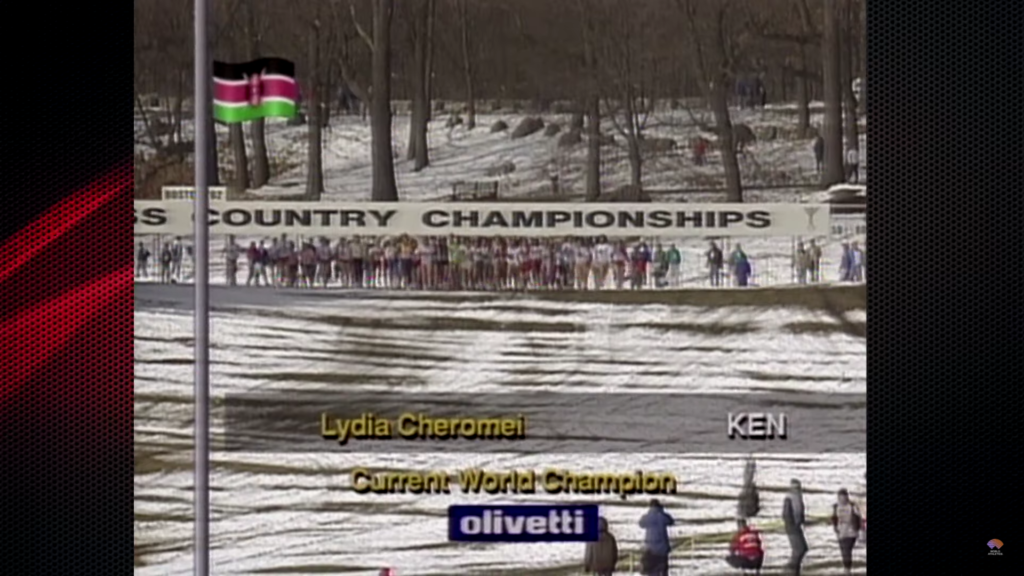 0:37 Marty Liquori, who's handling play-by-play, introduces the women's junior (U20) race and tells us the defending champ, Kenya's Lydia Cheromei, was only 13 when she won the title last year. Color man Craig Masback then mentions the Kenyan trials champ, Pamela Chepchumba, and says "there's some question as to her age, whether she's 12 or 13 years old."
Craig is right. There is a question to her age. But it's not whether she is 12 or 13.
I'll admit: it's very possible that if you were born in rural Kenya in the 1970s, you don't know your exact birthdate. But the listed ages of the 1992 Kenyan women's junior team strikes me as an outrageous case of age cheating. Here's their roster, with "official" ages on race day according to their World Athletics profiles:
Lydia Cheromei, 14
Ruth Biwott, 14/15*
Susan Chepkemei, 16
Pamela Chepchumba, 13
Catherine Kirui, 16
*Biwott's World Athletics profile does not list her age, but this results page says she was born in 1977
It's possible these women were still under 20 and eligible to compete in the junior race, but there's simply no way all of them are 16 or younger.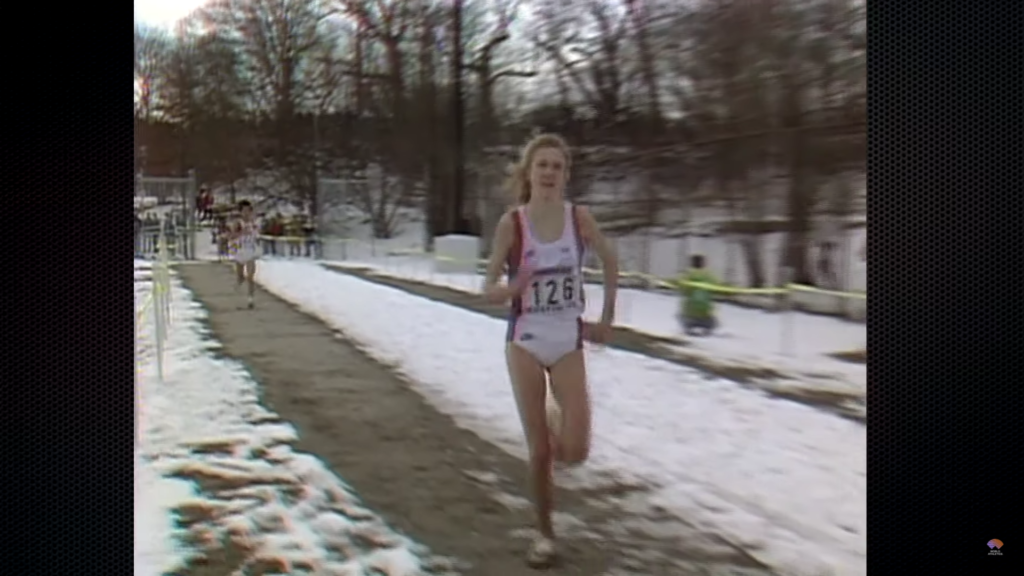 1:20 We see about a minute, total, of the women's junior race. The winner is shown above. Do you recognize her?
…Yes, it's future marathon world record holder Paula Radcliffe. Her signature head bob isn't fully developed yet, but it's unmistakably Paula.
Second place is another future WR holder, Wang Junxia of China, later part of "Ma's Army" and strongly suspected of doping. 1999 10,000m world champ Gete Wami (9th), 2000 Olympic 5,000m champ Gabriela Szabo (20th) were also in this race.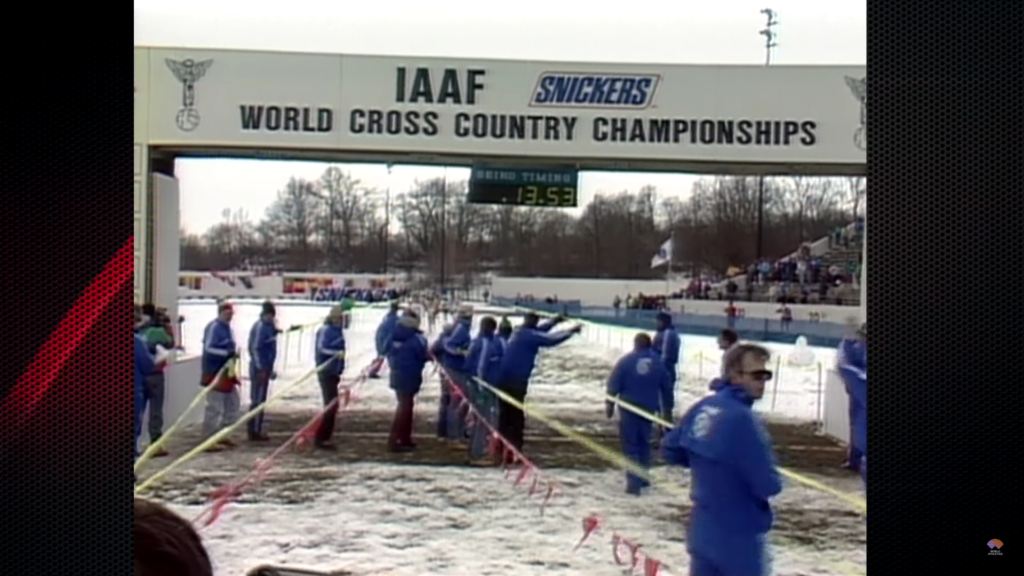 1:57 This is officially the most confusing finish corral I've ever seen. There are still 100 women left to come through. What the hell is going on here?
2:20 Pretty sure the starting commands for the men's junior race were as follows:
On your marks.
Set.
Now take a lead like you're preparing to steal second at Fenway Park.
Go!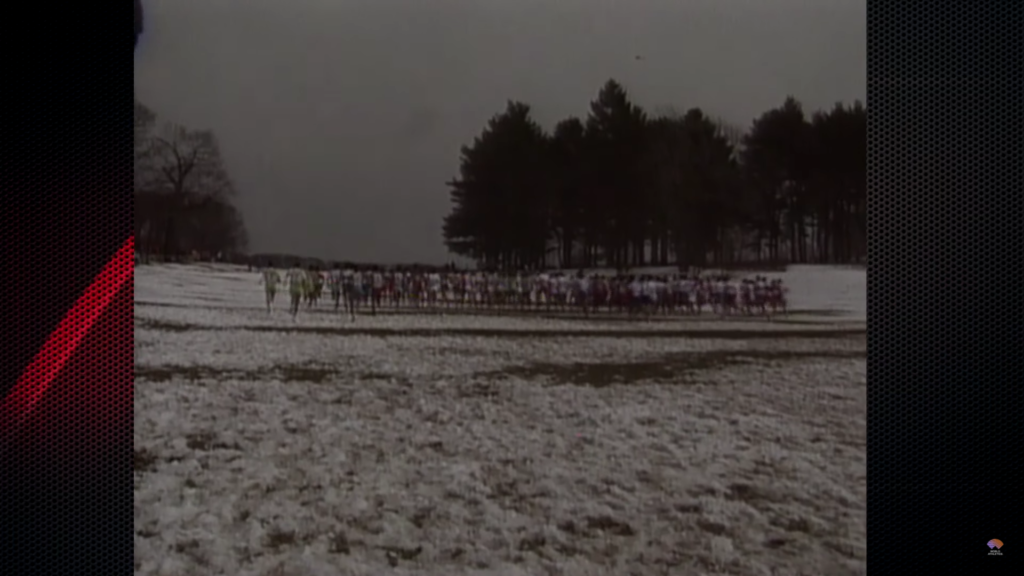 2:39 Liquori: "The sun has come out."
I'm not making this up. He actually said this.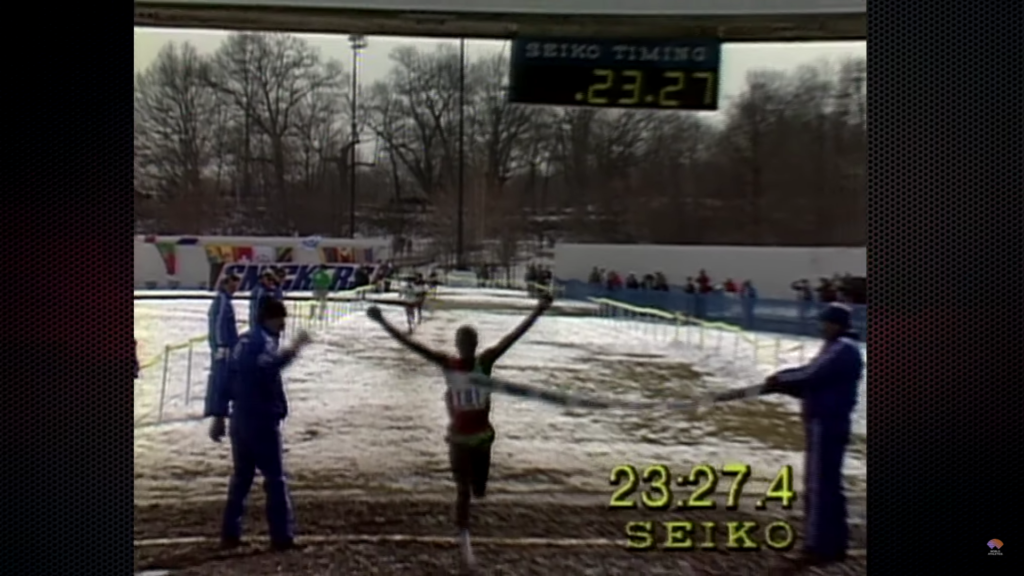 4:31 Again, we don't get much actual race footage of the men's junior race. Which is a shame, because this thing was loaded.
Your winner: Ismael Kirui of Kenya, who would go on to win the next two 5,000m world titles, including the legendary 1993 World Championship final (a future #TBT candidate).
4:40 Liquori (usually good, but not at his best today) announces the runner-up as "Haile Selassie" of Ethiopia. While I'd actually be willing to overlook the age requirements for a 99-year-old emperor who had been dead for 17 years, the actual runner-up is a guy by the name of Haile Gebrselassie, who would go on to have a pretty good career. So would the guy in 14th place, a lanky Moroccan named Hicham El Guerrouj.
The 54th-placer, Ted FitzPatrick of the United States, was not quite as accomplished, but he did earn one title that neither Gebrselassie nor El Guerrouj could capture: Heps champion. Go Big Green!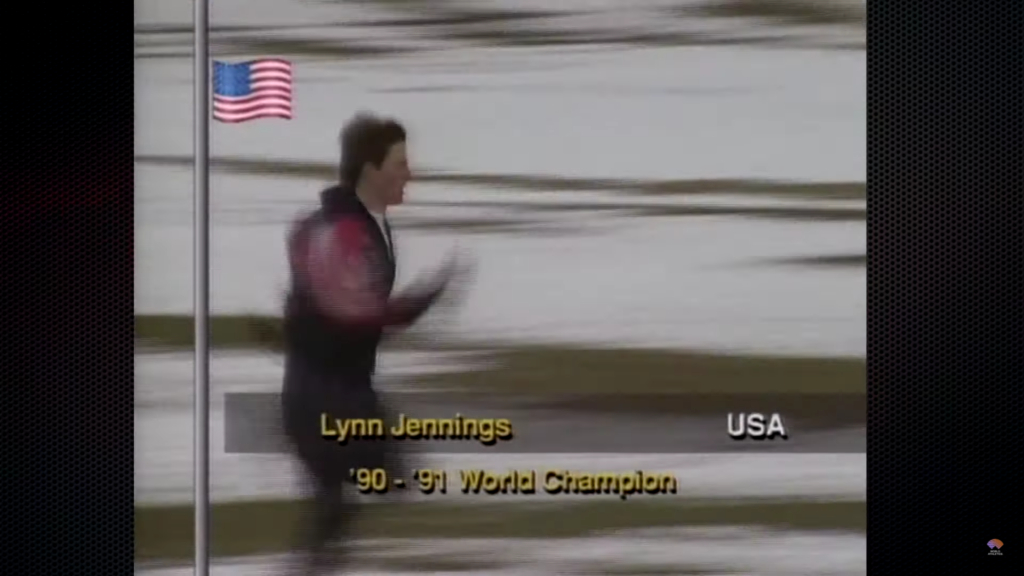 5:17 As the two-time defending champion, Lynn Jennings would have been a big story no matter where this race was held — since the IAAF established these championships in 1973, the great Grete Waitz was the only woman to win three straight. Then add in Jennings is competing in her home country. Then add in she is competing in her home state, on the same course on which she won state titles in high school, and this was unquestionably the race of the day.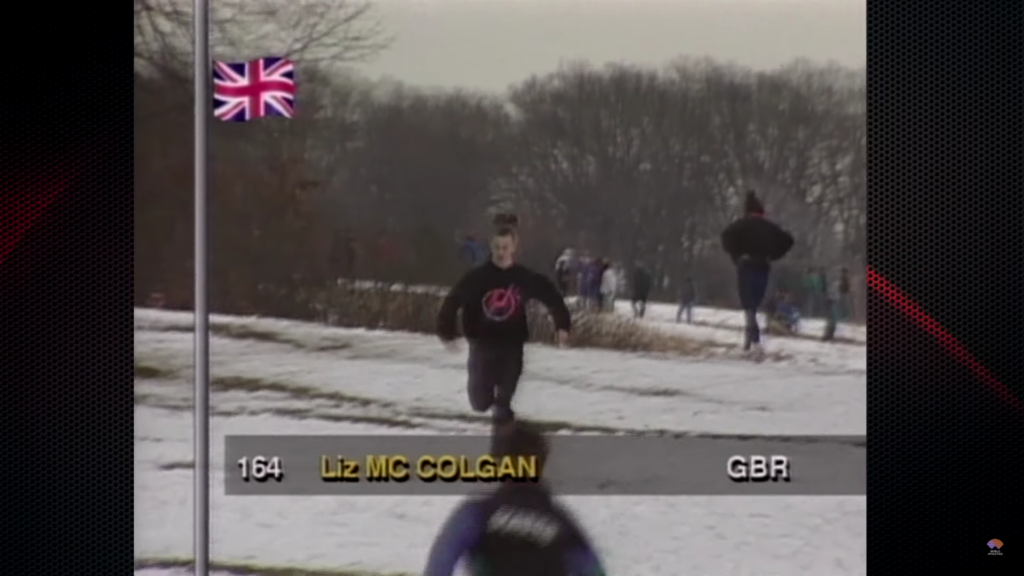 5:43 The women's senior 6k race is billed as a battle between Jennings and Great Britain's Liz McColgan — only appropriate for a competition held in the birthplace of the American Revolution.
McColgan enters in ridiculous form. In November 1990, she gave birth to daughter Eilish (a two-time Olympian herself) and bounced back with her best year in 1991, taking bronze at World XC, running 30:57 for 10,000 (#2 all-time at the time), winning the 10,000 at Worlds, and winning the NYC Marathon in her 26.2-mile debut. In January 1992, she ran a 67:11 half marathon (#2 all-time, though it came on an aided course); four weeks later, she ran a world indoor record of 15:03 for 5,000.
Now's where I tell you that McColgan struggled in Boston and only finished 41st in this race. Sorry for getting your hopes up. But it's okay! The women's race was still really exciting, so let's get to it.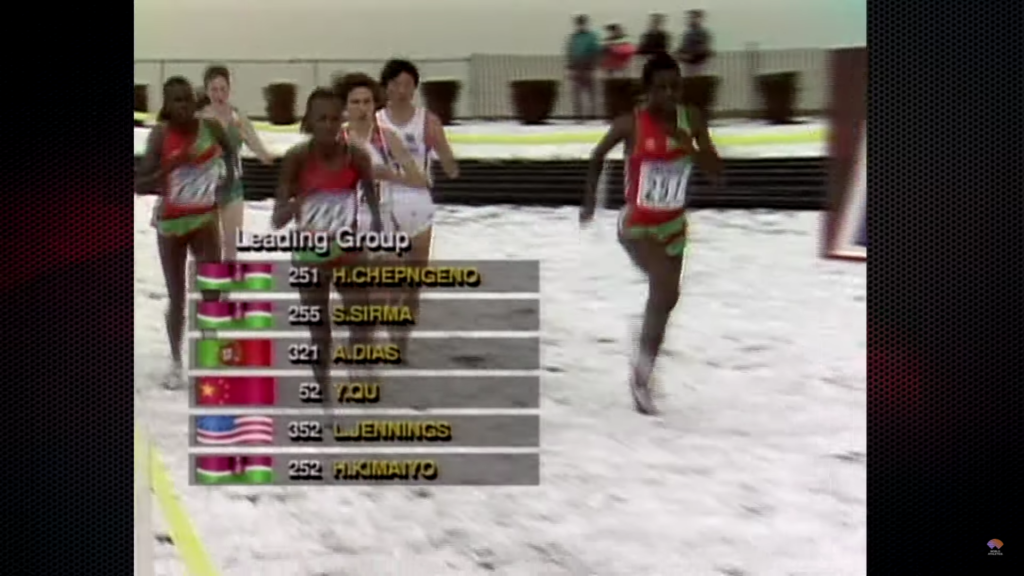 10:30 Skipping ahead, the leaders hit 2k in 6:43, led by the Kenyans Hellen Chepngeno and Susan Sirma. There are eight women in the lead pack, including Jennings (just out of frame to the left) and Ireland's Catherina McKiernan.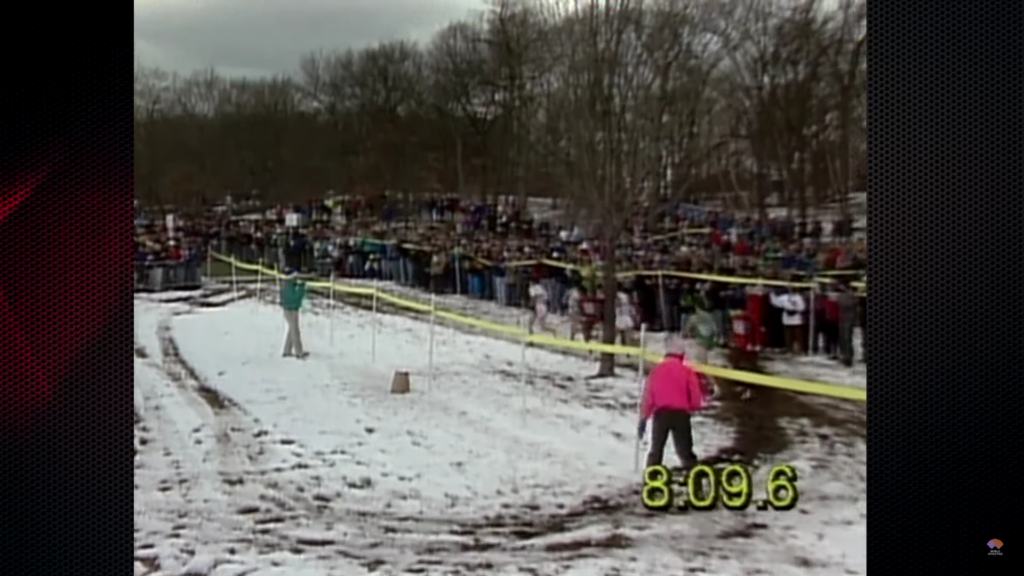 11:34 Can't say I've been overly impressed with the crowd so far, though Sports Illustrated reported it at 30,000. There's a decent number visible in this shot.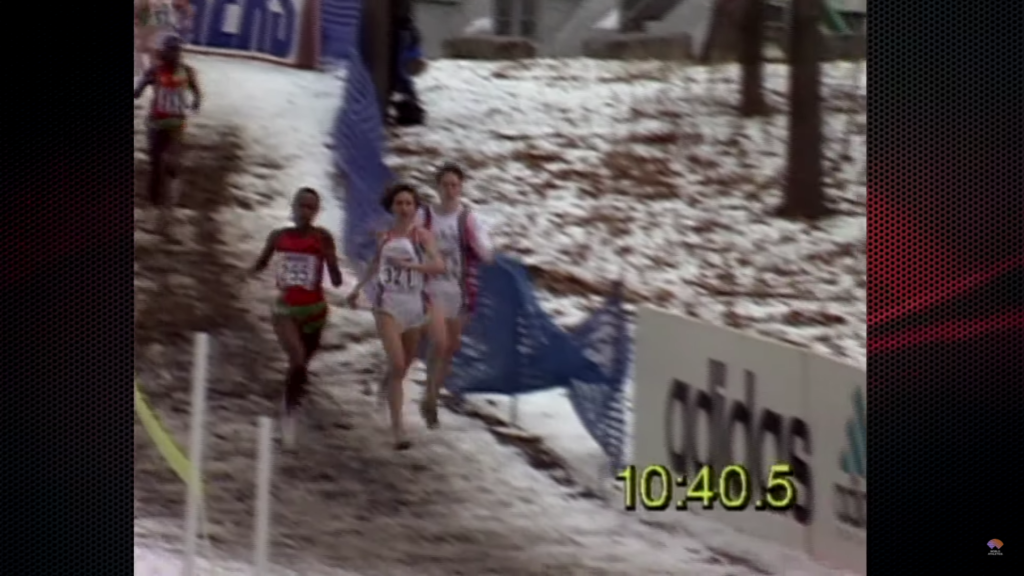 13:45 Jennings, Sirma, and Portugal's Albertina Dias, the silver medalist in 1990, have begun to separate on a downhill just past the halfway mark.
I'm a firm believer that a hill's name accounts for at least 50% of what makes it great. Franklin Park's Bear Cage Hill may not be the toughest I've ever run, but it's still challenging, and it's got a fantastic name, dating back to the days when this hill was part of the Franklin Park Zoo and housed — you guessed it — bears. The bears have been gone since the '50s (though how awesome would it be if you ran by live bears during a cross country race?), but the cages remain.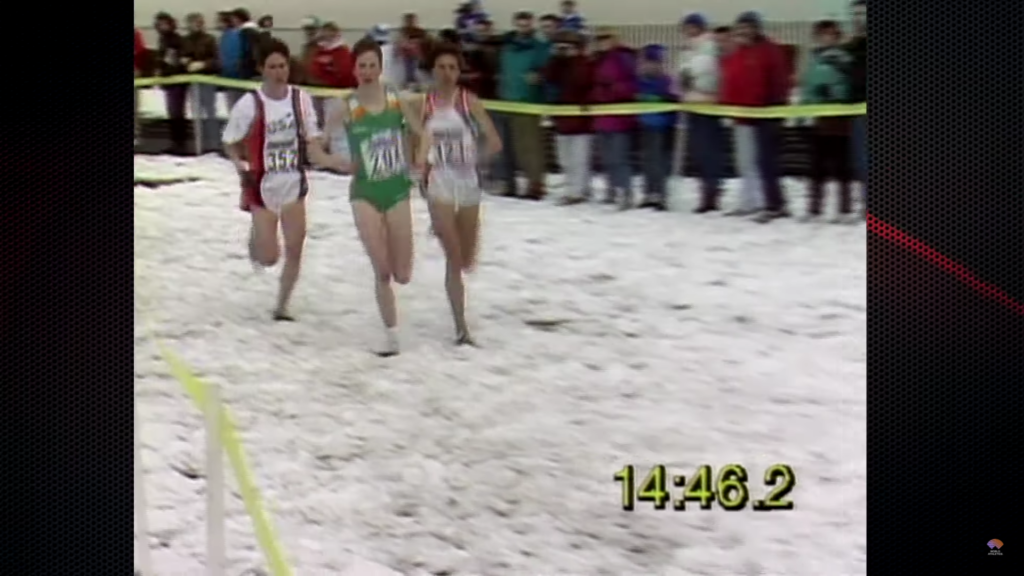 16:41 The broadcast jumps ahead to just past 4k, and McKiernan has replaced Sirma, joining Jennings and Dias in the lead group of three. With one loop to go, it's clear that these are our three medalists, but what will the order be?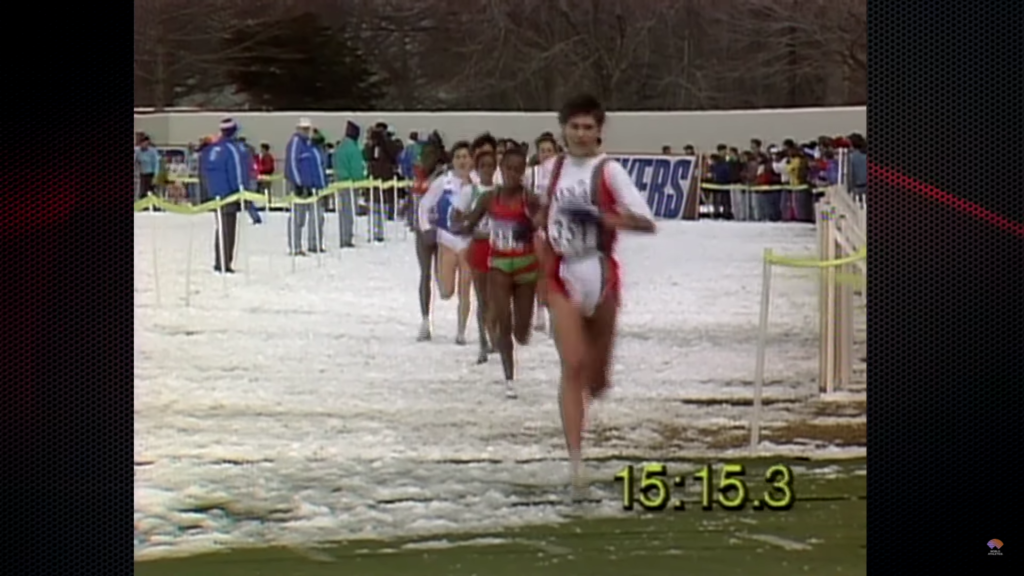 17:10 Jennings isn't the only American running well. Vicki Huber, the 1989 NCAA XC champ for Villanova, is running in fourth right now.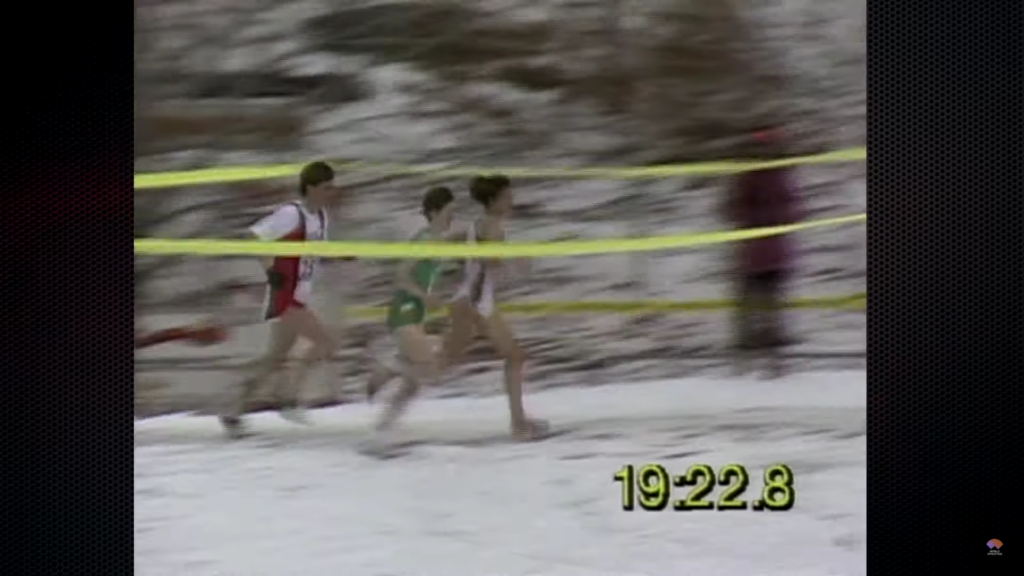 21:16 How's this for confidence? Masback says they asked Jennings before the race about the most memorable race of her career. Remember, at the time she was already a two-time World XC champ.
Her response: "It hasn't happened yet."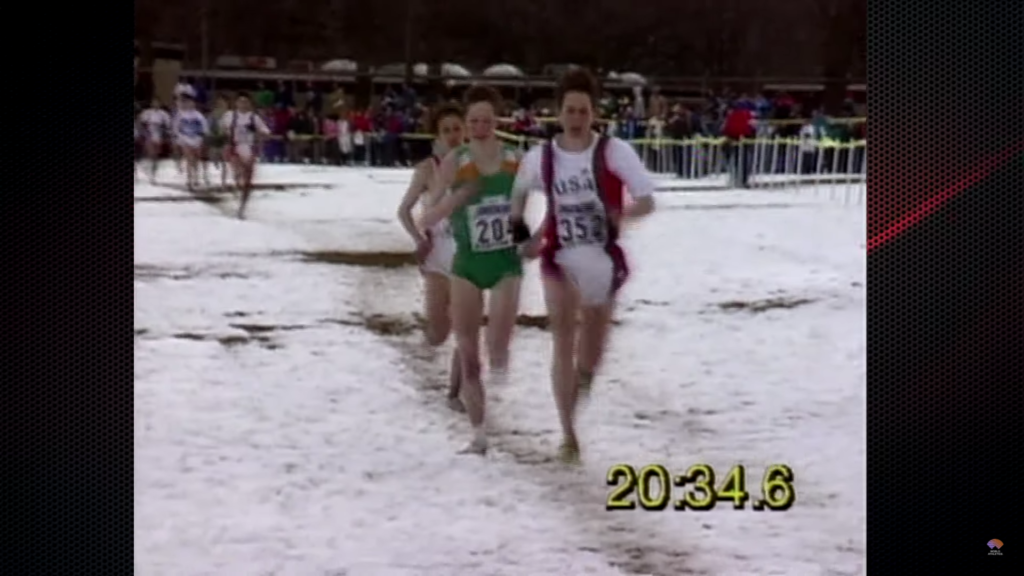 22:29 Jennings has sat on McKiernan as they battled the wind, but as they prepare to enter White Stadium with just under 300m to run, she edges into the lead. The crowd noise is picking up.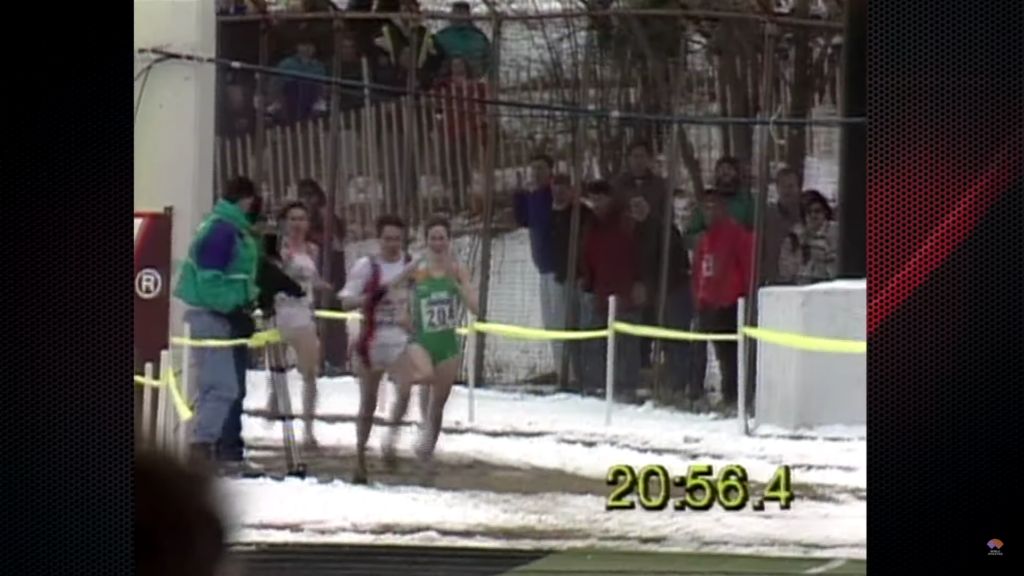 22:51 They enter the stadium with just under 150 to go and Jennings has backed off, allowing McKiernan to re-pass her. Is she done, or does she have one more move in her?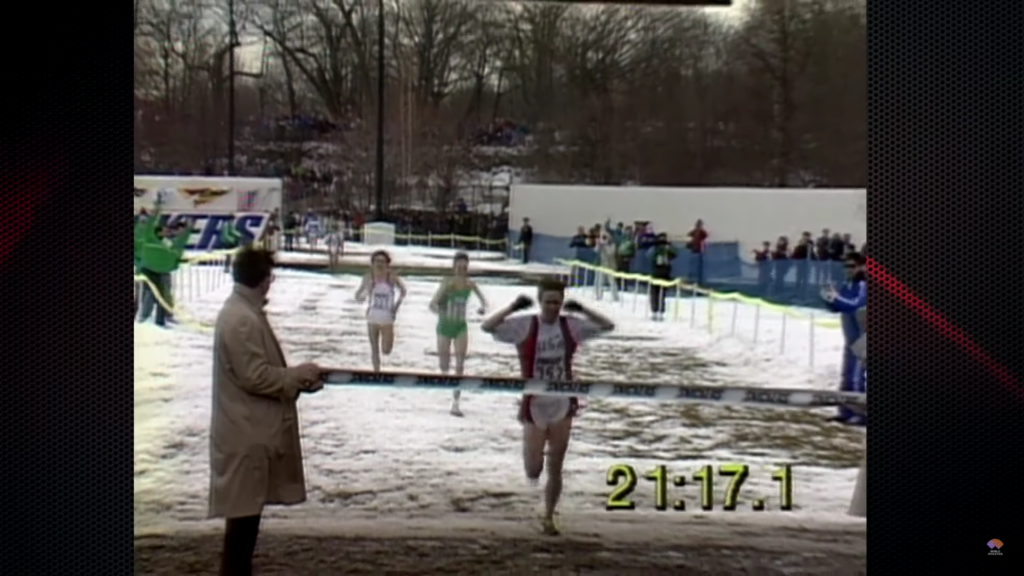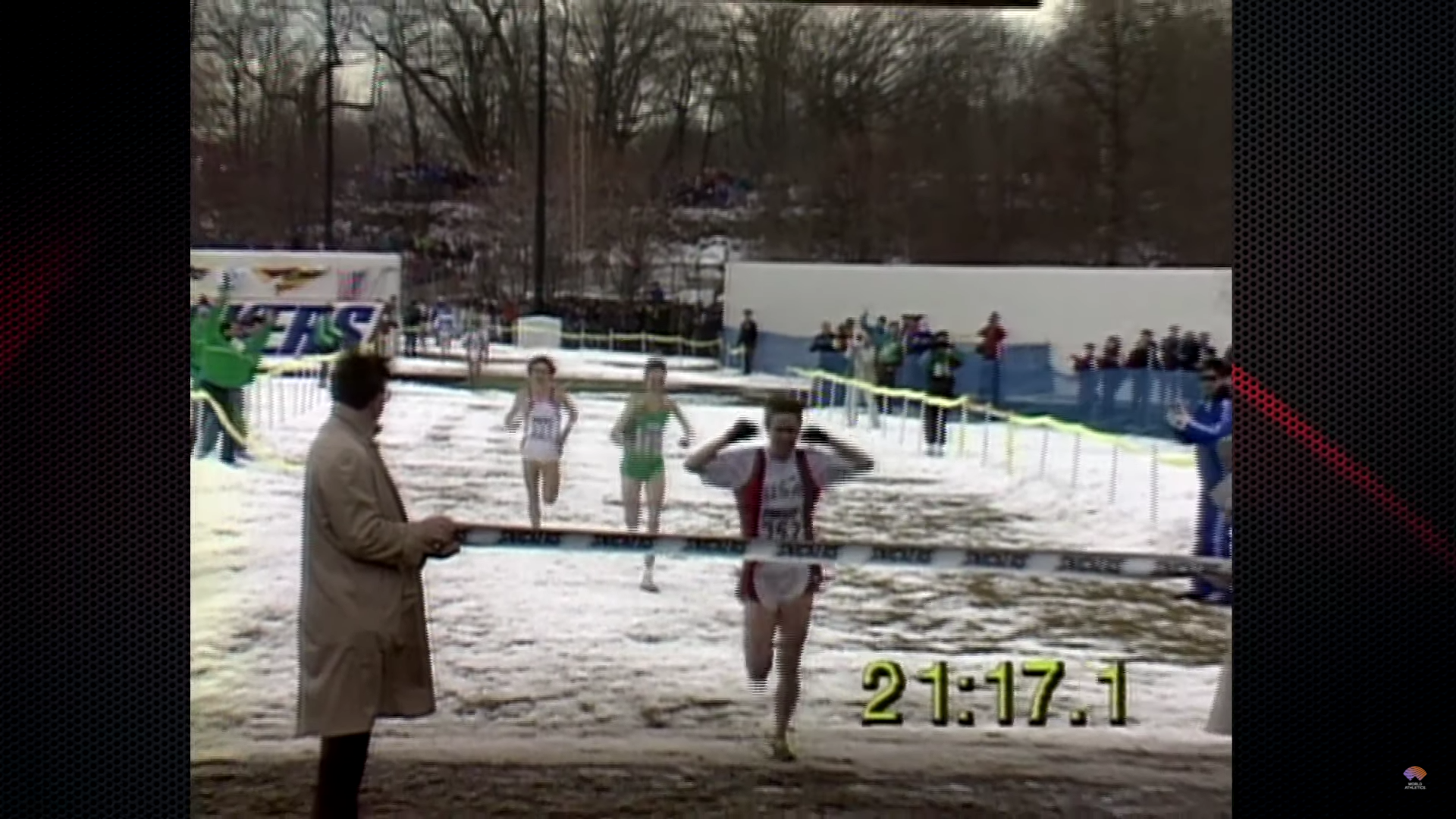 23:12 Never mind. No sooner has McKiernan taken the lead then Jennings snatches it back, this time for good. Her move is so strong and sudden that McKiernan and Dias are powerless to respond, and Jennings ends up winning by a clear two seconds in 21:16. I think she finally has her most memorable race.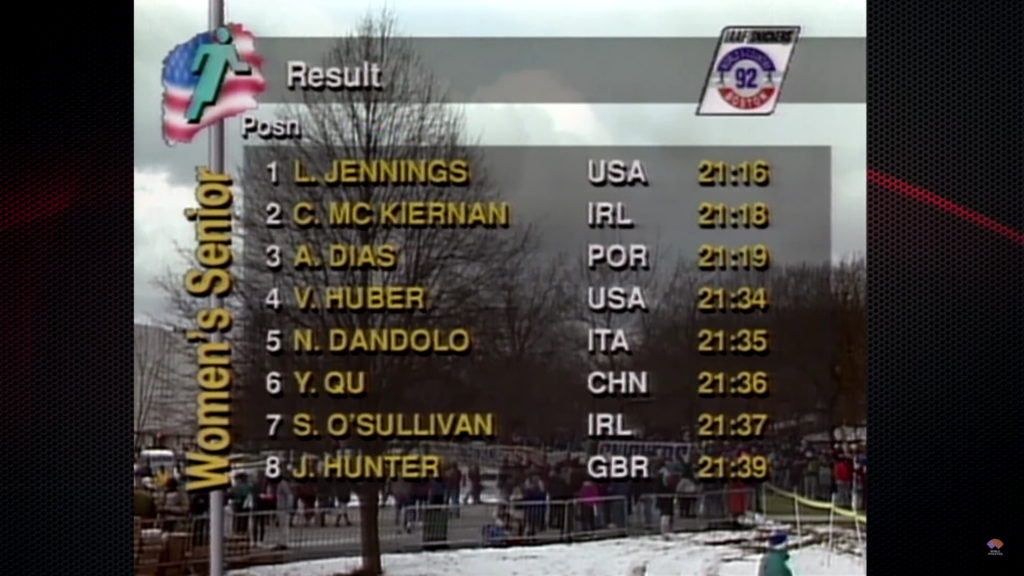 23:41 Final results. While Jennings has won her third straight, McKiernan begins a streak of her own: 1992 was the first of four consecutive runner-up finishes at World XC (this is the closest she'll come to winning). She is the Buffalo Bills of World XC.
Huber holds on for an impressive fourth as the Americans claim team silver, while future world champ Sonia O'Sullivan takes seventh.
Though the Africans largely struggled in the cold (Sirma was the top finisher in ninth), Kenya packed its four scorers between ninth and 15th to secure the team title.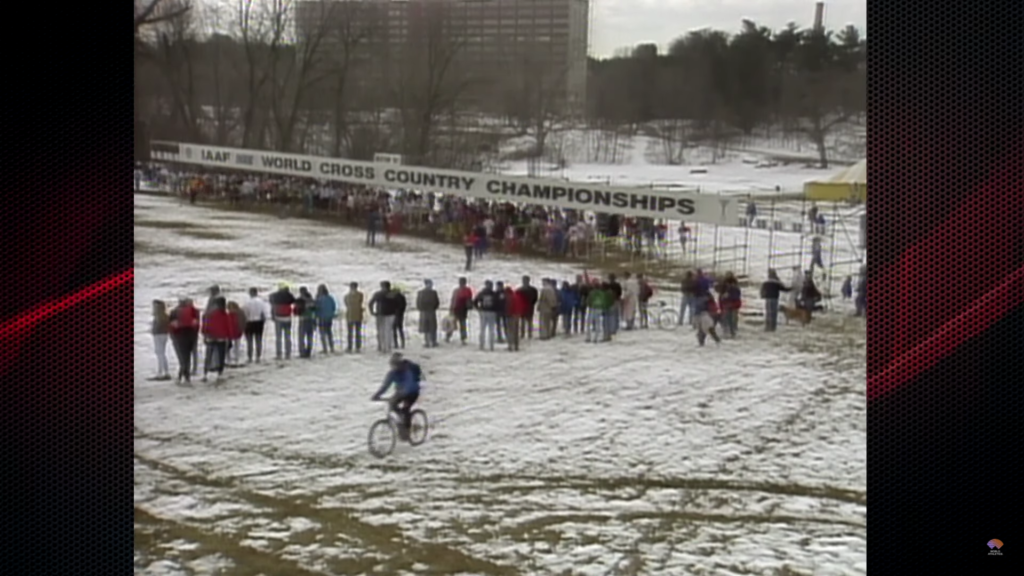 24:22 It's starting to snow as the senior men get ready for their 12k race. Props to the dude who is trying to follow along (and clearly struggling) on his bicycle.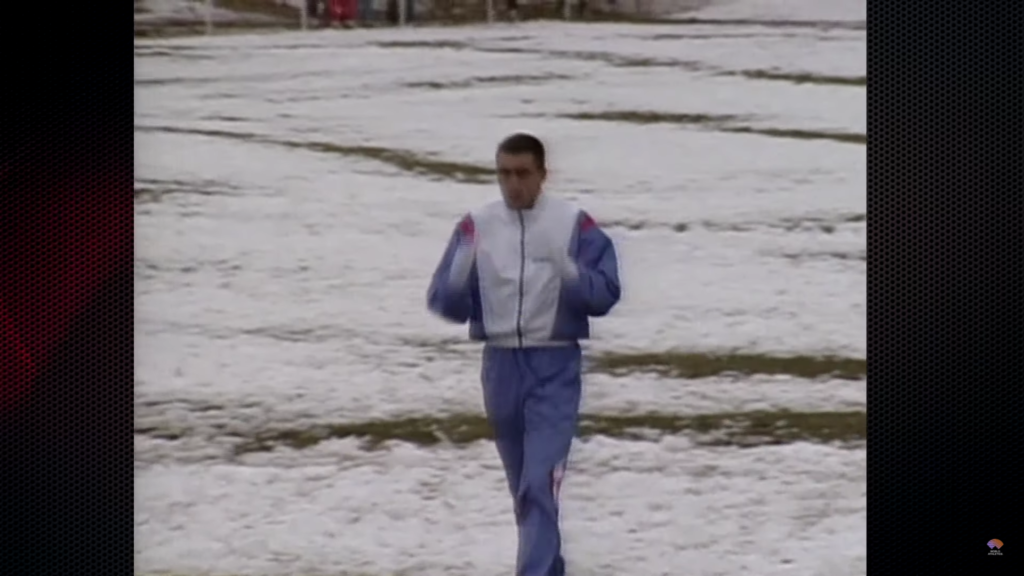 24:35 Here's a fun 1990s guessing game: try to guess the country by the colors of their kit.
Red, white, and blue? It can only be…Morocco? Yup, that's two-time defending champ Khalid Skah.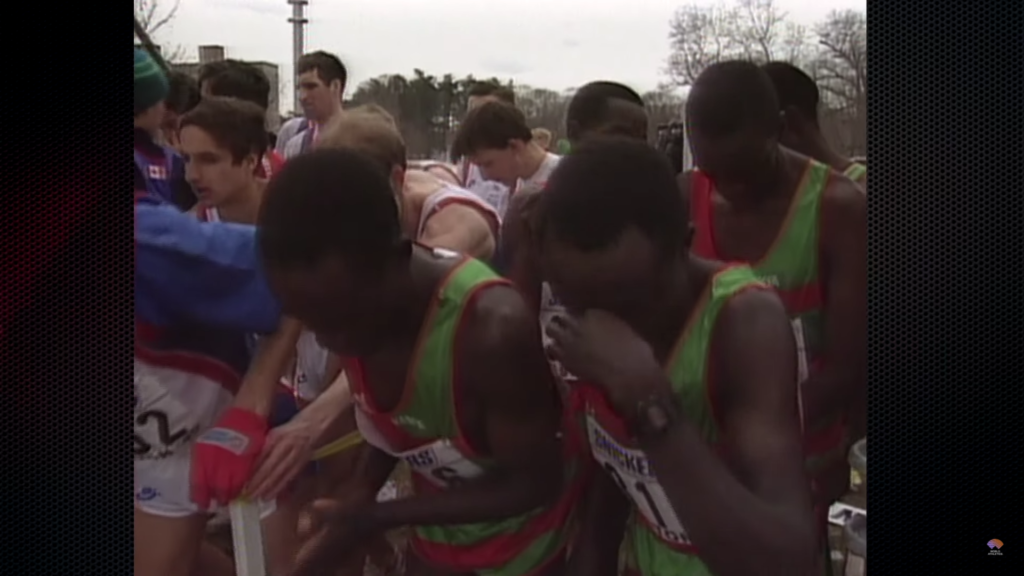 25:02 No gloves. No long underwear. Snow starting to fall. The Kenyan men look cold.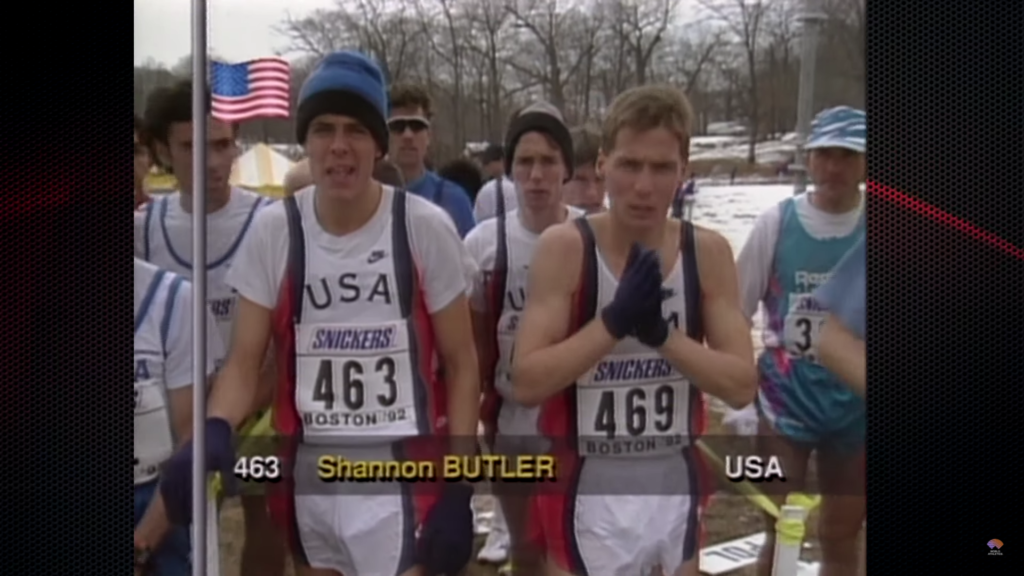 25:11 Shannon Butler and Todd Williams prepare to lead the Americans out. Peeking through in the second row is another Massachusetts native, Mark Coogan.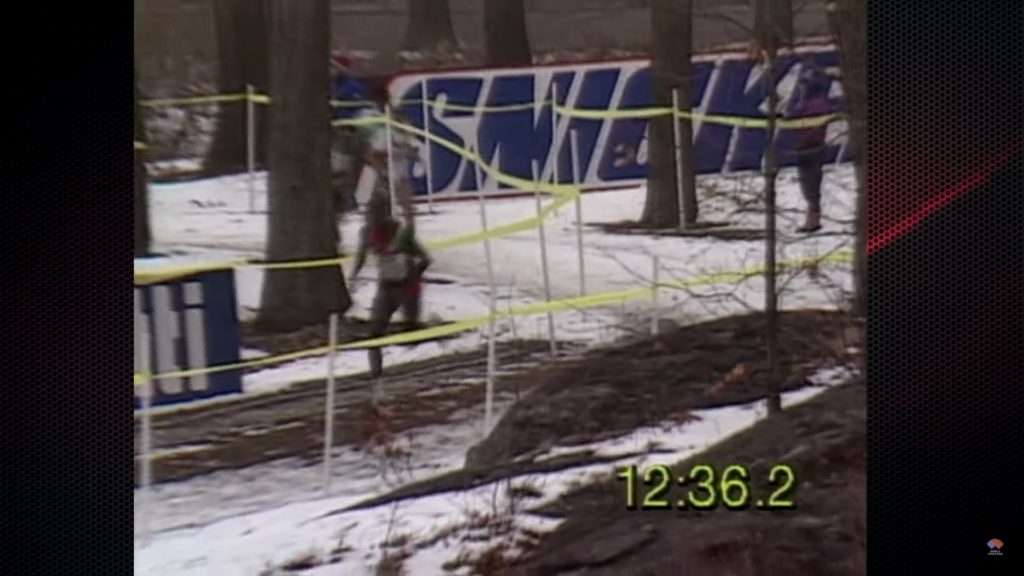 30:15 Kenya's long-striding, forward-leaning John Ngugi, who runs as if someone is holding his left arm back, takes the lead just after 3k and opens up a 20-meter lead.
Though Ngugi is the reigning Olympic 5,000 champ and won four straight World XC titles from 1986-89, Liquori notes he wasn't among the favorites coming into the meet: "Always dangerous, he certainly has been, as we say in America, sandbagging."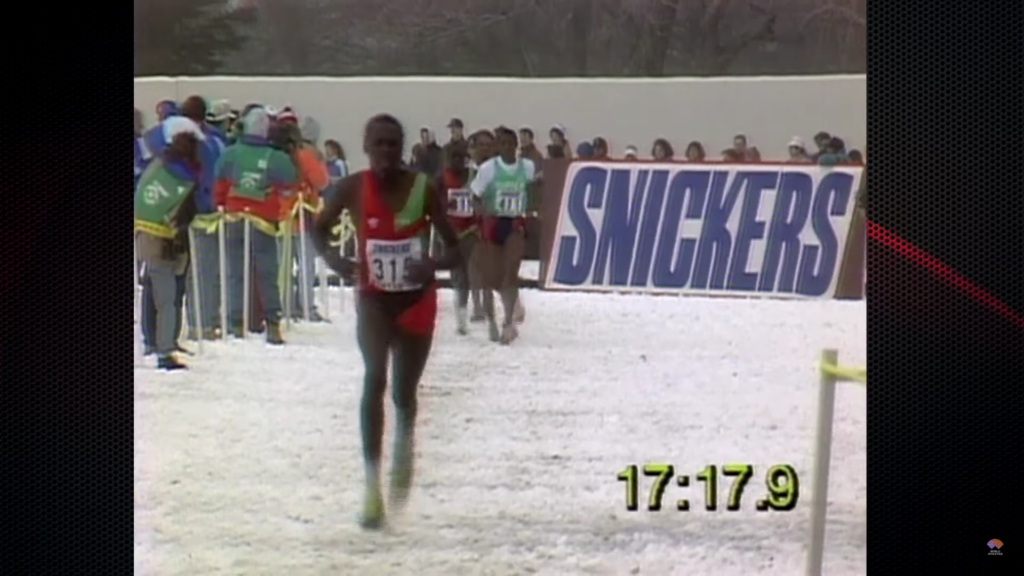 35:12 Ngugi, who has now extended his lead to 50m, is described by Masback as "naive" and "instinctive." Translation: this guy does not give a f***.
This is a guy who dropped a sub-60 in the first mile of the 1988 Olympic 5,000 final and was never caught and dropped a 58 (!!!) early in the 1990 Commonwealth 5,000 final and blew up spectacularly. Call him crazy, even reckless at times, but Ngugi won plenty of big races and his unorthodox stride seemed unaffected by tough conditions, as shown here and the mudbath that was 1989 World XC in Stavanger, Norway.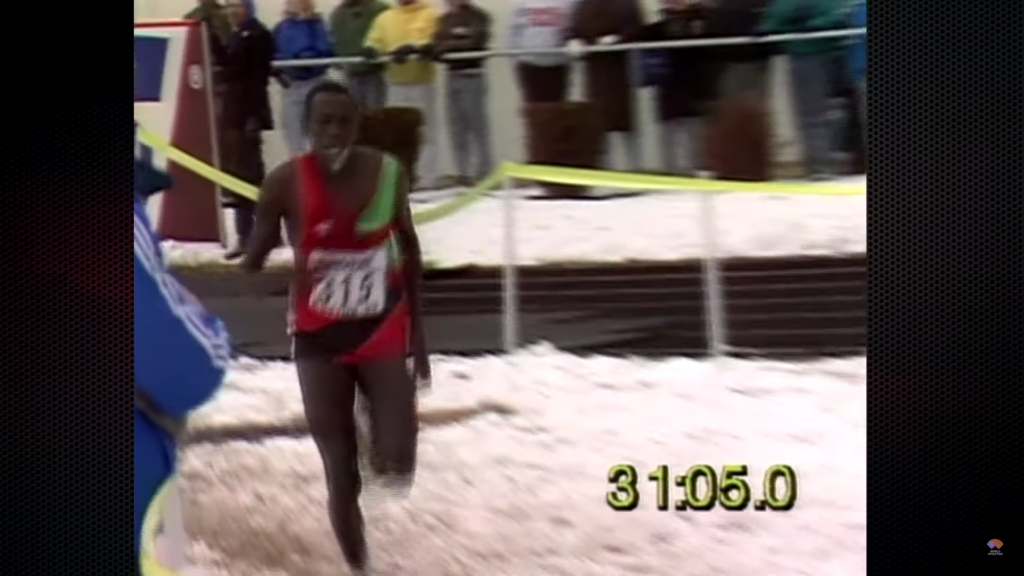 44:33 It's a little hard to tell by this image, but Ngugi is literally foaming at the mouth as he continues to pull away. Like I said, this guy doesn't give a f***.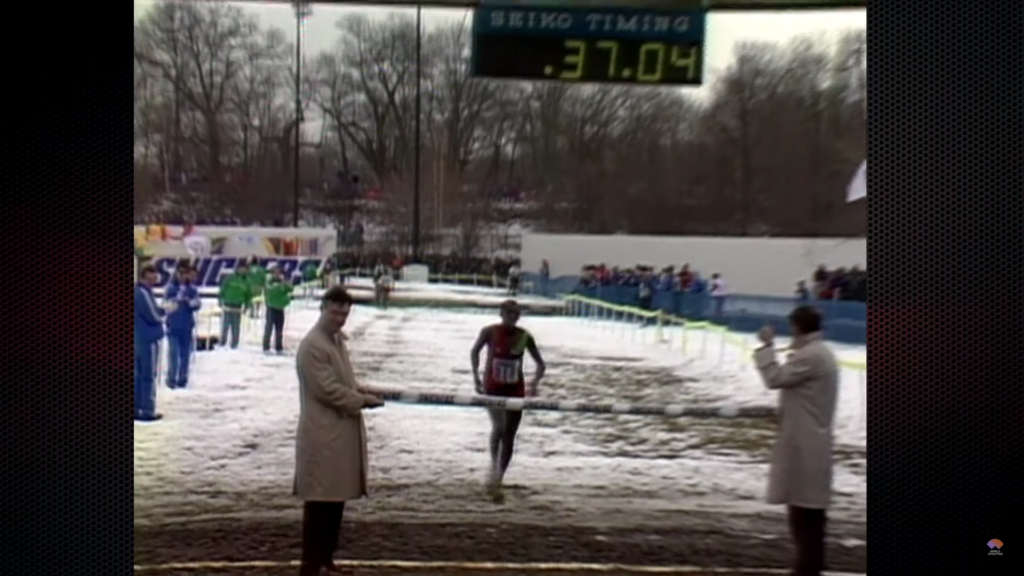 50:34 While Ngugi was a total badass, the men's race was pretty boring, truth be told. Once Ngugi took the lead at 3k, he was never challenged and won his then-record fifth World XC title comfortably in 37:05, 12 seconds ahead of Kenyan countryman William Mutwol. Skah, the pre-race favorite, winds up fourth, though he'd go on to win Olympic 10,000 gold in Barcelona that summer.
Ngugi, it's worth noting, was banned from the sport in 1993 for refusing an out-of-competition drug test, but contested the ban, arguing he was not properly briefed on the process. Though his four-year ban was eventually overturned after 26 months, his career never recovered. This was his last great victory.
Todd Williams winds up as the top American in 19th (37:51). Germany's Dieter Baumann, who would win the Olympic 5,000 that summer, was somehow only 52nd. Baumann was banned for nandrolone later in his career but disputed the findings.
***
That's it for this week. Check back next Thursday for the next installment.
*TBT #12: I Was Bored, So I Watched the Crazy 2004 Men's Olympic Marathon
*TBT #11: I Was Bored, So I Watched Craig Mottram Battle Augustine Choge In Melbourne at the 2006 Commonwealth Games
*TBT #10: I Was Bored, So I Watched Eliud Kipchoge & Kenenisa Bekele's Duel at 2005 World XC
*Previous entries