The Greatest Race You've Never Heard Of
By Jonathan Gault
February 1, 2015
(Editor's note: Sunday, February 1, 2015, marks the 25th anniversary of one of the greatest race finishes in track and field history – the final of the 1990 Commonwealth Games 5000. We became aware of the race while reading this messageboard thread last year: Best come from behind wins ever – and decided to the research necessary to tell the story of the epic race).
As the 14 finalists toed the line on February 1, 1990, for the final of the men's 5,000 meters at the Commonwealth Games, there was no indication that the fans in Auckland's Mount Smart Stadium were about to witness one of the most exciting races of all time. A Kenyan sweep seemed the most likely outcome: Kenyan Moses Tanui had claimed the silver medal in the 10,000 a few days earlier and would become world champion at 10,000 the following year before being history's first sub-60 13.1 man and winning the Boston marathon twice; Kenyan Yobes Ondieki ran the world's fastest time (13:04.24) the year before and would become world champion at 5,000 in 1991 and history's first sub-27 man in 1993.
Article continues below player
Like our coverage from Albuquerque?
And then there was Kenya's John Ngugi. At the time, Ngugi, 27, had already established himself as one of history's greatest distance runners. Ngugi had won the last four World Cross Country Championships and earned the gold medal at the 1988 Olympics with a dominating performance in the 5,000 meters (he would add another World XC title in '92). He was undoubtedly the favorite in the public's minds.
If anyone was to break up the Kenyan sweep, it was likely to be the English duo of Jack Buckner and Mark Rowland. Buckner's pb of 13:10.15 was faster than Ngugi's and the 29-year-old was an experienced championship racer: he was European champion and Commonwealth silver medalist in 1986 and took bronze at the 1987 World Championships. Rowland hadn't run the 5,000 as frequently but had earned Olympic bronze in 1988 in the steeplechase.
In this race, however, the form charts meant nothing. The three medals would go to an Australian, a Kenyan and a Welshman, two of whom set PRs on the day despite a modest winning time of 13:24.86. The race, which you can watch below, saw two separate falls, a massive last-lap comeback and a major upset victory. This is the story of that race, as told by the men who were there that day.
You should watch the video of the race if you don't know what happens as this is an oral history of the race.
Part I: The Crash 
The story of the 1990 Commonwealth Games 5,000 final begins five years earlier on a Friday night on Australian coastal road. Australian runner Andrew Lloyd, then 26, and his wife, Lynn, were driving to the Australian Institute of Sport in Canberra, where Lloyd trained. Suddenly, a truck came around the corner and collided with Lloyd's vehicle.
Andrew Lloyd: They had to cut me out [of the car]. They rushed me to hospital. I was asking, "Where's my wife?" One of the interns said, "She's dead," and I passed out. I woke up a few days later and saw half my body in traction. They told me I wasn't going to run again.
My [right] ankle bone was snapped right off. They put the bone back together and had to fuse it in one spot. I don't know how many operations I had — it could have been five in five years. I had trouble with my other (left) leg. I had to get a knee relactement after I retired because it took stress from my bad leg. (Lloyd also suffered injuries to his right arm in the crash).
Just trying to run again was hard. It was months, probably four months, before I ran again. I'd call it a walk/jog, if that. The first "run" I did, I tried to run around the block and my ankle was the size of a football. I went to the track and it took me 90 seconds to run half a lap. I thought it could only get better from there and I just got on with it.
For Lloyd, the physical recovery was only half the battle. He also had to deal with losing a spouse, right in front of him, and battling back to health without her support.
Lloyd: There were a number of times where it just got too much for me, and a friend of mine, Nick de Castella (brother of former marathon world record holder Rob) would talk me out of it. We'd go fishing together, go to the caravan (camping) together. We were best mates, still are best mates.
I was lucky because I was at the Institute of Sport and they had shrinks who could go and get you motivated. They talked me through some sticky moments, but I came out okay.
The Australian Institute of Sport had another key asset: Dick Telford. A former professional Australian rules football player, Telford took up running after he retired and was appointed as the first full-time sports scientist at AIS in 1980. At AIS, he worked closely with distance runners Carolyn Schuwalow (1988 Australian Olympian at 10,000, who would eventually become Lloyd's second wife) and Lisa Martin (who would win Olympic marathon silver in 1988 and two Commonwealth Games marathon golds (1986 and 1990) and marry/divorce Kenyan Yobes Ondieki), eventually becoming their coach.
Dick Telford: I'd met these girls, I was their physiologists, working out the best way for them to train individually. I knew them all and I suppose people knew that I was a keen runner myself. The other thing was, in my previous life in Melbourne, I was a professional football and cricket coach. It was always in the back of my mind to [coach distance runners] but I must admit when Carolyn approached me, I hadn't thought of it; I was too busy. But I couldn't say no. I thought I had to help them. Carolyn approached me first, and then I got interested in coaching runners. Then Andrew approached me. He walked into my office and asked me to coach him, that would have to be 1985 or 1986 [after Lloyd's injury].
Thirteen months after the accident, under Telford's tutelage and with bolts and pins still in his ankle, Lloyd ran the City to Surf, a 14K road race that attracted top Australian talent. Lloyd had won the race in 1983 and 1984, but it was his victory in 1986, in his fastest time ever (41:37), that meant the most to him.
Lloyd: [After the accident], I didn't have the flow I did before. Every time I raced [from then on], I was in pain afterwards. The ankle still hurts now.
[City to Surf] is a premier race to win in this country. There's only a few of us who have won it multiple times. That was the sweetest one, I think. It was nice to have the authority of being a good runner again.
Part II: The Buildup
Like 2014, 1990 was an "off" year for many runners as there was no Olympic Games or World Championships to peak for. With no World Indoor Championships either, most runners chose to focus on two major championships: the European Championships, to be held in late August, and the Commonwealth Games in Auckland, which would be staged in late January/early February so as to fall during New Zealand's summer.
Lloyd: [The Commonwealth Games] was the one we were peaking for; our training was aimed for it. We wanted to do well.
Mark Rowland: Europeans was always the focus, but we kind of double-periodized to have a marker indoors. In some ways, I suppose on reflection, I thought the steeplechase [at Commonwealths] would have been an interesting one. But I wouldn't have really done that because I hadn't done the specific steeple work.
John Ngugi: I was training to get the gold medal. I was feeling very strong. I was good in the training.
Brendan Foster (called the race for the BBC): I thought it was going to be a great race between John Ngugi, the Olympic champion, and Yobes Ondieki, the fastest man in the world the year before. I thought it was goning to be an exciting race because you had two of the best men in the world. [Also] Jack Buckner was the European champion at 5,000 and I thought he'd be in with a chance.
Telford: Andrew always used to say to me when I explained to him what his tactics were going to be building up to an event, "Don't worry about explaining that to me. You do the thinking, I do the running." I always remembered that and said, "Fair enough Andrew, that's the way we'll play it."
I remember my decision was to capitalize on his speed. I started coaching him far too late. If I had coached him earlier, he would have been a 1500 runner. I tried to work hard on maintaining his speed in that race.
Ngugi was one of the greatest runners ever. He won the World Cross Country four times, which is one of the most impressive feats in running. We had Yobes Ondieki, a world record holder (Ondieki would become the first human under 27:00 when he ran 26:58.38 on July 10, 1993). We had four or five guys who had run faster than Andrew. So I said there's got to be a way where we have a slow race so that he can be in the top four or five or possibly get a bronze medal.
First of all, I wanted to maintain his ability to run around 13:30 (Lloyd's PR at the time was 13:25.20). I had to maintain that, but the thing about it was that if the two or three real top runners went out and ran 13:10, then Andrew's not going to be with them. So something had to happen in that race and what I was hoping for was a very bad day — strong wind, wet and rainy. I was thinking the Kenyans might run against each other instead of with each other, and if they did that, it might be slower than normal.
The training toward the end was 5k race-pace work (13:30) and on top of those sessions, when he was tired, we'd go and put in anaerobic work. A typical session might be 6x1k and then a set of 200-300-400s after that, depending on how his legs felt.
Lloyd: Everything was going pretty well. I was training well (around 120 miles per week in the buildup; less as the race approached), my long runs were going well, I had a lot of speed. The plan just went perfectly really. We'd do reps of 1600 on the track. And I did them in about 4:25/4:28, sometimes 4:25 or less. Then afterwards I'd do four 400s with a lap jog and those were like 56, 56, 55, all after a hard workout. That was a good indication that even if I was tired I could still spin a good lap home. Four to five weeks before, we'd start doing more 400s and 600s and then 200s the week before.
Telford: There are some times where you're absolutely happy and wouldn't change a thing and that was one of those times. I tried to work on his 400 speed by itself and finishing speed, after hard workouts. Those things, I was absolutely happy with. I remember writing down in my diary that I wouldn't change a thing before he went into that race.
Given everything was going perfectly, I thought that the best possible outcome might be a bronze medal. I thought that would be fantastic. The Australian selectors weren't all that keen to get Andrew in. It was only toward the end that he got [onto the team].
Lloyd was in great shape, but he wasn't even the best runner training in Canberra at the time.
Telford: Yobes Ondieki was staying in my house. He was married to my runner, Lisa Martin. Lisa (born Lisa O'Dea) started her marathon career in the States with Jack Daniels. Lisa was married to an American, Ken Martin. Ken was a very, very good marathoner, he ran about 2:12 or 2:13 (Martin's pb was 2:09:38, set in his runner-up finish at the New York City Marathon in 1989). Ken coached her. Then she broke up from Ken and gives me a call from the States to ask if I could coach her.
Following that, she married Yobes Ondieki from Kenya. Lisa and Yobes stayed in our house for a few months leading up to the Commonwealth Games. Lisa won the marathon in Auckland very easily (she finished in 2:25:28, over seven minutes ahead of the silver medalist).
Yobes was always one to train by himself. Clearly I knew what he was doing, I'd go for an occasional run with him. But he liked to train by himself. He might have trained on the track while Andrew and my group were working out.
Rowland: [Ngugi's shape] was a bit unknown. He had come out of Kenya and he hadn't run [many races leading up to the Commonwealth Games]. We thought he wasn't in the best of shape. We thought he was vulnerable.
I don't think I'd ever gone into a race that big with my coach saying he expected me to win it. So I had expectations to win it. I knew I was aiming for the steeple at the European Champs and the 5k was a good way to stay in the frame as part of the training regimen I did for the winter season.
I was in pretty good nick (shape). I had run 3:37 for 1500. I had done some pretty fast training and in some ways probably too quick, probably too anaerobic to have a background for the 5,000. I've always hated the 5k. It was alwyas they hardest one for me. I've never been able to keep the concentration. I had a bad experience in '89 blowing up with 200m to go in Oslo (Editor's note: In that race in Oslo, Yobes Ondieki ran the 1989 world-leading time of 13:04.24).
Part III: The Falls
The race was held at Auckland's Mount Smart Stadium early in the evening of February 1, 1990. England's Eamonn Martin, who had won the 10,000 earlier in the games, was expected to be among the contenders but scratched from the event (Martin would go on to win the London Marathon in 1993 (2:10:50) and Chicago in 1995 (2:11:18)).
Telford: I was halfway up the bottom tier [of the stadium] amongst people that didn't know me. I don't get vocal. Once an athlete is on the track, they're not going to be able to hear me. Once they walk into the warmup room, that's the time I become relaxed because I know there's nothing more I can possibly do.
Lloyd: [My plan was to] stick with the main pack, don't go out with the fast guys. Run within myself at a certain pace, about 65-second pace and see what happens after that.
I was just more concentrated on myself. Sometimes you can overthink a race. I was more concerned about my race. I knew they'd go out hard. I was expecting Yobes Ondieki and John Ngugi to be in the first part of the field and let us kind of pick up the rest of the field. I think that went quite well. I wasn't running to win before the race. I think that changed halfway through the race.
[I figured it would probably be] Ngugi with Yobes hanging on. Then probably Jack Buckner and probably Mark Rowland, then maybe me or a Kenyan. I figured it out completely wrong.
Rowland: I would never have excepted the guys like Ian [Hamer] or Lloyd (to medal) in that race. In my mind, it would have been Eamonn Martin and Jack and maybe Ngugi. I didn't expect anyone else in the field to challenge for the medals.
New Zealand's Kerry Rodger took the lead early, running a pair of 65s for the first two laps. Just after 800 meters, disaster struck. Ngugi, running in the middle of the pack, hit the ground, taking Buckner with him as he tumbled to the track. Ngugi picked himself up and rapidly made up the ground the pack had put on him. In the 1988 Olympics, Ngugi had won the gold medal by gapping the field 1000 meters into the race and hanging on for the victory. Not wanting to risk another fall, Ngugi immediately attempted to employ the same tactics in Auckland. Within a lap, he had assumed the lead and was pushing the pace. He had covered the 400-meter segment from 850 to 1250 in 58 seconds. 
Ngugi: There was some guy, I don't know who, but he moved to the right and I fell down. I was feeling very mad. then I woke up very quickly and tried to go to the front. I decided to go rapid, rapid, rapid. Anytime I was on the track, I had to go to the front.
I didn't have a finishing kick. Always, I go from the front because I don't have a good finishing kick. So I have to run hard. If you're going quick, you can't beat me on the finishing kick.
Lloyd: I had no idea until he ran straight past me. I didn't realize he fell. [From then on], he did it the way I thought he would do, from the front.
Foster: It wasn't actually the fall that did him in, it was how he reacted. If he hadn't fallen, the gap with a lap to go would have been a little bigger and he wouldn't have been as tired. He ran about 2:00 for 800 after falling down from leading. He sapped a lot of his energy. I think if he hadn't done that, he'd have been leading by more [at the end].
Telford: I can still remember exactly what my thoughts were. First of all, as a technical coach, I was very one-eyed, looking at my runner to see how I think he's feeling, what his technique's like. I wasn't looking at anyone else, I just heard the crowd roar. I wondered what was going on. I looked back and saw someone down. I saw it was Ngugi and immediately I thought, it might not be a bad [weather] day (as he had hoped for), but here's something already that's changed the race somehow. And that's one thing we never considered — that someone might fall down. When he got up and ran up to the back of the pack, then at the back of the pack, then probably 40-50 meters ahead in very quick time, I thought to myself, you've got a runner there that's head and shoulders above everyone else in the world. That's amazing. He was showing his superiority and arrogance.
Ngugi led for the next lap, with Ondieki and Rowland following closely behind. They passed 1600 in 4:16 with the field strung out single-file. A few meters later, the unthinkable happened: another fall. Ondieki went down. For the second time in an 800-meter span, one of the favorites had fallen. Because Ondieki was second at the time of the fall, this one caused more carnage. Rowland lost his balance as he stumbled into lane two; Lloyd had no time to move out and had to hurdle Ondieki, taking one step on the infield before returning to the track. The rest of the field slowed down momentarily to avoid the carnage as Ondieki picked himself up. Ondieki would never recover and wound up ninth in 13:58.75, 10 seconds behind eighth.
Ngugi, who was leading at the time and thus the only man unaffected by his countryman's fall, saw his opportunity and seized it. He ran 61.91 for the next lap and opened a gap of almost 20 meters on the field. 
Rowland: All I remember was that I kind of hit the deck but bounced back quite quickly. I kind of stumbled but not as badly as some of the other people in that race.
Telford: I was dismayed when Yobes fell. I wanted a fair race and Yobes was a friend of mine. When I saw Yobes down and not get up like Ngugi, I felt a bit of real disappointment, even though he was one of the people I thought Andrew wouldn't get past. But there was something in the back of my mind with Yobes. I sort of knew he wasn't at his best. There was something that hadn't gone quite right with his training. A couple of the things he said to me, things weren't quite right.
Part IV: The Breakaway
During the second mile, the race really turned into three races. Ngugi continued to hammer at the front of the pack. Behind him, Rowland and Canada's Paul Williams, who had won the bronze in the 10,000 five days before and had a 13:22.68 5000 pb, separated from the rest of the field and worked together to reel in Ngugi. The rest of the field hung back, electing not to follow the leaders' hot pace. Williams and Rowland caught Ngugi at 2400 meters, but as soon as they did so, he again surged. They repeated this pattern over the next two laps, Williams and Rowland chasing Ngugi, only for the Kenyan to surge as soon as they caught him. Finally, after passing 3200 in 8:33.31 (13:22 pace) Ngugi separated for good, with his lead ballooning to as much as 40 meters with two laps to go. Lloyd had passed 3200 about five seconds behind Ngugi in a group of four that also included Rodger, Tanui and Wales' Ian Hamer. Lloyd's medal chances, slim to begin with, seemed non-existent with Ngugi, Williams and Rowland likely locked into the medals, but the Australian was executing his race plan perfectly, coming through 3200 almost exactly on 13:30 pace.
Telford: I was happy with [Andrew] back there because he was running at pace. I wanted him to be in some sort of control. If he had decided to run up with Ngugi or the other two, the danger might have been that he could have gone a bit lactic and maybe not unleash that speed. If he had been with those other two, that wouldn't have worried me. But that was his decision. I wanted him to run where he should have been running and if that's what he felt, that was fine with me.
Lloyd: I thought [Williams and Rowland] were going a bit too fast. If I went at that pace, I thought I'd hurt myself a bit too much. And after a few laps, I saw they were coming back to us.
I thought we'd pick them up. We were closing at a reasonable rate. It's always hard to run two guys versus four or five guys. I was in pretty good position.
Foster: When [Ngugi] fell over, he ran so quickly when he got up that I said eventually he'd pay for that. [Later in the race], my co-commentator (David Coleman) looked at me as if to say, "He hasn't paid for it yet."
Rowland: Paul Williams reacted, in some ways thankfully for me. My instincts were to go with Paul and I thought I'd go with him, he'd keep me closer to [Ngugi]. I didn't think about medals, I was thinking about winning it.
Then I was thinking those three laps after Paul hit it that I put myself so anaerobic that I thought even though [Ngugi] was in touching distance, it was pretty clear within four laps after the stumble [by Ondieki] that I didn't have it in my legs. I knew it wasn't going to be my day.
Part V: The Finish
From 3200 to 4400, Tanui, Rodger, Hamer and Lloyd steadily reeled in Williams and Rowland, catching them with 600 to go. But for all their efforts, they had been unable to gain any ground on Ngugi, whose lead was around 4.5 seconds (about 30 meters) at the bell. And then this happened:
Foster: It looked as though Mark Rowland was going to be a danger and it looked like the gap that was going to close was between [Williams/Rowland and Ngugi]. In my commentary, as the race went on, I said Ngugi's closed the gap too hard. With a couple laps to go, I thought I was wrong, but I wasn't. He was tired. Two laps to go, you'd be betting on Mark Rowland to get the silver or the gold.
Rowland: History tells we overcooked it. I think myself and Paul would have been the target for those guys to think they had a medal.
I knew I had Paul. Even with my legs being fatigued, [I thought] that I'd be able to sprint past Paul but they were coming down pretty hard. It was inevitable they were going to squeeze it down. I wanted to be able to take a breather, but my race had already been run really with Paul.
Lloyd: [Once we caught Williams and Rowland], my estimates [for my place] went up to about third. I thought I could get a place here because I knew I had good speed at the finish.
[At the bell], I didn't think [there was a chance of getting Ngugi] at all. When we started making our move with three-quarters of a lap to go, Tanui took the lead (for second), followed by Hamer. And then we went straight past Tanui, who didn't have that much speed. Hamer was powering on, I felt good and felt I could get him (Hamer) but I didn't think I could get Ngugi until about 10 meters to go. I thought I was going to run out of distance.
[Initially], I wasn't even considering chasing Ngugi. I was going to come round at the 200 mark and pick up Hamer, that was my plan.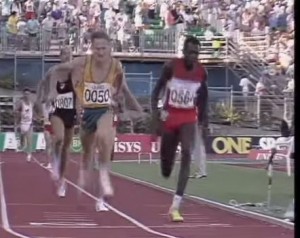 Foster: If you went to an athletics track anywhere in the world and took [the race video] to a younger audience and said with two laps to go, bet on the winner, nobody in the world would bet on Andrew Lloyd.
I remember having dinner with him a few weeks before and he was hoping he might get a medal. But even at the start of the last lap, I bet he would have settled for bronze. When I was saying I didn't think Ngugi had a big enough gap, I didn't think it would be Andrew Lloyd closing the gap.
Telford: The only time I was concerned was the last lap. I thought Andrew left it too late. I consider it fortunate that Hamer took off and Andrew followed him. If Hamer hadn't taken off, he would have been in a position to settle. Hamer, in many respects, was responsible for Andrew winning that gold medal. That's the only part I was frustrated with. I kept saying to myself that you've got to go now. I was so relieved that Hamer went. Andrew didn't have the confidence to do it himself at that stage because he hadn't run a race like that before.
I was hoping he would go for it at the bell, at the latest 300m to go. To me, [when Andrew went], I thought it was too late to use the fitness that he had. I didn't know what the others had, but I thought he had missed his chance at a medal.
Ngugi: [I didn't realize they were coming until] maybe 200 to go. Then I was relaxing because I thought I was going to win. I didn't know they were coming fast. I realized and tried to sprint, but I didn't make it.
Lloyd: It would have been different [without the falls]. No doubt about that. I would have been within five positions [of where I ended up], maybe third.
Lloyd passed Ngugi with around 15 meters to go and held him off for the win, 13:24.86 to 13:24.94, a PR for Lloyd and the first-ever gold at 5,000 for an Australian man. He covered his final lap in 56.95 seconds, with a 26.1-second last 200. Ngugi, who led from 1200 to 4985, could manage just 61.37 for his final 400 (29.1 final 200). Hamer amazingly PR'd by 20 seconds to take the bronze in 13:25.63. In the previous year's UK Championships, Hamer wasn't good enough to run in the fast heat and ended up a late addition to the Welsh team (attempts to contact Hamer were unsuccessful). It remains the only CG 5,000 medal by a Welshman.
Full results
1. Andrew Lloyd, Australia 13:24.86
2. John Ngugi, Kenya 13:24.94
3. Ian Hamer, Wales 13:25.63
4. Kerry Rodger, New Zealand 13:26.79
5. Moses Tanui, Kenya 13:28.31
6. Paul Williams, Canada 13:33.68
7. Mark Rowland, England 13:35.69
8. Patrick Carroll, Australia 13:48.16
9. Yobes Ondieki, Kenya 13:58.75
10. Paul McCloy, Canada 14:00.26
11. Charles Mulinga, Zambia 14:03.59
12. Jack Buckner, England 14:10.59
13. Malcolm Norwood, Australia 14:19.33
14. Roger Hackney, Wales 14:27.06
Lloyd: (On his feeling after crossing the line) Amazement. Just a great feeling. I was able to just relax finally. It was over.
[The victory lap] was a very quiet moment for me. The crowd was screaming but it was a funny feeling. It was hard to describe.
My dad ran up, came up and grabbed me. Dick Telford was over the moon, he was in the stands. My mom was home, but I got phone calls and stuff.
Telford: I've never coached for the money at all. You coach to enjoy moments like that — moments money can't buy.
The last 100 wasn't stressful, it was just exciting. For him to have gotten the silver would have been fantastic. Getting the gold was surreal. The Commonwealth Games — with the Kenyans and the Tanzanians — can be an incredibly high-quality event.
I was standing toward the back end of the home stretch. The thing that I remember, and I've got a photo of it, I just remember the look on his face. And I can't remember exactly what he said. The look on his face, which I captured in this shot, is all I can really remember.
Then he went up and did his lap of honor. I had brought an Australian flag. I remember moving around and I lost the flag. I must have dropped it with all the excitement. Andrew looked at me a bit cock-eyed. I think he found a flag from somewhere. I was just thinking, "What the hell did I do with that flag? What an idiot I am."
Ngugi: I was feeling very angry because I had prepared to win. The Commonwealth Games are not the Olympics though. I was happy that I had won the Olympics, but I was prepared to win the Commonwealths. If you're going to race, you prepare to win. But the Olympics are better than Commonwealths.
Rowland: It's one of those races I don't look back on with fond memories. It took me ages to watch that race again. [I viewed it as an] opportunity lost. I really had a feeling of mass disappointment. You're pretty self-centered as an athlete. I didn't get what I wanted to from it, so I didn't care too much about what happened up front. I was obviously very pleased for Andrew and Ian Hamer and those guys once I got to know them.
Apart from John (Ngugi), maybe Jack (Buckner), I was pretty confident I had an opportunity to win. They took their opportunity, that's what racing is and what makes it such a a great sport. I have no regrets for how I reacted. I think that's always the way I was.
It's now hammered home to me that I was never going to embrace the 5k from that point on. Mentally, maybe I wasn't tough enough for the 5k. I dusted myself down and got myself ready for Europeans and the summer (Rowland would win the silver in the steeple at Europeans that summer in 8:13.27).
Foster: At the end of the day, Ngugi, who at the time was probably the best distance runner in the world, can't afford to run uneconomically in a top-level 5,000. I think if he ran a sensible race, he could have won it.
I was delighted for Andrew because I knew him. I was also delighted because the rules of distance running are, you don't go crazy in the middle of the race. The rules of distance running prevailed, i.e. the guy that ran the most sensible race that day won the race. And the guy that could have won the race and should have won the race didn't. John Ngugi was one of the great distance runners of all time, one of the top two cross country runners of all time, but on the day he got overexuberant.
Telford: (The victory is)  not something we sat down and discussed, we just enjoyed it. We didn't go back and discuss it and that was typical of our relationship. He had got his name in Australian history, it was a personal record and that was it.
[Of the races I've witnessed], it's gotta be right up there at the very top. I've had a number of gold medalists in the Commonwealth Games, the most recent was Michael Shelley, he won the gold in the last one in Glasgow (in the marathon) and that was fantastic. So I can't separate those sort of races. But at the time, that was easily, easily the most enjoyable, the highest order, the most significant, whatever adjective that you want to use, that I had ever been involved in. Andrew's race is indelible.
Foster: It was brilliant. For British athletes and people, we've always respected the Australian sportsmen. And to be the first Australian to win the 5,000 at the Commonwealth Games — Ron Clarke tried and didn't do it — for him to be the first was a great occasion. I remember in 2006 watching Craig Mottram trying to do it but he met a Kenyan that was too good for him (Mottram got silver in 12:58.19 to Augustine Choge's 12:56.41). And in Auckland, a Kenyan met an Australian that was too good for him.
---
Epilogue
Brendan Foster continues to commentate on track and field for the BBC.
Dick Telford still works as a coach and sport scientist performing research at the University of Canberra.
Yobes Ondieki won the gold medal in the 5,000 at the 1991 World Championships and became the first man in history to break 27 minutes for 10,000 in 1993.
Mark Rowland went on to take silver in the 3,000 steeplechase at the 1990 European Championships. He now coaches the Oregon Track Club Elite in Eugene.
Moses Tanui won the gold medal in the 10,000 at the 1991 World Championships and became the first man in history to break 60:00 for the half marathon in 1993.
Ian Hamer went on to run 13:09.80 for 5,000 in 1992, a Welsh record that stands to this day.
John Ngugi won a fifth World Cross Country Championship in Boston in 1992. His career ended in 1993 after he was received a four-year ban from the IAAF for refusing to take an out-of-competition drug test. Ngugi blamed Athletics Kenya for a lack of information about out-of-competition testing, and though his ban was later reduced, he never returned to competitive running. He now runs the John Ngugi Foundation, which aims to discover and nurture young Kenyans with athletic talent.
Andrew Lloyd retired in 1993 and eventually separated from his second wife, Carolyn. He is now married to his third wife, Sue, with whom he has two children, 10-year-old twins Jackson and Cooper. He lives in the Sydney suburb of Gymea Bay, where he is the the director of Blueline Sports, a company that imports GU energy gels.