A Look Back at Duane Solomon's Career as the 1:42 Man Has Hung Up His Spikes
By Jonathan Gault
June 25, 2020
Duane Solomon, one of America's best 800-meter runners of the 2010s, announced his retirement on Saturday. A four-time US champion who finished 4th at the 2012 Olympics — universally regarded as the greatest 800 of all time — Solomon retires as the third-fastest American of all time over two laps, his 1:42.82 personal best trailing only Donavan Brazier and Solomon's former coach Johnny Gray.
Though Solomon, 35, only officially retired last week, he had raced sparingly in recent years — just three times since the start of 2017.
Article continues below player.
Solomon made his first World Championship team as a junior at USC in 2007, but unlike most 800 runners, who peak in their early 20s, Solomon did not emerge as a world-class athlete until age 27. That was in 2012, when Solomon dropped his personal best from 1:45.23 to 1:42.82 in the span of three meets.
First came the Olympic Trials, where Solomon broke 1:45 for the first time, clocking 1:44.65 in the final to earn the third spot on Team USA behind Nick Symmonds and Khadevis Robinson. A month later, he headed to Monaco, where he ran a huge pb of 1:43.44 to finish third and announce himself as a medal contender; in the process, he defeated Symmonds for the first time in 11 attempts. Finally, at the Olympics in London, Solomon ran 1:42.82 in the final to again defeat Symmonds and finish fourth behind David Rudisha's mesmerizing 1:40.91 world record. It remains the fastest time ever not to win a medal at the Olympics; in fact, it is the fastest 4th-place time in any 800 race in history.
Over the next few years, Solomon remained among the best in the world as his front-running style produced some incredible highs and humbling lows. None were more impressive than his first outdoor national title 2013, when, at his coach's urging, Solomon "took it to the Gray zone" and ran 1:43.27 — the second-fastest time ever at USAs — to snap Symmonds' five-year win streak at USAs. Four weeks later, Solomon became just the second American man to win a Diamond League 800, clocking 1:43.72 in Monaco. He'd wind up 6th at Worlds that summer.
Solomon added a second US outdoor title in 2014, but struggled with consistency after turning 30 at the end of that year. His penchant for taking races out hard occasionally left him spent by the home straight, most famously in the 2015 USA final, where Solomon, after leading through 700 meters (he hit 600 in a blistering 1:16.34) came to a complete stop midway down the home straight, eventually jogging it in in 3:08.74.
Solomon didn't fare much better in his final USAs at the Olympic Trials a year later. After running 1:45 to win Mt. SAC, Solomon entered with a decent shot at the team and looked to be cruising through to the semifinals with 125m to go, leading his heat in which the top three advanced to the semifinals. But rather than running hard down the home straight to preserve his spot in the semis, Solomon began shutting it down to preserve energy and was passed by three guys just before the line. The top four were separated by just .04. Solomon's rookie mistake proved costly — not only did he miss advancing to the next round by mere thousandths of a second, but the guy who beat him out for the final spot in the final, Charles Jock, wound up earning the third Olympic spot in the final three days later.
Though Solomon's prime was brief, he reached heights and times few Americans have matched and ran his greatest race on the biggest possible stage; he would have an Olympic medal had his 1:42.82 not come in the deepest race of all time. Below, enjoy some videos from his greatest (and one not-so-great) moments.
2012 Olympic Trials
Solomon took the lead on the back straight of the final lap, and though he would be passed by Symmonds and Robinson on the home straight, he hung on for the all-important third place.
The best moments here come after the race, though: Solomon collapsing onto the track, crying tears of joy, followed by his ecstatic coach Johnny Gray coming down to the track to congratulate him. You won't find any purer expression of the coach-athlete bond or what it means to become an Olympian.
LRC Nick Symmonds Wins Second Straight US Olympic Trials 800 In Style
2012 Olympics
This race, which LetsRun readers voted as the greatest of the 2010s, made Solomon the second-fastest American in history (at the time).
LRC Men's 800 Meter Final: David Rudisha Becomes A Legend By Winning Gold With A World Record In A Truly Historic 800
2013 USAs
Solomon took this one out in 50.10 and was never challenged, going wire-to-wire to win in 1:43.27 in one of the greatest 800 performances ever at USAs.
LRC Duane Solomon Goes Wire to Wire to Run World Leading 1:43.27 and Stop Nick Symmonds Streak of US Titles at Five
2013 Monaco Diamond League
Similar to his win at USAs a month earlier, Solomon got to the front by 200 and controlled things from there. He faced more of a challenge in the home straight, but ultimately held on to win in 1:43.72, .04 ahead of future world champ Pierre-Ambroise Bosse of France. Solomon was helped by the fact that this wasn't the strongest Diamond League field — none of the eventual 2013 Worlds medalists were entered, and David Rudisha was sidelined with injury — but a win is a win, and Solomon got it done at one of the sport's iconic venues.
LRC Duane Solomon Comes Through As The Favorite – Picks Up First Diamond League Victory
2015 USAs
There's blowing up, and then there's what Solomon did at 2015 USAs. On 1:41 pace through 600 and still leading with just 100 to go, Solomon gave up midway down the home straight after being passed by the eventual top three of Nick Symmonds, Erik Sowinski, and Cas Loxsom. Eventually, Solomon was passed by everyone else as well, and he fell to the track in despair before collecting himself and jogging it in.
Solomon almost broke the USA meet record with his 1:43.27 in 2013. Two years later, I'm fairly confident he did set a record: I don't think anyone will ever run slower than 3:08.74 in a US 800m final. You can watch the race here.
LRC Nick Symmonds Is Back, Wins 6th U.S. Title As Erik Sowinski And Cas Loxsom Punch Their Tickets To Beijing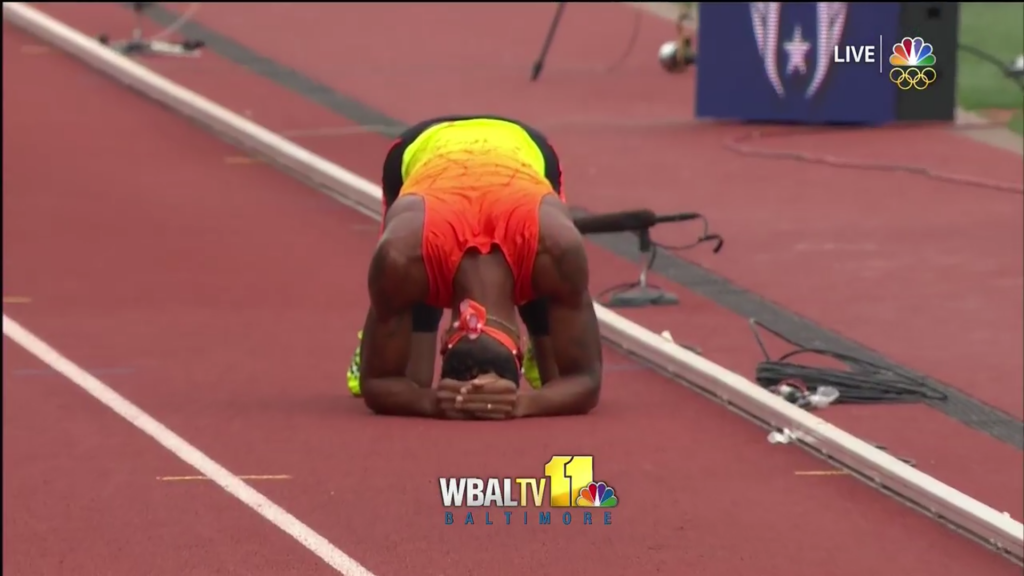 ---
Discuss Solomon's retirement here on the LetsRun messageboard: MB 1:42 Olympian Duane Solomon announces his retirement