David Rudisha's 1:40.91 WR Gold Medal Run Is LetsRun.com's Race Of The Decade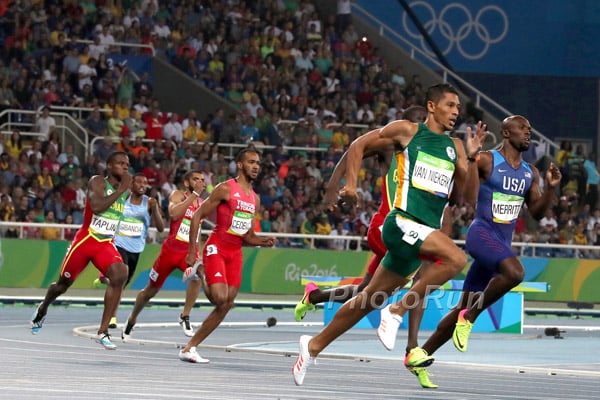 December 11, 2019 to December 23, 2019
By LetsRun.com
December 27, 2019
(Editor's note: Over the last two-plus weeks, we had a tournament to determine the RACE OF THE DECADE. You can find an overview of what went on here.)
In hindsight, it's clear that the other races in our 64-race March Madness-style tournament to determine the Race of The Decade really had no chance.
Article continues below player
How could any race expect to top David Rudisha's majestic wire-to-wire WR win in the men's 800 at the 2012 London Olympics?
On the sport's biggest stage (an Olympic final), without the help of a rabbit, Rudisha went out and front-ran history's only 1:40 800 meters — 1:40.91 to be exact — and in the process, he pulled everyone behind him to the fastest second, third, fourth, fifth, sixth, seventh and eighth place finishes. Virtually everyone in the race was in the form of their life (all but one PR'd), but Rudisha was simply better than all of them and anyone else in history.
(Note: All of the best time-for-place marks still stand seven-plus years later except for eighth place. At the 2016 Paris DL, Adam Kszczot ran .01 faster than Andrew Osagie's 1:43.77 for 8th.)
Thus, it should come as no surprise that Rudisha's London 2012 gold medal run is the winner of LetsRun.com's Race of the Decade voting contest. In the final, it trounced Eliud Kipchoge's 2:01:39 marathon world record from 2018 Berlin, 78.1% to 21.9%. The result was far from a surprise as Rudisha's race was utterly dominant throughout our contest, garnering at least 70% of the vote in every single round.
Yes, Kipchoge is a popular sportsman and him finally getting the official marathon world record was something most fans wanted to see, but in reality, little else about the race was exciting as he won by 4:44. Kipchoge's feat was all about the time — 2:01:39 — but just over a year later, that time seems less mind-blowing after Brigid Kosgei ran 2:14:04 in Chicago and Kenenisa Bekele 2:01:41 in Berlin this fall.
Congratulations David Rudisha, your 1:40.91 WR win at the London Olympics is LetsRun.com's Race of the Decade. Fans, relive that majestic race below.
LRC David Rudisha Becomes A Legend By Winning Gold With A World Record In A Truly Historic 800