Nick Symmonds Wins Second Straight US Olympic Trials 800 In Style
Veterans "KD" and Duane Solomon Join Symmonds On London Team as Solomon Breaks Into Tears of Joy At Finish Line
LetsRun.com
June 25, 2012
Eugene, OR - Favorite Nick Symmonds came through in a big way to capture his second straight Olympic Trials 800 title as he won in 1:43.92 - the fastest time ever run by an American at Hayward Field.
34 35-year old Khadevis Robinson "KD", who agonizingly finished fourth in 2008, made his second Olympic team by making a charge from 7th at 600 to 2nd at the line as he just nipped Duane Solomon for runner-up honors at the tape, 1:44.64 to 1:44.65.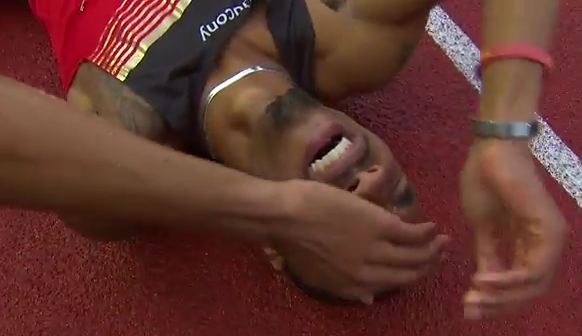 Tears of Joy For Duane Solomon
Solomon started to put his arms out to celebrate and didn't lunge at the line and lost second as a result, but we know that Solomon didn't care at all, as not only had the 2007 world championship team member finished third, he also had PRd and most importantly dipped under the IAAF 'A' standard of 1:45.50 for the first time in his career.
Immediately after finishing third, Solomon put his face in his hands before dropping to the track and crying uncontrollable tears of joy in front of a 22,000 + in attendance and a live national television audience. In a truly great moment captured live on tv, Symmonds walked over to Solomon and said "Stand up buddy, you are an Olympian." It simply doesn't get any better than that.
The Race
Even though it was his first Olympic Trials Final, Charles Jock was not going to change the way he runs...and that meant hard and from the front, taking through the field through 200 in 24.27. Jock still had the lead at 400 (49.87) and followed by Solomon and Oregon's Elijah Greer as they split 400 in 50.01 and 50.46. UCSB's Ryan Martin (50.73) was fourth and Symmonds (51.31) fifth.
But after the rapid early pace, the veterans would prevail.
Symmonds soon began to close the gap as he made a nice run on the backstretch. By 600 (1:16.52 for the leader), Symmonds seemed to be well on his way to victory as he was just .32 behind Solomon who had taken the lead from Jock.
While Symmonds was moving up on the backstretch, the 3435-year old KD was going nowhere as he was way back with 250 to go, seemingly entirely out of contact and tied for last place. What was wrong with KD? Nothing.
The former front-runner was saving his best for last. Who says you can't teach an old dog new tricks?
Next to last at 700, KD had the best last 200 of anyone in the field as he powered home in 26.83 (Symmonds was second best at 27.03) to pass 5 guys and book his ticket to London. KD and Symmonds would both pass Solomon but the 27-year old Solomon would hang on to third.
UCSB's Ryan Martin, who said after the semis he was running with a little bit to prove after a disappointing fourth place showing at NCAAs, closed well to get 4th but his 1:44.90 never really put a scare in the top three who held up pretty well over the last 50.
The man who had the third fastest final 200 of anyone in the field was Oregon Track Club's Tyler Mulder who closed in 27.24 to finish 5th in 1:45.02. Mulder, who had the lead in his semi on Saturday when he hit 600 in 1:18.81, found himself way back in 6th at 600 tonight even though he was more than a second faster today at 600 (1:17.79). After 600, Mulder seemingly tried to follow the flying Robinson to the finish, as Mulder made his move to the front from the back of the pack, but it ended up being a case of too little too late. As a result, for the third straight year, Mulder ended up being left agonizingly close to the top three (Mulder was 4th in 2010 and 2011).
Oregon's Greer, who went for it early on and on the backstretch, held together to get 6th in 1:45.40. 7th placer Mark Wieczorek had nothing to be ashamed of he ran a big PR of 1:45.62 (previous pb 1:46.00). The unsponsored runner has made the USATF final the last two years. Early leader Jock had nothing at the end and was last in 1:49.02.
---
Results, post race interviews and quick takes appear below.
QT #1: Nick Symmonds' 1:43.92 may have been the fastest time by an American ever at Hayward Field but it's far from the fastest time ever by an American in the Olympic Trials.
Check out the fastest times in US Trials history according to Ken Nakamura.
Fastest Times Ever Run In US Olympic Trials History
1 1:42.80 Johnny Gray 1 New Orleans 1992
2 1:43.67 Mark Everett 2 New Orleans 1992
3 1:43.74 Earl Jones 1 Los Angeles 1984
4 1:43.74 Johnny Gray 2 Los Angeles 1984
5 1:43.92 John Marshall 3 Los Angeles 1984
5 1:43.92 James Robinson 4 Los Angeles 1984
5 1:43.92 Nick Symmonds 1 Eugene 2012
QT #2: American record holder, Johnny Gray, who has two of the top times above is Duane Solomon's coach. Gray was seen on the NBC broadcast celebrating like crazy as Solomon's great run.
QT #3: Nick Symmonds has run under 1:44 four times in his life - once each in 2009, 2010, 2011 and 2012. It certainly seems like he's ready to do it again this year. The real question is can he medal in London? Symmonds thinks he's got a chance but also knows that the key is to get into the final. At the Olympics and world championships, the semifinals go from 24 to 8 in a single round - not 16 to 8 like here. In our mind, that's almost too harsh. Symmonds realizes how hard it is as well.
"I want to bring a medal back so badly. The semis are so unforgiveable. There are 24 guys towing the line. It's going to come down to a lot of luck and a lot of timing. But once you make the finals it's anyone's race."
QT #4: Symmonds has now won 5 straight US titles and made six straight US outdoor teams. KD's model of consistency continued as well as he's now made 9 of 11 US teams dating way back to 1999.
QT #5: With two personal bests and three more seasonal bests, most guys in this 800 final should be proud of the performance they came up with on Monday.
Mulder was emotional in the mixed zone as his Olympic dream must wait four years and he's now been 4th, 4th and 5th the last three years at nationals. He did run a season's best. The guy closes to going to London, 4th placer, Ryan Martin was justifiably pretty proud of the way he ran tonight (see interview below). Obviously, he'd liked to have been top three but it was a lot better than the way he ran at NCAAs this year (4th) or USAs last year (out in first round). The only guy who is probably really disappointed is Charles Jock as he just didn't look good in the semis or here and did not talk to the media afterwards.
QT #6: If you didn't watch the race on tv, you've got to watch the race replay and see Solomon's tears of joys and Symmonds coming over to greet him and help pull him off the track. It's sports drama at its finest.
| | | | |
| --- | --- | --- | --- |
| 1 | Nicholas Symmonds | Nike / Oregon TC Elite | 1:43.92 SB |
| 2 | Khadevis Robinson | Nike | 1:44.64 |
| 3 | Duane Solomon Jr | Saucony | 1:44.65 PB |
| 4 | Ryan Martin | U C S B | 1:44.90 |
| 5 | Tyler Mulder | Nike / Oregon TC Elite | 1:45.02 SB |
| 6 | Elijah Greer | Oregon | 1:45.40 SB |
| 7 | Mark Wieczorek | Unattached | 1:45.62 PB |
| 8 | Charles Jock | Nike | 1:49.02 |
| | |
| --- | --- |
| University of Oregon's Elijah Greer After 800m Final | Emotional Tyler Mulder after Not Making Olympic Team |
| KD Entertains At The 800 Team Press Conference | Unsponsored Mark Wieczorek After 800m Final |