Ritz vs. Webb vs. Hall – Who Was Better? A Pseudo-Scientific Breakdown
By Jonathan Gault
May 15, 2020
Dathan Ritzenhein retired last week, officially bringing an end to the "Big Three" era in American distance running. Unofficially, that era ended around a decade ago, when we transitioned from an age in which American fans were happy just to see one of their own contending against the world's best to one in which they have come to expect global medals and hope for major marathon victories.
When Ritzenhein, Alan Webb, and Ryan Hall graduated high school in 2001, American distance running had reached its nadir. Current high schoolers can be forgiven if this seems hard to fathom — reigning Nike Cross Nationals champion Nico Young was not born until 2002. But in 2000, only two US men and two US women had entered the Olympic Marathon Trials with the Olympic A standards of 2:14:00 and 2:33:00, respectively (by comparison, 39 men and 26 women hit those marks heading into the 2020 Trials). When Rod DeHaven and Christine Clark — neither of whom had the A standard — won those hot and hilly Trials, the US ended up sending only DeHaven and Clark to Sydney (Editor's note: USATF could have sent the two with the standard instead but wanted the Trials to mean something). It marked the first time since the inaugural Olympic marathon in 1896 — a 25-mile race in which seven of the eight finishers were Greek — that an American would compete in the Olympic marathon without a teammate.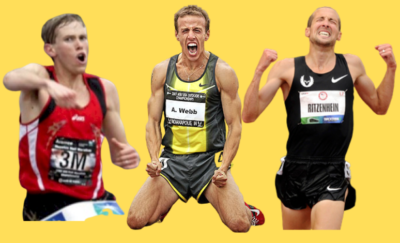 Things weren't much better on the track. Between the 2000 Olympics and 2001 Worlds, no American man finished higher than 10th in a distance event. The US women were shut out — zero finalists — in the 800, 1500, and 5,000 meters at the 2001 Worlds.
However as the US was bottoming out at the pro level, not one, not two, but three bright new hopes appeared on the scene. Ritz, Webb, and Hall were hardly the only Americans pushing the sport forward in the 2000s — Bernard Lagat, Meb Keflezighi, and Deena Kastor also deserve credit, among others. But, thanks to the internet, the class of 2001 stars were the first ones everyone could track from the very beginning of their careers. You didn't have to wait three weeks for Track & Field News to arrive in your mailbox to see what Webb had run in his last race; go on DyeStat and it was there within hours.
Each man broke barriers. Nearly four decades after Jim Ryun set the world on fire as a teenager, Webb's 3:53 mile at the 2001 Pre Classic during his senior year of high school reminded us what was possible for a young US miler. As a pro, Webb ran 3:46.91 for the mile and crushed the world's best in the 1500 in Paris in 2007. Ritz medalled in events — World Cross Country (junior race), World Half Marathon — where American men weren't supposed to medal anymore. Hall was the first American to crack 60:00 in the half; of the 58 men to break 2:05 in the marathon, he remains the only one born outside of Africa.
Article continues below player.
Though all ultimately fell just short on the biggest stages — none earned an Olympic or World Championship medal on the track or won a major marathon — they gave an entire generation of runners permission to dream. Webb may not have won Worlds in 2007, and Hall may not have won Boston in 2011, but it wasn't hard to imagine that they could have, had a few things broken their way. Those hypotheticals eventually became reality for American distance runners. Just not for the Big Three.
Now all three are retired. And while the book is closed on their careers, the debate will never die. It's the same debate we've been having for 20 years, dating back to their first meeting at the 2000 Foot Locker Cross Country Championships: who is the best? On that day in Orlando, Ritz was without a doubt, but the answer has changed over the ensuing two decades, each man spending time at the top and at the bottom.
It's the perfect argument. All achieved a similar level of success. And though they all raced each other during various points in their careers, each specialized in a different event, which means no one was able to definitively assert their dominance over the other two.
Even now, there's no obvious answer. I know people who think Ritz has to be first; I know others (like my bosses) who think it has to be anyone but Ritz. When I ran a poll last week asking who had the best career, 37% voted for Hall, 36% for Ritz, and 27% for Webb. Please find me a three-option poll about anything that is more even than that.
Clearly, deciding who had the best career is a fool's errand. No one would be dumb enough to try to crown a definitive winner, right?
Wrong.
Come on guys. This is LetsRun.com. Every running debate either originates on our messageboard or eventually finds its way there. Do you think the Johnson brothers would allow me to draw a paycheck without at least attempting to tackle this question?
Defining "best career" is inherently subjective, but I've decided to take a somewhat methodical approach and break it down into 10 categories. You win the category, you get one point. Most points wins. Simple enough?
One note: not every category will be strictly performance-based. This whole exercise is a bit silly anyway, so we may as well have some fun with this.
***
What Do the Scoring Tables Say?
The simplest, most objective measure of greatness: one point to whoever achieved the single best performance during the course of their career according to World Athletics' scoring tables. Easy enough to figure out.
Well, shit. Webb beats Ritz — his 3:46.91 mile is worth 1242 points to Ritz's 1224 points for his 12:56.27 5,000. But whether Hall beats Webb depends on whether you're allowed to count his severely wind-aided 2:04:58 at the 2011 Boston Marathon. 2:04:58 is worth 1254 points; Hall's second-best marathon, his 2:06:17 at 2008 London, is worth just 1229.
I'm making an executive decision. Hall's 2:04:58 doesn't count as an American record, so I'm not counting it here, either. Point, Webb.
Scores: Webb 1, Ritz 0, Hall 0
Head to Head
After doing my best to scour high school, college, and pro results, I've compiled the all-time head-to-head records between Ritz, Webb, and Hall (if I missed any races, please let me know). Ritz earns the point here as he was 5-2 against Webb and 9-3 against Hall (Webb was 3-2 against Hall).
A couple other fun facts:
The Big 3 competed in the same race just twice: 2000 Foot Locker XC and 2001 NCAA XC. In each race, the order was Ritz-Webb-Hall.
Most people know about Webb stepping up in distance and running 27:34 to beat Ritz in his 10,000 debut at 2006 Payton Jordan. But did you also realize Webb lost a 1500 to Hall two months later? Apparently training for the 10k cost Webb some speed.
Ritz vs. Webb
| | | | | | |
| --- | --- | --- | --- | --- | --- |
| Event | Date | Location | Distance | Ritz | Webb |
| Foot Locker finals | 12/11/1999 | Orlando | 5k XC | 1st, 14:29 | 8th, 15:05 |
| Foot Locker finals | 12/9/2000 | Orlando | 5k XC | 1st, 14:35 | 2nd, 14:55 |
| NCAA XC | 11/19/2001 | Greenville, SC | 10k XC | 4th, 29:11 | 11th, 29:38 |
| Prefontaine Classic | 6/4/2005 | Eugene | 2 miles | 6th, 8:23.45 | 2nd, 8:11.48 |
| Payton Jordan | 4/30/2006 | Stanford | 10,000m | 2nd, 27:35.65 | 1st, 27:34.72 |
| Prefontaine Classic | 6/10/2007 | Eugene | 2 miles | 4th, 8:11.74 | 9th, 8:23.97 |
| Oxy | 5/17/2013 | Los Angeles | 5,000m | 2nd, 13:17.38 | 16th, 13:46.53 |
| | | | Wins | 5 | 2 |
Ritz vs. Hall
| | | | | | |
| --- | --- | --- | --- | --- | --- |
| Event | Date | Location | Distance | Ritz | Hall |
| Nike Indoor Classic | 3/12/2000 | Bloomington, IN | 2 miles | 1st, 8:52.94 | 3rd, 9:03.01 |
| Foot Locker finals | 12/9/2000 | Orlando | 5k XC | 1st, 14:35 | 3rd, 14:59 |
| NCAA XC | 11/19/2001 | Greenville, SC | 10k XC | 4th, 29:11 | 76th, 30:43 |
| NCAA XC | 11/24/2003 | Waterloo, IA | 10k XC | 1st, 29:14 | 2nd, 29:15 |
| USA XC | 2/19/2006 | New York | 12k XC | 4th, 35:27 | 1st, 34:38 |
| USAs | 6/23/2006 | Indianapolis | 5,000m | 3rd, 13:16.61 | 8th, 13:40.55 |
| Spitzen Leichtathletik | 7/6/2006 | Lucerne | 5,000m | 1st, 13:25.46 | 4th, 13:34.89 |
| USAs | 6/21/2007 | Indianapolis | 10,000m | 3rd, 28:31.88 | 7th, 28:51.77 |
| US Olympic Trials | 11/3/2007 | New York | Marathon | 2nd, 2:11:07 | 1st, 2:09:02 |
| USA XC | 2/16/2008 | San Diego | 12k XC | 1st, 35:03 | 5th, 35:50 |
| Olympics | 8/24/2008 | Beijing | Marathon | 9th, 2:11:59 | 10th, 2:12:33 |
| US Olympic Trials | 1/14/2012 | Houston | Marathon | 4th, 2:09:55 | 2nd, 2:09:30 |
| | | | Wins | 9 | 3 |
Webb vs. Hall
| | | | | | |
| --- | --- | --- | --- | --- | --- |
| Event | Date | Location | Distance | Webb | Hall |
| Foot Locker finals | 12/9/2000 | Orlando | 5k XC | 2nd, 14:55 | 3rd, 14:59 |
| Arcadia Invitational | 4/14/2001 | Arcadia, CA | Mile | 1st, 4:01.81 | 4th, 4:08.37 |
| NCAA XC | 11/19/2001 | Greenville, SC | 10k XC | 11th, 29:38 | 76th, 30:43 |
| adidas Track Classic | 5/21/2006 | Carson, CA | 2 miles | 6th, 8:33.92 | 4th, 8:26.26 |
| Flanders Cup | 7/1/2006 | Oordegem, Belgium | 1500m | 12th, 3:46.14 | 6th, 3:43.90 |
| | | | Wins | 3 | 2 |
Scores: Webb 1, Ritz 1, Hall 0
Best Celebration
Does Ritz have any iconic celebrations? He never won a US title or a marathon. The closest thing I can think to is his signature move of looking like he's going to die once he's finished a race.
Webb is best known for screaming loudly and flexing his humongous (for a distance runner) muscles. This celebration, after his win at the 2004 Olympic Trials, was captured nicely by NBC.
The raw emotion of Webb is awesome. But he only earns the silver medal here.
That's because Hall spent the last two minutes of the 2008 Olympic Marathon Trials celebrating his win and still crushed a 62:45 second half on the Central Park hills. Do you know how far ahead you have to be to be able to celebrate for two minutes? The celebration itself is nothing special — Hall mostly raises his arms to pump up the crowd — though to be fair, it's hard to get creative with your celebration while you're still running the race. Watch this and try not to get inspired:
Scores: Webb 1, Ritz 1, Hall 1
High School/College Success
Hall ran 3:42 in high school and won four California state titles; in college, he was NCAA 5,000 champ as a senior.
Webb was the first high school boy to break 4:00 in the mile in 36 years and set a high school mile record that has not been challenged 19 years later. In his only NCAA campaign, he was 11th at NCAA XC and 4th at NCAAs in the 1500.
Ritz won two Foot Locker titles in high school, earned a bronze in the junior race at World XC, and ran 13:44.70 for 5,000, just .70 off Gerry Lindgren's high school record. In college, his 27:38.50 for 10,000 was an American collegiate record and #3 NCAA all-time when he ran it; he finished in the top 4 at NCAAs six times, including a win in the most important collegiate race: NCAA XC.
This category is slightly unfair to Webb, considering he turned pro early and was winning US titles during what would have been his junior and senior years of college. So Ritz gets the nod. He was an NCAA XC champ in college and the greatest high school cross country runner ever.
Scores: Webb 1, Ritz 2, Hall 1
Performance in Global Championships
Hall made three US teams: he was eliminated in the heats of the 5,000 at the 2005 Worlds, finished 10th in the 2008 Olympic marathon, and DNF'd the 2012 Olympic marathon. Webb also made three teams, all in the 1500: he went out in the first round of the 2004 Olympics before placing 9th (2005) and 8th (2007) at Worlds. Ritz made three Olympic teams (compared to two for Hall and just one for Webb) plus World Championship teams in 2007, 2009, 2013. In those six appearances, he went: DNF ('04 Olympic 10k), 9th ('07 World 10k), 9th ('08 Olympic marathon), 6th ('09 World 10k), 13th ('12 Olympic 10k), and 10th ('13 World 10k).
Any way you slice it, Ritz wins handily. He had the single highest placing and made as many teams as Webb and Hall combined. And this isn't even counting his medals at World XC (bronze in the '01 junior race) and World Half (bronze in '09).
Scores: Webb 1, Ritz 3, Hall 1
Domestic Dominance
To get a measure of how these guys stacked up against their domestic peers, I'll be using a combination of US titles and Track & Field News' US rankings. Here are the numbers:
Webb

3 US outdoor titles (all 1500), 1 US indoor title ('07 mile)
US rankings: 1 #1, 2 #2
Ritz
0 US outdoor titles, 1 US road title ('05 10k), 3 US XC titles ('05, '08, '10)
US rankings: 2 #1, 5 #2, 7 #3
Hall
0 US outdoor titles, 4 US road titles ('06 20k, '07 HM, '07 marathon, '10 7 mile), 1 US XC title ('06)
US rankings: 4 #1, 2 #2
Webb has three US outdoor titles to zero for Ritz and Hall, but it's hard to hold the lack of track titles against the other two considering Hall was a marathoner for the majority of his pro career and Ritz vacillated between the track and roads and had to go up against Galen Rupp on the oval (that said, Webb took down Bernard Lagat and future Olympic medalist Leo Manzano to win the '07 outdoor 1500 title).
This comes down to Ritz and Hall. Ritz put up 14 top-3 US rankings, which is way more than Hall's six. But during an incredible six-year stretch from 2007 through 2012, Hall earned four US #1 rankings — double Ritz's two. And in the two years he wasn't ranked #1 during that stretch, Hall was #2 behind only Meb Keflezighi — one of America's all-time greatest marathoners. Hall gets the nod.
Scores: Webb 1, Ritz 3, Hall 2
International Dominance
Okay, "dominance" might not be the best word here. None of these guys were ever dominant on the international scene. But who came the closest? Put differently: was there ever a point where any of these guys were the best in the world in their event?
Ritz, despite definitively owning the best record in global championships, was the farthest from achieving international dominance. In his two best races — 12:56 in Zurich, 60:00 to earn bronze at the World Half — Ritz finished a well-beaten third. In the others, he was never even in consideration to win.
Hall is a slight improvement. He may never have won a World Marathon Major, but he was frequently in the lead pack, and his 2:06:17 pb meant he had to be considered a threat to win. That said, he earned just one podium finish in a WMM (3rd at '09 Boston when he ran 2:04:58) and was never ranked in the top 10 in Track & Field News' world rankings.
Webb twice ranked in T&FN's top 10 for the 1500 (7th in '05, 6th in '07). More importantly, for a few weeks in the summer of 2007, he was the world's best miler. After beating Bernard Lagat at the Reebok Grand Prix and USAs, Webb headed to Europe, where, in the span of 21 days, he ran a world-leading 3:30 to win the Paris Golden League, ran 3:46.91 to break Steve Scott's American record in the mile (no one has run a faster mile since), and clocked a 1:43.84 800 pb (the #2 time in the world that year). Neither of the other two could every say they were the best in the world. Point, Webb.
Scores: Webb 2, Ritz 3, Hall 2
Biggest Ass-Kicking vs. Rivals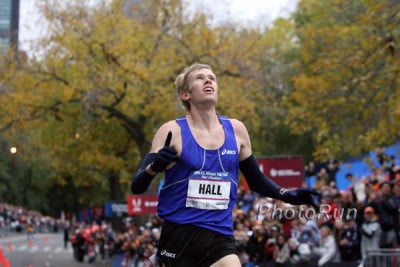 Webb stepped up and shocked Ritz over 10,000 meters in 2006 — it remains absurd that he ran 1:43 and 27:34 within a 15-month span — but that was a humbling and not really an ass-kicking as Ritz was less than a second behind.
Really, this category comes down to two races: Ritz's win at 2000 Foot Lockers and Hall's win at the 2008 Olympic Marathon Trials. In the former, Ritz turned the most-hyped high school cross country race in history into a blowout, setting a FL record (but that was during the brief period when it was run in Orlando) with his 20-second margin of victory. In the latter, Hall crushed everyone over the hills of Central Park, winning by 2:05 over runner-up Ritzenhein.
As legendary as Ritz's FL win was — he gets an added bonus for smoking Webb and Hall — this category has to go to Hall. In the United States, the Olympic Marathon Trials is distance running's biggest stage, and Hall was utterly dominant.
Scores: Webb 2, Ritz 3, Hall 3
Best Range
Hall was a very good 5,000-meter runner — he was the NCAA champ as a senior at Stanford, and ran 13:16 at USAs as a 22-year-old to make the World Championship team. But he also didn't run a track race beyond age 24.
Ritz had terrific range — in 2009 alone, he ran 12:56, 27:22, 60:00, and 2:10:00, and he ranks #3 all-time in the US in the 5,000 and #4 in the marathon. Not bad at all.
But this has to go to Webb. Per World Athletics, of the 135 men to break 1:44 for 800, Webb and Saïd Aouita are the only ones who even attempted to run a 10,000 on the track — let alone run 27:34.
Scores: Webb 3, Ritz 3, Hall 3
Best Nickname
Ritz wins this by default, since Webb and Hall didn't have nicknames. In fact, modern track & field has a distinct lack of nicknames compared to other major sports. Are "Ritz" and "Centro" really the best we can do?
You know what? I'm not giving Ritz credit for this. Ritz isn't a nickname, it's just an abbreviation of his last name. No points for anyone.
Most Iconic Moment
Candidates:
Ritz's 12:56 American record in the 5,000
Webb's 3:53 high school mile record
Hall's 59:43 American record in the half marathon
Objectively, 12:56 and 59:43 are more impressive than 3:53. But most iconic? It has to be Webb.
Every distance runner races the mile at some point in high school. So everyone can appreciate how insane 3:53 is. But Webb's run — which came at Hayward Field, the cathedral of US running — was about more than the time. America loves athletic phenoms, and there's no better way to announce yourself as one than by destroying a 36-year-old record held by phenom-turned-legend Jim Ryun.
The race resonated across the world of sports and turned Webb into a househould name. He went on Letterman. He met the president. SportsCenter showed the USA 1500 final live in 2001, solely because of Webb. How many other 21st century American track athletes have reached that level of fame?
More than anything, 3:53 is the race that turned Alan Webb into Alan Webb. During his professional career, every Webb race felt like a must-watch, simply because of what he might be capable of doing. That feeling was born on May 27, 2001, with a 3:53 mile that made you think anything was possible.
Point, Webb.
Scores: Webb 4, Ritz 3, Hall 3
| | | | |
| --- | --- | --- | --- |
| | Ritz | Webb | Hall |
| Scoring Tables | 0 | 1 | 0 |
| Head to Head | 1 | 0 | 0 |
| Best Celebration | 0 | 0 | 1 |
| HS/College Career | 1 | 0 | 0 |
| Global Championships | 1 | 0 | 0 |
| Domestic Dominance | 0 | 0 | 1 |
| International "Dominance" | 0 | 1 | 0 |
| Biggest Ass Kicking | 0 | 0 | 1 |
| Best Range | 0 | 1 | 0 |
| Best Nickname | N/A | N/A | N/A |
| Most Iconic Moment | 0 | 1 | 0 |
| Total | 3 | 4 | 3 |
***
So there you have it. By my pseudo-scientific analysis, Webb edges out Ritz and Hall for best career. I'm sure no one will have any issues with this and we can all stop arguing now.
(Editor's note: With that last sentence, we remind you that sarcasm/humor is often lost on the Internet. People were debating this nine years ago on LetsRun.com — MB As of right now who has had a better career: Ritz, Hall, or Webb?  — and they'll be debating it for longer than that moving forward).
What do you think? Be a fan and tell us who had the better career on our fan forum/messageboard: MB: Now that they are all retired, who had the better career – Dathan Ritz, Alan Webb or Ryan Hall? .
Related Podcast: LRC Podcast: Who Had The Better Career – Ritz, Webb Or Hall?