The Casual Fan's Five-Minute Guide to the 2020 US Olympic Marathon Trials
By Jonathan Gault
February 27, 2020
If you're a regular to LetsRun.com, you've probably been thinking about the 2020 US Olympic Marathon Trials since a few minutes after the 2016 Trials concluded. You've also probably read most of our pre-race coverage of the 2020 Trials, which will be held in Atlanta on Saturday (you can find it all here).
But quadrennially the Trials give the sport an opportunity to expand its reach beyond the LetsRun diehards (whom we love) and draw in the viewer running has long coveted: the casual sports fan. When an athlete makes the Olympic Trials, suddenly aunts, uncles, co-workers, friends – lots of people who've never paid attention to running – are very much into it. And with the Trials being shown live on NBC at 12:00 p.m. Eastern Time (the men go off at 12:08, the women at 12:20), this preview is for them.
Article continues below player
If you're a casual fan: welcome! We're happy to have you, and hopefully after reading this article, you'll have a better idea of what's going on this weekend. And if you're a LetsRun regular, by all means keep reading. But also maybe tweet this article out, show it to your family or significant other, or email it to your friends. Because there aren't many better opportunities to convert new fans than the greatest of all American marathons: the US Olympic Trials.
Let's get started by hitting a few FAQs before getting into who you should be rooting for.
Why is this race so important?
It's the only race every four years where the best marathoners in the United States all show up and race each other on the same day. The top three automatically qualify to represent the US at this summer's Olympics in Tokyo (technically Sapporo, since that's where the marathons will be). It's cruelly, beautifully simplistic, and the battle for third always produces drama.
Where is it being held?
Atlanta. A big part of Atlanta's bid was channeling the Olympic legacy of the 1996 Games: the course begins and ends in Centennial Olympic Park and runs under the Olympic rings and Olympic Cauldron, which will be relit for the race.
It is also going to be hilly. Though the course is only seven feet net uphill, it features a total of 1,389 feet of climbing and 1,382 feet of descending. You're either going uphill or downhill the entire way — which will take its toll by the time the runners tackle the course's main eight-mile loop for the third time.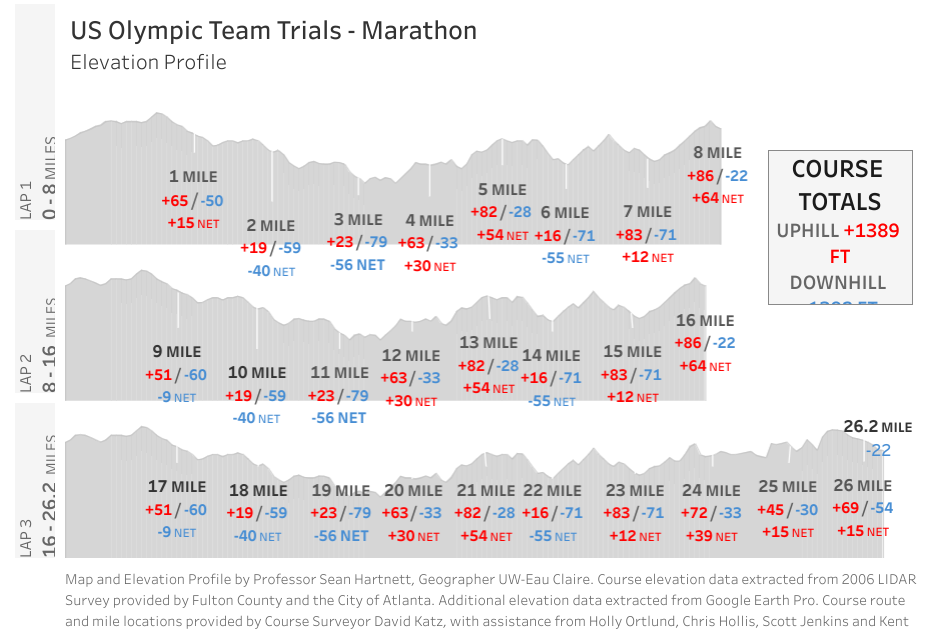 (Related: LRC Mile-By-Mile Analysis Of How The Hills Will Impact The 2020 US Olympic Marathon Trials)
Who's running?
Any American who hit the qualifying standard (2:19:00 full or 1:04:00 half marathon for men, 2:45:00 full or 1:13:00 half for women) is eligible to compete. In all, 261 men and a staggering 510 women (a record) qualified, in part due to a massive breakthrough in shoe technology courtesy of Nike's Vaporflys (for more on that, click here).
Who should I root for?
The toughest question, and one I can't answer for you. Instead, I've compiled this quick guide to the top athletes in each race. Pick your favorites and enjoy the races!
Men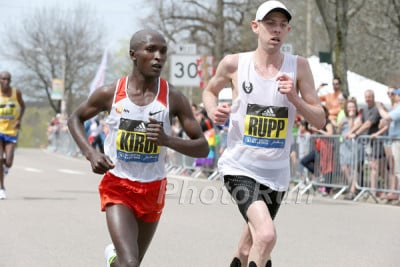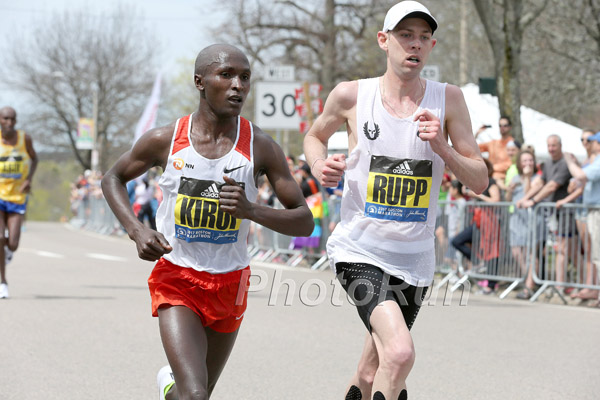 Galen Rupp (2:06:07 personal best): One of America's greatest-ever distance runners and a two-time Olympic medalist (including marathon bronze in 2016), the media-shy Rupp is the favorite. Two concerns. #1, Rupp underwent Achilles surgery in October 2018 and dropped out of his comeback race in October 2019 with an injury. #2, Rupp is operating without the man who has coached him since he was a high schooler, the controversial Alberto Salazar, who was banned from the sport for four years for multiple anti-doping rule violations. Rupp, who was Salazar's golden boy/personal science project, has chosen Northern Arizona's Mike Smith, one of the top coaches in the NCAA, to replace Salazar.
Leonard Korir (2:07:56 pb, 33): Born and raised in Kenya, Korir came to the US for college at Iona and gained American citizenship by joining the Army. Stoic and soft-spoken, he has run exceptionally well on the track and roads but has only run one marathon. However, that marathon, in Amsterdam in October, was the fastest debut ever for an American (2:07:56).
Jared Ward (2:09:25 pb, 31): A devout Mormon who doesn't train on Sundays, Ward was 6th at the 2016 Olympics, dabbles as a statistics professor at BYU (he wrote his thesis on marathon pacing strategy), and appeared on Shark Tank in October. He also has four kids and was described by rival marathoner Scott Fauble as "the nicest, most wholesome person I've ever met."
Scott Fauble (2:09:09 pb, 28): Fauble is a no-bullshit, tell-it-like-it-is guy. Literally. He's one of the few pro runners who makes his training log public and even wrote a book detailing every day of his preparation for the 2018 New York City Marathon. He's also a massive fan of burritos. He beat Ward to finish as the top American in Boston last spring after finishing just behind in New York. If everything goes according to form, Fauble and Ward will be waging another tight battle for the final Olympic spot.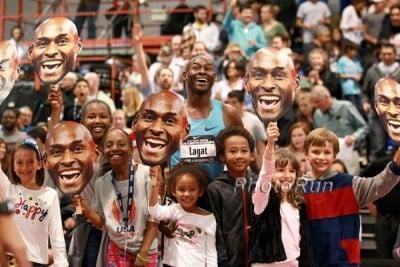 Bernard Lagat (2:12:10 pb, 45): At 45 years old, the Kenyan-born Lagat, who became a US citizen in 2004, is the oldest runner in the field and is seeking a sixth (!!!) Olympic team. In adition to his age, the crazy thing about Lagat is he is best known as being the 2nd fastest miler in history. His 1500 personal best of 3:26.34 converts to a 3:42.89 mile. Elite 1500 runners almost never become elite marathoners. If he makes the team, it will make all sorts of history.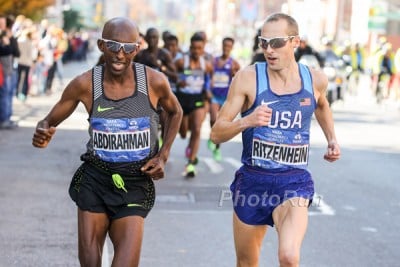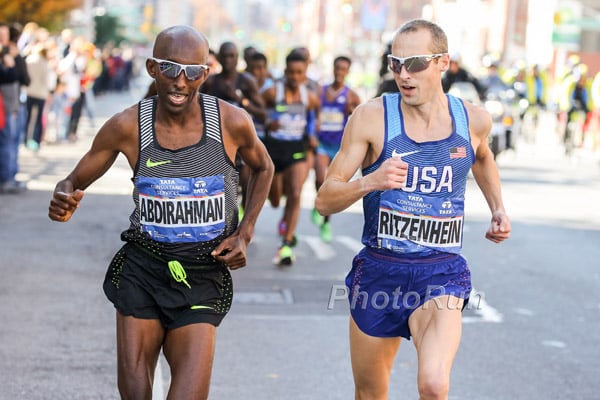 Abdi Abdirahman (2:08:56 pb, 43): Nicknamed "The Black Cactus" (he's an Arizona alum), the Somalian-born Abdirahman is seeking to qualify for his fifth Olympics – no American track and field athlete has ever achieved that feat. At 43, he's younger than Lagat, but still ancient for this field. He set the US masters (40+) record in New York in November, running 2:11:34 on a tough course.
Dathan Ritzenhein (2:07:47 pb, 37): A three-time Olympian, Ritz was a high school phenom and one of the most talented American distance runners ever. He's battled injuries of late — he hasn't run a good marathon in five years — but was the US leader in the half marathon (61:24) in 2019.
Shadrack Biwott (2:12:01 pb, 35): Biwott has been overshadowed by Galen Rupp throughout his career, from high school, to their days as University of Oregon teammates, to their time as marathon pros. The worry-free Biwott has finished in the top four at the Boston Marathon twice but has yet to make an Olympic team.
Jake Riley (2:10:36 pb, 32): Largely forgotten after a promising collegiate career at Stanford, Riley has bounced around from Michigan to Washington to Colorado in recent years. Now settled in Boulder, Riley returned from Achilles surgery to finish as the top American in Chicago last year in a huge personal best of 2:10:36. Still unsponsored, Riley elected not to pursue sponsorship opportunities until after the Trials, in part so that he can run in Nike's super shoes in Atlanta.
Jerrell Mock (2:10:37 pb, 24): Mock didn't even qualify for the NCAA outdoor track championships as a senior at Colorado State in 2018 but now has an outside shot to make the team after running 2:10 in Chicago. He also in a band called Hermit Commune, where he sings and plays guitar.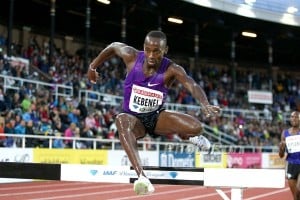 Stanley Kebenei (debut, 30): Kebenei is an elite steeplechaser — he finished 10th in that event at the World Championships in October 2019 — who has surprisingly decided to enter the Olympic Marathon Trials. No one's quite sure how seriously he's taking this, since he's never run a marathon before, so he's one of the biggest wild cards in the field. Some are speculating if he'll be setting the pace for training partner Leonard Korir.
Jim Walmsley (debut, 30): America's best ultrarunner, Walmsley excels at distances much longer than 26.2 miles; he ran the fastest time ever for 50 miles last year (4:50:08, or 5:48 per mile) and has set the course record at the fabled Western States 100-miler in each of the past two years. Walmsley just barely qualified — he hit the 64:00 half marathon standard on the nose — and though he's covered the distance many times, he's never raced an official marathon. Hugely popular, Walmsley's debut has been the subject of massive speculation on the LetsRun messageboards. Walmsley is also carrying the reputation of elite ultrarunners — often criticized as runners who couldn't hack it at shorter distances — on his shoulders. If Walmsley runs well in Atlanta, he'll earn respect for his super-long distance brethren. If he flames out, it's more fuel for the haters' fires.
Related: With Secret "Trials Dagger" Shoes, Ultra Star Jim Walmsley Is Ready To Take On The 2020 US Olympic Marathon Trials *Podcast: Jim Walmsley Ready for His Marathon Debut at Olympic Marathon Trials
Women
Jordan Hasay (2:20:57 pb, 28):  A tan, tongue-wagging Californian known for her long braid, Hasay reassured herself in her first marathon by repeating the mantra, "Good job, Paula" — her late mother Teresa's pet name for her, after former marathon world record holder Paula Radcliffe. Now, with her former coach Alberto Salazar banned, Hasay has turned to Radcliffe as a training advisor.
Hasay, 28, is a former teen prodigy. At 16, she made the final of the Olympic Trials in the 1500 meters (just short of one mile) but now will be trying to make her first Olympic team at 26.2 miles. She's had great success since moving up to the marathon as she is the second-fastest American marathoner of all time, but injury is a concern — she had to drop out of her last marathon in October with a torn hamstring.
Des Linden (2:22:38 pb, 36): A whiskey aficionado and Joan Didion fan, Linden, humorously ponders the more mundane aspects of her pro runner lifestyle on her Twitter account. Sample tweet: "The taper is cool because you don't sweat much so you can wear the same tee twice." Oh, and she's a damn good runner and the 2018 Boston Marathon champion. If she finishes in the top three, Linden will become the first US woman to make three Olympic marathon teams. She's also a fan of the LetsRun podcast.
Emily Sisson (2:23:08 pb, 28): The three-time NCAA champ for Providence college has long been viewed as America's next great marathoner. Sisson delivered on the hype by running 2:23:08 in her debut in London last year. She was LetsRun's consensus choice as the safest pick to make the women's team — but in an extremely deep field, she's far from a lock. She trains with Molly Huddle (see her below).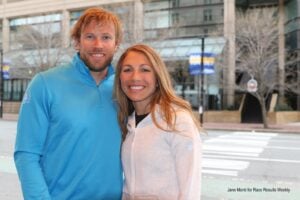 Sara Hall (2:22:16 pb, 36): Hall's story is a fascinating. After years of toiling at a variety of shorter distances (Hall has raced everything from the 800 to the marathon as a pro), Hall has finally found her mojo in her mid 30s and in the marathon where she broke out with a massive 2:22 marathon pb in Berlin in September. A devout Christian, Hall is coached by her husband Ryan – who is the fastest American marathoner ever and a two-time Olympian, but a guy who has been retired four four years even though he's only six months older than Sara. The couple adopted four girls from Ethiopia in 2015.
This is Hall's sixth Olympic Trials but just her second in the marathon (she dropped out in 2016). She's never come close to making a team as she was 11th in 5000 in 2004, 9th in 1500 in 2008, 8th in steeplechase in 2012, and 14th in the 5000 in 2016.
Molly Huddle (2:26:33 pb, 35): Winner of 28 national titles and American record holder at 10,000 meters (30:13) and the half marathon (67:25), Huddle seemed a natural fit for the marathon. And while her transition has hardly been a disaster (she debuted with a 3rd in NY in 2016 and was 4th there in 2018), she has yet to record the breakout performance many expected from her as given her credentials on the track, one would expect her personal best to be well under 2:25:00. A grind-it-out badass once the gun fires, Huddle paints her nails with a unique pattern for each race.
One problem for Huddle: she apparently isn't much of a responder to the new shoe technology. Some people benefit much more than others to the new shoes.
MB: Bad news for Molly Huddle fans she's not a responder to supershoes, Good news for Jared Ward fans- he is and gets a 4.4% boost
Sally Kipyego (2:25:10 pb, 34): An Olympic silver medalist for Kenya at 10,000 meters in 2012, Kipyego has decided to compete for the US after receiving American citizenship in 2017. She has struggled to recapture her old form after giving birth to daughter Emma in May 2017, but showed promise with a 2:25 in Berlin in September.
Emma (Bates) Ulmer (2:25:27 pb, 27): Ulmer, who was a collegiate star at Boise State, lives off the grid in Idaho with her husband/coach Kameron and their two dogs, where their house has no running water. The setup is working for Ulmer, who was the 2018 US marathon champion and ran a pb of 2:25 in Chicago last fall.
Kellyn Taylor (2:24:29 pb, 33): Taylor has come agonizingly close to making US teams before — she was 6th at the 2016 Olympic Marathon Trials, 4th in the 10k at the 2016 Track Trials, and was in position to qualify for the World Championships on the track last year but didn't have the qualifying standard. Still searching for that breakthrough marathon at 33, Taylor has spent the last few years training to become a firefighter and hopes to pursue that career in the near future. She has been a foster mom to seven different kids in the last year and also has a biological daughter.
More on Taylor: LRC After Finishing 4th in 2016, Can #4 Seed Kellyn Taylor Earn Career-Defining Olympic Spot?
Aliphine Tuliamuk (2:26:50 pb, 30): A fierce crocheter, the Kenyan-born Tuliamuk was the first of her 32 siblings to graduate from college. She also was the first woman from her village to graduated from college. A training partner of Taylor, Tuliamuk is rarely seen without a smile on her face. Since gaining citizenship in 2016, she has won nine US titles at a variety of distances. She told us recently in a podcast that she thrives on hills, which will be a big help in Atlanta.
More on Tuliamuk: LRC Aliphine Tuliamuk Hoping to Cap Her American Dream with a Spot on US Olympic Team
Stephanie Bruce (2:27:47 pb, 36): Bruce — who, like Taylor and Tuliamuk, is a member of the HOKA ONE ONE Northern Arizona Elite training group — has won many social media fans for her honest approach, particularly in dealing with diastasis recti, the result of back-to-back pregnancies in 2014 and 2015. But those babies didn't slow her down; at 36, Bruce is running faster than ever.
Roberta Groner (2:29:09 pb, 42): Speaking of supermoms, how about a 42-year-old mother of three who finished 6th at last year's World Championships while holding down a job as a full-time nurse? Groner is a longshot for the team but few have a more motivational backstory.