Turning Down a Contract to Race in the Vaporflys? Vaporfly > Alphafly? How Shoes Will Affect the US Olympic Marathon Trials
By Jonathan Gault
February 25, 2020
Seriously, we have to read another article about the shoes?
Yeah. Sorry. But look, you're the one who clicked this link. No one's forcing you to read this.
Since you're here though, there are a few things we need to talk about. For the second Olympic Marathon Trials in a row, footwear could be a factor in who makes the US Olympic team. In 2016, half of Team USA — Amy Cragg and Shalane Flanagan on the women's side, Galen Rupp on the men's — made the team in Los Angeles using a prototype version of the shoe now known as the Nike Vaporfly.
Nobody knew that at the time — the shoes were made to look like Nike's existing racing flat — but when the Vaporfly hit the shelves of running stores the following year, the hype was massive. Nike boasted that the shoe's higher stack height provided more cushioning and energy return — made possible by a new, lighter foam known as Pebax — and, when combined with its curved carbon fiber plate, produced a 4% improvement on running economy compared to Nike's previous fastest racing flat. Over the ensuing four years, the science has backed that up, and athletes wearing those shoes have torn apart the marathon record books.
Article continues below player.
The results are staggering, especially after Nike released its updated version of the Vaporfly, the Next%, last year. Entering 2019, only nine men in history had broken 2:04 in the marathon on a record-eligible course; then nine men — all wearing the Vaporflys — proceeded to break 2:04 in 2019 alone. Just last month, 14 men broke 2:08 at the Dubai Marathon, an unprecedented feat in marathoning history. Until it happened again last weekend in Seville. And now Nike has produced an even more advanced shoe, known as the Alphafly, which Nike says meets World Athletics' new shoe guidelines and which some have suggested could be twice as effective as the Vaporfly, yielding 7-8% gains in running economy vs. 4-5% for the Vaporfly.
So if you'd like to pretend footwear isn't going to be an important topic of discussion at this weekend's US Olympic Trials, enjoy living in Candy Land, and could you pick me up some gum drops while you're there? For everyone else, here's what you need to know.
Not Every Nike Athlete Will Be Wearing the Alphaflys in Atlanta
Rival shoe brands have spent the past three years trying to catch up to the Vaporflys, with athletes such as Des Linden (Brooks) and Jared Ward (Saucony) racing in carbon-plated prototypes at major marathons (Linden wore one such pair when she won the 2018 Boston Marathon). With World Athletics' new guidelines stating that shoes must be available for purchase by April 30, 2020, in order to be eligible for use at this summer's Olympics, many of those companies have begun rolling out their answers to the Vaporfly. These shoes include the Saucony Endorphin Pro, the New Balance FuelCell RC Elite, the adidas adizero Pro, the Asics MetaRacer, and an as-yet-unnammed HOKA ONE ONE shoe that Jim Walmsley has christened the "Trials Dagger." Expect to see these on the feet of sponsored pros in Atlanta. Brooks is so excited about their new shoe — the Hyperion Elite — that they've named a house after it in Atlanta, which they'll use for Trials-related events.
These companies weren't the only ones innovating, however. The assumption, once Nike officially unveiled them earlier this month, was that the Alphaflys would be a gamechanger at the Olympic Trials, restoring Nike's advantage after the other shoe companies worked so hard to draw level with the Vaporfly.
And while some Nike athletes will likely lace up in Alphaflys this weekend, there will be exceptions. The Bowerman Track Club's Chris Derrick is one of them: he's sticking with the Vaporfly Next%.
"I like them better," Derrick says. "They're a little lighter and they feel a little smoother to me."
But…but…the Alphafly…7-8%…
"Every once in a while, when I read a tweet from someone who's like, 'The Alphafly is going to end the sport!' I'm like, 'Man, maybe I should re-evaluate my position and change shoes,'" Derrick says, tongue, perhaps, in cheek. "But based on my experience with data I have from Nike folks, I think it's kind of whatever feels best to use, you should go with. And [the Next% is] what feels best to me."
His teammate, Andrew Bumbalough, has yet to make a final decision, but says he will likely wear the Next% in Atlanta. While he's run some workouts in the Alphaflys, Bumbalough says they are noticeably heavier and he feels more comfortable in the Next%, which he wore while running his PR of 2:10:56 in Chicago last fall.
"[The Alphafly], in the transition, it does not feel quite as good as the Vaporfly," Bumbalough says. "Though it's still a pretty incredible shoe."
What about everyone else?
Other Nike pros, such as Galen Rupp, Jordan Hasay, Abdi Abdirahman, and Bernard Lagat, will also have access to the Alphaflys; none have confirmed yet that they plan to wear it in the race, though Lagat has been spotted wearing them in workouts.
There are also rumors floating around that Nike will have hundreds of pairs of Alphaflys at the Trials, available for any Trials qualifier to use on Saturday. While a brilliant marketing ploy, it remains just a rumor. One potential challenge: many Chinese factories have shut down due to the coronavirus, affecting footwear production for multiple brands.
One more observation: while Nike sponsors several of the top men in the field, the top women have a diverse array of sponsors. Of the serious women's contenders, only Hasay and Sally Kipyego are Nike athletes (2016 Trials champ Cragg is as well, but she withdrew on Friday).
If Hasay and Rupp make the team, there probably won't be much shoe-related outcry. But if there's a Nike sweep on the men's side? Or if some longshot grabs third rocking the Alphaflys? Get ready for another pitched battle in the Great Shoe War.
Contract or Vaporflys?
While athletes with a shoe deal are contractually obligated to wear their sponsor's brand, unsponsored athletes face no such restriction. (Worth noting: some athletes — such as Matt McDonald and Wilkerson Given of the Mizuno-sponsored Atlanta Track Club — have been given permission by their sponsor to wear the Vaporflys at the Trials).
Predictably, the overwhelming majority of top amateur runners have opted for the Vaporfly, as you may recall if you watched last year's California International Marathon:
Pickin' up passengers from coast to coast pic.twitter.com/AHHE4KsRIe

— SRA and CIM (@runSRA_CIM) December 8, 2019
Athletes such as Jake Riley (2:10:36, top American at 2019 Chicago Marathon), Jerrell Mock (2:10:37, second American at Chicago), and Reed Fischer (61:37, second American at 2020 Houston Half Marathon) all put up stellar performances as unsponsored athletes in the Vaporflys just a few months out from the Trials. Each faced a choice. They could pursue a sponsor and get paid to run. Or they could take their chances and enter the Trials unsponsored — but with a potential advantage over some of their sponsored peers: the freedom to wear the Vaporflys.
Riley is running the Trials without a sponsor.
"There was the option there to talk to a couple of companies," says Riley's coach Lee Troop. "…Take away the Olympics, if it was any other year, you'd be sitting down, you'd be trying to get the best deal we could. But being the Olympics, and knowing that the majority of athletes on the start line are going to be in the Alphafly or the Next% or the Vaporfly, there's so many unknowns. 
"I would hate if Jake was to get himself into a contract situation a month out or two months out before the Olympics, and the top eight guys are all in Vaporflys and he's not, then [there's] that dilemma of, well, if I had been in them, what would have happened? I'd hate for him as an athlete to have this question that he's got to ask himself for the rest of his life."
Mock elected to sign with the Boston Athletic Association's High Performance Team, which is sponsored by adidas. There's only one problem: as of Monday, Mock had yet to receive the adizero Pro, adidas' answer to the Vaporfly. Mock's coach, Art Siemers, says that adidas is trying to get Mock the shoe by race day, but the factory issues in China have been stalling that plan. And while Siemers doesn't like the idea of footwear contributing to the outcome, he's worried that may be the case in Atlanta.
"I think he's a contender as long as adidas has a super shoe that could compete," Siemers says. "…It seems like the shoes make a big difference right now."
As for Fischer, his agent Josh Cox says that Fischer has agreed to terms with a sponsor and expects a deal to be announced in the next few days. His raceday footwear situation is still up in the air. Even if Fischer doesn't sign with Nike, the Vaporflys are a possibility.
"When you talk about getting a deal done this close to a major event — and for most of these athletes, this is the biggest event they have — I think there's an understanding from the companies, what have they been racing in, what are they comfortable in?" Cox says. "And to be totally frank, that's been a lot of the conversation lately…
"[The company] has given him some leeway. But honestly, Reed has to get the shoes. Reed doesn't have the prototypes yet. That's where we're at with this brand."
What's clear is that the Vaporflys have changed the game. Not just on the roads, but in the negotiating room.
"We're in a totally different time," Cox says. "I had an offer — a real offer, significant for an athlete — and they chose not to take the contract so they could race in the Vaporfly."
Coaches Answer: Is the Playing Field Level at the Trials?
Let's end this column with a simple exercise. I asked seven coaches of Trials contenders if they were worried there would be an uneven playing field at the Olympic Trials because of shoes. Here were their responses:
Ed Eyestone, coach of Jared Ward (Saucony) and Connor McMillan (adidas)
"It will be interesting. Milly's (McMillan) confidence was at a super high level with the Vaporflys. That's what he wore in New York. He's with adidas now, but we did a workout [on February 18] and he was wearing the adidas version. I asked him, 'What do you think, is there the same magic in these shoes as in the Vaporflys?' And he said, 'Yeah coach, there's the same magic. These are gonna get it done.'
"And Wardy, he wears the Saucony, but it's the Saucony version [of the Vaporfly]. Let's be honest. He did it in the Olympic Trials in 2016 and he did it in the Olympic Games of 2016 and he did it with a Saucony version that was not a [response to the] Vaporfly. I mean, how many guys ahead of him were actually wearing a shoe that was advantaged? At least three, right? And he did not.
"But Saucony has since then stepped up. And so I like his odds, because I feel like it's more of an even playing field for him than it was. And he did pretty well when it wasn't. So I think Saucony's done a good enough job with their own version of it, and we've kind of had that — at least with the original Vaporfly, maybe not with the Next% — substantiated with our biomechanics guy Iain Hunter, who's a PhD who's done some studies on the different shoes. So I'm not going to lose a lot of sleep over that."
Ben Rosario, coach of HOKA ONE ONE NAZ Elite, who has six athletes at the Trials, including Scott Fauble and Kellyn Taylor
"The shoes we're gonna wear, we really like. These are new. That's not a secret. I think HOKA's going to reveal what they are the week of the race. We've tried them, we really like them. We liked our shoes before, and now we like these even better. So I think we're in a better place than we've ever been with our shoes. And so that's my biggest concern."
Lee Troop, coach of Jake Riley (unsponsored)
"It's hard to say that there's not [an uneven playing field] because of the debate that has consumed the running community worldwide for the last 12-18 months. Obviously there seems to be more negative than positive about it, from even just World Athletics allowing a 40mm stack height, which the Alphafly just sneaks under at 39. There's just so much stuff going on at the moment. 
"For me, I think it's just disappointing because we're going to what I deem the biggest event in US marathoning once every four years, and all these athletes are standing on the line to fight for three spots, and the whole conversation is about the Alphafly and the Next%. It's changed the state of the game."
Tom Schwartz, coach of Brogan Austin (unsponsored) and Reed Fischer
"Oh sure. Absolutely. You'd have to be in a state of denial to think that that couldn't happen. But I'm kind of coming to terms with it. I've come to terms with it because I'm realizing there are advancements in sports. And sometimes the governing bodies are reluctant to make changes, or slow in making changes. This happens in all sports. I'm kind of the opinion right now that I just need to let it go and not worry about it and just train my athletes and tell them to have a good race plan and execute it to the best of their ability. And if they don't have the shoes that give them the advantage that somebody else does, use it as motivation. You gotta take lemons and make lemonade."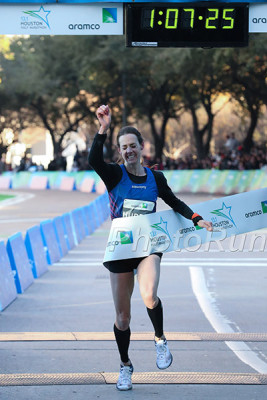 Ray Treacy, coach of Molly Huddle (Saucony) and Emily Sisson (New Balance)
"There's definitely going to be an uneven playing field. There's no doubt about that. All these people are not wearing these shoes because they make them slow. You look at any road race now, and everybody is wearing them. So it does bring a different dimension to the race. 
"But you've just gotta get on with it. You can talk about the shoes for so long, and obviously you would think that the people that are wearing those shoes have an advantage. But at the same time, you make your decision, you know what you're running in, and you just go for it. That's what with what I'm telling Molly and Emily: you've gotta put the shoes out of you mind, go with what you're very comfortable with — and they're very comfortable in the shoes they're going to be wearing — and that's all there is to it. I won't be giving it a second thought."
Ryan Hall, coach of Sara Hall (Asics)
"I definitely think about that from time to time. But I'm also getting more and more confident that other shoe companies — obviously Sara with Asics — that they are catching up. I'm less and less concerned with that now. 
"And honestly, whenever I find myself getting caught up in it — and I do get caught up in it from time to time, as you can tell from some of my social media posts — I just bring myself back to, I need to do my job. My job is to get Sara as fit as I can possibly get her on the starting line and I need to let the shoe companies and the governing bodies and everyone else worry about the whole shoe situation.
"And that's kind of helped me relax on the issue. Because it's really easy to get caught up in it when you think that your athlete's at a disadvantage. Something kind of rises up in you, and you're like, this isn't right, this isn't fair, I need to do something. At the end of the day, I don't know if it's fair or not. I haven't been in a lab where they're testing the shoes against Sara's shoes. So I need to be okay with not knowing if it's completely fair or not."
Walt Drenth, coach of Des Linden (Brooks)
"I cannot be concerned about things I cannot control. And I think [Des] feels the same way."
---
Share your views on teh Vaporflys on our world famous fan forum /messageboard. MB: How Shoes Will Affect the US Olympic Marathon Trials.