Kellyn Taylor: After Finishing 4th in 2016, Can #4 Seed Kellyn Taylor Earn Career-Defining Olympic Spot?
HOKA Trials Athlete of the Day #16
by LetsRun.com (sponsored by HOKA ONE ONE)
February 26, 2020
February is Marathon Month on LetsRun.com as the month ends with one of the greatest events on the athletics calendar, the 2020 US Olympic Marathon Trials in Atlanta. From the contenders, to the dreamers, to the mountain men and women, HOKA ONE ONE has 17 athletes competing at the Trials, and LetsRun.com is partnering with HOKA to profile all of them. We hope these profiles not only show you the cool stories of the people who will be racing in Atlanta, but also help get you pumped for the Trials, and gives you some advice for your own running. 
Our last HOKA profile is on the fastest HOKA ONE ONE women's qualifier, 2:24 marathoner Kellyn Taylor.
This content is sponsored content for HOKA, but not approved by them.
Four years ago at the Trials in LA, Kellyn Taylor showed no fear in taking the lead early before finishing 6th in the marathon. At the Olympic Trials on the track, she came even closer to an Olympic spot as she ended up as the "alternate" in 4th position in the 10,000.
After finishing third at USAs in the 10,000 and running two 2:26 marathons in 2019, including a 2:26:52 in NY where she was just 6 seconds behind Des Linden (2:26:52 is the 5th fastest time in NY ever by a US woman) Taylor, 33, this time around wants to make sure she ends up on the team as she views it as a career-definer for a pro runner.
Article continues below player.
"If I did not make a team, I think I would walk away disappointed in some ways, but still be proud of some of things that I had done," said Taylor. "But I think being an Olympian is kind of a career-definer. If a random stranger asks you what you do, one of the first things they ask is, 'Oh did you go to the Olympics?' And right now I can be like, 'I was an alternate.' That's fun. It would be cool to say, 'Yeah I did go to the Olympics,'" she said on this week's special LRC podcast with all the HOKA NAZ Elite pros.
That being said, there are bigger things than the Olympics in Kellyn's life. During the first half of her marathon buildup, Taylor, a mother of one, had very limited sleep as she became a foster mom for an infant and his two-year-old brother. For more on that great story, check out this RW profile. If being a foster mom costs Taylor a spot on the Olympic team, it's a trade she's willing to make.
"I wouldn't say that [being a foster mom] is beneficial to my running. I don't think it falls in line with it at all. If anything, it hurts my running, but I think it's bigger than running. I think some things are just bigger than sport," said Taylor. "You can't control where the kids are going to end up but while they are with you, you can give them as good of a life as you possibly can. You can give them some stability and love…and hopefully impact them in some sort of way."
Below is our written Q&A with Taylor, the #4 seed at the Trials and one of just two women to have produced three sub-2:27 clockings during the qualifying window (Jordan Hasay is the other).
For even more on Taylor and her HOKA NAZ Elite teammates, please listen to our special podcast with them that was released on Tuesday: LRC HOKA NAZ Elite Pros Podcast Before the Trials: Can One of them Make the Team!? Hear from Kellyn Taylor, Stephanie Bruce, Aliphine Tuliamuk (3 of the top 10 seeds on the women's side) and Scott Fauble (#3 seed for men), Sid Vaughn, and Scott Smith (2:11 marathon).
---
Name /Nickname: Kellyn Taylor
Age: 33
Hometown: Sussex, WI
HS: Hamilton High School
College: Cloud County Comm College & Wichita State University
Occupation: Runner, mom-bio and foster, aspiring firefighter
Training Group/Coach: Hoka One One Northern Arizona Elite, Ben Rosario
How did you qualify? Several half marathons and several full marathons. Grandmas Marathon 2018 is my entry time 2:24:29
Training shoe: HOKA ONE ONE Clifton 6
Racing shoe: Tracer, Carbon X, Rocket X
Family: Kyle, husband; Kylyn, 9 yr old daughter, one or two foster kiddos, 7 chickens, 5 dogs, 1 bearded dragon.
One random fact about myself I want people to know:
I like staying busy and having goals to work toward, running related and especially non running related.
Running Bio: 

High school: Won Wisconsin State Track in the 1600 my senior year of high school, 5:01. 11:04 3200m PR. Never a national contender but good for the state of Wisconsin.

College: First broke 5 min in the mile my freshman year of college. Finished out my college career placing 3rd in NCAA D1 Indoor Track Champs mile running 4:34. 2 time All-American.

Post-college: US 25k Champion, 6th at 2016 Olympic Marathon Trials, 4th in 10,000 at 2016 Olympic Track Trials, 2:24:29 marathon PR (9th fastest in US history), 5th fastest time ever by an American women on the NYC Marathon course 2:26:52.
Road to the Trials
How did you start running?
I originally started running in middle school because I was good at it. I was a multi-sport athlete growing up so I balanced running, gymnastics and soccer, among other miscellaneous sports. The other two phased out as I entered college with a running scholarship. I wouldn't say that I truly fell in love with running until I became a pro and decided that it was how I wanted to pursue my living. I had a 9 month old daughter when I moved out to Flagstaff to pursue running so it wasn't just about me anymore. It was about providing for my family and dedicating myself to the sport. I wanted to make my time away from my family worth it not only in a financial manner, but also as a means to enrich my life. The first couple of years I felt like a failure but I persevered with the belief from my family and continued to get better each year after. I had what I like to call blind faith…having no reason/credentials to believe that you're capable of great things but not giving a crap and believing it anyways.
How long have you dreamed of the Trials/Olympics?
I have dreamed of the Olympics ever since I was a young child. It was usually dreaming about gymnastics but as I got older it shifted to running. I went to the 2004 Track Trials (to spectate as a senior in high school) and I remember meeting Shalane Flanagan after she made her first olympic team. Twelve years later ,we were running side by side at the Olympic Marathon Trials. It was a pretty surreal realization that I had come so far. 
What does it mean for you to make the Olympics Trials?
I get to do this as my job, which is so incredibly special. To be able to not only compete but be a contender for the US Olympic team is an honor and a privilege that I don't take for granted
What's your goal for the Trials?
Win and make my first Olympic team
What do you think of the course? 
It is challenging but we are prepared for whatever the day brings.
How has your training gone in the buildup for the Trials?  Did you do anything different because it's the Trials? Do you feel extra pressure?
I would say that this has been my most chaotic training segment, which is saying something. That's not to say that the work hasn't gotten done and gone well. My training is as good as its ever been. This segment I spent a week in the hospital with a foster baby, who was a newborn, so sleep was a luxury to begin with. I dealt with my own sickness (which has been an issue the last three marathon buildups) and even some mechanical issues. It's never perfect but that's what makes it interesting. That's what makes making the team all that much more rewarding. My life is not and will never be all about running. 
How long was your buildup?
12 weeks. We did it a little different this buildup. We had some big weeks earlier than normal with the final month not being quite as extreme. 
What was your highest mileage week? Your average week?
The buildup was lower mileage than normal. Not quite sure why but mileage topped out at 119 in a 7 day span or 116 if you're going off of a Mon-Sun schedule
What is your favorite workout?
I have really become a fan of our 4/10/4 workout. We do 4 miles at marathon effort and then go straight into 10 miles 50 sec slower than marathon effort with miles 3/6/8 being at marathon effort and then go straight into another 4 miles at marathon effort. It's challenging in all of the right ways.
How much sleep do you get a night?
With or without foster kids?! The first 6 weeks of the segment I was getting ~5hrs of interrupted sleep. The last few weeks I have been getting 7 or 8 decent hrs per night
What one piece of advice would you give to a high school/ younger runner?
Be a kid. Do the work but enjoy your time. Most runners that have had long careers are those that didn't take this sport too seriously early on. 
What is the #1 piece of training advice you'd give another runner?
Believe in what you are doing and/or are trying to do. I think this is one of the most vital components to achieving your performance potential.
What one piece of advice would you give to a runner pursuing their dreams?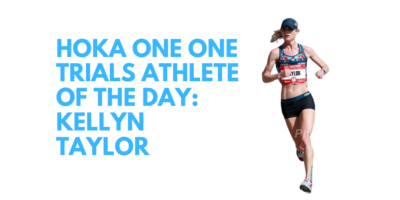 Persevere, believe and don't give up on something that you can't go a day without thinking about. This sport will beat you up. There are lots and lots of failures but the days that click, the ones where you do what you know you're capable of make it all worth it. You just have to ride out the storm to get to those days.
How do you balance training and working or training and being a parent?
This is just life. I always find this question funny because its like asking a parent who works full time how they are able to raise a family. People have been doing it for as long as time. I like to be fully present in whatever I am doing. When I am at practice my focus is there. Life outside of running is pushed to the side. The second the work is done then I am now focusing on my other passions. That may be getting to a soccer game or going to pick up the kids from school or daycare. I don't want my job to be the reason that I am not present for my family. Sure, it requires more of you and less recovery, sleep, and 'you' time but I wouldn't prefer it any other way. 
What would you be doing if you weren't a pro runner?
I am a parent and foster parent but I don't consider those jobs, they are privileges. I hope to be firefighting at some point in the not too distant future.
What is your favorite running memory?
These last pile of weeks prepping for the trials. Training with this group is special. 
Who inspired you as a runner as a kid? 
I really didn't follow running as a kid. I can't say I knew the name of a single runner until I went to the Trials after my senior year of high school. I am not what you would call a student of the sport. That is not to say that there are not many amazing runners to look up to. I hope that my daughter will look up to people in this sport. 
What is your race day routine?
Wake up 4 hours before the race. Eat some rice with butter and salt. Drink coffee 3 or so hours out from the race. Get ready. Relax in bed watching a movie or show (no specific genre) until it's time to head to the start. 
Why do you run?
I run to prove to myself that I can do anything that I aspire to. I hope that my daughter sees me fail, sees me pick myself back up, realign my goals and then smash those goals. I want her to know that with hard work you can do anything that you want to.
---
Like Kellyn's story? Learn more about her on this podcast here:  LRC HOKA NAZ Elite Pros Podcast Before the Trials: Can One of them Make the Team!? 
Or listen in the player below. Click here [spp-timestamp time="28:32″] to listen to Kellyn:
[spp-player track_player url="https://pinecast.com/listen/1f1c1bbd-a979-4919-8e0c-caf81c47627d.mp3″ title="Kelly Taylor at 28:32 mark"]