Which Woman is Most Likely to Make the US Olympic Marathon Team?
By LetsRun.com
February 24, 2020
The 2020 US Olympic Marathon Trials are almost here. As we count down the days until Saturday's Olympic Marathon Trials (live on NBC from Atlanta), the LetsRun.com braintrust — co-founders Weldon (Wejo, 28:06 10,000m runner) and Robert Johnson (2:23 marathoner, former distance coach at Cornell) and staff writer Jonathan Gault (brains at LRC)— will be answering one pressing Trials-related question per day. You can find previous questions and all the 2020 Olympic Marathon Trials coverage here. LRC also in partnership with HOKA has been profiling all the HOKA athletes running the Trials which you can find here.
The question: Which woman is the safest bet to make the team?
Jonathan: It's between Emily Sisson and Des Linden for me. Which is a reminder of how much has changed over the last 18 months. Back in August 2018 — barely three months after her Boston Marathon win — Sisson had never run a marathon and I wrote that Linden was the least likely of the major contenders to make this team. Now I'm debating whether she's the safest bet. But since that time, Sisson debuted in spectacular fashion, Shalane Flanagan retired, Hasay DNS'd one marathon and DNF'd another, Molly Huddle hasn't taken the leap I expected, and Amy Cragg has withdrawn from the Trials.
The Sisson vs. Linden debate is very similar to our Leonard Korir vs. Jared Ward debate from Wednesday. Sisson, like Korir, has the sexy times at shorter distances, including the half marathon (67:30, #2 all-time US), but has only run one marathon — though, like Korir, that marathon was very, very good (2:23:08 in London, just eight seconds off Jordan Hasay's US debut record). Linden, meanwhile, is just like Ward: 7th at the 2016 Olympics (Ward was 6th), and coming into the Trials off a string of very solid performances (1st 2018 Boston, 6th 2018 NYC, 5th 2019 Boston, 6th 2019 NYC).
Since I picked Ward as a safer bet over Korir, logically I should also pick Linden as a safer pick than Sisson. And in the initial draft of this piece, that's what I was going to do. But since then, I've spoken with both of their coaches, and I'm shifting my pick to Sisson. Linden's coach Walt Drenth told me that her buildup has been "more challenging than you'd like" as she got sick a few weeks ago and took a while to get over it (though the last few weeks have been good and her fitness seems to be coming).
Meanwhile Ray Treacy told me that Sisson has had no injuries, no setbacks, and an even better buildup than before London.
"Everything has gone really, really well," he told me. "Her workouts have been better, she's recovering better. Her long runs have been better, tempo runs are better."
Article continues below player.
The one area where Linden has the advantage is experience — we know she's going to show up and execute on race day, and with question marks around every other contender, that certainty is valuable. But I think if Sisson and Linden both show up and run great races, Sisson beats Linden. And based on her history and what Treacy told me, I think Sisson will run a great race in Atlanta.
Rojo: Are you crazy? This is easy. Emily Sisson.
What question marks are there surrounding her? In my opinion, none.
The best way to think of this: let's assume it takes a sub-2:25 effort (if the course was flat) to make the team. Which of the top 9 qualifiers is most likely to be able to produce a sub-2:25? Sisson, without a doubt. She's young, 28, not injury-prone and we know she's in great shape as Molly Huddle said last month in Houston that Sisson was in better shape. Considering she debuted in 2:23:08 last year, a 2:25 would be disappointing.
Let me tell you my thoughts on the top 9 (with their qualifying times in parentheses).
1 Jordan Hasay (2:20:57) – Injury-prone runner dropped out of Chicago just 5k into it in October. Has a new coach.
2 Sara Hall (2:22:16) – Has run one marathon in her life that would have been good enough to make the team. And she dropped out of New York in November.
3 Emily Sisson (2:23:08) – In prime of her life at age 28. Her coach has long said she's a natural for the marathon, and in the only one she ran, she clocked 2:23:08. Ran 30:49 on the track in 2019.
4 Kellyn Taylor (2:24:28) – Has never run under 2:25 on a non-aided course and she's 33.
5 Sally Kipyego (2:25:10) – I don't get why people are sleeping on her. She's the Olympic silver medallist at 10,000, a former NYC runner-up in the marathon, and just ran 2:25 on the comeback trail from childbirth. Yes, Hall crushed her in Berlin, but one could argue the odds that she ends up being in sub-2:25 shape are greater than they are for Hall. But she's still got two minutes to make up on Sisson.
6 Emma Bates Ulmer (2:25:27) – She's in her 20s and just ran 2:25:27, both of which are encouraging. I just don't think she's as talented as Sisson or Kipyego.
7 Molly Huddle (2:26:33) – She got beat by Sisson by 3+ minutes in London and admitted last month that Sisson is in better shape.
8 Desiree Linden (2:26:46) – 5th in Boston last year and 6th in New York. If she runs like that again, she'll probably be good enough to snag the third spot, but she's 36 and not as motivated as someone like Hall, who has never made an Olympic team before.
9 Aliphine Tuliamuk (2:26:50) – Coach Rosario thinks she's in the shape of her life and that's  a good thing as she'll need to be to make the team.
Jonathan: Hold on a second. Am I reading this right? Did you just say you think Sally Kipyego has a better shot of being in sub-2:25 shape at the Trials than Sara Hall?
Sara Hall ran 2:22:16 in Berlin in September. You think she's lost 3+ minutes of fitness in five months? Not only that; Sally Kipyego was in that race, and Hall beat her by 2:54!
Yes, Hall dropped out of New York, but that was due to stomach issues, not injury. Your argument is moronic.
Rojo: Yes, I said it can be argued that as that's my argument. I picked Kipyego for the team when I made my picks for Podium runner as I wanted to stand out with a smart pick. Yes, Hall's recent run in Houston does give me reason to believe her run in Berlin wasn't a fluke. Plus I don't know how you fluke it in the marathon. And check out her progression in the marathon over the last 5 years. 2:31. 2:30, 2:27, 2:26, 2:22. That's her seasonal best. That's certainly impressive.
But what you seem to forget is Hall is incredibly inconsistent. Not only did she drop out of New York, she also bombed in Boston last year- running 2:35.34 for 15th.. And isn't Atlanta hilly like Boston? What was her excuse for Boston? She gets a lot of marathons wrong. In each of the last 5 years, here is her worst marathon in the calendar year 2:48, 2:36, 2:28, DNF, 2:35 and DNF.
So you want me to say that a woman who has bombed 3 of her last 4 marathons (since the start of 2018 she's done the folowing in marathons –  2:26:20 Ottawa, DNF Frankfurt, 2:35 Boston, 2:22:16 Berlin, DNF NY) is more likely to show up in sub-2:25 shape than a former Olympic silver medallist, who was 2nd in NY in her first marathon finish and who just ran 2:25 after a maternity leave? Sorry, I can't do that.
Wejo: Before seeing any of this debate I thought about the question and said to myself "Sisson or Des." And then in my head started going through the reasons why I shouldn't say it's Des (she's getting older, doesn't have the recent fast time like Sisson). I do the same thing with Des that I did with Meb, sell them short and then get surprised.
However, after hearing Jon's comments from Walt Drenth and Ray Treacy, I feel even more confident in going with Sisson. Her build-up is reportedly perfect while Des has had some hiccups. The only question really is how does Sisson hold up on the course. I have no doubts with Des on race day. Hilly course, flat course, the worst running weather I've ever seen in my life, I'm confident Des will deliver her best performance. With Sisson there are some doubts on the course. However, her upside is bigger than Des' right now in the marathon. If the question was "who is most likely to win the race?" I would feel even more confident in picking Sisson. Making the team is a slightly different question and I think Des gets bonus points for her consistency but I'm still picking Sisson.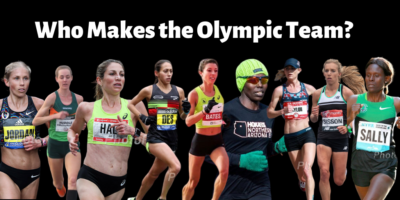 As for the Sara Hall vs Sally Kipyego debate, Robert is idiotic to say Kipyego is more likely to be in sub 2:25 shape. Hall ran 2:22 last year. I think she really may be hitting her stride in the marathon, and maybe she really is a responder to the new Asics shoes. However, she's never done great on a difficult marathon course whereas Kipyego has. No need to pick between them now however as Sisson is the pick.
What do you think? Join the debate on this messageboard thread: Trials Question of the Day: Which woman is most likely to make the team? Des, Sisson, Hasay, Huddle, Hall?
---
Previous Trials Questions Of The Day
Editor's Note: The article initially incorrectly said Sara Hall had bombed 4 of her last 5 marathons. It's actually 3 of 4.