Shelby Houlihan & Josh Thompson Complete Bowerman TC Sweep of 1500s at 2020 USATF Indoors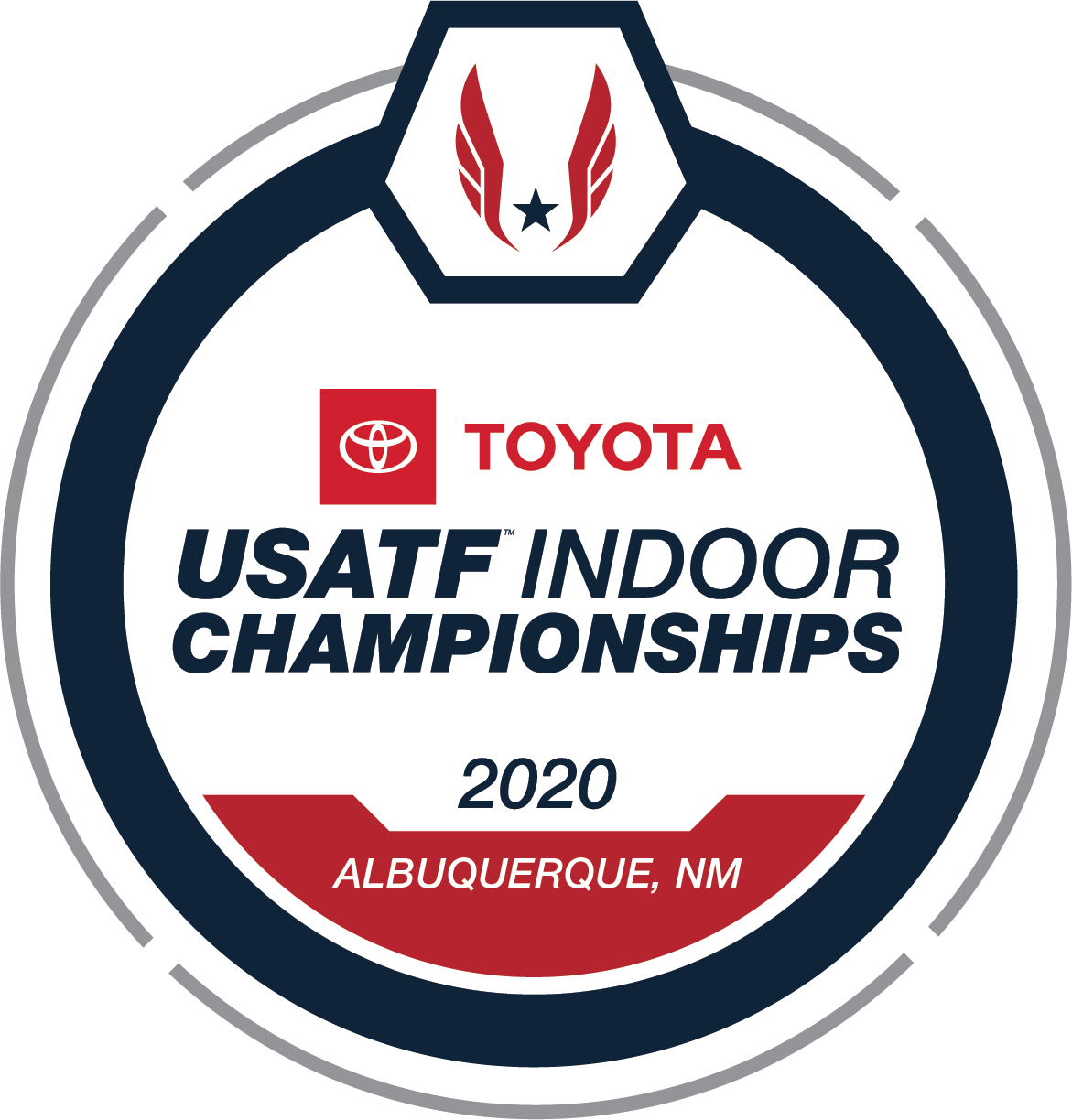 February 14, 2020 to February 15, 2020
by LetsRun.com
February 15, 2020
The Bowerman Track Club has owned the women's distance events at USA Indoors in recent years, sweeping the 1500 and 3000 (or the equivalent mile/2-mile) every year since 2017. Well, more accurately, Shelby Houlihan — who earned seven of those eight titles — has owned the distance events. Today, a Bowerman TC man finally got into the act as Josh Thompson (3:44.07) held off defending champ Craig Engels (3rd, 3:44.62) and the surprising Nick Harris (2nd, 3:44.57) in the 1500 to earn BTC's first men's indoor title since 2016. Coupled with another dominant Houlihan victory, it gave BTC a sweep of the metric mile at this year's USATF Indoor Championships and capped off a successful weekend that saw Jerry Schumacher's outfit sweep the top three spots in both the women's 1500 and 3000.
Article continues below player
Men's Race
Thompson, who was trying to make it as a steeplechaser this time last year, announced himself as one of the country's best milers by placing third in the 1500 at USA outdoors last year. Now, after his first national title, there's no doubt about his best event.
Thompson ran a tactically perfect race, which began by putting himself in ideal position on leader Garrett O'Toole's shoulder at 400 meters. Once Willy Fink took the lead shortly thereafter, Thompson followed along, content to stay in second as Engels moved behind him into third.
The pack was still tightly bunched when Thompson made his move to the lead at 300 to go, with the Oregon Track Club's Vincent Ciattei following along into second. But with Olympic bronze medalist Clayton Murphy a scratch, this was always going to come down to Thompson vs. Engels, and that's what happened once Engels passed Ciattei into second at the bell. Engels made a concerted effort to get around Thompson on the back straight, but Thompson would not yield, fighting him off and forcing Engels to run wide around the final turn. Engels, spent from the effort of trying to pass Thompson, had nothing left in the home straight, and he faded to third, nipped by unsponsored Harris at the line, as Thompson powered away to win in 3:44.07 with a 26.86 final lap.
Women's Race
The women's race wasn't quite as dramatic, especially once American mile record holder Elle Purrier was announced as a pre-race scratch following her 4th-place finish in last night's 3k. The racing began in earnest when Karissa Schweizer took the lead with three laps to go, and it was the BTC show from there as Houlihan and Quigley followed her into second and third. It would remain that way until just over 200 to go, when Houlihan moved to the front, and, as usual, no one could match her top gear as she closed out national title #13 in 4:06.41 with a 29.87 final lap (non one else could even break 31 seconds). Quigley barely held off the impressive Schweizer for second, 4:08.30 to 4:08.32.
Quick Take: Shelby Houlihan didn't repeat the mistakes of 2019
Last year, Houlihan was upset in this race by her BTC teammate Quigley. One of the keys to the upset was Quigley making sure she had the lead at the bell, allowing her to run the shortest distance on the final lap. Houlihan wasn't going to let that happen again in 2020, as she beat Quigley to the punch, making a decisive move on the home straight of the penultimate lap.
That's not the only reason why this year's race was different, though. Houlihan, battling a foot injury, was not at 100% this time last year. And Quigley wasn't doubling back from a race the night before in 2019 as she was this year, perhaps explaining why she could only manage a 31.53 last lap today compared to 29.00 in 2019.
Quick Take: It was a great weekend for Karissa Schweizer
Houlihan goes home with all the hardware from the weekend and looks to be better than last year. The top of the Olympic podium is the goal for Houlihan.
Meanwhile, Houlihan's teammate Karissa Schweizer had a great weekend as well that easily could be overlooked. Schweizer finished second in the 3000 and 3rd in the 1,500, just .02 behind Quigley for second. Last night Schweizer hung with Houlihan the longest, making it until the bell, but perhaps that could be expected as Schweizer did run 14:45 for 5,000m at Worlds last year. However, tonight in the 1500, she nearly beat Quigley, who won this race last year. Schweizer's biggest weakness has been her speed, and her 1500 PR coming in was only 4:06.77 to Quigley's 4:03.02. Schweizer's 4:08.32 today is worth 4:02.61 at sea level according to the Race Time Conversion App (Houlihan's winning time converts to 4:01.03). Considering it came in a championship final just 18 hours after a grueling 3k, that's super impressive — and points to some serious fitness gains for Schweizer.
Quick Take: Josh Thompson ran a brilliant tactical race to turn the tables on Craig Engels
In last year's US outdoor final, Thompson closed the fastest of anyone over the final 400, but he could only manage third place as he was only seventh at the bell. Instead, the win went to Craig Engels, who did a terrific job protecting the lead and ensuring he ran the shortest distance possible over the final lap.
Perhaps recalling that race, Thompson said that Schumacher's pre-race instructions to him today was to make sure that he, and not Thompson, had the inside line on the last lap.
"[Schumacher] said Engels is going to be right there," Thompson said on NBC after the race. "So he just said, if he's going to try and go around me, fight him off, make him run on the outside, make him run farther than everyone else."
That is exactly what Thompson did. Engels made Thompson dig deep on the back straight, but Thompson was ready for the fight and protected the lead.
Quick Take: A "guy who has to buy his own shoes" just got 2nd at USAs in an Olympic year
After this one was over, an LRC staffer got a text along the lines of, "I can't believe everyone but Thompson lost to a guy who has to buy his own shoes."

We're not sure if that's actually true, but what we know to be true is that the runner-up Nicholas Harris is indeed unsponsored. This was easily the most impressive performance of Harris' life. He came into today's race with PBs of 1:47.89, 3:39.04, and 3:58.88.
So who is Nick Harris? Well in HS, he was the Colorado 1600 state champ but his pbs of 4:18.79 for 1600 and 9:32.53 for 3200 were nothing special, even at altitude. So he walked on at the University of Washington, where he spent three years and made it to NCAAs once (eliminated in the heats of the 1500), amassing PBs of 1:50.06/3:42.84/8:17.71 at UW. He then spent his final two years at Colorado, where he won the Pac-12 800 title in 2017 but never made it to NCAAs, although he did lower his PBs to 1:47.89/3:43.07.
Harris comes from an accomplished running family. His father ran 1:49.1 for Colorado in 1984, and two of his uncles were pro runners. His uncle Richie ran a 3:51.3 mile for Athletics West in 1984 while his uncle Tracy ran for Reebok and Brooks according to http://nashvillerunning.com/.
Post-collegiately, he's been training with Joe Bosshard's group.