WTW: Who Has The 2019 World's Standards? Young 800m Stars Max Burgin & Roisin Willis Run Fast
The Week That Was in Running, June 10-16, 2019
By LetsRun.com
June 18, 2019
Past editions of the Week That Was can be found here. Got a tip, question or comment? Please call us at 844-LETSRUN (538-7786), email us or post in our forum.
Last week, a lot took place. If you missed our coverage of the Adrian Martinez Classic, the adidas Boost Boston Games, the 2019 Bislett Games (Oslo DL) or the Rabat DL, catch up now as we don't repeat ourselves below. We also wrapped up our exploration of the ultramarathon scene thanks to a sponsorship from HOKA ONE ONE: HOKA ONE ONE Ultramarathon Exploration.
****
Sifan Hassan loses race, sets world record
Article continues below player
Last week at the IAAF Diamond League meet in Rabat, the women's 1500 was fantastic as nine women in the field set a personal best and seven women broke 4:00. Up front, Genzebe Dibaba got the win in 3:55.47. The runner-up, the Nike Oregon Project's Sifan Hassan, got some nice consolation prizes for second, however. She set a Dutch record of 3:55.93, breaking her own record of 3:56.05 from 2015.
She also set a world record of sorts: Hassan has now broken 4:00 16 times in her career, the most in history and one more than Maryam Yusuf Jamal of Bahrain.
Most-All Time Sub-4:00s according to Tilastopaja and AllTime-Athletics.com
1. Sifan Hassan NED 16
2. Genzebe Dibaba ETH 15
2. Maryam Yusuf Jamal BRN 15
4. Faith Kipyegon KEN 12
5. Maricica Puica ROU 10
5. Jenny Simpson USA 10
7. Laura Muir GBR 9
7. Gudaf Tsegay ETH 9
9. Abeba Aregawi SWE 8
9. Süreyya Ayhan-Kop TUR 8
9. Doina Melinte ROU 8
9. Mary Slaney USA 8
9. Violeta Szekely ROU 8
Also going sub-4 in Rabat was American Jenny Simpson, who ran 3:59.8 for 7th. As shown above, Simpson now is the first American with 10 career sub-4:00s on her CV and she's the 5th-most prolific sub-4 runner in women's 1500 history.
Some were speculating that Simpson, who first broke 4:00 at the Pre Classic in 2009, is now the record holder for longest time elapsed between her first and last sub-4 at 10 years and 9 days (3,661 days), but that's incorrect. Yekaterina Podkopayeva of the Soviet Union/Russia was a timeless wonder. She first broke 4:00 way back on June 12, 1980 — one day past her 18th birthday — and she last broke 4:00 on July 18, 1994. That's a span of 14 years, 1 month, and 6 days (5,149 days). While she never broke 4:00 again, Podkopayeva kept competing at a high level for another few years as she won world indoor 1500 gold for the second time in 1997 when she was 44.
You can take a look at the all-time Eastern European/Chinese doper women's 1500 list here.
More: LRC PR Bonanza: Genzebe Dibaba Runs 3:55.47 To Edge Sifan Hassan As 9 Women Run PRs And 3 Set National Records In Rabat
****
Elinor Purrier Has The Standard x2 / How Many Americans Have The Standard?
At the Adrian Martinez Classic last week, Elinor Purrier (15:08.61) led a number of 5,000-meter runners under the World Championships standard of 15:22.00. She also has the standard in the 1500 and is one of seven American women with the IAAF World standard in more than one track event. Allie Ostrander (steeple/5k), Emma Coburn (1500/steeple), Courtney Frerichs (steeple/5k), Ce'Aira Brown (800/1500), Marielle Hall (5k/10k), and Jenny Simpson (1500/5000) are the others.
As for the US men, the big news on the qualifying front was that two Americans picked up the super tough 27:40 standard in the 10,000 last week at the Next Generation Athletics Meeting in the Netherlands as Kirubel Erassa ran a big pb of 27:32.89 and Leonard Korir ran 27:34.01.
Those developments motivated us to compile a list of all of the Americans with the 2019 IAAF World standard.
In the table below, you will see how many American athletes have hit the standard in the 800 – 10,000.
Men
Women
800 (1:45.80)
1. Donavan Brazier 1:43.63
2. Bryce Hoppel 1:44.41
3. Clayton Murphy 1:44.59
4. Devin Dixon 1:44.76
800 (2:00.60)
1. Ajee' Wilson 1:58.83
2. Ce'Aira Brown 1:59.74
3. Laura Roesler 1:59.80
4. Raevyn Rogers 1:59.07
1500 (3:36.00/3:53.10 mile)
1. Henry Wynne 3:35.14
2. Brannon Kidder 3:35.27
3. Craig Engels 3:35.32
4. Johnny Gregorek 3:49.98 mile
5. Sam Prakel 3:50.94 mile
6. Clayton Murphy 3:52.97 mile
7. Izaic Yorks (NACAC champ)
1500 (4:06.50/4:25.20 mile)
1. Jenny Simpson 3:59.83
2. Elinor Purrier 4:02.34
3. Alexa Efraimson 4:04.06
4. Emma Coburn 4:05.24
5. Helen Schlachtenhaufen 4:05.49
6. Nikki Hiltz 4:05.56
7. Cory McGee 4:05.90
8. Katie Mackey 4:05.97
9. Sinclaire Johnson 4:05.98
10. Ce'Aira Brown 4:06.06
11. Shannon Osika 4:06.28
12. Colleen Quigley 4:22.86 mile
13. Kate Grace 4:24.27 mile
Steeple (8:29.00)
1. Hillary Bor 8:08.41
2. Stanley Kebenei 8:15.94
3. Andy Bayer 8:16.52
4. Travis Mahoney 8:28.76
Steeple (9:40.00)
1. 9:08.42 Emma Coburn
2. 9:15.22 Courtney Frerichs
3. 9:29.81 Mel Lawrence
4. 9:37.73 Allie Ostrander
5000 (13:22.50)
1. Ben True 13:09.81
2. Emmanuel Bor 13:10.23
3. Paul Chelimo 13:13.94
4. Hillary Bor 13:14.96
5. Kirubel Erassa 13:17.23
6. Drew Hunter 13:21.18
7. Sean McGorty 13:21.35
8. Eric Jenkins 13:21.71
9. Josef Tessema 13:22.28
10. Hassan Mead (NACAC champ)
5000 (15:22.00)
1. Kim Conley 15:05.20
2. Rachel Schneider 15:06.71
3. Marielle Hall 15:07.17
4. Elinor Purrier 15:08.61
5. Karissa Schweizer 15:11.56
6. Courtney Frerichs 15:12.55
7. Katrina Coogan 15:14.13
8. Lauren Paquette 15:14.64
9. Vanessa Fraser 15:14.75
10. Allie Ostrander 15:16.38
11. Stephanie Bruce 15:17.76
12. Kellyn Taylor 15:19.23
13. Jenny Simpson 15:21.12
14. Abbey Cooper 15:21.87
10,000 (27:40.00)
1. Kirubel Erassa 27:32.89
2. Leonard Korir 27:34.01
3. Shadrack Kipchirchir 27:39.65
4. Lopez Lomong (NACAC champ)
10,000 (31:50.00)
1. Emily Sisson 30:49.57
2. Molly Huddle 30:58.46
3. Carrie Dimoff 31:42.88
4. Marielle Hall (NACAC champ)
Remember, getting the standard is important because USATF is not allowing anyone to chase the standard this year. USATF will take the top three people across the line at USAs with the standard to Worlds.
MB: Kirubel Erassa (27:32) and Leonard Korir (27:34) get World Champs standard in 10k in Nijmegen
****
Max Burgin Breaks Steve Ovett's British U18 800 Record, Runs 1:46.80
Britain's teenage mid-d sensation Max Burgin, the guy who ran 1:47.50 at age 15 last May, opened up his 2019 campaign with a nice pb last week of 1:46.80, breaking his old pb of 1:47.36. More significantly, Burgin, now 17 (his birthday is May 20), broke the British U18 record of Steve Ovett, the 1980 Olympic champion at 800, who ran 1:47.34 as a 17-year-old in 1973. Considering Burgin did it in his season opener, a race that he dominated (second place was 1:49.53), it will be interesting to see how much faster Burgin can run this year.
Burgin holds the world age-15 (1:47.50) and -16 (1:47.36) 800 records, which he set last year, but if he is going to become the fastest 17-year-old in history, he's got a ways to go as Luxembourg's David Fiegen ran 1:45.96 in 2002. (Editor's Note: We've since learned that Mohamed Aman of Ethiopia ran 1:43.37 at an official age of 17 in 2011 but for some reason it's not listed on the website below).
Boys Age 13-19 world records according to age-records.125mb.com
13 1:56.41 Brandon Miller USA 30 Jan 02 Norfolk VA 5 Aug 15
14 1:51.23 Brandon Miller USA 30 Jan 02 Humble TX 3 Aug 16
15 1:47.50 Max Burgin GBR 20 May 02 Manchester 12 May 18
16 1:47.36 Max Burgin GBR 20 May 02 Győr 8 Jul 18
17 1:45.96 David Fiegen LUX 3 Sep 84 Strasbourg 29 Jun 02
18 1:41.73 Nijel Amos* BOT 15 Mar 94 London 09 Aug 12
19 1:43.55 Donavan Brazier USA 15 Apr 97 Eugene OR 10 Jun 16
*They didn't have Amos as the age-18 record holder so we added him in
It's worth pointing out that the 13-14 record holder, Brandon Miller, is an American who is just four months older than Burgin. Miller, who recently finished up his junior year at John Burroughs High School in Missouri, was unable to defend his two Missouri state 800-meter titles this year as he pulled his hamstring in April. Miller's PB is 1:49.55.
You can watch Burgin's 1:46.80 race below.
In case you are wondering, here are the fastest times ever recorded by American high schoolers at age 15-18 for 800, according to the 2018 edition of High School Track by Jack Shepard.
15 – Brandon Miller – 1:49.87 from 2017
16 – Myles Marshall – 1:48.43 from 2014
17 – Elijah Greer – 1:47.68 from 2008
18 – Michael Granville – 1:46.45 from 1996
More: Max Burgin Breaks UK Under-18 800m Best With 1:46.80 At British Milers' Club Grand Prix In Loughborough
2019: MB: Max Burgin opens season with a 1:46.78
2018: MB: World 800m Record for 15 year olds smashed
*****
Josh Kerr Breaks Steve Cram's British U23 1500 Record, Runs 3:33.60
Bergin wasn't the only young Brit to run well last week in a middle distance event.
In the pro men's 1500 at the Brooks PR Invite, 2017 NCAA 1500 champ Josh Kerr, 21, got the win in 3:33.60- a new British U23 record, eclipsing the 3:33.66 British U23 record (NUR) that Steve Cram ran as a 21-year old way back in 1982. Now 3:33.60 isn't the fastest that a Brit has run before the age of 23. Back in August of 1979, a 22-year old Seb Coe ran a then WR of 3:32.02 in August but it doesn't count as a U23 (NUR) record as he turned 23 a month later.
Also, we should probably point out that Cram ran a faster equivalent than Kerr in the full mile at age 21. In August of 1981, Steve Cram ran a 3:49.95 mile which is equivalent to a 3:32.88 1500 using the 1.0802 converter we like. Two years later, Cram was the world champion.
MB: Josh Kerr Wins Men's Pro 1,500m At Brooks PR Meet In 3:33.60
****
14-Year-Old Roisin Willis Runs 2:04
At last weekend's Brooks PR Invitational in Seattle, 14-year-old Roisin Willis of Wisconsin won the HS girls' 800 in a personal best of 2:04.86. Willis, the daughter of Irish Olympian Breeda Dennehy-Willis, also made waves indoors when she upset Athing Mu to win the New Balance Nationals Indoor crown in 2:05.70.
2:04.86 is not a world or American record for age 14. Mary Slaney ran 2:02.43 at age 14 in 1973.
Willis wasn't the only youngster to run fast last week. At the New Balance Nationals Outdoors in North Carolina, Michaela Rose (HS class of 2021) won the 800 in 2:04.38 just three days after her 16th birthday, while 15-year-old Juliette Whittaker (HS class of 2022) was second in 2:05.25.
Girls Age 11-19 world records according to age-records.125mb.com

11 2:13.12               Raevyn Rogers              USA  7 Sep 96 Omaha NE                   26 Jul 08
12 2:06.90               Raevyn Rogers              USA  7 Sep 96 Ypsilanti MI                4 Jul 09
13 2:06.5                Rachel Hughes              GBR 19 Sep 68 Aldershot                  19 Jul 82
14 2:02.43               Mary Decker                USA  4 Aug 58 Munich                     12 Jul 73
15 2:01.46               Keely Small                AUS	 9 Jun 01 Canberra                   11 Mar 17
16 1:59.65               Marion Hübner              GER 29 Sep 62 Chemnitz                   11 Aug 79
17 1:59.17               Birte Bruhns               GER  4 Nov 70 Berlin                     20 Jul 88
18 1:55.45               Caster Semenya             RSA  7 Jan 91 Berlin                     19 Aug 09
19 1:55.45               Caster Semenya             RSA  7 Jan 91 Berlin                     19 Aug 09
****
Stat of the Week
0 – number of Italians that have broken 45.00 for 400 (Davide Re set an Italian NR of 45.01 last week in Geneva).
134 – number of Americans that have broken 45.00 for 400.
****
Quote of the Week (that wasn't quote of the day)
#1 Lasitskene nails it
"I hope that the people involved in this never-ending disgrace still have the courage to leave. By themselves. And don't think I'm only talking about the management.
"It's also about the current coaches who are still sure that you can't win without doping. They're long overdue for retirement. A new generation of our athletes must grow up with a different philosophy, and for any athlete, it's the coach who provides that."
–Mariya Lasitskene of Russia, writing on Instagram (translated from Russian), about how she thinks Russian athletics needs a shakeup.
We 100% agree, but the problem is some of the Russians who got to the top couldn't have done it without doping so changing the mindset won't be easy.
More: Mariya Lasitskene, Russia's top track and field athlete, slams 'never-ending disgrace'
****
Uninformed Tweet Of The Week
"If anything, me competing against cisgender females is a disadvantage.."@FPUathletics track star CeCe Telfer talks about the physical challenges she faces while competing as a transgender woman. pic.twitter.com/9VhlOVA70V

— Outside The Lines (@OTLonESPN) June 13, 2019
CeCe Telfer, who was never ranked in the top 200 as a man at the NCAA DII level but now is a DII women's national champ, had the gall to say she thinks she has it harder athletically than cisgender women. Mentally we don't doubt what CeCe has been through this year has been tough, but one can't deny the biological advantages XY athletes have over XX athletes in elite sports.
Speaking of Telfer, we have now passed the 20-day mark of the NCAA refusing to confirm or deny that a) they do not set a maximum level of testosterone for transgender athletes and b) there is no independent verification of transgender testosterone levels.
****
Recommended Reads
If you read one thing this week, we'd like it to be our shot put feature on Michael Carter and his legendary high school record that recently celebrated its 40th anniversary: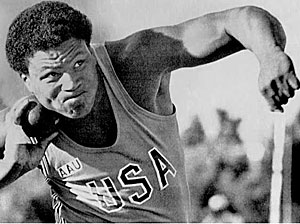 LRC Greatest of All Throws: Michael Carter's Unbreakable High School Shot Put Record Turns 40 One of the greatest records in all of track and field is now 40 years old and no one has even come within four feet of it. Read all about it here. We're so amazed by it we had Jonathan Gault write more than 5,000 words about it.
To see our favorite reads from other weeks, go here.
****
Quotes Of The Day And Last Week's Home Pages
To see the quotes of the day from last week or last week's home page or any home page, go to our archive page.
Got a tip, question or comment? Please call us at 844-LETSRUN (538-7786), email us or post in our forum.
Note: This article was initially published without the Josh Kerr section.