2019 Adrian Martinez: Comebacks Galore and Everyone Is Feeling #BraveLikeGabe
By Jonathan Gault
June 13, 2019
CONCORD, Mass. — The "comeback trail" isn't a physical location, but that's certainly where I felt I was tonight at the 2019 Adrian Martinez Classic. Every race at the rural track in this Boston suburb, less than two miles from Walden Pond, seemed to feature someone making some sort of return. For some, such as Robby Andrews, the 2017 USA 1500m champ who got Lyme disease last year underwent foot surgery in February, there is a lot of work remaining — Andrews was a shadow of himself, struggling to a last-place 1:54 in the men's 800. For others, like Abbey Cooper (née D'Agostino), running her first 5,000 since she famously tore her ACL and meniscus at the 2016 Olympics, there were signs of genuine progress: a 15:21.87 5th-place finish, which elicited a double fist-pump from Cooper as she crossed the finish line. They're hoping to get back to a place like the one Nikki Hiltz currently occupies: after battling a knee injury last spring, the first-year pro notched her fifth win of the 2019 outdoor season tonight, running 2:02.93 to win the 800 on a cool, drizzling night in Concord.
If you didn't see the action, you can re-watch it here or see full results at the bottom of this article or here.
Five takeaways from tonight's races:
1) Some big names are in a race against the clock ahead of USAs
Normally if you're just getting back from injury on June 13, you're screwed. With USAs traditionally held over the last weekend in June, it's simply not enough time to get ready for a major championship. But 2019 is not a normal year. Worlds has its latest start date ever (September 27), which means USAs has been pushed back a month; tonight marked exactly six weeks until the meet kicks off in Des Moines.
Which means that guys like Robby Andrews, Isaiah Harris, and Kyle Merber, all of whom were in the early stages of their comeback from injury, have some extra time to get in shape for USAs. Still…
Article continues below player.
"The clock is counting down to USAs," said Merber, who suffered a stress reaction in his sacrum and hip flexor strain after the indoor season and ran 4:04 to finish 6th in the B section of the mile (HOKA NJ*NY teammate Graham Crawford won in 4:00.06). "Nothing's going to jumpstart your fitness more than getting out there. So that's what I've done."
For a guy who's been training for three weeks, Merber, who ran 3:52 indoors two years ago, didn't look all that bad. But the more impressive miler coming back was Eric Avila, who was 5th in the marquee event, the Adro Mile. Avila, who won the "fast" section of USAs in the 2-mile indoors (but lost out on the title to Drew Hunter) had been similarly sidelined this spring, but surprised himself by running 1:47 at the Portland Track Festival on Sunday and 3:57 tonight. Avila said that his plan had been to run the 5,000 at USAs, but after missing so much time this spring, he doesn't have the aerobic base for it and will be focusing on the 1500 instead.
In the 800, 2018 NCAA champ (and USA runner-up) Isaiah Harris ran his second race of 2019 and finished 5th in 1:50.05. The time is a little misleading — the cool, damp conditions were poor for the 800, and no one broke 1:48 tonight — but Harris did not run to the level we've come to expect from the 22-year-old — he was 3rd on the backstretch, still in contact with leaders Sam Ellison and Christ Giesting, but had nothing left over the final 200, fading to 5th as Ellison held on to win in 1:48.52.
Harris didn't race at all in 2019 until May 31, clocking 1:49 in Westchester, due to an SI joint problem — his first major injury. He knows that he's not where he needs to be at the moment, but Harris was optimistic after tonight's race: he's finally healthy, and looking forward to putting the six weeks he has left until USAs to good use.
"I'm happy where I'm at," Harris said. "I've gotta get some solid training under my belt before USAs, but heading in the right direction…I'm not worried about too much right now, what everyone else is doing. Right now, I'm just trying to focus on myself, get healthy, stay with a positive mindset, not let this injury thing bring me down."
At full strength, Harris has a great shot to make the US team at 800 meters. At anything less? He could be in trouble with Donavan Brazier, Clayton Murphy, and Bryce Hoppel all in good form.
One guy who did not look good at all tonight was Robby Andrews. Andrews ran the B section of the 800 and went right to the back of the field — not uncommon. What was different: he didn't pass anyone. After coming through in 54-low for the first 400, Andrews fell off the back and was totally alone over the final 200, coming home in 1:54.42, his slowest 800 since the 2014 USA final, when Andrews' race was majorly impacted by a fall.
I didn't speak to Andrews after the race, but I did talk to his agent Ray Flynn, who explained the reason for Andrews' struggles: he had a bone spur removed from the top of his foot on February 27, three days after USA Indoors. Per Andrews (via Flynn), "it was an anterior ankle impingement that was limiting my range of motion and was causing calf issues and has had lingering effects on me the last two years." Recall that those calf issues caused Andrews to drop out of his semifinal at Worlds in 2017 after winning the USA title earlier that summer. Flynn sent over a shot of what the surgeon removed from Andrews' foot, and it was pretty gnarly: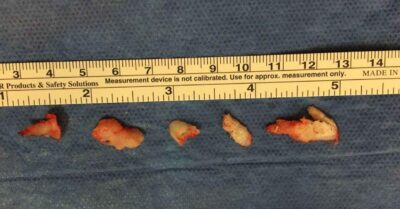 Andrews, who also battled Lyme disease last year, has had a rough go of it in recent years, bombing out of USAs in the first round last year and finishing last in the 1000m final this year indoors. Can he put together enough training to make his fourth straight US team at 1500 next month?
2) Three contenders for the US 1500m squad impress
Based on recent history, there would appear to be two spots already taken on the US women's 1500 team: Jenny Simpson, the four-time global medalist who has made all six US teams she has tried out for, and Shelby Houlihan, the 2018 US champ who won two Diamond Leagues last year. But crazy things can happen in the 1500, and Houlihan hasn't raced since USA indoors due to a foot injury.
So there is at least one (and maybe more) spot available on the team, and plenty of qualified candidates to take it. Three of them were in action tonight, running three different events. The first was former Arkansas Razorback Nikki Hiltz, who followed up her 4:05 pb in Portland on Sunday with a 2:02.93 800 win tonight. Hiltz, who was the NCAA 1500 runner-up last year, is absolutely thriving in her first year as a pro under Terrence Mahon in San Diego.
In the 5,000, Elle Purrier, another first-year pro, impressed by running 15:08.61 for the win and knocking out the Olympic/World standards in the process. It was the latest PR in a spring full of them, most notably her 4:02 in her Diamond League debut in Rome last week.
Finally, in the mile, Helen Schlachtenhaufen earned the victory in 4:30.67 by staying patient before sprinting away from the field over the final 100 meters — exactly the strategy she hoped to employ before the race.
"Recently I've been kicking too early, I think, and then getting beat at the line, so I've tried to save that up so I can go to another gear the last 100 meters or so," said Schlachtenhaufen, who occasionally trains on this track as a member of the Saucony Freedom Track Club.
Purrier (6th), Schlachtenhaufen (8th), and Hiltz (9th) were all USA finalists a year ago, all are only 24 years old, and have all made significant progress over the past 12 months. One of them could well find their way onto Team USA this year, but with Houlihan, Simpson, plus the likes of Kate Grace and Dani Jones lurking, it will be a tough team to make.
3) Abbey Cooper runs her first 5,000 since Rio 2016
Many fans' enduring memory of Abbey Cooper (formerly D'Agostino; she was married last year) is of her encouraging New Zealand's Nikki Hamblin after the two fell in their 2016 Olympic 5,000-meter prelim. Cooper, who ran the remainder of that race on what was later revealed to be a torn meniscus and ACL, has struggled to stay healthy in the intervening years, racing just twice in 2017 and 2018 combined, per Tilastopaja.
Her life has changed a lot since that sunny day in Rio. She has a new name, a new coach (her agent, Chris Layne) and a new town, as she now makes her home in Asheville, N.C. And while she's not quite back to the level that saw her make Team USA in the 5k in 2015 and 2016, the 27-year-old Cooper showed tonight that she's a lot closer than she (or anyone else) expected, running 15:21.87 to sneak under the World Championships standard of 15:22.00.
Cooper is usually quite bubbly, but she was particularly happy tonight.
"I had no idea I had that time in me right now," Cooper said. "Obviously I know I belong, eventually, up with that top group. But there's been so much change in the last year. And my coach is a master of the long game, he's all about staying healthy and preparing for the really big stuff."
Indeed, Cooper has been playing a very long game. She said that she's been mostly healthy since August 2018, choosing to take things slowly and cautiously. She now only runs five days per week (roughly 50 miles in total), cross-training the other two days in order to stay healthy. So far, it's working, though the bigger test will come next week at USAs.
One other 5,000 result worth noting: NAZ Elite's Kellyn Taylor, who ran a 2:26 marathon in Prague last month, dropping down and knocking out a PR of 15:19 in 4th.
4) Charlie Da'Vall Grice is starting to look like his old self
Brit Charlie Da'Vall Grice was one of the world's top milers a few years ago, finishing 9th at Worlds in 2015 and 12th at the Olympics in 2016. But Grice wanted more, and tried to up his training to become stronger. Instead, he battled a series of injuries and was never quite at his best in 2017 (where he failed to make the Worlds team) and 2018 (4th Commonwealths, 5th Euros). Now he's trying to return to his roots as an 800/1500 runner, backing off from the strength-based approach that got him hurt.
"Everyone who's not involved in track is like oh yeah, [you] made the final," Grice said. "[I] came in 12th [in 2016]. That's not what I want. A lot of people getting busted now with the drugs, hopefully it will be a bit more open. I think that 2017 and '18, the standard went down a little bit, but I'm sure next year a lot of people will come back out."
Grice, 25, just wrapped up an altitude stint in Flagstaff with two strong race results — 1:46 in Portland on Sunday and a 3:54 win in the Adro Mile today, a race in which he took control from Robert Domanic on the back straight and never looked back. Now he's back to the UK, where he'll get ready for some European races and the British trials in August.
5) Gabe Grunewald's presence was felt tonight
Gabe Grunewald, who died on Tuesday after a lengthy battle with cancer, was a beloved member of the running community, and her impact was felt at tonight's meet. Before the women's mile, a tribute to Gabe was read over the PA system, and many athletes sported Brave Like Gabe stickers on their jerseys, like the one modeled below by Nikki Hiltz.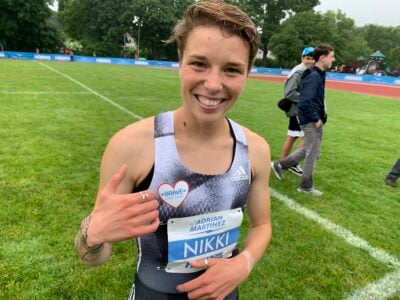 Hiltz was an example of just one person whose life was touched by Gabe.
"I had just made USAs for the first time [in 2017], I was a junior in college," Hiltz said. "I think I tweeted at her and Jenny [Simpson], I was like, 'Can't believe I get to race my two heroes,' because to me, I've looked up to Jenny my whole life and then what Gabe was doing was so impactful.
"[Gabe] actually came up to me and was like, 'I'm so happy you're here.' And then on my way to the start line, I heard someone from the crowd say, 'Good luck Nikki.' And usually I'm zoned in, I don't really turn, but for some reason, I was just like, I have to see who said that. And it was Gabe. To not only acknowledge me, but to wish me good luck was, like, I just ran really brave that race too and got sixth and PR'd. It's still my best finish to this day. Even just the brief interaction had so much impact on me."
Full results below. Talk about the action on our fan forum / messageboard:
MB Talk:
***
Full results (courtesy Lancer Timing)
Women 800 M Run HP
===================================================================
        Meet: M 1:59.75  2018        Ce'Aira Brown, HOKA ONE ONE               
     USATF Q: @ 2:03.00                                                        
      IAAF Q: # 2:00.60                                                        
   Olympic Q: * 1:59.50                                                        
    Name                     Age Team                    Finals  H#
===================================================================
  1 Hiltz, Nikki                 Adidas/Mission         2:02.93@  2 
  2 Baker, Olivia                Garden State TC        2:03.84   1 
  3 Segrave, Hannah              New Balance            2:04.09   2 
  4 Richards, Emily              Hoka Njny TC           2:04.23   2 
  5 Johnson, Lauren              B A A                  2:04.37   1 
  6 Kosichenko, Olga             C P T C                2:04.72   2 
  7 Bouchard, Matie              CA Sherbrooke          2:04.86   2 
  8 Abu, Agnes                   Ghana                  2:05.02   2 
  9 Kopp, Madeline               District - UA          2:05.34   1 
 10 Iyevbele, Kenyetta           Hoka Njny TC           2:05.66   1 
 11 Murphy, Samantha             Adidas/Mission         2:05.85   2 
 12 Feldmeier, Brooke            Adidas/Mission         2:06.06   1 
 13 Cleirigh Buttner, Siofra     Ireland                2:11.91   1 
 14 Goins, Rianna                United States          2:12.57   2 
 15 Herrick, Stephanie           C P T C                2:12.84   1 
 -- Barowski, Cecilia            Hoka Njny TC               DNF   2 
 -- Manley, Meg                  Hoka Njny TC               DNF   1 
 -- Teal, Jessica                Saucony Freedom            DNF   1 
 
Women 1 Mile Run Adro HP
================================================================
        Meet: M 4:25.84  2018        Marta Freitas, Portugal                   
     USATF Q: @ 4:28.50              (4:09.00 - 1500m)                         
      IAAF Q: # 4:25.20              (4:06.50 - 1500m)                         
   Olympic Q: * 4:04.20              (1500m)                                   
    Name                     Age Team                    Finals 
================================================================
  1 Schlachtenhaufen, Helen      Saucony Freedom        4:30.67  
  2 Scott, Dom                   Adidas                 4:31.66  
  3 See, Heidi                   Austraila              4:31.74  
  4 Nelson, Karisa               United States          4:32.31  
  5 Lagat, Violah                Adidas                 4:32.32  
  6 Paladino, Millie             United States          4:32.80  
  7 Farber, Lianne               New Balance Bost       4:33.49  
  8 McGee, Cory                  New Balance            4:33.50  
  9 Johnson, Lauren              B A A                  4:33.86  
 10 Moye, Megan                  Hoka Njny TC           4:36.66  
 11 Schappert, Stephanie         Hoka Njny TC           4:41.85  
 12 Giordano, Dana               B A A                  4:42.31  
 13 Gerlach, Tori                Rebook Boston          4:52.68  
 -- Haiss, Therese               Adidas/Mission             DNF  
 -- Richards, Emily              Hoka Njny TC               DNF  
 
Women 5000 M Run HP
================================================================
        Meet: M 15:23.66  2015        Abbey D'Agostino, New Balance            
     USATF Q: @ 15:25.00                                                       
      IAAF Q: # 15:22.00                                                       
   Olympic Q: * 15:10.00                                                       
    Name                     Age Team                    Finals 
================================================================
  1 Purrier, Elle                New Balance Bost      15:08.61* 
  2 O'Connell, Jessica           Canada                15:10.64# 
  3 Neale, Amy-Eloise            Rebook Boston         15:11.11# 
  4 Coogan, Katrina              New Balance Bost      15:14.13# 
  5 Taylor, Kellyn               Hoka Naz Elite        15:19.23# 
  6 Cooper, Abbey                New Balance           15:21.87# 
  7 Paquette, Lauren             United States         15:27.75  
  8 Henes, Elly                  NC State Univ         15:31.97  
  9 Shanahan, Dani               Hoka Naz Elite        15:38.18  
 10 Blaney, Anne-Marie           Hanson Brook DP       15:39.57  
 11 Donegan, Rosie               Battle Road TC        15:49.96  
 12 Cuffe, Aisling               Saucony               15:55.82  
 -- Kemp, Erika                  B A A                      DNF  
 
Men 800 M Run HP
===================================================================
        Meet: M 1:46.03  2017        Ryan Martin, ASICS Furman                 
     USATF Q: @ 1:47.50                                                        
      IAAF Q: # 1:45.80                                                        
   Olympic Q: * 1:45.20                                                        
    Name                     Age Team                    Finals  H#
===================================================================
  1 Ellison, Sam                 B A A                  1:48.52   1 
  2 Giesting, Chris              Hoka Njny TC           1:48.73   1 
  3 Prince, Quamel               District - UA          1:49.45   1 
  4 Joseph, Patrick              Tinman Elite           1:49.51   2 
  5 Ford, Robert                 Hoka Njny TC           1:50.03   1 
  6 Harris, Isaiah               NIKE                   1:50.05   1 
  7 Manahan, Ryan                Hoka Njny TC           1:50.27   2 
  8 Epps, Ares                   NC State Univ          1:50.40   2 
  9 Ibadin, Edose                District - UA          1:50.62   1 
 10 Capwell, Dylan               Atlanta TC             1:50.95   2 
 11 Hoey, Josh                   Adidas/Mission         1:51.18   2 
 12 Marshall, Myles              United States          1:51.40   2 
 13 Andrews, Robby               Adidas                 1:54.42   2 
 -- Livingston, Terrance         C P T C                    DNF   2 
 -- Hoey, Jaxson                 Adidas/Mission             DNF   1 
 
Men 1 Mile Run Adro HP
================================================================
        Meet: M 3:53.21  2017        David Torrence, HOKA ONE ONE              
     USATF Q: @ 3:56.50              (3:39.00 - 1500m)                         
      IAAF Q: # 3:53.10              (3:36.00 - 1500m)                         
   Olympic Q: * 3:35.00              (1500m)                                   
    Name                     Age Team                    Finals 
================================================================
  1 Da Vall Grice, Charlie       NIKE                   3:54.77@ 
  2 Domanic, Robert              Rebook Boston          3:55.41@ 
  3 Randon, James                Saucony Freedom        3:56.51  
  4 Napolitano, Rob              Hoka Njny TC           3:57.08  
  5 Avila, Eric                  Adidas/Mission         3:57.55  
  6 Herrera, Daniel              High Perf West         3:58.12  
  7 Gusman, Jordan               Tinman Elite           3:58.65  
  8 Fleet, Mac                   NIKE                   4:00.16  
  9 Edwards, Jake                Columbus Running       4:03.00  
 10 Brown, Spencer               United States          4:05.24  
 11 Malone, Ben                  Hoka Njny TC           4:05.42  
 -- Hernandez, Jeremy            Hoka Njny TC               DNF  
 -- Lasater, Brandon             Atlanta TC                 DNF  
 -- Manahan, Ryan                Hoka Njny TC               DNF  
 
Men 1 Mile Run HP
================================================================
        Meet: M 3:53.21  2017        David Torrence, HOKA ONE ONE              
     USATF Q: @ 3:56.50              (3:39.00 - 1500m)                         
      IAAF Q: # 3:53.10              (3:36.00 - 1500m)                         
   Olympic Q: * 3:35.00              (1500m)                                   
    Name                     Age Team                    Finals 
================================================================
  1 Crawford, Graham             Hoka Njny TC           4:00.06  
  2 Hatler, Chris                Philadelphia Run       4:01.01  
  3 Wyman, Mike                  United States          4:02.38  
  4 Thies, Jeff                  Tinman Elite           4:02.88  
  5 Oosting, Ryan                NE Distance            4:03.70  
  6 Merber, Kyle                 Hoka Njny TC           4:04.87  
  7 Marsella, Mike               B A A                  4:05.77  
  8 Groleau, Ben                 West Mass Dist         4:06.76  
  9 Crimmins, Brian              NE Distance            4:06.93  
 10 Garn, Jesse                  Hoka Njny TC           4:08.05  
 11 Kemboi, Edward               Atlanta TC             4:08.25  
 12 Palumbo, Victor              C P T C                4:11.95  
 -- Giesting, Chris              Hoka Njny TC               DNF  
 -- Joseph, Patrick              Tinman Elite               DNF  
 -- Timlin, David                District - UA              DNF  
 
Men 5000 M Run HP
================================================================
        Meet: M 13:34.68  2015        Reed Connor, NJ-NY Track Club            
     USATF Q: @ 13:35.00                                                       
      IAAF Q: # 13:22.50                                                       
   Olympic Q: * 13:13.50                                                       
    Name                     Age Team                    Finals 
================================================================
  1 Fink, Willy                  VT Elite              13:31.79M 
  2 McEntee, Sam                 Austraila             13:43.26  
  3 Oakley, Julian               Ocean State AC        13:43.38  
  4 Ferlic, Mason                NIKE                  13:44.13  
  5 Abdulkarim, Farah            Canada                13:46.45  
  6 Thomson, Jacob               B A A                 13:46.88  
  7 Solomon, Nahom               United States         13:48.83  
  8 Motschmann, Johannes         Germany               13:49.63  
  9 Cabral, Donn                 Hoka Njny TC          13:50.34  
 10 Leer, Will                   Under Armor Nyac      14:02.37  
 11 Germano, Philo               Rebook Boston         14:09.61  
 -- Shrader, Brian               Saucony Freedom            DNF  
 -- Updike, Isaac                Hoka Njny TC               DNF  

Willy Fink (men's 5,000 winner) interview