2019 Bislett Games Recap: McLaughlin and Warholm (NR) Win, Chepkoech Loses, Coleman Runs a WL, and Norway's Dream For The Dream Mile is Denied
By LetsRun.com
June 13, 2019
The 2019 Bislett Games — the IAAF Diamond League track and field/athletics meeting in Oslo — was held this evening. We recap all of the action for you, starting with the distance races.
Highlights included a victory and national record for world champ Karsten Warholm in the 400 hurdles, a win for Sydney McLaughlin in her 400 hurdle Diamond League debut, a world lead for Christian Coleman, a rare loss for world record holder Beatrice Chepkoech in the women's steeple and narrow win for Marcin Lewandowski in the Dream Mile.
Dream Mile: Marcin Lewandowski sends the crowd home disappointed
With the top Kenyans Elijah Manangoi and Timothy Cheruiyot sitting this one out, the hometown fans were hoping to see the first Norwegian victory in the Dream Mile but it was not to be. Teenage phenom Jakob Ingebrigtsen of Norway was the co-leader at the bell but he faded from 3rd to 6th (3:53.04) over the final 100. Older brother Filip Ingebrigtsen was 9th (3:54.41).
Article continues below player.
The winner of the Dream Mile was the same man who denied Jakob Ingebrigtsen European indoor 1500 gold earlier this year, Poland's Marcin Lewandowski. The former 800 man was 8th at the bell, 5th with 200 left and 4th entering the final 100, but Lewandowski found just enough to edge Kenya's Vincent Kibet at the line, 3:52.34 to 3:52.38, and give himself a very memorable 32nd birthday present.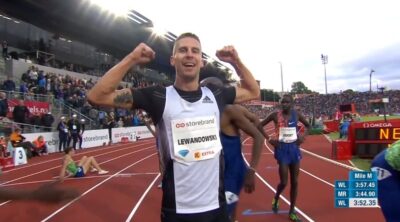 Two Americans were in the race. Clayton Murphy ran aggressively throughout (roughly 56 flat 1st 440, and 1:55 880) and was just ahead of Lewandowski at the bell (2:54.49 for the leaders at 1200) and just behind him entering the final 100, but a big finish wasn't there for him and he ended up 5th as a fast-closing Johnny Gregorek, who began the final lap just behind Lewandowski but was just 9th with 150 meters to go, had a huge final 150 and nipped Murphy at the line for 4th (3:52.94 to 3:52.97). Gregorek's big close reminded us very much of what he did at USAs in 2017 when he came from way back to nab third.
Lewandowski got the win thanks to an unofficial 55.9 last lap (27.4 final 200).
One Mile – Men – Diamond Discipline
Pts
1 Lewandowski , Marcin POL 3:52.34 8
2 Kibet , Vincent KEN 3:52.38 7
3 Souleiman , Ayanleh DJI 3:52.66 6
4 Gregorek , John USA 3:52.94 5
5 Murphy , Clayton USA 3:52.97 4
6 Ingebrigtsen , Jakob NOR 3:53.04 3
7 Gregson , Ryan AUS 3:53.51 2
8 Berglund , Kalle SWE 3:53.83 1
9 Ingebrigtsen , Filip NOR 3:54.41
10 Birgen , Bethwell KEN 3:54.92
11 Debjani , Ismael BEL 3:57.37
12 Soget , Justus KEN 3:57.90
13 Wote , Aman ETH 3:59.37
Abda , Harun USA DNF
Williamsz , Jordan AUS DNF
Quick Take: Experience is overrated, Lewandowski just won the Dream Mile in the first mile race of his life
Lewandowski's post-race comments were fascinating:
"To win the Dream Mile is something big for me. And believe me, I'm still in good training for Doha, I did not expect to win, the peak should come later. I'm very happy, what can you say, I will celebrate not only my birthday, but also this great win. It was actually my first mile ever. I know my speed from 800m is helping me, they should not wait until last 100 m because then I can beat them."
MB: Will Lewandowski be a threat in Doha?
Quick Take: Jakob ran more aggressively and 'for the win' and it may have cost him
One thing that makes the Ingebrigtsens so good is they seem to know their bodies very well, even 18-year-old Jakob. At the Stockholm DL two weeks ago, Jakob was way back early but at the finish, he had maximized what he had on the day and finished 3rd. Today, wanting the win, he may have forced himself to 'be in contention for the win' rather than just let the race come to him. He moved up a lot on the third lap and was the co-leader at the bell. The reality is it 'only' took a 3:52 to win the race, so if he'd just figured out a way to do that, rather than worry about how far ahead others were, he might have been more successful.
"I tried a different tactics today, was maybe too excited with this great crowd," said Ingebrigtsen after the race, who added that he'd had a "busy week recently in my school."
Women's steeple: Beatrice Chepkoech is beaten for the first time in over a year
It was fair to wonder, after she ran 8:44 in Monaco last summer to smash the world record, whether anyone would beat Kenya's Beatrice Chepkoech all season. After all, Chepkoech's time is eight seconds faster than anyone else in history's, and 14 seconds faster than anyone not currently serving a doping suspension.
Yet coming off the final water jump in Oslo, Chepkoech still had company in the form of Norah Jeruto, last year's Diamond League runner-up who broke 9:00 for the first time in that race in Brussels, clocking 8:59.
Tanui had stalked Chepkoech ever since she took over when the rabbit dropped out just before the halfway mark. With 100 meters to go, she was still close behind Chepkoech, but as they approached the final barrier, Tanui began to give up ground and Chepkoech looked to be on her way to another win.
But the 23-year-old Tanui wasn't licked, and used a savage burst of speed to overtake Chepkoech after clearing the final barrier, even finding the time to celebrate before the line as she earned the win in 9:03.71 to Chepkoech's 9:04.30. It was Chepkoech's first defeat since becoming world record holder; she hadn't lost a steeple since May 31, 2018, in Rome.
Behind the top two, the last two world champions, Hyvin Kiyeng of Kenya and Emma Coburn of the USA, were locked in a battle for third place, with Kiyeng prevailing, 9:07.56 to 9:08.42, after moving ahead of Coburn on the back straight of the bell lap. The other American in the field, Mel Lawrence, broke 9:30 for the first time, finishing 13th in 9:29.81.
3000 Metres Steeplechase – Women / Pts
1 Jeruto , Norah KEN 9:03.71
2 Chepkoech , Beatrice KEN 9:04.30 7
3 Kiyeng , Hyvin KEN 9:07.56 6
4 Coburn , Emma USA 9:08.42 5
5 Jepkemei , Daisy KEN 9:10.54 4
6 Chespol , Celliphine Chepteek KEN 9:15.04 3
7 Chemutai , Peruth UGA 9:16.72 2
8 Krause , Gesa Felicitas GER 9:20.31 1
9 Mišmaš , Maruša SLO 9:20.97
10 Yavi , Winfred Mutile BRN 9:21.36
11 Møller , Anna Emilie DEN 9:24.21
12 Grøvdal , Karoline Bjerkeli NOR 9:28.99
13 Lawrence , Mel USA 9:29.81
14 Clarke , Rosie GBR 9:31.68
15 Wagner-Gyürkés , Viktória HUN 9:34.56
Cherono , Fancy KEN DNF
Tuigong , Caroline KEN DNF
Quick Take: This event just got interesting
Chepkoech finished 2018 by blowing fields away with regularity, and after winning the DL opener in Shanghai by seven seconds, it looked like we could be in store for more of the same in 2019. But Jeruto ensured that would not be the case, snapping Chepkoech's seven-race win streak today with an impressive last lap.
Chepkoech likes to run from the front, and in previous races it worked out for her, as she could simply force a pace no one else could match. She couldn't do that today, however, and Jeruto showed that Chepkoech can be had on the final lap. That's a vulnerability that Coburn and Courtney Frerichs will certainly be taking note of as the season progresses.
Quick Take: A strong opener from Coburn
"It was good first steeple of the year," Coburn said after the race. "Yes maybe I expected to be a little faster. But there was lot of traffic, so all in all ok for me. Next race Prefontaine."
Coburn has to be pleased with today's effort; her 9:08.42 was her second-fastest season opener ever, just behind the 9:08.13 she ran in Rome last year. 4.71 seconds (the gap from Jeruto to Coburn) is not insignificant, but it's far from insurmountable between now and Worlds. Coburn is in a good spot.  
Commentators Steve Cram and Tim Hutchings said that before the race, Coburn was confident in her fitness, but not sure how she would handle her first race of the year over barriers. The answer: very well. Coburn's hurdling technique is one of her greatest assets as a steeplechaser, and it was evident today, particularly over the penultimate water jump, where Coburn picked up five meters on Kiyeng, who employed horrible form over the barrier (though Kiyeng did ultimately beat Coburn).
Perhaps the best news for Coburn today was that Chepkoech didn't win. The fact that she is vulnerable is a very good sign for Coburn.
Mel Lawrence gets the Olympic standard
While American Mel Lawrence finished third to last (13th), we imagine she was pretty happy with the result as she ran a PB of 9:29.81 (previous pb of 9:32.68), which was just under the 9:30 2020 Olympic standard for the event.
The problem for Lawrence is it's very hard to crack the top 3 in the US if everyone is healthy as Courtney Frerichs and Emma Coburn both won medals at the last Worlds are two of the 10 fastest women in the history of the event while Colleen Quigley (9:10.27 pb) is the 20th-best woman in history. For the record, Lawrence was third at USAs last year but Quigley wasn't in the race.
Men's 3000: Selemon Barega gets his first DL win of the season
After finishing second in Shanghai and Rome, the third time was the charm for Ethiopia's Selemon Barega, who got his first Diamond League victory of 2019 by running a world-leading and personal best time of 7:32.17. World Cross Country champion Joshua Cheptegei of Uganda was second in 7:33.26, also a PR.
The race went out slowly — just 3:51.6 at 1500 meters — and only got going once the second pacemaker, Cornelius Kangogo, dropped out just past one mile. At that point, 10k specialist Cheptegei got the pace rolling, knowing that he was at a disadvantage when it came to outkicking Barega and the shorter distance men.
Cheptegei ran his third-to-last lap in 59.18 and his second-to-last lap in 59.52, and that was good enough to string out the field and leave only Barega and Kenyan Nicholas Kimeli, who ran 12:57 in Hengelo over the weekend, behind him. Kimeli fell off early on the final lap, but Barega looked ever so comfortable, moving up onto Cheptegei's shoulder on the back straight before seizing the lead with 200 to go. Cheptegei fought valiantly, and Barega could not achieve separation immediately, but he was too good for the Ugandan in the home straight, pulling away to win thanks to a 55.8 last lap (27.7 final 200).
Behind them, Henrik Ingebrigtsen delighted the home fans by erasing Marius Bakken's Norwegian record of 7:40.77 from 2001, finishing 4th in 7:36.85. 21-year-old Drew Hunter ran an impressive pb of 7:39.85 to finish 7th and edge Ben True for top American honors.
3000 Metres – Men – Diamond Discipline
Pts
1 Barega , Selemon ETH 7:32.17 8
2 Cheptegei , Joshua UGA 7:33.26 7
3 Kimeli , Nicholas Kipkorir KEN 7:34.85 6
4 Ingebrigtsen , Henrik NOR 7:36.85 5
5 Balew , Birhanu BRN 7:37.37 4
6 McSweyn , Stewart AUS 7:38.22 3
7 Hunter , Andrew USA 7:39.85 2
8 True , Ben USA 7:40.49 1
9 Kiplangat , Davis KEN 7:42.20
10 Butchart , Andrew GBR 7:43.57
11 Edris , Muktar ETH 7:45.35
12 Ramsden , Matthew AUS 7:45.68
13 Mengesha , Milkesa ETH 7:49.23
14 Tanui , Paul Kipngetich KEN 7:55.77
Kangogo , Cornelius KEN DNF
Robinson , Paul IRL DNF
Gebrhiwet , Hagos ETH DNS
Quick Take: A strong run by Selemon Barega, but he could have gone faster (and is ready to)
Barega ran a big negative split in this one (3:52.0/3:40.2) — clear evidence that he could have run faster today had the pacemaking been more aggressive earlier on. Barega was favored to win this race, but even when you're the favorite, you have to back it up. Barega did.
The Ethiopian has plans for much bigger things this season, however. Commentators Tim Hutchings and Steve Cram said that Barega has said he wants to break the world record in his next 5,000-meter race (there isn't another one on the DL schedule until July 5 in Lausanne), and he wants to try to double up at Worlds in the fall.
"I think I can run even faster, hopefully under 7:30," Barega said after the race. "I can tell you, I want to try to qualify to Doha in both 5 and 10 km. Yes, I never run so far the longer distance but I'm preparing for a debut in July. It will be tough, but I want to try."
In fact, Barega has run the 10,000 before (he won the Ethiopian champs in May in 28:23; he'll run their trials in July), and he was also 5th at World XC in March, which is contested over 10k. He should be a threat in Doha, assuming he makes the Ethiopian team.
Quick Take: Joshua Cheptegei will only be running the 10,000 in Doha
Cheptegei showed commendable guts today, trying to break the field from the front from 1400 meters out, but even a string of sub-60 laps was not enough to drop Barega. Cheptegei is accomplished at 5,000 (he's run 12:59 and is the Commonwealth champion) but may not have the speed to win a global medal, as today's race showed. With the 5,000 before the 10,000 at Worlds this year, Cheptegei said he'll run only the longer event in Doha.
"This was pure speed for me," Cheptegei said. "As you know my event is 10,000m and I want to concentrate on this event only also at World Championships. I missed last year Diamond League so it feels good to be back and racing with the others. There will be lot of high quality opponents in Doha, I cannot name a specific one. But I still want to work on my speed and I think I am able to run even faster than today, 7:28 maybe."
Quick Take: A nice run by Drew Hunter
Hunter only ran 3:39 in his first European race of the season in Finland on June 5, but he was better today. Though he couldn't hang with the top East Africans up front, 7:39 is a very respectable performance, as is beating Ben True, who clocked 13:09 last week in Rome. Remember, if Hunter had gone to college, he would just be finishing up his junior year. How many collegians could run 7:39 right now? Maybe Morgan McDonald and Grant Fisher — and that's it. According to TFN, only two collegians have ever broken 7:40 in the 3k, Rudy Chapa (7:37.70) and Alistair Cragg (7:38.59).
MB: Drew MF Hunter drops a 7:39 3k, his previous best was 8:14
Men's 800: Ryan Sanchez wins it as Cornelius Tuwei almost pulls a Tom Byers
As soon as this race non-DL race began, commentators Tim Hutchings and Steve Cram were wondering if we might see a repeat of the famous 1500 held on this same track 38 years ago when rabbit Tom Byers stayed in the race to win against a field that included the likes of Steve Ovett, John Walker, and Cram himself.
The reason for this was that the rabbit, Cornelius Tuwei, had been in the best form of anyone in this field, running 1:44.91 earlier this year and earning wins in Hengelo on Sunday and Turku on Tuesday.
Indeed, Tuwei went to the front, as assigned, and came through 400 in the lead in 50.72. And rather than drop out, he chose to stay in the race and chase the victory. After slowing to 27.7 for his third 200 (1:18.5), Tuwei still held the lead, but the rest of the field was still close behind, with 20-year-old Puerto Rican Ryan Sanchez moving up on his shoulder as they made the turn for home.
Two weeks ago in Stockholm, Sanchez ran out of gas (or let up?) and lost the 800, but he made no such mistake this time, hanging on Tuwei's shoulder before pulling by with 40 meters to go and sprinting to victory in 1:46.34, Tuwei holding on for second in 1:46.52.
800 Metres – Men – Promotional Event
1 Sánchez , Ryan PUR 1:46.34
2 Tuwei , Cornelius KEN 1:46.52
3 Rozmys , Michal POL 1:46.71
4 Kramer , Andreas SWE 1:46.77
5 Roth , Thomas Arne NOR 1:46.85
6 Einan , Markus NOR 1:47.74
7 Arroyo , Andrés PUR 1:47.88
8 Deng , Joseph AUS 1:48.7
Quick Take: Why was Tuwei the rabbit in this race?
Tuwei has paced at Diamond League meets in the past, but one look at his recent results shows that he had no business pacing this one — it was not a DL points event, and he would have been favored to beat almost every guy on the start line today.
Still, unless there's a clause in his pacing contract that says he can't finish the race (and we doubt there was in this instance), Tuwei had no reason not to finish and almost ended up winning anyway. And if you're a front-runner (we're not sure about Tuwei's preferred style), leading in the 800 can actually be an advantage. Tuwei may not have earned the victory, but at least he has his pacemaking check to fall back on.
Women's 800: Nakaayi wins in 2:01.93

In this non-Diamond League field featuring no one that had broken 2:00 this year, the win in 2:01.93 went to Uganda's Halimah Nakaayi, the woman who had the fastest seasonal best of anyone in the field (2:00.58).
A 2:01.93 winning time may seem hard to fathom in a field of pros, but to be honest it's not that shocking as only three women in the field had run faster than 2:02 on the year — Nakaayi, who won, Selina Buchel (sb of 2:01.93), who got 2nd in 2:02.32, and Lynsey Sharp (2:01.51 sb), who fell at at the bell and didn't finish.
800 Metres – Women – Promotional Event
1 Nakaayi , Halimah UGA 2:01.93
2 Büchel , Selina SUI 2:02.32
3 Welteji , Diribe ETH 2:02.85
4 Hermansson , Hanna SWE 2:02.90
5 Lindh , Lovisa SWE 2:03.08
6 Eykens , Renée BEL 2:03.40
7 Oskan-Clarke , Shelayna GBR 2:03.45
8 Yarigo , Noélie BEN 2:04.88
9 Thomas , Carley AUS 2:05.78
10 Hynne , Hedda NOR 2:05.94
11 Elvemo , Yngvild NOR 2:07.25
Sharp , Lynsey GBR DNF
Sprints
Women's 400 hurdles: Sydney McLaughlin comes from behind to win first DL 400 hurdles
What a way to make your Diamond League 400 hurdles debut.
All the attention in this race was on Sydney McLaughlin, the 19-year-old American superstar lining up in lane 4, and she delivered with a performance worthy of the hype.
For most of the race, however, it didn't look like McLaughlin was going to delivery. McLaughlin clobbered her very first Diamond League hurdle, with Olympic champ Dalilah Muhammad, who won the first two Diamond Leagues in Doha and Rome, opening up an early lead on the backstraight. Muhammad kept pushing, and entering the home straight she had a three-meter lead and looked to be on to her way for yet another victory.
But McLaughlin stayed composed. She closed the gap after hurdle nine, and used a surge off of hurdle 10 to blow by Muhammad and earn her first DL win in 54.16 to Muhammad's 54.35. 
THAT? FINISH? #OsloDL
https://t.co/BqQqUmPtcu

— World Athletics (@WorldAthletics) June 13, 2019
400 Metres Hurdles – Women – Diamond Discipline
Pts
1 McLaughlin , Sydney USA 54.16 8
2 Muhammad , Dalilah USA 54.35 7
3 Little , Shamier USA 54.92 6
4 Carter , Kori USA 55.67 5
5 Iuel , Amalie NOR 55.80 4
6 Ryzhykova , Anna UKR 56.26 3
7 Sprunger , Léa SUI 56.46 2
8 Beesley , Meghan GBR 57.13 1
Quick Take: A great start for Syd the Kid
There's been a ton of hype around McLaughlin ever since she made the Olympics as a 16-year-old in 2016. But this was the first time in two years, since the 2017 USA final, that we've had the chance to see her take on a world-class field.
She did not disappoint. Many runners would panic after finding themselves in an early hole, but McLaughlin kept her cool and used a strong close to get the win. The time wasn't super fast (McLaughlin ran faster in her season opener on May 11), but the fact that she just beat the best 400 hurdler in the world (based on early season results) is incredibly impressive.
"I didn't get out well, I hit the first hurdle with my knee but recovered well by fighting back," McLaughlin said after the race. "I've got to work on my first half of the race, the second half is always my strongest. It was a really great field and exciting to be a part of. It wasn't the cleanest race for me but I came back strong and that shows me where I am fitness wise. It was a sloppy race but I pulled through. That was the strongest field and the women's 400m hurdles has a great future. I'm not sure where I'll next compete just yet."
As for Muhammad, her last 100 was not good. We wonder if, knowing McLaughlin was in the field, she tried to really go for a big one but ended up running slower than normal. Muhammad had raced the 400h three times before tonight and not run slower than 53.88.
Men's 400 Hurdles: Warholm wins and breaks NR
Running in front of the home fans, world champ Karsten Warholm had a narrow lead on Kyron McMaster entering the homestretch but the final 100 was all Warholm as he won in a personal best and national record time of 47.33 (previous pb and NR of 47.64). McMaster faded badly and ended up third in 49.12 as Thomas Barr nipped him at the line, 49.11 to 49.12.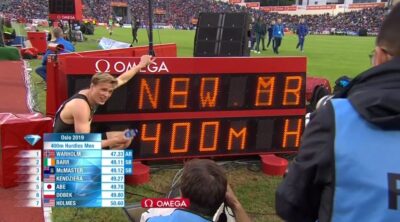 400 Metres Hurdles – Men – Diamond Discipline Pts
1 Warholm , Karsten NOR 47.33 8
2 Barr , Thomas IRL 49.11 7
3 McMaster , Kyron IVB 49.12 6
4 Kendziera , David USA 49.27 5
5 Abe , Takatoshi JPN 49.78 4
6 Dobek , Patryk POL 49.80 3
7 Holmes , TJ USA 50.60 2
Quick Take: Warholm moves up the all-time list
Warholm came in as the 23rd fastest hurdler in history and now is 13th (he's also the European record holder). More importantly, he's now moved within striking distance of the #2 and #4 fastest men in history in Abderrahman Samba (46.98) and Rai Benjamin (47.02) whom he'll have to face at Worlds.
MB: Kasrten MF Warholm crushes 400H European Record …runs 47.33
Men's 100: Coleman wins with a WL
Christian Coleman came into Oslo as the co-world leader at 9.86 but he left as the solo world leader as he won in 9.85 on a cool evening (59 F/15 C). China's Xie Zhenye was second in 10.01 as Mike Rodgers, who ran 10.00 earlier in the week to beat Justin Gatlin by .01, was third in 10.04. Britain's Reece Prescod, who was the only other man with a seasonal best under 10.00 this year (9.97), pulled up with an injury 60 meters into the race and ended up last in 10.76.
100 Metres – Men – Diamond Discipline Wind: +0.9 m/s Pts
1 Coleman , Christian USA 9.85 8
2 Xie , Zhenye CHN 10.01 7
3 Rodgers , Michael USA 10.04 6
4 Tortu , Filippo ITA 10.10 5
5 Koike , Yuki JPN 10.15 4
6 Ujah , Chijindu GBR 10.18 3
7 Ramdhan , Tommy GBR 10.28 2
8 Prescod , Reece GBR 10.76 1
After his 9.85 win at the #OsloDL, @__coleman is ready to test the waters over 200m?

Catch up on tonight's #DiamondLeague action with our report?

?:https://t.co/G2h0lAKsr1 pic.twitter.com/S3P3RhF2EL

— World Athletics (@WorldAthletics) June 13, 2019
Women's 200: Schippers wins convincingly
Dafne Schippers, the winner of the last two world titles at 200, convincingly won the women's 200 in 22.56, her first DL win of the year. Only one other woman broke 23.00 as Canada's Crystal Emmanuel ran 22.89 for second as Jenna Prandini, who was the closest to Schippers after the turn, held on for third in 23.10, just .01 ahead of 2018 NCAA indoor champ Gabby Thomas.
200 Metres – Women – Diamond Discipline Wind: -0.7 m/s
Pts
1 Schippers , Dafne NED 22.56 8
2 Emmanuel , Crystal CAN 22.89 7
3 Prandini , Jenna USA 23.10 6
4 Thomas , Gabrielle USA 23.11 5
5 Samuel , Jamile NED 23.21 4
6 Jefferson , Kyra USA 23.23 3
7 Rosa , Vitoria Cristina BRA 23.26 2
8 Rønningen , Helene NOR 24.16 1
Women's 100 Hurdles: McNeal false starts, Clemons wins
After Olympic champ Brianna McNeal was booted for a false start, Christina Clemons, the fourth fastest hurdler in the world this year (12.59 sb), got the win in 12.69 as Sharika Nelvis was second in 12.74. Clemons, who was 5th at Worlds in 2017 and won world indoor silver in 2018, had the lead pretty much from start to finish as Nelvis was never able to catch her.
100 Metres Hurdles – Women – Diamond Discipline Wind: +1.1 m/s
Pts
1 Clemons , Christina USA 12.69 8
2 Nelvis , Sharika USA 12.74 7
3 Herman , Elvira BLR 12.84 6
4 Roleder , Cindy GER 12.93 5
5 Visser , Nadine NED 13.00 4
6 Pedersen , Isabelle NOR 13.08 3
7 Neziri , Nooralotta FIN 13.18 2
McNeal , Brianna USA DQ
Quick Take: McNeal was probably on edge because she needs to get it in gear
McNeal's seasonal best this year is only 12.78, which, while 18th in the world, is only 12th in the US.
Men's Pole Vault: Kendricks wins with seasonal best
For the second time in four days, 2017 world champ Sam Kendricks cleared a seasonal best of 5.91m to win a pole vault competition. On Sunday, Kendricks won the FBK Games in Hengelo and tonight it was a Diamond League win. Kendricks cleared 5.91 on this third attempt but even if he'd missed he would have won the competition as he had no misses up to that point. Three other men cleared 5.81, including new pro Mondo Duplantis, who ended up 4th on misses. American Cole Walsh was third, with his 5.81 clearance representing a personal best (previous pb of 5.75).
Pole Vault – Men – Diamond Discipline Pts
1 Kendricks , Sam USA 5.91 8
2 Lisek , Piotr POL 5.81 7
3 Walsh , Cole USA 5.81 6
4 Duplantis , Armand SWE 5.81 5
5 Wojciechowski , Pawel POL 5.71 4
6 Yamamoto , Seito JPN 5.61 3
7 Guttormsen , Sondre NOR 5.61 2
8 Sene , Alioune FRA 5.51 1
5.81m, first pro meet, an exciting season ahead for @mondohoss600 ?#OsloDL pic.twitter.com/Axt5uCwPrS

— World Athletics (@WorldAthletics) June 13, 2019
Women's High Jump: Mariya Lasitskene wins with world lead of 2.01
Two-time world champ Mariya Lasitskene got the win with a first-attempt clearance at 1.98 and then used a third-attempt clearance at 2.01 to take the world lead (previous world leader this year was 2.00).
High Jump – Women – Diamond Discipline Pts
1 Lasitskene , Mariya ANA 2.01 8
2 Kinsey , Erika SWE 1.96 7
3 Demireva , Mirela BUL 1.94 6
4 Taranda , Karyna BLR 1.94 5
5 Gerashchenko , Iryna UKR 1.94 4
6 Levchenko , Yuliya UKR 1.94 3
7 Angelsen , Tonje NOR 1.88 2
8 Lake , Morgan GBR 1.85 1
9 Mahuchikh , Yaroslava UKR 1.85
Women's Shot Put: Gong Lijiao returns to the top
Gong Lijiao of China was upset on home soil in Shanghai earlier this year by surprising American Chase Ealey. And while Ealey was solid again tonight (she finished second with a best toss of 19.20 meters), Lijiao got the win and revenge, with a best throw of 19.51m in the fifth round.
Shot Put – Women – Diamond Discipline Pts
1 Gong , Lijiao CHN 19.51 8
2 Ealey , Chase USA 19.20 7
3 Roos , Fanny SWE 18.75 6
4 Thomas-Dodd , Danniel JAM 18.67 5
5 Schwanitz , Christina GER 18.48 4
6 Dubitskaya , Aliona BLR 18.41 3
7 Ramsey , Jessica USA 18.39 2
8 Carter , Michelle USA 18.28 1
9 Guba , Paulina POL 17.79
10 Ewen , Maggie USA 17.30
Women's Triple Jump: Caterine Ibarguen throws down a world leader, prevents Orji from earning first DL win
Colombia's Caterine Ibarguen entered tonight's competition having won the last six Diamond League triple jumps, but through four rounds tonight, she was behind American Keturah Orji, who was in position to win by virtue of her 14.53 from round two. Orji was seeking to become the first American woman to win a DL triple jump, but the 35-year-old Ibarguen would not allow it to happen, summoning a 14.79 world leader in round five to earn the win and extend her DL win streak to seven.
Triple Jump – Women – Diamond Discipline Pts Wind
1 Ibarguen , Caterine COL 14.79 8 -0.2
2 Orji , Keturah USA 14.53 7 +1.2
3 Ricketts , Shanieka JAM 14.41 6 +1.5
4 Williams , Kimberly JAM 14.36 5 +1.4
5 Papachristou , Paraskevi GRE 14.34 4 +0.8
6 Saladukha , Olga UKR 14.30 3 +0.8
7 Mamona , Patrícia POR 14.09 2 +1.3
8 Gierisch , Kristin GER 13.71 1 +0.8
9 Franklin , Tori USA 13.68 +0.7
10 Diallo , Rouguy FRA 11.85 +1.4
Men's Javelin: Vetter wins and barely throws
In his first competition of the year, 2017 world champ Johannes Vetter only had one legal throw, but his 85.27 first-round throw was enough to get the win as Magnus Kirt, who came in #2 in the world at 89.33m in 2018, was second with at 84.74. Vetter didn't even attempt throws 4-6.
Javelin Throw – Men – Diamond Discipline
Pts
1 Vetter , Johannes GER 85.27 8
2 Kirt , Magnus EST 84.74 7
3 Cheng , Chao-Tsun TPE 84.30 6
4 Hofmann , Andreas GER 82.92 5
5 Vadlejch , Jakub CZE 82.73 4
6 Röhler , Thomas GER 82.63 3
7 Seifert , Bernhard GER 82.33 2
8 Singh , Shivpal IND 80.87 1
9 Krukowski , Marcin POL 78.19
Talk about the meet on our world famous fan forum /messageboard: