Eliud Kipchoge Runs 2:02:37, Shatters London Course Record To Win 10th Straight Marathon
By LetsRun.com
April 28, 2019
LONDON — The greatness that is Eliud Kipchoge continued today at the 2019 Virgin Money London Marathon as the world record holder once again came up with a performance that before the era of Kipchoge would have seemed superhuman.
Kipchoge used a 4:26 25th mile to break free of Ethiopians Mosinet Geremew, the 2018 Dubai champ, and Mule Wasihun, last year's Amsterdam runner-up in 2:04:37, and went on to win his 10th straight major marathon in 2:02:37, lowering his 2016 course record by 28 seconds and running the #2 time in history in the process. Geremew was a much-deserved second in 2:02:55, the third-best time in history and a time that would have been a world record until last September when Kipchoge ran 2:01:39 in Berlin. Wasihun was third in 2:03:16, nearly a minute faster than the previous best third-place time in any marathon (2:04:06 for Tamira Tola, 2018 Dubai). It was the first race ever with two men under 2:03 and the first with three under 2:04.
Let some of those facts sink in a little. Kipchoge just won his 10th straight Abbott World Marathon Major. A human just ran 2:02:55 and lost a marathon by nearly 20 seconds.
Britain's Mo Farah lost contact with the leaders at the halfway mark but at 35k he was still on sub-2:04 pace (2:03:49) and within a minute of the lead, but he faded late and ended up fifth in 2:05:39.
The race
On a day with temps in the 50s and some wind (13 mph at the women's start), nine men found themselves within a second of the lead at halfway (1:01:37). 61:37 is a super fast first half split for everyone save Eliud Kipchoge, the man who has a 2:01:39 pb, and he made the 14th mile the fastest in the race up to that point, 4:32. In the process, Kipchoge passed the rabbit and Farah, who first lost contact with the lead pack in the 9th mile before rejoining it, lost contact with the lead pack for the final time.
After passing the rabbit, Kipchoge motioned to the other runners with his right hand as if to say: I'm taking over now, if you want a chance at winning, you better come with me.
For the rest of the race, Kipchoge would serve as the unofficial pacemaker. Not once in the second half of the race would he give up the lead. And with Kipchoge in front, the pace increased. With paid pacemakers controlling things in the first half, only two of the first 13 miles were under 4:40, but with history's greatest marathoner in charge, the pace increased as Kipchoge ran miles 14-18 in 4:32, 4:34, 4:34, 4:32, and 4:39. As a result at 30k (1:27:04 — 2:02:28 pace), the lead pack was down to four — the eventual top three plus Shura Kitata — the 2018 London and New York runner-up. It was Kipchoge, the Kenyan, and three Ethiopians.
Even though the pace was super fast, those four stayed together through mile 23 as the pace slowed ever so slightly — 4:50 (uphill), 4:43, 4:51, 4:45, 4:46.
Article continues below player.
During the 24th mile (4:42 -1:52:32), Kitata was dropped, meaning the race was down to three. Even though they were still on sub-2:03 pace at 39k (1:53.37 — 2:02:56 pace), Kipchoge still had two Ethiopians to contend with. What would he do?
Well the 40th kilometer and 25th mile of the marathon should be remembered as some of the greatest in marathoning history as Kipchoge had plenty left in the tank. He covered the 40th kilometer in 2:42 (that's 4:21 mile pace) and the 25th mile in 4:26 to break free of his rivals, first Wasihun around the 1:55:10 mark and then Geremew about 20 seconds later.
Geremew didn't fade — he stayed steady at 2:02 high pace all the way to the finish — but Kipchoge is a machine. He maintained his supreme form, with a small smile/smirk on his face all the way home. In the final 15 seconds of the race, Kipchoge started to celebrate, first raising his right index finger up in a #1 sign, then his left, before saluting both sides of the crowd, first with his right hand and then with his left, before putting both hands out as he approached the line.
A master craftsman enjoying his exceptional work.
Top 25 results and analysis and post-race interviews appear below.
Top 25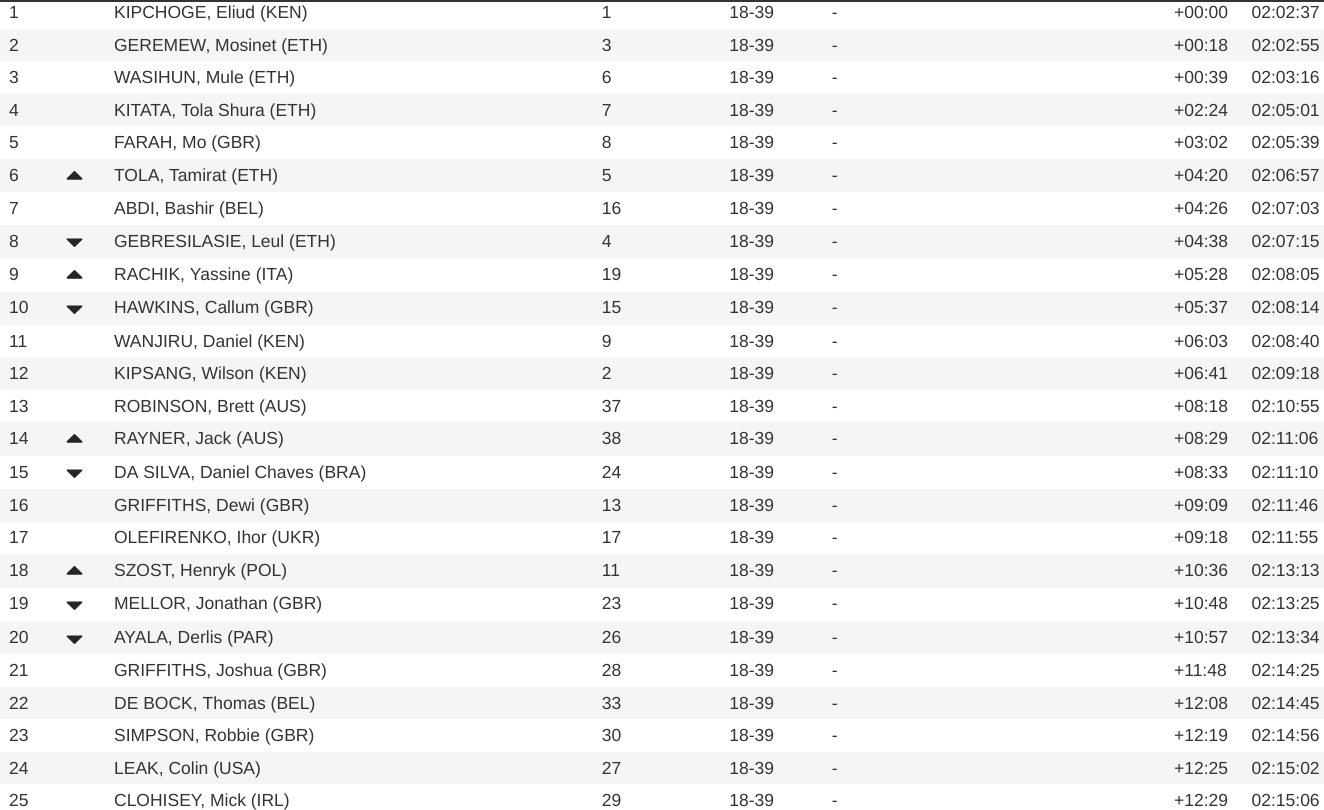 Analysis: Kipchoge's unprecedented success continues
We already knew it, but Eliud Kipchoge showed once again he is the greatest marathoner on the planet. We know his mastery cannot continue forever, and thus there always is a little uncertainty each time he races, but when Kipchoge displays it, it is a beautiful thing to watch. This brought Kipchoge's dominance to a nice round 10 straight marathon victories. Unbelievable in today's era of marathoning. A true maestro.
We have a separate article on Kipchoge's greatness here: LRC Putting Eliud Kipchoge's Marathon Greatness In Perspective No matter how you look at it — win rate, average time, or world ranking — Kipchoge is WAY better than anyone else in history. 
*MB: Can anyone explain Kipchoge's consistency ?
*MB: Longest marathon winning streaks
Quick take: The marathon is at a new level: 2:03:16 got 3rd place and Mo Farah was an also-ran in 2:05
Mulie Washun ran a tremendous race in 2:03:16. That barely put him 40 seconds within Kipchoge and more than 20 seconds behind second place. Mo Farah ran 2:05:39 and he was more than 3 minutes, and a half mile, behind Kipchoge at the finish. If this had been a marathon on a track, he'd have been 2 laps down. Kipchoge's greatness is unparalleled, and what is even more remarkable is that Kipchoge is excelling in an era where the marathon has gone to new heights. Everyone else has raised their game, but he still is the king.
Farah said that his plan was to sit in the back of the pack and use as little energy as possible, which he largely accomplished; he said he was feeling good when he hit halfway in 61:38. But once the pacemaker fell off, Farah simply was not good enough to hang with the top men today.
"Once the pacemaker dropped back, it was a little bit of a gap and somehow, I just saw the gap getting bigger," Farah said. "And then I tried to close and just didn't have it."
Quick take: The best of the rest go out hard, fade and PB
Showing how far the marathon has come, the second group hit halfway on 2:06:40 pace (led by Bashir Abdi of Belgium with Yassine Rachik of Italy and Callum Hawkins of Great Britain right there with Brett Robinson of Australia, Dewi Griffiths of Britain a few seconds back) and they were 1:43 behind the leaders.
Everyone in that group would slow down the second half but PR. Abdi finished 7th in 2:07:03 (previous PB 2:10:46) to set the Belgian record (and become the second Belgian man to run 2:07 this month), Rachik was 9th in 2:08:05 (2:12:09 previous pb), Hawkins 10th in 2:08:14 (2:10:17 previous pb), and Robinson 13th in his debut in 2:10:55 (well, his first marathon finish — he ran Fukuoka in December but didn't make it past 35k).
Speaking with Hawkins after the race, it was clear that, while he was pleased to run a personal best — he's now the third-fastest Brit ever, after Farah and Steve Jones (2:07:13) — he is far from satisfied.
Hawkins said he viewed today's race as a "stepping stone," but this was still a big result for him. Remember, this was Hawkins' first marathon finish in 20 months, as he had to drop out of the Commonwealth Games and scratch from Fukuoka last fall.
Still, Hawkins was utterly fearless, going out in 63:21 — a new tactic for a runner who had negative-splitted all four of his previous marathons that he'd finished.
"When I hit 40k, [the wind] fucking like smacked me in the face," Hawkins said. "I was like oh shit! So I managed to get myself back together, get my head under it and just grind out the last 2k…I was hoping for about 2:07, but I'm happy with 2:08 considering the conditions and everything."
QT: Nice job Brett Robinson, half marathon PR and marathon PR in same race!
According to Tilastopaja.eu, Robinson prior to today had only run 64:01 for the half marathon. (He is a 13:15, 5000m runner and was 30th at World cross this year). That didn't stop him from going out in 1:03:25 and holding on for the sub-2:11 in his (sort-of) debut.
Talk about the race on our world famous fan forum / messageboard.
Unofficial mile by mile recap:
Men's race (Mile splits courtesy of Helmut Winter and Sean Hartnett)
Mile 1: 4:37 Three pacers at the front, with Kipchoge right behind them. Farah is the last man in the pack, running behind a fourth pacer
Mile 2: 4:43. Kipchoge throwing his gloves off during mile 3.Mile 3: 4:30 (big downhill)
Mile 4: 4:40
Mile 5: 4:42
Mile 6: 4:46
Mile 7: 4:45
Mile 8: 4:42
Mile 9: 4:45. Farah falling back a little now, but the gap is still only about 5 meters.
Mile 10: 4:42. Farah has closed the gap, only about 2 meters behind back of lead pack (about 10m behind Kipchoge, who has sat right at the front behind the pacers from the gun).
Mile 11: 4:43
Mile 12: 4:45
Mile 13: 4:45.
HALF: 61:37. 9 men up front. Farah now falling back a bit
Mile 14: 4:32, fastest of the race. That is why Farah has dropped back. He's now about 30 meters back. Down to one pacer now during 15 miles as it's Kipchoge, Germew, Kitata, Wasihun, and Gebresilasie. They have now passed the pacer.
When Kipchoge passed the pacer, he looked back and motioned to the other runners as if to say: I'm taking over now, if you want a chance at winning, you better come with me.
Mile 15: 4:34
Mile 16: 4:34 Gebresilasie has dropped
Mile 17: 4:32 Kipchoge still grinding
Mile 18: 4:39
Mile 19: 4:50. Slowest of the race, but it's an uphill mile.
Mile 20: 4:43. Still Kipchoge, Geremew, Wasihun, Kitata. Kipchoge has been leading this thing.
Mile 21: 4:51 proj: 2:02:45
Mile 22: 4:45 proj: 2:02:50
Mile 23: 4:46 Kitata dropped during mile 24. Wasihun and Geremew still right behind Kipchoge. right around 1:50:30)
Mile 24: 4:42 Wasihun now dropping during mile 25 as they run along the Thames.
Geremew doesn't get his bottle at 40k, and he stays on the left side of the road. Kipchoge moves to the right and right after grabbing his bottle he accelerates and pulls away
1:55:39sh Kipchoge gets drink. Geremew down'
Mile 25: 4:26 Geremew is gone. It's all over. Grin/grimace on his face now as he's pulling away. Puffs his cheeks out in the final mile as he approaches Buckingham Palace. Only sign that he is remotely human.