Putting Eliud Kipchoge's Marathon Greatness In Perspective
By Robert Johnson
April 28, 2019
After Eliud Kipchoge won his 10th straight major marathon this morning in London, I decided the maestro deserved to have his greatness put in historical perspective. I really hope people appreciate just how much better he is than any other marathoner in history.
No matter how you look at it, Kipchoge is the GOAT (greatest of all time) in the marathon.
Where to begin?
Well his consistency is mind-boggling. Ten straight marathon wins in any era, let alone in this day and age of super competitive fields with huge prize purses, is mind-boggling.
Some Famous Elite Men's Marathon Win Streaks, According To Wu Ming
Eliud Kipchoge – 10
Abebe Bikila – 6  (from his marathon debut in 1960, ending with his 5th at Boston 1963)
Frank Shorter – 6
Bill Rodgers – 6
Derek Clayton – 5 (from his marathon debut in 1965, ending with his 7th at Mexico City OG)
Haile Gebrselassie – 5
Toshihiko Seko – 5 (from his Fukuoka win in 1979, ending with his 14th at 1984 OG)
Jim Peters – 4
Rob de Castella – 4 (from his Fukuoka win in 1981, ending with his 5th a 1984 OG)
In terms of world ranking, Kipchoge has been ranked #1 in the world in the marathon by Track & Field News for five straight years (not counting 2019); that's easily an all-time record. The most before Kipchoge was three, achieved by four men, but none of them did it in the last 40 years: Veikko Karvonen 51-54-55, Abebe Bikila 60-61-64, Frank Shorter 71-72-73, Bill Rodgers 75-77-79.
Article continues below player.
In the last 40 years, the most anyone has been ranked #1 in the world in the marathon is just twice and yet Kipchoge has done it five times consecutively.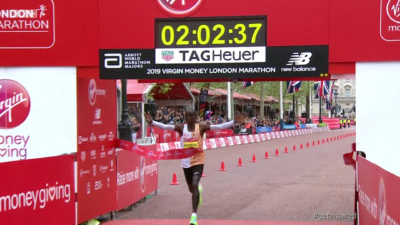 Multiple TFN World #1 Marathon Rankings in Last 40 Years
Waldemar Cierpinski –  1976 and 1980
Alberto Salazar – 1981 and 1982
Gezahegne Abera – 2000 and 2001
Juma Ikangaa – 1986 and 1989
Gezahegne Abera – 2000 and 2001
Sammy Wanjiru – 2008 and 2009
Eliud Kipchoge – 2014, 2015, 2016, 2017, and 2018
And the crazy thing is, given how much prize money is now in the marathon, it's much harder to be world ranked #1 than any time in history. If we compare Kipchoge to the men who held the #1 ranking according to TFN immediately before him, the discrepancy is vast.
Of the five other men who have been world ranked #1 in the marathon in the last 10 years, only one of them has won more than 50% of his lifetime marathons (Kipchoge has won 11 of 12 — 91.67%) and the longest win streak any of them put up in their careers was just four. If we compare the average of their five career-best times, which may not be totally fair given the fact that Kipchoge has been running recently in Nike's new Vaporfly shoes which are a level above anything else ever produced, Kipchoge is way ahead as well.
No matter how you look at it – win rate, average time, or world ranking – Kipchoge is WAY better than anyone else in history. And of course, he now has the two fastest times in history, 2:01:39 and 2:02:37 (as well as his non-record-eligible 2:00:25 at Breaking2). No one else has run faster than 2:02:55.
A Comparison Of The Men World Ranked #1 In The Marathon During The Last 10 Years

Year World Ranked #1
Career Win %
Longest Win Streak
Avg of 5 Fastest Times
2014-2018 Eliud Kipchoge 
91.67%
10
2:02:58.6
2013 Lelisa Desisa
26.67%
2
2:06:46.4
2012 Wilson Kipsang
45.45%
4
2:03:45
2011 Geoffrey Mutai
46.67%
2
2:04:29.6
2010 Patrick Makau
45.15%
2
2:05:05.4
2008-2009 Sammy Wanjiru
71.40%
3
2:05:05.5
2008-2009: Sammy Wanjiru – The late Wanjiru won 5 of his 7 career marathons (71.4%) and his longest win streak was three: 2008 Olympics (2:06:3), 2009 London (2:05:10), and 2009 Chicago (2:05:41).
2010: Patrick Makau – Makau won 6 of 13 career marathons (45.15%) and his longest win streak was two, achieved two separate times (2010 Rotterdam, 2010 Berlin; 2014 Fukuoka, 2015 Fukuoka).
2011: Geoffrey Mutai – Mutai won 7 of his 15 career marathons (46.67%). His longest win streak was 2; Monaco and Eindhoven in 2008 and Boston and New York in 2011.
2012: Wilson Kipsang – Kipsang has won 10 of his 22 career marathons (45.45%) and his longest win streak is four. Kipsang won four marathons in a row early in his career but only one was a major — 2010 Frankfurt (2:04:57), 2011 Mainichi Otsu (2:06:13), 2011 Frankfurt (2:03:42), and 2012 London (2:04:44). He later won three straight majors: 2013 Berlin (2:03:23 WR), 2014 Lonodn (2:04:29), 2014 New York (2:10:59).
2013: Lelisa Desisa – Desisa has won 4 of his 15 career marathons (26.67%) and his longest win streak is 2. He won Dubai and Boston in the first two marathons of his career in 2013.
Here's how good Eliud Kipchoge is.

The average of his five fastest marathons is 2:02:59.

The fastest marathon ever by someone not named Kipchoge is 2:02:55.

His five fastest, and everyone else's below: pic.twitter.com/OTcwmDraKo

— Jonathan Gault (@jgault13) April 28, 2019
More: Talk about Kipchoge's greatness on our world famous fan forum / messageboard: