WR Alert: Yomif Kejelcha Targeting 1500 & Mile World Records — In the Same Race! — at Boston University on Sunday
By LetsRun.com
March 1, 2019
BOSTON — Yomif Kejelcha is taking one last shot at the world record this indoor season. Or more accurately, he's taking one shot at two world records as he's hoping to take down both the 1500 and mile records on Sunday at Boston University's super fast track.
Article continues below player.
"He's going for the 1,500 record, and afterwards just hope to maintain so he can get the mile as well," Kejelcha's coach Alberto Salazar told DyeStat. There will reportedly be FAT timing set up at the 1500-meter mark in order to make Kejelcha's en-route time eligible for a world record.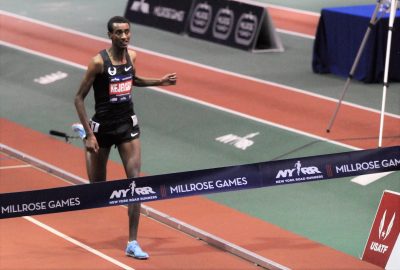 Both marks have eluded Kejelcha so far in 2019. At the Millrose Games in New York on February 9, he ran 3:48.46, missing Hicham El Guerrouj's 22-year-old world record by a mere hundredth of a second. A week later in Birmingham, Kejelcha ran 3:31.58 to become the third-fastest indoor 1500 man ever, but he lost the race to fellow Ethiopian Samuel Tefera, who ran 3:31.04 to break El Guerrouj's record of 3:31.18.
Barring an absolute disaster, the latter scenario won't be in play on Sunday; while Kejelcha is going after the world records, the rest of the field, which includes the top three finishers from USAs last week in Craig Engels, Henry Wynne, and Johnny Gregorek, will be following a second pacemaker, Jesse Garn, in order to hit the IAAF World Championships standard of 3:53.10.
The race, which will be known as the Bruce Lehane Invitational Mile and is accompanied by a women's section, will be held at 4:00 p.m. after the conclusion of the IC4A/ECAC Indoor Championships. It will be broadcast on Runnerspace+/USATF.tv +.
US 800 meter man Erik Sowinski, who like Kejelcha is sponsored by Nike, has been enlisted to set the pace for Kejelcha, and he told LetsRun.com that he has been asked to come through 800 meters in 1:52. His plan is to run the first 200 meters in 27.9 or 28.0 and run as evenly as possible from that point to hit 800 in 1:52. He also said that Kejelcha will have a second pacemaker — whose identity remains unknown as of now — who is planning on going farther than 800 meters.
Sowinski said that he's not feeling too much stress, even though a world record is on the line. Known for his consistency, Sowinski has run between 1:46.61 and 1:48.29 in all five of his 800's this season.
"I'm excited that they asked me to do it," Sowinski told LetsRun.com. "800 in 1:52, hopefully I'll be able to run that pretty even without too much issue. Bram [Som] rabbitted those guys through 700 and Jordy [Williamsz] took them through 1k at kind of the same paces [in Birmingham], so I was able to watch that once or twice and see what kind of paces they ran and that put my mind at ease a little bit."
Salazar told DyeStat that "we want it to be as even as possible, 28.3 seconds for each 200," which doesn't quite add up. For the record, hitting 800 meters in 1:52.0 would require 28.00-second 200's. 1500 WR pace is 28.13 seconds per 200, and mile WR pace is 28.39 seconds per 200.
The paces will be extra important at BU, because trying to break the 1500 and mile world records in the same race is obviously harder than just breaking the mile record on its own. Remember, in Birmingham, Kejelcha ran 3:31.58, and that was in an all-out, record attempt setting. In Boston, he'll have to run over half a second faster and hold on for another 109 meters after that to get the mile record. That is difficult; when Kejelcha ran his 3:48.46 mile at Millrose, he came through 1500 in 3:33.17. Obviously Kejelcha can afford to slow his pace slightly after hitting 1500 (3:31.04 is 3:46.43 mile pace, so he has a two-second cushion), but LRC stats/coaching guru John Kellogg still estimates that Kejelcha would need to be in low-to-mid-3:29 shape in order to come through 1500 in 3:31.04 or faster and still have the ability to hold on for the mile WR.
Salazar told DyeStat that he doesn't think Kejelcha is fitter than he was at Millrose, but that "he'll be the most rested that he's been right now before any race this season." Kejelcha will have had 15 days to rest since his last race in Birmingham, and we imagine his pre-meet workout won't be as intense as the session he ran before Millrose, which Salazar admitted, in retrospect, was "a little bit too hard."
Discuss this race on our messageboard: MB: CRAZY or GENIUS? Alberto Salazar Says Kejelcha is Going for BOTH 1500 AND Mile records at same time
Start list