Ajee' Wilson Gets Her American Record Back* By Running 1:58.60 to Win Millrose 800
By LetsRun.com
February 9, 2019
NEW YORK —Breaking an American record is never a formality, especially when the record in question has stood for almost 17 years. But Ajee' Wilson is so good that it sure felt that way before she ran 1:58.60 to erase Nicole Teter's 1:58.71 from the books at the 2019 Millrose Games.
If Wilson breaking an American record at Millrose sounds familiar, it's because she did just that two years ago, running 1:58.27. But Wilson's post-race urine sample tested positive for zeranol, an anabolic agent used for stimulating growth in livestock. Wilson was eventually able to convince USADA that she had ingested the substance accidentally through tainted meat, and while she never had to serve a ban (USADA issued a no fault finding against Wilson), her 1:58.27 at Millrose could not count and the record was never ratified. So pending ratification, the record is now officially Wilson's.
Article continues below player
Wilson says she has changed her diet as a result and no longer eats red meat, which means that her run tonight should count. And like fellow American record-setter Donavan Brazier, Wilson attacked early in the race, hitting 200 in 27.21 and 400 in a sizzling 57.19 behind rabbit Kendra Chambers.
With 300m to go, she was clipped by Jamaica's Natoya Goule from behind and stumbled, but she kept her cool and her feet. She slowed that lap (30.82), but still held the lead over Goule and American Ce'Aira Brown at the bell.
With two rivals breathing down her neck and the American record slipping away, a lesser runner might have panicked. But Wilson's cool demeanor, on and off the track, has carried her to eight national titles and counting, and she controlled the race to the very end, holding her speed well enough that neither Goule nor Brown seriously threatened to pass her on the final lap. Wilson did cut it close when it came to the record — she dipped under by just .11 — but she got it done. Runner-up Goule set a national record as well (1:59.13), while third placer Brown had to settle for her first indoor sub-2:00 (1:59.74).
(Interview with Ajee' below results)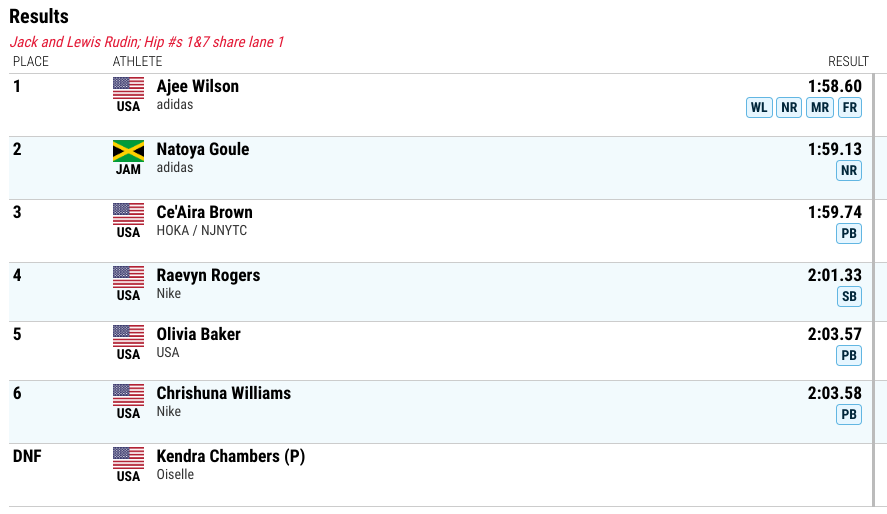 Quick take: Wilson is so good this was expected, but it wasn't easy
Wilson ran faster two years ago at Millrose and is a better runner than she was two years ago, so in some sense this record was expected which probably should never be said about an American record. However, she was clipped 300m from the finish and had two very tough competitors in Goule and Brown. Nothing fazed Wilson and she got the win and the record.
When asked if American records get old, Wilson replied, "Nope not at all and it's not easier. I definitely had to work for that one. It's special because now I have the outdoor and indoor record. Seeing Tori Franklin get the triple jump record yesterday  for indoor and outdoor kind of motivated me."
Up next USA and a crack at the American record for 600
Ajee' said running at the Armory is extra special because her relatives get to see her compete. We ran into Ajee's family and friends after the race exiting the Armory and they are big fans.
Up next is another treat for them (and Ajee') as she will be competing at the USA Indoor Nationals in Staten Island in the indoor 600 where they'll get to see here again "I'm glad my family is going to make it. A lot of them haven't been to a major championship or national championship to see me compete," Ajee said. "If I'm being greedy it would be awesome to get the American record in the 6(00) as well," she said about nationals.
The record is Alysia Montaño's 1:23.59 from two years ago. Ajee's best is 1:23.84 from two years ago at altitude.
*As Ajee' knows better than most, American records aren't official until they are ratified.