WTW: Sick Japanese Men's Marathoning, Another WR for Kyle Merber, Freshmen Sydney McLaughlin and Lynna Irby Put on a Show at SECs
The Week That Was In Running, February 19 – 25, 2018
By LetsRun.com
February 28, 2018
Past editions of the Week That Was can be found here. Questions, comments, or a tip? Please call us at 844-LETSRUN (538-7786), email us or post on our forum.
If during the week you missed our Tokyo Marathon coverage, our article on the suspension of Vin Lananna, or our exclusive interview with Matthew Centrowitz catch up now:
LRC Trying To Make Sense Of USATF's Suspension Of Vin Lananna – Was This A Silent Coup?
Article continues below player.
LRC Matthew Centrowitz On His Move Back East, Trying To Break American Records, His 2017 Season, & His Upcoming Australian Trip
****
Stat of the Week I 
0 – Words said on the Olympic Channel's broadcast of the 2018 Tokyo Marathon on Saturday night about the $936,000 bonus (100 million Japanese yen) that was awarded in Tokyo to Yuta Shitara for breaking the 2:06:16 Japanese national record by running 2:06:11.
Shitara's epic run coupled with the huge payout was certainly the highlight of the week for us. It's a shame the bonus wasn't better promoted so that the announcers on the Olympic Channel (Josh Cox and Paul Swangard) knew about it. We only remembered it existed thanks to the fact that Japan Running News' Brett Larner, who did a separate play-by-play that was used by NBC Gold, did know about it.
Thank you, Brett.
Shitara's run and payday both were epic. In the end, when you add in all of the various bonuses and prize money that Shitara received, it totaled 109,000,000 Japanese yen, or $1,018,060. Everyone else in the race, including the men's overall winner Dickson Chumba (2:05:30) and women's winner Birhane Dibaba (2:19:31) earned a total of 36,500,000 Japanese yen, or $340,910.
More: LRC Dickson Chumba & Birhane Dibaba Win, Amy Cragg Runs US #5 A-T 2:21:42, & Yuta Shitara Runs 2:06:11 To Set Japanese Record And Win $936,000
*****
Email of the Week
Speaking of Brett Larner, we emailed him to ask him what the heck was the armband that Yuta Shitara put on his arm after picking up a bottle at the 40k water station. Here's Brett's response:
The thing on Yuta's arm was a drawing of him wearing a Saitama singlet (where's he from, the same prefecture as [Yuki] Kawauchi) with the words "Last Fight," i.e. rock the last stretch. It was attached to his 40k bottle. He tweeted a picture of it after the race:
東京マラソン
2時間6分11秒で16年ぶりに日本記録更新できました。
30k以降苦しい場面もありましたが、沿道の声援が1番力になりました!
たくさんのお祝いメッセージありがとうございました! pic.twitter.com/bwUb2PpauU

— 設楽 悠太 (@yuta_shitara) February 25, 2018
I think his parents made it. It's pretty common for teams/families/friends/SOs to put messages of support on the bottles but I've never seen one like that before.
Shitara was the first college kid I took to the NYC Half back in 2012. He ran 1:01:48 and outkicked Ritz. I'm so proud to see him come this far now.
Brett
Brett wrote an article in 2016 that sort of predicted the incredible Japanese success in Tokyo this year, and talked about the trip to the NYC Half in 2012 being important.
MB: The unanswered question from Tokyo- What the heck was on million $ marathoner Yuta Shitara's arm the final 2k of the race?
*****
Stat of the Week II
3 – number of American-born men that have ever broken 2:09:00 in a marathon.
6 – number of Japanese men (all Japanese-born) that broke 2:09:00 last week in Tokyo.
8 – number of American men that have ever broken 2:09:00 in a marathon.
America's 8 Sub-2:09 Men
1. 2:04:58 Ryan Hall (Asics) 04/18/11
2. 2:05:38 K. Khannouchi (New Balance) 4/14/02
3. 2:07:47 Dathan Ritzenhein (Nike) 10/07/12
4. 2:08:37 Meb Keflezeghi (Skechers) 04/21/14
5. 2:08:40+ Alberto Salazar (Athletics West) 10/25/81
6. 2:08:47 Bob Kempainen (Nike) 04/18/94
7. 2:08:54 Dick Beardsley (New Balance) 04/19/82
8. 2:08:56 Abdi Abdirahman (Nike) 10/23/06
 Japan's 6 Sub-2:09 Men in Tokyo
1. Yuta Shitara              2:06:11 NR*
2. Hiroto Inoue            2:06:54 PB
3. Ryo Kiname             2:08:08 PB
4. Chihiro Miyawaki   2:08:45 PB
5. Kenji Yamamoto     2:08:48 PB
6. Yuki Sato                  2:08:58 PB
(+ they had 7 more runners sub-2:11)
MB: What is Japan doing differently in marathon training compared to the U.S.? 
America's fastest Marathoners via TFN
*****
Unknown Wins $266,650 In Half Marathon In Saudi Arabia
Speaking of CRAZY big prize purses that few knew about, a half marathon was held in Saudi Arabia last week and it paid out $266,650 for first place (SAR 1,000,000, men only).
First place went to Ethiopia's Getaneh Tamire (Molla) who won by running just 61:53. If you think the time was slow only because it was crazy hot, think again. The low was 58 and high was 79 on Sunday in Riyadh. As a result, we bet there are a hundred half marathoners who want to fire their agents now for not knowing about the 1st Riyadh Half Marathon.
That being said, word clearly did get out to some studs as the guys behind Tamire have some nice credentials.
Tamire himself is a pretty good runner. He won the 2015 All-Africa Games 5000 and has pbs of 13:05 for 5000 and 60:34 for 13.1, but he is far from being known as one of the world's very best distance runners or half marathoners before last weekend. Last year, he finished 18th in two of his most high profile races (Pre Classic 5000 in 13:21 and World XC).
But some pretty good guys showed up to try to take down the huge prize. Here are the credentials of the top 5 at the 1st annual Riyadh Half Marathon.
Place / Runner / Time / Credentials
1. Getaneh Tamire – ETH – 61:53 – 13:05 pb
2. Jorum Okombo – Ken – 61:56 – 58:48 last year in Copenhagen, 59:36 for 4th at RAK half this year
3. Amdework Walelegn ETH – 61:59 – this was the half marathon debut for the 18-year-old who was 4th in the 2016 world junior 10k and has pbs of 13:14/28:00
4. Alex Oloitiptip – 62:06 – 58:51 in Copenhagen last year, 60:49 in Houston this year.
5. Guye Adola – 62:06 – 2:03:46 marathoner was 2nd in Houston Half this year in 60:15. Has 59:06 pb.
****
Stat of the Week III
1.54 seconds – amount of time that Josh Hoey (Pennsylvania), who is headed to the University of Oregon next year, took off of Robby Andrews's old US high school indoor 800 record of 1:49.21 last week at a last chance meet at Boston University.
****
Stat of the Week IV
6 – number of Americans that broke 4:00 in the mile in section 1 of Sunday's BU Last Chance Meet, led by the Brooks Beasts' Izaic Yorks.
6 – number of Japanese men that have broken 4:00 in the mile ever — indoors or out.
Two of those Japanese men ran sub-4 in Boston last week as Tokai University's Ryoji Tatezawa made history by breaking the Japanese record in the mile with his 3:57.43 clocking. Previously, the overall Japanese mile record was Kiyonari Shibata's outdoor 3:58.89 from 1996 (no Japanese man had ever broken 4:00 indoors). Tatezawa's teammate Hayato Seki ran 3:59.03 in the same heat, making Tatezawa and Seki just the fifth and sixth members of the Japanese sub-4:00 club.
****
Mean Text Message of the Week / Stat of the Week V
Ok, we hope Erin Finn isn't reading this, but we are only sharing this text because Kyle Merber is one of the more entertaining guys on the circuit. We hope this fuels him to a US team in 2019.
This is a text one of the LRC staff members got after Merber's Hoka NJ*NY team broke the 4 x 800 world record in Boston.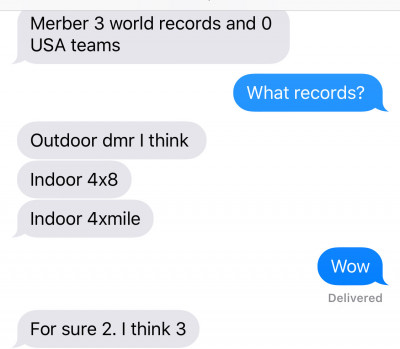 Got something you want to share with us? Well the LRC text line is private but we do have a phone line — 844-LETSRUN (538-7786) or you can hit us up via email at letsrun@letsrun.com.
More: LRC  Hoka NJ*NY TC Breaks 4 X 800 World Record As 3 Teams Run Under Old Record, Josh Hoey (1:47.67) Crushes 800 High School National Record, Emily Sisson (15:13) 5k World Leader, Japanese Mile Record, 1st Sub-4 By A DIII Guy 
MB: Erin Finn Tweet
****
Talk About Clutch – Incredible Clutch Performances at SEC Meet – NCAA Conference Action
Most of the major NCAA conference championships were held last weekend and we're going to go into them in more depth next week.
See this thread if you've got some performers you want acknowledged: What collegiate athletes had their dreams become reality this past weekend? 
However, we did want to talk about two great performances at the SEC meet.
First, the women's triple jump. In that event, Georgia's Keturah Orji, the 2018 world leader at 14.53m and 4th placer at the 2016 Olympics, found herself trailing entering her final jump as Florida's Yanis David came up big in the sixth round with a 46'3.50″ leap (14.11m) — her first career 14+ meter jump. Orji then responded with a 46'6.25″ (14.18m) leap of her own to win her fourth straight SEC title. Orji is now the first SEC women's athlete to ever win the same field event all four years at an SEC Indoor Championship.
Orji's got a very busy three weeks as this weekend she'll be going for gold at World Indoors before competing at NCAAs the weekend after.
More: Orji Post SEC Interview
But the race of the weekend was the women's 400m at SEC.
Two College Freshmen Run 50.52 and 50.62 for 400m at SECs
In the women's 400m, Kentucky freshman phenom Sydney McLaughlin ran two world-leading 400ms. First, in the prelim she blitzed a 50.97 to become the first woman in the world under 51 seconds this year (coming in her PB was 51.61 from last  year).
Then in the final she improved to a world junior record of 50.52, .6 faster than the fastest time in the world prior to last weekend. So she dominated the race right?
Think again. McLaughlin was nearly beaten by another college freshman as Georgia's Lynna Irby ran 50.62 to finish .10 behind McLaughlin. It was a great race (see video below). While McLaughlin is known for making the Olympics as a high schooler in the 400 hurdles in 2016, Irby was the silver medallist at World Juniors in the 400 in 2016 and the fastest US high schooler at 400m in 20 years according to Wikipedia. Both women were within shouting distance of Phyllis Francis' American and NCAA record of 50.46.
And before you feel sorry for Irby running 50.62 and losing to another college freshman, realize that she had the more impressive weekend as she also was in the 200, where she came back later on Sunday to run a world-leading 22.66 for the win.
Video of the 400 below.
?WORLD U20 RECORD ALERT?@GoSydGo runs a world-leading 50.52 ????? over 400m, breaking @SanyaRichiRoss's World Indoor U20 Record and also breaking the SEC Meet Record #SECITF18 pic.twitter.com/sAi8aFEEDe

— ? ? ? ? ? ? ? ? ? (@AthleticsGif) February 26, 2018
---
Women of LetsRun.com- We need your shoe reviews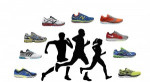 Ladies, we need your shoe reviews. We're trying to build a better shoe site and one premise is men's shoe reviews are different from women's shoe reviews. Help us out by reviewing a shoe and you could win the shoe of your choice from Running Warehouse.
---
We Can't Help But Respond To Some of The Stupidity Raised in This Caster Semenya Article
Earlier this monty, The Guardian published a lengthy article on Caster Semenya by Anna Kessel entitled, "The Future of The Commonwealth: The unequal battle: privilege, genes, gender and power  – The tense debate around Caster Semenya and Dutee Chand demonstrate the intersection between race, gender and medical imperialism." As you can probably tell by the title, the article tries to turn the debate on Semenya into one about white versus black, rich versus poor and it's not about that at all. It's about protecting the integrity of women's sports in an era when the definition of gender is becoming much more fluid.
We've long admired Caster Semenya for not slinking away and having the guts to pursue her passion. That being said, we've never felt she should be allowed to compete in the women's category without suppressing her testosterone and aren't going to sit by while the social justice warriors turn this into their latest cause célèbre.
We want to simply answer a two-paragraph segment that drove us nuts. Without further ado:
Kessel: Hyperandrogenism, as so many have since argued, is just one genetic variation among many that separates one athlete from another. Eero Mäntyranta, the Finnish cross-country skier who dominated his sport in the 1960s, had a naturally high red blood cell and haemoglobin count; Usain Bolt is almost 2m tall and, combined with lightning fast leg turnover, obliterated the competition through three Olympic cycles. But no one complained that his presence in the competition made for an uneven playing field. So why should gender be singled out for regulation?
LRC response: Why should gender be singled out for regulation? The answer is obvious. Semenya is trying to compete in a special category of sports called women's sports that is entirely for people of a single gender. Problem is with intersex or hyperandrogenic athletes, things are no longer so simple. Originally, when sports started there was one category — the open category. In the 20th century, we've created a second category called women's sports as women struggle to compete with men in sports due to biology. There is no regulation of the open category (commonly known as the men's category). All genetic advantages are allowed. That isn't true in women's competition. If society had been more advanced in 1976 than it was and Bruce Jenner had said he wanted compete as Caitlin in the women's Olympics, that clearly wouldn't have been fair. So clearly things have to be regulated. And we don't want to hear about how it's invasive. All professional athletes agree to an invasion of privacy — they must allow someone to stare at their private parts while the urinate to take drug tests.
Kessel: I attended a sports conference in 2016 and heard the bioethicist Dr Silvia Camporesi discuss these issues. Since the hyperandrogenism rule came into place, says Camporesi, only women of colour from the global south have been targeted for gender testing. "How could this be?," I asked.
LRC response: The answer for this is simple as well. Hyperandrogenism is likely more prevalent (here, here, here, here, possible cause here and here) in rural parts of southern Africa.
More: "The Future of The Commonwealth: The unequal battle: privilege, genes, gender and power  – The tense debate around Caster Semenya and Dutee Chand demonstrate the intersection between race, gender and medical imperialism."
****
Quote of the Week (that wasn't quote of the day)
"That's the thing I've been working on, trying to put my name out there. Mo [Farah] is gone, [Bernard] Lagat is gone, so the younger generation is trying to get the position of those guys."
–Edward Cheserek talking to Spikes last week in an article entitled "Arise, King Cheserek." We certainly think the nickname King Cheserek, plus his performances and the four years of branding at a US college, have made it so his name is very well-known — at least in US distance circles.
In the article, Cheserek explained why he wants to run for the US. "I've been here almost nine years. I grew up here, knowing coaches, athletes and how to compete with these guys. My friends are here, I was always socialising with runners and they think I'm an okay guy," he said, before adding with a laugh, "even though I'm not."
More: ARISE, KING CHESEREK
****
Recommended Reads
LRC Trying To Make Sense Of USATF's Suspension Of Vin Lananna – Was This A Silent Coup?
LRC Matthew Centrowitz On His Move Back East, Trying To Break American Records, His 2017 Season, & His Upcoming Australian Trip
Photographer Tony Duffy Explains How His Photo Of Bob Beamon's World Record Long Jump In 1968 Changed His Life
Good Watch: 8-Minute CNN Feature On Gabriele Grunewald And Her Battle With Cancer
Runner's World: Love an Underdog? Oregon Has One to Root For In Walk-On Mick Stanovsek Not many schools you can be considered an underdog with a 4:10 high school PB, but Stanovsek didn't make the team his freshman year, but now has a 3:57 PB.
To see our favorite reads from other weeks, go here.
****
Quotes Of The Day And Last Week's Home Pages
To see the actual quotes of the day from last week or last week's home page or any home page, go to our archive page.
---