Mosinet Geremew & Roza Dereje Win 2018 Dubai Marathon — The Deepest Marathon In History As 7 Men Break 2:05 & 4 Women Break 2:20
By LetsRun.com
January 26, 2018
The marathon is turning into a track race.
If you stayed up late (or got up early, depending on where you live) to watch the 2018 Standard Chartered Dubai Marathon, you were rewarded with perhaps the most insane — and certainly the deepest — race in the history of marathoning.
The numbers are hard to believe.
Seven men under 2:05, including six between 2:04:00 and 2:04:15.
Article continues below player.
Four women under 2:20 and two more under 2:21.
The fastest third, fourth, fifth, sixth, and seventh place finishers in history — in the men's and women's races.
The men's race itself was sublime over the final mile as Mosinet Geremew of Ethiopia won it the men's race in an event-record 2:04:00 in one of the craziest finishes in marathoning history. Even though the winning time was 2:04:00, there were six men sprinting down the homestretch for the $200,000 first-place prize, the richest first place price in the sport.
In the end, Geremew was too good as he separated from Leul Gebresilase, who in turn separated from last year's champ and favorite Tamirat Tola. No one could take it easy at the end of this one as the prize money drops off tremendously in Dubai: from $200,000 for first to $80,000 for second, then quickly down to $40,000, $20,000, $13,000, and $12,000 for the next four places. The man left holding the short end of the stick was 6th-place finisher Birhanu Legese, who was just 15 seconds from pocketing $200,000, but instead picked up $12,000 — just $1,000 more than 8th-place finisher Yenew Alamirew, who was 4 minutes behind him. The top 10 in this race were all Ethiopian. Video of the finish and results below. Full recap and analysis after brief discussion of women's race.
Ever wonder what running 2:04:15 and finishing 6th in a marathon looks like? This. https://t.co/pWrp4FyDz2 … pic.twitter.com/pCexCRchHV

— LetsRun.com (@letsrundotcom) January 26, 2018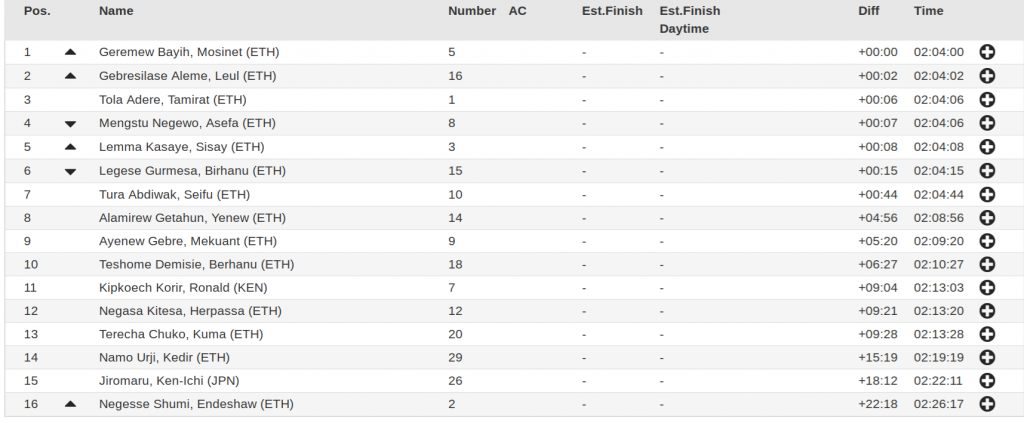 The women's race was almost as ridiculous as Ethiopia's Roza Dereje broke away late to win by 13 seconds in 2:19:17 — like Geremew's time, a Dubai Marathon record. Feyse Tadese (2:19:30), Yebrgual Melese (2:19:36), and defending champ Worknesh Degefa (2:19:53) made it four sub-2:20 finishers in all, the most ever in one race. There was more history behind them, as fifth placer Haftamnesh Tesfay ran 2:20:13 and sixth placer Gelete Burka ran 2:20:45 — marking the first time six women had broken 2:21 in the same race as well.

Men's race blow-by-blow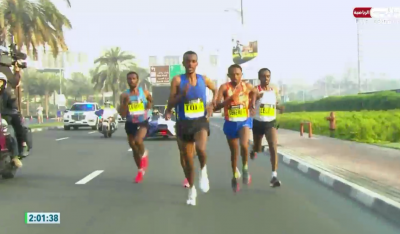 In any other marathon, the opening-half split of 61:36 — led by Kenyan rabbits Felix Kibitok, Barselius Kipyego, and Benson Kipruto and followed by 10 Ethiopian racers within the next four seconds — would be remarkable. But the organizers in Dubai ensure their race goes out fast every year. 61:36 — which is 2:03:12 pace (a time only three men have bettered on a record-eligible course) — is right in line with the first half in other recent Dubai Marathons as the leaders hit 13.1 miles in 61:33 last year, 61:39 in 2016, and 61:39 in 2014.
The real racing in Dubai doesn't begin until the rabbit steps off, but for a few minutes, it looked as if Kibitok, the final rabbit standing, was not going to step off at all. By 30k (1:27:33, or 2:03:08 marathon pace), Kibitok had opened up a four-second gap on the seven-man pack behind him and was looking good.
But Kibitok, who did an excellent job of pacemaking, did not make it to 35k, and that left seven men: defending champ Tamirat Tola, Asefa Mengstu, Mosinet Geremew, Seifu Tura, and Sisay Lemma, and two men making their marathon debuts: Birhanu Legese and Leul Gebresilase. At the 35k drinks station, the marathon rookie Gebresilase cut off Tola, almost causing Tola to fall to the ground, but Tola averted disaster as he kept his footing.
Mengstu led the way toward 40k, but created very little separation. And with good reason: they had slowed to 15:06 from 35k to 40k, the first 5k split over 15:00 of the race. Only Tura was beginning to show signs of struggle as he sat a few meters off the other six.
With just under a mile to go, Tola made his bid for a repeat victory, repeatedly looking over his shoulders to see if he had created any separation. As they made the turn for home into the final straight, just over 400 meters from the line, Lemma found himself in the lead but Tola, Geremew, and Gebresilase were all still close, each of them running all-out, calling on any remaining energy reserves in their tired legs.
It was a marathon finish for the ages. Rarely will you find so many men so close to the leader so far into a marathon, and never at these speeds.
Eventually, Geremew and Gebresilase began to separate, but Gebresilase could not hang with his rival, Geremew sprinting away to earn the win and the extra $120,000 that came with it. He had run his final 1,194 meters (from 41k to the finish) at 4:24 mile pace. 
Behind him, the next five crossed in a deluge, with Tura, who had been the first of the seven to fall off, still running well under 2:05 to take seventh. (Analysis at bottom of article).
Note: An earlier version of this article stated Geremew ran 4:21 mile pace from 41k (2:00:44) to the finish. He actually ran 4:24 pace.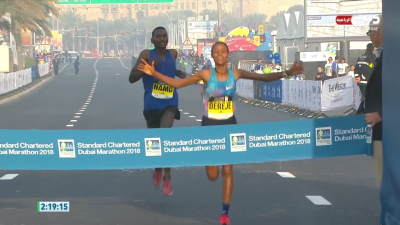 Women's race blow-by-blow
The women's race played out in similar fashion to the men's, with a ludicrous 15 women passing halfway in 1:10:09 or faster. That group gradually dwindled to nine at 30k, six at 35k, and by the time the leaders hit 40k in 2:12:23, they were still on 2:19:38 pace and four women remained: defending champ Worknesh Degefa, Roza Dereje, Yebrgual Melese, and Feyse Tadese. All were in uncharted territory as Tadese owned the fastest PR among them at 2:20:27; none of the other three had ever broken 2:22.
Shortly after 40k, Dereje made her move, and only one person could answer. Fortunately for Dereje, it was not a woman, but instead the male pacer that had been accompanying the leaders. He stayed with her all the way to the finish line as no one could reel her in, Dereje taking down Aselefech Mergia's event record of 2:19:31 from 2012 by running a three-minute PR of 2:19:17 to claim the massive $200,000 payday (Mergia, a three-time champ in Dubai, wound up a DNF this year). Dereje's compatriots were sprinting like mad behind her as the top six were all 2:20:45 or better. The 6th placer was 3:58 1500m runner and 2008 world indoor 1500 champion, Gelete Burka, who took 5-plus minutes off her previous marathon PR of 2:26:03.
Analysis
Quick Take: What a big $$$ difference a few seconds made
The Dubai approach to attracting a top field is to offer a huge first-place prize and to invite a ton of people to try to go get it. It pays off with fast times and wins often by people who might not get a shot in a World Marathon Major. The $200,000 first prize that goes to the Dubai winner is the richest in the entire sport of athletics/track and field. However, as mentioned above, the prize money is front-loaded, so it's hard not to feel a little sympathy for 6th placer Birhanu Legese who ran 2:04:15 and got $12,000. The guy 15 seconds in front of him took home $200,000.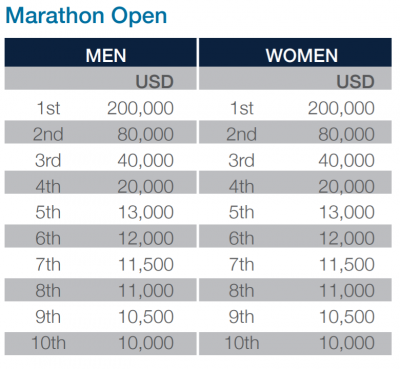 Quick Take: Who is men's winner Mosinet Geremew you ask?
If you didn't read our men's race preview, you may not know who Mosinet Geremew is.
You better get to know him as he may be a major force at 26.2 for years to come. Geremew clearly is someone who gets better the longer he runs. The 25-year-old was ok at 5000 (13:17), a little better at 10,000 (27:18) and really good at the half marathon (59:18). He made the move up the marathon last year and has improved each time out. He was second in his debut in Xiamen in 2:10:20 – not a bad result considering the race was won by 2015 Dubai winner and 2016 Dubai runner-up Lemi Berhanu. Then Geremew was third in Berlin in 2:06:12 – losing only to the greatest marathoner in history, Eliud Kipchoge, and the fastest debutant in history, Guye Adola.
Quick Take: Who is women's winner Roza Dereje?
We definitely don't blame you if you don't know who Dereje is. Neither the event organizers of Dubai nor the results databases we subscribe to know her all that well. They all list her date of birth as "unknown."
What we do know about her is she loves to race the marathon. Up until today, she had eight races listed on tilastopaja.org for her career. Seven of them were marathons, including three each in 2016 and 2017.
Here is what her marathon career looked like before today.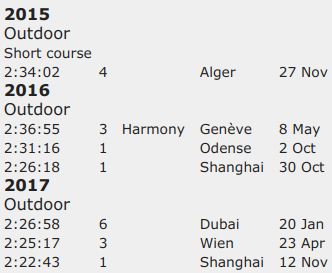 Definitely a huge downward movement. Today, she PR'd for the third straight marathon and for the 5th time in her last six outings at 26.2.
And last year, on September 17, she ran her first career half marathon in Copenhagen. Her time? 67:23. So clearly she's a big talent as that's two seconds faster than Molly Huddle's recent American record and it came in a year during which she ran three marathons.
Quick Take: If you think there is something illegitimate about the fast times put up in Dubai, think again
Many runners are unable to reproduce the times they run in Dubai — even in races that serve as their marathon debuts:
In 2012, Ayele Abshero won Dubai in in his debut in 2:04:23. He hasn't come within two minutes of that since (his next best time is 2:08 slower).
In, 2013, Lelisa Desisa won his debut in 2:04:45 and his next best time is 2:05:52.
In 2014, Tsegaye Mekonnen won Dubai in his debut in 2:04:32 and his next best is 2:04:46.
That doesn't mean these marks aren't 100% legitimate.
It's not like Abshero (twice top-4 at London), Desisa (2 Boston wins, runner-up at Worlds, NY, Dubai and Boston), and Mekonnen (2:04:46 in Dubai in 2016) never did anything besides run fast in Dubai.
And take a close look at this year's runner-up, Leul Gebresilase. Do you really not think he's capable of running 2:04? Or course he is. In October in Valencia, he ran 59:18 to win and beat Sondre Moen by 30 seconds. Moen ran a European record of 2:05:48 in Fukuoka. Since Gebresilase was 30 seconds better than Moen at 13.1, it's not hard to fathom that he's a little bit more than a minute better over 26.2.
Quick take: We could have had 5 men under 2:04 today
The men's race came down to a sprint the final kilometer. It looked more like a road 5k rather than a marathon. And the crazy thing is the finishing time could have been faster if there had been fewer guys together or even a time bonus for a sub-2:04. Instead with no bonuses, the guys waited to sprint and that prevented them from dipping under 2:04.
Quick take: Ethiopia in one day utterly dominated what the USA has done in its lifetime of marathoning
There are a lot of Ethiopian fans at the finish in Dubai and the race is dominated by Ethiopian runners. The top 10 on the men's side were Ethiopian, as were the top seven on the women's side. In one race, one country had seven men under 2:04:45 and six women 2:20:45 or faster. America, in its lifetime, has had no men under 2:04:45 and one woman under 2:20:45.
MB: The bar has been raised: Ethiopia just had 7 men under 2:04:45 and 6 women 2:20:45 or better in one race.
Quick take: Incredible debuts for Leul Gebresilase and Birhanu Legese
Dubai has a history of guys running really fast and winning the race in their debut: Ayele Abshero (2:04:23 in 2012), Lelisa Desisa (2:04:45 in 2013), and Tsegaye Mekonnen (2:04:32 in 2014) have all done so in recent years. That's why LRC's Robert Johnson made half marathon stud Birhanu Legese (he's run 59:46 or faster three times) his pre-race pick for the win.
Rojo was half-right. Legese ran super fast (2:04:15, just four seconds off the old Dubai Marathon record), but so did a bunch of other guys, relegating Legese to sixth. Had Legese run that time at Dubai last year, it would also have been the fastest debut marathon in history.
Instead, he wasn't even the fastest debutante in this race. Leul Gebresilase ran 2:04:02 for 2nd and took home $80,000. (Gebresilase had run 59:18 for the half marathon in Valencia).
That puts them #2 and #3 on the all-time debutante list.
Fastest debut marathons in history (record-eligible courses)
2:03:46 Guye Adola, 2017 Berlin
2:04:02 Leul Gebresilase, 2018 Dubai
2:04:15 Birhanu Legese, 2018 Dubai
Quick Take: The men's finish today was very similar to the finish of 2013 Dubai
In Dubai in 2013, for the first time in history, five men broke 2:05 in the same race. The top five were separated by eight seconds.
In Dubai today, for the first time in history, seven men broke 2:05 in the same race. The top five were separated by eight seconds.
We'll leave it to you to determine which was the better finish (we lean toward 2018), but both races were absolutely remarkable. They remain the only two marathons in history to feature five finishers under 2:05.
LRC Archives: Ethiopia's Lelisa Desisa Wins 2013 Standard Chartered Dubai Marathon in 2:04:45 As A Record Five Men Break 2:05
Discuss the race on our famous messageboard