2018 LRC World & US Rankings, M 800: Emmanuel Korir Is Our World #1 As Clayton Murphy Regains Top Spot Among Americans
By LetsRun.com
December 20, 2018
As 2018 draws to a close, it's once again time to publish the fifth annual LetsRun.com world and US rankings. From now until the end of the year, we'll be ranking the top 10 men and women in the world (plus the top five Americans) in the 800, 1500/mile, 3000 steeplechase, 3,000/5,000, and marathon.
Since these rankings are obviously subjective, we'll lay out the criteria we're using for them:
An emphasis on performance in big races. Obviously there was no global outdoor championship in 2018, but meets like the Diamond League finals, World Indoors and, in the case of the US rankings, USATF Championships, will factor heavily in the rankings. Performance in regular-season Diamond League meets is also an important factor.
Season-best times matter, and if an athlete has a bunch of fast performances, they're more likely to be ranked highly.
Runners who specialized in one event will be considered for other events but can be penalized in the rankings for not running enough races.
Indoor races will be considered and can help an athlete's ranking.
Article continues below player
LRC 2017 men's 800 rankings * LRC All 2018 Year-End Rankings * LRC 2018 World Indoors 800 Recap Poland's Adam Kszczot Wins Much Deserved Gold As Drew Windle Snags Silver
Men's 800 World Rankings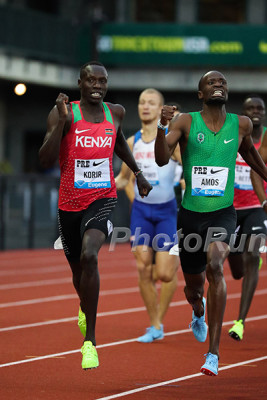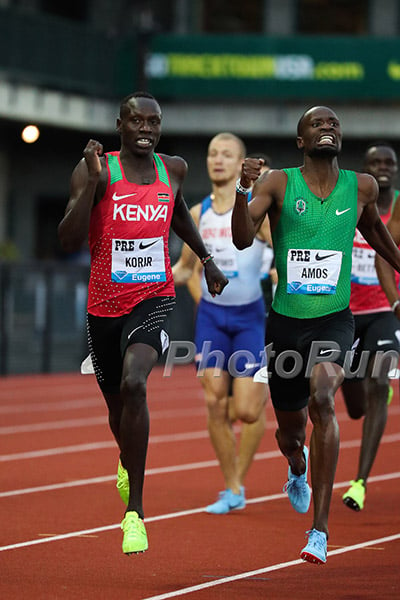 1. Emmanuel Korir • Kenya • 23 years old • 1:42.05 sb (#1) • Diamond League champion • African Champs silver
DL results: 1st Doha, 1st Pre (non-DL), 1st London, 1st Birmingham, 1st Brussels (DL final)
Korir's 2018 season was the best by a men's 800 runner since David Rudisha unforgettable 2012 campaign that saw him break 1:42 three times, culminating in his mind-blowing 1:40.91 world record in the Olympic final. Here's why:
Korir was the Diamond League champion, going four-for-four in DL points races. And that doesn't even include his most impressive win at the Pre Classic, which came against a Diamond League-caliber field in a race in which Korir was clipped from behind, lost a ton of momentum, and still somehow won.
Korir ran a world-leading time of 1:42.05 in London, the fastest time since Rudisha's WR in 2012 on the same track.
He ran 1:44.21 indoors at the Millrose Games — the fourth-fastest indoor time ever, and the fastest in 17 years.
His only defeat all season came at the African Championships, where there was a problem with the start and several athletes (including Korir) reacted late to the gun. Korir still managed to finish second in that race to Nijel Amos.
The only drawback to Korir's magnificent season, other than the gun mishap at the African Champs, was that he did not get to race World Indoors. Korir was en route to the meet and supposed to pick up his visa at the British consulate in New York, but they were unable to process his request due to tech problems. Unable to legally enter the United Kingdom, Korir flew back to Texas and took out his frustration on the rest of the world on the Diamond League circuit.
It's ridiculous that in 2018, the world's best 800-meter runner was not able to race at the World Championships because he could not secure a visa in time — especially considering he had competed at the World Outdoor Championships, also in the UK — just seven months earlier. What a farce.
2. Wycliffe Kinyamal • Kenya • 21 years old • 1:43.12 sb (#4) • Commonwealth champion
DL results: 1st Shanghai, 3rd Pre (non-DL), 1st Rome, 3rd London, 6th Brussels (DL final)
This ended up being a very tough call between Nijel Amos and Kinyamal, who won two Diamond Leagues as well as the Commonwealth Games. While Kinyamal's season best time of 1:43.12 from London was almost a second shy of Amos' 1:42.14, Kinyamal was 2-1 on the year against Amos, including a win at Commonwealths.
Kinyamal, still just 21, announced himself at the end of the 2017 season by running a nearly two-second PR of 1:43.94 in Rovereto and proved he was for real in 2018 with a string of impressive performances (though he struggled at the end, finishing only 6th in the DL final). After shining at the Commonwealth Games, his first championships outside of Africa, he'll be in the medal hunt next year in Doha — should he make the Kenyan team.
3. Nijel Amos • Botswana • 24 years old • 1:42.14 sb (#2) • African champion
DL results: 2nd Pre (non-DL), 1st Monaco (non-DL), 4th London
This was an uneven year for the man who topped our rankings in 2014 and 2017, but his 1:42.14 in Monaco made him almost a full second faster than the #3 man in the world this year (Clayton Murphy's 1:43.12), and he stacks up well head-to-head against the other contenders for the #3 spot: he was 2-2 against Murphy, 2-1 against Ferguson Rotich, and 3-0 against World Indoor champ Adam Kszczot. Amos has struggled in championships since his Commonwealth gold in 2014, and that trend continued this year as he was last in the 800 final at the Commonwealth Games in April, but it came out that Amos was battling a calf injury. Still, between the wins in Monaco and at the African champs and his dazzling 1:42.14 in Monaco — which, at the time, was the fastest 800 since 2012 — he earns the #3 spot on our list.
Considering he was the African champ over Korir (admittedly we're putting an asterisk next to Korir's loss due to the problems at the start) and ran nearly a full second faster than Kinyamal, we almost put Amos at #2 over Kinyamal but gave Kinyamal the spot due to his 2-1 record over him.
4. Adam Kszczot • Poland • 29 years old • 1:44.59 sb (#18) • World Indoor champion • European champion
DL results: 4th Doha, 6th Pre (non-DL), 7th Rome, 4th Stockholm (1k), 6th London, 6th Birmingham
Kszczot is a master of positioning and navigating his way through the challenging rounds of the 800 meters, which helps explain why he is nearly unbeatable indoors — 17 wins in 18 starts since the start of 2016. But in races against guys like Korir and Amos on the DL circuit, where it can take a 1:43-low to be competitive, Kszczot struggles.
Kszczot was tough to place. On the one hand, he was incredible indoors — he won all seven of his races, including a tactical masterpiece in the World Indoor final in Birmingham — and claimed his third straight European outdoor gold in Berlin in August. But that victory in Berlin represented his only win in an outdoor 800 in 10 starts this year, and his performance on the DL circuit was poor, as he never finished higher than fourth in six starts. His season's best of 1:44.59 ranked just 18th in the world.
Yet despite his DL season, he won his two biggest races of the year and is the only guy who can call himself world champion in 2018.
5. Ferguson Rotich • Kenya • 29 years old • 1:43.73 sb (#9) • 5th at African champs
DL results: 5th Doha, 7th Pre (non-DL), 2nd Rome, 1st Stockholm (1k), 1st Paris (non-DL), 4th Birmingham, 3rd Brussels (DL final)
Rotich was solid on the DL circuit, taking third in the final, second in Rome behind Kinyamal, and earning wins in Paris (non-DL) and Stockholm (technically a 1k, but it counted in the DL points standings for the 800). He edges out Clayton Murphy (against whom Rotich was 4-0 this year) and Jonathan Kitilit (4-3) for this spot.
2019 will be a big year for Rotich. To this point in his career, he's been very consistent — he's ranked in our top 10 for five straight years, made every Olympic/World team in that span, and has finished 4th at Worlds in 2015 and 5th at the Olympics in 2016 — but he has no major medals and lacks a signature performance on which to hang his hat (he was DL champ in 2016 but did not win the DL final that year). 800 runners rarely stick around past age 30, and Rotich turns 30 next year. Can he end his medal drought in Doha?
6. Jonathan Kitilit • Kenya • 24 years old • 1:43.46 sb (#7) • Kenyan champion • 6th at Commonwealth Games • 6th at African champs
DL results: 2nd Shanghai, 3rd Rome, 2nd Paris (non-DL), 5th Monaco (non-DL), 2nd Birmingham, DNF (fell) Brussels (DL final)
Kitilit is another guy who is tough to place. He was the Kenyan champion in dominant fashion, running 1:43.46 to win by .80 over Rotich, but neither Korir nor Kinyamal were in that race. And outside of that, he was poor in championships — 6th at both the Commonwealth Games and African champs. Still, he broke 1:44 six times in 2018 — no one else did it more than twice — and was generally strong on the DL circuit, even though he did not pick up any DL victories.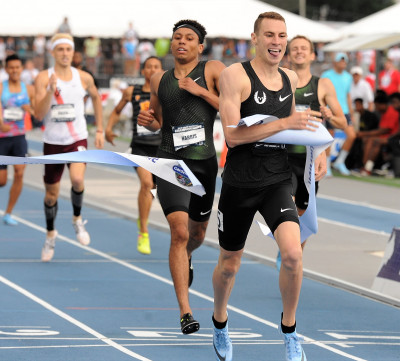 7. Clayton Murphy • USA • 23 years old • 1:43.12 sb (#3) • US Outdoor champion • Did not make final at USA Indoors
DL results: 6th Doha, 6th Shanghai, 2nd London, 10th Birmingham, 5th Brussels (DL final)
Murphy endured slow starts to both his indoor (he failed to break 1:50 in his first two races) and outdoor (he failed to break 1:47 in his first two races) seasons in his first year under Alberto Salazar with the Nike Oregon Project. But when he was at his best in 2018 — reclaiming his US title outdoors, winning the Athletics World Cup in London, running an SB of 1:43.12 on the same track a week later — he was close to his Olympic medal-winning form of 2016. Even his worst result on paper — failing to make the US indoor final — is defensible. He was in the same heat as eventual World Indoor runner-up Drew Windle, but with only one auto spot on the line, both men trusted their kicks and Murphy wound up missing the final after finishing just .05 behind Windle.
There's a lot of talent in the American 800-meter ranks right now (Murphy, Donavan Brazier, Drew Windle, Isaiah Harris, Boris Berian), but it's hard to argue that Murphy should not be at the top of that group — he has the fastest PR (1:42.93), the greatest individual accomplishment (we rank his Olympic bronze superior to Berian's World Indoor title), and the most U.S. titles (two outdoors, one indoors). Only 23, and with the versatility to step up and succeed in the 1500, Murphy remains one of America's most tantalizing talents.
LRC 2018 USA Outdoor recap: Ajee Wilson and Clayton Murphy the Class of US 800m Running Win 2018 USATF Titles
8. Saul Ordóñez • Spain • 24 years old • 1:43.65 sb (#8) • World Indoor bronze • Did not make final at Euros
DL results: 3rd Paris (non-DL), 3rd Monaco (non-DL)
Ordóñez broke out in 2018, going from a guy with a 1:45.28 pb who had never run a global championship to the World Indoor bronze medalist and Spanish record holder thanks to his 1:43.65 in Monaco. He disappointed at the Euros outdoors, failing to make the final after finishing fourth in his semi, but his strong runs in Paris and Monaco, coupled with his World Indoor bronze, are enough for him to crack our top 10.
9. Brandon McBride • Canada • 24 years old • 1:43.20 sb (#5) • NACAC champion
DL results: 5th Shanghai, 4th Rome, 2nd Monaco (non-DL), 9th Birmingham
McBride had a couple of shaky races — he was upset by collegian Marco Arop at the Canadian champs, and ended his season with a disappointing 9th at the Birmingham DL, causing him to miss out on the Diamond League final by one point. But his 1:43.20 in Monaco broke Gary Reed's 10-year-old Canadian record, and his impressive win at the adidas Boost Boston Games — he ran 1:45.18 to Marcin Lewandowski's 1:46.11 and Kitilit's 1:46.35 — showed he could beat some of the world's best, albeit on a smaller stage than a DL meet.
10. Marcin Lewandowski • Poland • 31 years old • 1:44.32 sb (#15)
DL results: 3rd Shanghai, 8th Monaco (non-DL), 5th Birmingham, 2nd Brussels (DL final)
It's debatable whether the 800 or the 1500 (where he earned World Indoor silver) is Lewandowski's better event at this point in his career, but he remains strong enough over the two-lap distance to come in at #10 in our world rankings. A third in Shanghai and a runner-up finish at the DL final in Brussels were his standout results outdoors.
U.S. Rankings
1. Clayton Murphy (see above)
2. Isaiah Harris • Penn State/Nike • 22 years old • 1:44.42 sb (#2 in US) • NCAA Outdoor champion • 2nd at USA Outdoors • 2nd at NCAA Indoors
DL result: 4th Paris (non-DL)
Murphy was a clear choice for the #1 spot, but #2 could go a few different ways depending on what you value. Donavan Brazier ran extremely fast indoors and was the US indoor champ, but he bombed out of World Indoors and didn't race at all outdoors. Isaiah Harris was the NCAA champ and US runner-up outdoors, but he doesn't have the same hardware as Brazier or Windle. Windle has the best individual accomplishment (World Indoor silver) but was 0-2 vs. Brazier and ran poorly outdoors (only broke 1:47 once). We ultimately went with Harris whom in our first draft of this article was our #4 pick, mainly because he had both an indoor and outdoor season.
After a stellar sophomore season at Penn State that culminated with a berth on Team USA and an appearance in the World Championship semifinals, Harris was even better in 2018. After finishing a strong second behind Michael Saruni at NCAA indoors, Harris upset the NCAA record holder to win his first NCAA title outdoors and promptly inked a professional contract with Nike. His three meets as a pro all went well — second at USAs, a PR in his DL debut in Paris, and a win in Barcelona — before he decided to call it a season in July.
LRC 2018 NCAA Outdoor recap: Recap of NCAA Distance Drama: Saruni and Kerr Upset, Barraza Falls in Steeple, McGorty Gets Title
3. Drew Windle • Brooks Beasts • 26 years old • 1:45.52i sb • World Indoor silver • 2nd at USA Indoors
DL results: 10th Shanghai, 11th Monaco (non-DL)
In our first draft of this article, we had Windle ranked #2 for while Brazier was faster indoors, Windle was very fast himself — he ran 1:45.53 and 1:45.52 to move to #3 on the all-time US indoor list — and in a year where World Indoors was the only global championship on the calendar, Windle was the only American to make the final and the only one to medal. Remember also that he had to beat out Murphy just to make it to the final of USA Indoors, an impressive achievement in and of itself. But then we decided to leapfrog Harris over both Windle and Brazier as Harris ran well both indoors and out whereas Windle and Harris basically did nothing outdoors.
Outdoors, Windle pulled out of USAs and then only broke 1:47:00 once. In the end, we asked ourselves, 'Whose season would you rather have – Windle's or Harris? and we said Harris. We'd rather win NCAAs and finish 2nd at USA Outdoors than finish 2nd at USA and World Indoors and do next to nothing outdoors.
4. Donavan Brazier • Nike Oregon Project • 21 years old • 1:45.10i sb • USA Indoor champion
Brazier came very close to breaking Johnny Gray's 26-year-old American indoor record of 1:45.00 on three separate occasions, clocking 1:45.35 at Millrose, 1:45.11 at the New Balance Indoor Grand Prix, and 1:45.10 in a commanding victory at USAs. But on the biggest stage, he faltered, falling subject to one of the numerous lane violation DQs handed out a World Indoors. Brazier wouldn't have qualified anyway as he initially finished fourth in his heat, but to be fair, he knew he was going to be DQ'd after the first 100 meters, which may have messed with his head.
That was his last race of the year as he missed outdoors with an injury.
Brazier, who ran 1:43 at age 19, remains a monster talent, but this is the third year in a row where he's underperformed at his biggest meet of the year: he bombed out of the Olympic Trials in 2016, failed to make the final at the 2017 Worlds when a medal was there for the taking, and got himself DQ'd at 2018 World Indoors. If he can put everything together at the major championships — as he did at USA outdoors last year or USA indoors this year — he is a future global medalist, but more than any event on the track, the 800 at major champs is a brutal event with very little margin for error.
It will be interesting to see how Brazier, whose longest run ever stood at just 7.6 miles as of February will adapt to training under Salazar with the NOP in 2019.
LRC 2018 USA Indoor recap: Donavan Brazier and Ajee Wilson Keep up Their Winning 800m Ways at USATF Indoors
5. Erik Sowinski • Nike • 28 years old • 1:45.07 sb (#3 in US) • 3rd at USA Outdoors • 3rd at USA Indoors
DL results: 8th Pre (non-DL), 8th Paris (non-DL), 11th London, 8th Birmingham
Sowinski is very good at getting the most out of himself, time after time. He has made the last 12 USA finals, indoors and out, finishing in the top five in 11 of them, and rarely has a bad race despite one of the most hectic travel schedules in the sport. In all, Sowinski ran 28 races in 2018, traveling to six US states and 10 countries, from Marietta, Ga., to Székesfehérvár, Hungary. But outdoors, the last three years have shown that while Sowinski is very good, he's a cut below the likes of Murphy, Brazier, and Harris when all are at their best.
---
LRC 2017 men's 800 rankings * LRC All 2018 Year-End Rankings * LRC 2018 World Indoors 800 Recap Poland's Adam Kszczot Wins Much Deserved Gold As Drew Windle Snags Silver