Recap of NCAA Distance Drama: Saruni and Kerr Upset, Barraza Falls in Steeple, McGorty Gets Title
By LetsRun.com
June 8, 2018
EUGENE, Ore. — Just when you think you've got it all figured out, a day like Friday happens.
Entering the 2018 NCAA Outdoor Track & Field Championships, everyone assumed UTEP's Michael Saruni, the collegiate record holder, would cruise to the 800-meter title.
Penn State's Isaiah Harris won that race.
Everyone assumed New Mexico's Josh Kerr, another collegiate record holder, would cruise to the 1500-meter title.
Wisconsin's Oliver Hoare won that race.
And in the final individual event, it seemed certain that one of the three NCAA champions in the field — Syracuse's Justyn Knight, Northern Arizona's Andy Trouard, or Stanford's Grant Fisher — would claim the 5,000-meter title.
Stanford's Sean McGorty won that race.
Add in Ben Flanagan's shock victory in Wednesday night's 10,000 final, and the only distance race that ran to form was the men's steeplechase, which was won by Minnesota's Obsa Ali, who came into this meet as the NCAA leader at 8:36.49. And even then, it's a stretch to call Ali much of a "favorite" — the men's steeple was one of the most wide-open events in the entire meet and he only won after the guy with the best PB in the field — Houston's Brian Barraza (8:32.48 from last year) — went down hard on a barrier on the last lap after leading from the very first step and entering the last lap with a near 2-second lead.
Article continues below player.
Even if you ignore the sprint action at Hayward Field (which was impossible given the performances), days like Friday are what make the NCAA Championships great. The drama in track & field — and all sports — is that no one knows who is going to win before the race begins. It sounds simple, but that's what it boils down to: we watch because we want to see what happens next. And today was worth watching.
Let's take a look at the distance races, one by one.
Men's 1500: Hoare comes on late to upset Kerr
Defending champion Kerr had raised some eyebrows after Wednesday's prelims by suggesting he might try to break his own collegiate record of 3:35.01, set earlier this season, in today's final. But Kerr scrapped that plan after he could not get into the position he wanted over the first 100 meters.
That would become a trend. The first lap wasn't slow (61.62) but for a field of this quality, it was slow enough to create a lot of bumping, which would only intensify during a 65.17 second lap. At the bell, the entire field was bunched within a second of each other with NCAA mile runner-up Vincent Ciattei of Virginia Tech in the lead. The racing began in earnest when Ole Miss' Robert Domanic made a move to the front down the backstretch with Kerr, who had fought his way to the shoulder of the leader earlier in the race only to find himself swallowed up by the pack, following in his slipstream.
You can watch the final 250 here:
UPSET IN THE 1500M!!!

Wisconsin's Oliver Hoare comes up BIG in the 1500m for the title!?

Upsetting the Collegiate Record Holder! pic.twitter.com/8GKrzAYuCL

— NCAA Track & Field (@NCAATrackField) June 9, 2018
Domanic led around the final turn, and Kerr, sitting on his shoulder, looked poised to do what he has done so many times in the past and pull away to another NCAA title. But as Kerr moved into the lead entering the home straight, he had company. Ciattei and Hoare were charging hard to his outside as Domanic, hugging the rail, began to fade. Kerr, unaccustomed to company in the home straight, began to panic, and his fear was well-placed as Hoare and Ciattei were gaining on him. Kerr would (barely) fight off Ciattei for second, but Hoare was too good, closing in a brilliant 53.01 for his last lap to win in 3:44.77 to Kerr and Ciattei's 3:45.02 (Ciatti was 2nd, Kerr third by .003).
Results *Lay by lap splits
Place Athlete Affiliation Time 
1 Oliver HOARE SO Wisconsin 3:44.77 
2 Vincent CIATTEI SR Virginia Tech 3:45.02 (3:45.012) 
3 Josh KERR JR New Mexico 3:45.02 (3:45.015) 
4 Robert DOMANIC SR Ole Miss 3:45.47 
5 Sam WORLEY FR Texas 3:45.67 
6 Sam PRAKEL SR Oregon 3:45.73 
7 Justine KIPROTICH JR Michigan State 3:45.75 (3:45.744) 
8 Cameron GRIFFITH JR Arkansas 3:45.75 (3:45.747) 
9 Amos BARTELSMEYER SR Georgetown 3:46.54 
10 Diego ZARATE JR Virginia Tech 3:46.55 
11 Mike MARSELLA SR Virginia 3:52.39 
12 Mick STANOVSEK SO Oregon 3:56.12
Quick Take: One year ago, Ollie Hoare was 8th in the Big 10 final. Now he's the NCAA champ.
Hoare was only sixth with 300 to go, but he knew if he stuck on Kerr, Kerr would lead him out to the front and that's exactly what happened. Hoare followed behind as Kerr moved toward the front, and even though he had some work to do over the final 100 meters, he knew he had something left in the tank to run down the three-time NCAA champ.
Hoare didn't know how to explain his incredible improvement from 2017 — "it's a hard question to answer," he said — but had confidence from winning Big 10 across a variety of distances this year: 1500, 3000, 5000, and 8000 meters (XC).
This was also a special moment for coach Mick Byrne. In 30 years of NCAA coaching, Byrne had never coached an individual champion until today (though he did coach the Wisconsin men to the NCAA XC title in 2011).
Quick Take: Kerr admitted that he made mistakes but was full of praise for his competitors
Kerr said that he was "outraced" today, and that's the truth. Tactically, he was not in a great position for most of the race, and when he did get to the leader's shoulder on the second lap, he immediately squandered the position. Kerr is a special talent, but he was facing a strong field today and those mistakes cost him in the end.
"I wasn't in the best position, and I went too early, so that's my fault," Kerr said.
With two NCAA indoor titles, plus the collegiate record and an NCAA title outdoors, there isn't much left for Kerr to accomplish in college, so we asked him if he's thought about going pro. Kerr wouldn't commit one way or the other, but reading between the lines, he seems to like his setup in Albuquerque and it would require a significant offer for him to turn pro.
"There's thoughts there, but the opportunities aren't exactly there at the moment," Kerr said.
Vincent Ciattei was hoping to be Virginia Tech's first NCAA individual champ in a running event but he had to settle for 2nd like he did indoors
Robert Domanic wanted to win but is proud of the work he did at Ole Miss
Men's 800: Harris finally wins his NCAA title
Penn State's Isaiah Harris has been in the NCAA for three years, and during that time he's had to face a murderer's row of talent in the 800 meters. Clayton Murphy, Donavan Brazier, Emmanuel Korir, and Michael Saruni, all 1:43 men or better, combined to win the five NCAA titles during Harris' first 2.5 years. But Harris was always there, Mr. Consistent lurking just behind, and today he earned a well-deserved national title by taking down the collegiate record holder.
At the bell tonight (Devin Dixon led at 51.09), Saruni and Harris were in 4th and 5th respectively. As they rounded the turn, Saruni had to cover extra distance as he was on the outside, and as they hit the backstretch both men began to try to improve their position and get the lead. Harris got the lead first on the backstretch, but Saruni was not content to let Harris lead. Saruni kept going very hard until he took the lead before the final turn and kept up the tempo into the turn, opening up a slight gap on Harris. Harris now could ever so slightly let off the gas and prepare himself for the final kick to the finish, which was still 200m away.
Saruni led onto the homestretch and while he still had something left, he was gassed from going so hard from 300m to 150 to go, and that gave Harris the opportunity he needed to repass Saruni and get the win in 1:44.76. Once Saruni realized he was beat, he let up and that let Marco Arop of Mississippi State sneak into the runner-up position in 1:45.25 as Saruni was third in 1:45.31.
You can watch the final 150m here:
Another B1G Win!

Isaiah Harris runs a Personal Best of 1:44.76 to take down the collegiate record holder in the 800m! pic.twitter.com/dzuLbN8pwN

— NCAA Track & Field (@NCAATrackField) June 9, 2018
Afterwards Harris said he learned from racing Saruni indoors. "Indoors he made a big move and I wasn't really ready for it…and I had to go out wide and surge and it kind of burned my legs out and the last 100m I didn't have a finish. So when that same scenario seemed it was about to happen in this race I wanted to be the one to make the move… So I went and he came and he surged a little bit and I think that burned him out a little bit the last 100," Harris said.
Results *Lap by lap splits
Place Athlete Affiliation Time
1 Isaiah HARRIS JR Penn State 1:44.76
2 Marco AROP FR Miss State 1:45.25 PB
3 Michael SARUNI SO UTEP 1:45.31
4 Bryce HOPPEL SO Kansas 1:45.67 PB
5 Devin DIXON SO Texas A&M 1:45.86
6 Jonah KOECH JR UTEP 1:46.23 PB
7 Robert FORD SR USC 1:46.72
8 Robert HEPPENSTALL JR Wake Forest 1:47.14 SB
Quick Take: The pundits may have been shocked by Harris' win but he believed he could take down the collegiate record holder as he knew he was in fantastic shape and is a great racer
"I came in with one goal and that was to win. I know I'm a good racer. I know Saruni is very talented but there was no doubt in my mind that I could win this race. I know a lot of people didn't have their money put on me and they all kind of thought it was a sure bet with Saruni, but I didn't let that get to me. I kept focused," said Harris after the race.
"The past few weeks I had really good workouts. I knew I was fit and ready to race. The weather – you know it wasn't perfect – we all had to race in the same weather. I think I'm kind of used to a colder environment and that may have played into my advantage a little bit," added Harris.
Tonight's victory was the first for Penn State in the men's 800 since 1923.
"We've had a lot of second place finishes (at NCAAs) and we consider ourselves 800 U so I think it was time for us to have a champion. I can't wait to talk to the alumni as they've been so supportive of us over the years," said Harris.
Alan Helffrich won the NCAA 800 title in 1922 and 1923 NCAA titles but in recent memory Penn State coach John Gondak had guided Nittany Lions to runner-up showings in this event in 2013 (Cas Loxsom), 2015 (Brannon Kidder), and 2017 (Harris).
Saruni surprisingly said he wasn't disappointed with his showing and said he felt the cool temperatures prevented him from winning.
"As long as I'm in the money bracket, I'm happy with my performance today. I'm sure if it was more hot – or more sun  – more sun I think it would have been a (better) race.  I'm used to 80s and 90s. It was kind of cold. My muscles were kind of tight," said Saruni.
Arop, the 20-year-old freshman from Canada, was very happy to have finished 2nd and said he went to Mississippi State because of the great success that Brandon McBride, another Canadian athlete, had there (2014 NCAA indoor and outdoor 800 champ).
Texas A&M's Devin Dixon wasn't happy with finishing 5th. In fact, he called the showing "trash" and said nerves got the best of him. Dixon then went out and took some that anger out in the 4×400 as he split a 43.93 to anchor Texas A&M's runner-up team.
MB: Texas A&M's Devin Dixon was mad about his 5th place showing in 800 – Called it "trash" and then went out and split 43.93!!
Men's 5,000: Sean McGorty throws down the gauntlet with 700 to go to end his NCAA career as a champion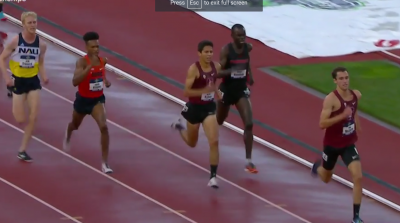 While the pace was not as slow as last year — when Grant Fisher won in 14:35 — it was not fast, and with three laps to go (10:51.56, or 14:17 pace), all but two guys in the 24-man field were in with a chance. Campbell's Amon Kemboi was the first man to make a serious move, stringing out the field with 2.5 laps to go, at which point McGorty moved into second place. With 800 remaining, those two remained in the top two spots with kickers Fisher, Justyn Knight, and Andy Trouard all moving into position.
McGorty took over the lead with just over 700 meters to go, and would make a hard, sustained push to the finish line from there. The other competitors were content for him to lead until 200 remaining, when Kemboi launched an attack, only to be repelled by McGorty. McGorty was still in front coming off the final turn, but the kickers were coming after him; Trouard, Fisher, and Knight, all NCAA champions, were right behind, but McGorty had worked hard for his gap and was not going to give it up. Though Knight and Fisher would ultimately make some headway, McGorty would not yield and held his move all the way through the line, winning in 13:54.81 thanks to a 1:58.97 final 800 (56.53 last lap). Knight edged out Fisher for second by .01 as Trouard took fourth. Counting McGorty's win today, the top four finishers have all claimed NCAA titles — some parity in the post-Cheserek era.
Results *Lap by lap splits
Place Athlete Affiliation Time
1 Sean MCGORTY SR Stanford 13:54.81
2 Justyn KNIGHT SR Syracuse 13:55.03
3 Grant FISHER JR Stanford 13:55.04
4 Andy TROUARD SR Northern Arizona 13:55.46
5 Amon KEMBOI SO Campbell 13:56.37
6 Dillon MAGGARD SR Utah State 13:57.40
7 Edwin KURGAT SO Iowa State 13:58.01
8 Rory LINKLETTER JR BYU 13:58.20
9 Vincent KIPROP JR Alabama 13:59.60
10 Jaret CARPENTER SO Purdue 14:00.01
11 Cole ROCKHOLD JR Colorado St. 14:00.96
12 Clayton YOUNG JR BYU 14:02.17
13 Gilbert KIGEN JR Alabama 14:03.06
14 Philo GERMANO SR Syracuse 14:03.57
15 Conor LUNDY SO Princeton 14:04.08 PB
16 Ben VEATCH FR Indiana 14:06.40
17 Cooper TEARE FR Oregon 14:08.18
18 Lawrence KIPKOECH JR Campbell 14:11.95
19 Zach PERRIN SR Colorado 14:16.56
20 Alfred CHELANGA JR Alabama 14:19.36
21 Chartt MILLER SR Iona 14:20.90
22 Colby GILBERT SR Washington 14:27.22
23 Zach LONG JR Tennessee 14:28.97
24 Connor MCMILLAN JR BYU 14:29.12
Quick Take: Sean McGorty is really good and very much deserved this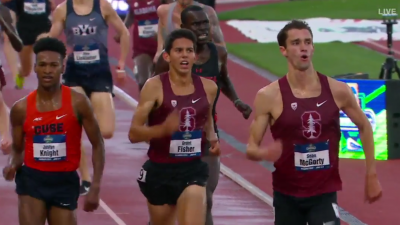 It was heartwarming to see the 5th-year senior McGorty, who basically missed a year with an Achilles injury (McGorty watched last year's NCAA 5000 final on the couch at home and then had surgery a few days later), get the win in his final collegiate race. Even fellow competitor Andy Trouard, in a great bit of sportsmanship, called it "cool."
We imagine most collegians with PBs of 3:53.95 in the mile and 13:24.25 win at least one NCAA title. If it weren't for a guy by the name of Edward Cheserek, McGorty would have three NCAA titles as he finished second to Cheserek twice in 2016 (3000 indoors, 5000 outdoors).
Here's how McGorty's 3:53.95/13:24.25 compares PR wise to the last four American 5000 champions. An American has now won the NCAA men's 5000 two years in a row, after not having won it for seven years from 2010-2016.
2007 – Chris Solinsky – Sr – 3:57.80/13:27.94 (he'd run 13:12 later that summer)
2008 – Bobby Curtis – Sr – 3:57.20//13:33.93 (he'd run 13:25 later that summer)
2009 – Galen Rupp – Sr – 3:57.86/13:18.12
2017-  Grant Fisher – So – 3:59.38/13:30.13
Sean McGorty Post-Race
Quick Take: Knight was focused on Fisher, not McGorty, and it may have cost him
McGorty made his move to the front with 700 to go, but when that happened, Knight chose to hang back as he was focusing on another Cardinal runner.
"Grant was right in front of me, so, obviously he's a person of interest," Knight said. Though Knight wound up closing faster than McGorty (56.18 to 56.53), McGorty had the lead at the bell (Knight was fourth), and that cushion proved crucial.
Knight always tries to learn from his defeats. After last year's NCAA final, when Fisher outkicked him, he learned that he had to monitor Fisher closely. Today, he learned that while you've got to monitor the danger men, you still have to pay attention to the guy at the front.
"Sean's a great friend of mine, I've known him for like five years now, so I'm very happy for him to get a W for his last race."
Quick Take: After disappointing XC and indoor seasons, Grant Fisher had to reassess his priorities
Fisher began his interview by lauding his teammate McGorty, in particular his perseverance in the face of several injuries.
"He's the biggest influence that I've had at Stanford, and I thank him a lot for that," Fisher said.
Fisher was also candid about what has been a difficult year for him.
"I think last year winning the title was one of the worst things that could have happened to me personally," Fisher said. "Just because I think I came into this year thinking I had it figured out. And I certainly didn't."
Fisher finished 5th at NCAA XC — the same place as last year — and 4th in the 3k indoors. Neither were bad performances, but they weren't great either, and great is the standard Fisher set for himself after winning the outdoor 5k title last year.
Fisher said that after the indoor season, he and coach Chris Miltenberg had a serious conversation, the gist of which was Do you want to do this? Fisher, an electrical engineering major at one of the toughest schools in the country, was struggling to balance academics and running. After the conversation, Fisher walked away with a renewed focus, and while academics remain important to him, he is okay with losing a point or two on an assignment for some extra sleep.
"I think I'm in a much better place now," Fisher said.
Andy Trouard Post-Race
Princeton's Conor Lundy
Men's steeple: Barraza goes for it and…
On SportsCenter on ESPN after the meet aired, one event made the show: the men's steeplechase.
And that is because Houston's Brian Barraza, with his sprint-heavy team needing critical points in the team competition, led from the gun and opened up a gap on the field. He maintained that a gap (he led by nearly two seconds at the bell) until the final lap when this happened:
Brian Barraza of Houston really went for it in the men's steeplechase final. Took an unfortunate fall in the bell lap. Dang. pic.twitter.com/ex2ZxuOqxq

— Chris Chavez (@ChrisChavez) June 9, 2018
It was gut-wrenching drama as Barraza slammed to the track, got up slowly, and could not even score a single point for Houston. Barraza had run with the pure guts of Steve Prefontaine, but was not rewarded for his effort.
Nonetheless, Barraza's teammates were inspired by him. 20 minutes later Houston's Cameron Burrell and Elijah Hall went 1-2 in the 100m and Burrell showed the family atmosphere of the Houston team saying on ESPN, "I dedicate this race to my teammate Brian Barraza because he left his heart on that track for us. I just wanted to run it for him."
Coleman's misfortune ended up being a great break for Obsa Ali as the junior from Minnesota won in a pb of 8:32.23 (previous pb of 8:36.49) with Eastern Kentucky senior Jamaine Coleman was second in 8:33.52 and Stanford junior Steven Fahy third in 8:34.52.
Results *Lap by lap splits
Place Athlete Affiliation Time
1 Obsa ALI JR Minnesota 8:32.23 PB
2 Jamaine COLEMAN SR Eastern Kentucky 8:33.52 PB
3 Steven FAHY JR Stanford 8:34.52 PB
4 Aidan TOOKER SO Syracuse 8:35.41 PB
5 Andrew GARDNER SR Washington 8:37.07 PB
6 Matt OWENS FR BYU 8:38.09
7 Clayson SHUMWAY SO BYU 8:40.15
8 Riley OSEN FR Portland 8:41.24 PB
9 Noah AFFOLDER FR Syracuse 8:43.72
10 Brian BARRAZA SR Houston 8:44.42
11 Max BENOIT SR Michigan State 8:47.15
12 John RICE SO Texas 8:52.81
Even though he was 2.68 seconds behind at the bell, Obsa Ali trusted his kick
Ali entered the meet as the NCAA leader and was the fastest qualifier from Wednesday's semis, but even after that, he said his goal was simply to finish in the top 7. He accomplished that and much more by winning his first national title.
It's been a quick road to success for Ali as he ran his first steeple on May 3, 2017. By June 8, 2018, he was an NCAA champ.
Ali has a reputation as a strong kicker, and even though he was well back of Barraza at the bell, he felt he could make up the ground even without a fall. His 64.49 last lap was easily the best in the field and it carried him to the win today.
Brit Jamaine Coleman was pleased to end his outdoor track career for Eastern Kentucky with a runner-up showing
Coleman had never scored at NCAAs before. Last year, he was the first person out of the final as he ended up 13th but that doesn't mean his runner-up showing came out of nowhere. Last year, he ran 8:34 at regionals so his 8:33.52 pb was only a modest pb. He's hoping to run in the European champs later this summer.
Syracuse had a freshman and sophomore in the steeple final tonight and they vow to keep the program rolling at a high level even though the Orange will be hit hard with graduation as they'll be losing the likes of Justyn Knight, Colin Bennie, and Philo Germano.
Fahy talks after finishing third
Houston's sprint stars say they watched Barraza's race live from the warmup and were inspired by him. Like Burrell, Eli Hall is a big fan of Barraza's, "He's a great dude – a great guy – one of the greatest guys ever."
Be a fan and talk about the action on our world famous messageboard / fan forum: