Day 3 in Ethiopia: Hagos Gebrhiwet Wins, Haile G Dances, and … No Porta-Potties?
By Weldon Johnson, LetsRun.com
November 18, 2018
ADDIS ABABA, Ethiopia — The cream rose to the top at the 2018 Total Great Ethiopian Run. Hagos Gebrhiwet, who won this race six years ago and was racing for the first time since his 12:45 5,000 second-place finish at the Brussels Diamond League meet in August, pulled away with ease on the difficult course (downhill most of the first half and uphill the second half at 7,700 feet of altitude) to win by nearly 10 seconds in 28:54. Fellow Ethiopian Bonsa Dida, who owns PRs of 28:13 for 10,000 and 2:10 in the marathon, was second in 29:03.8.
Based on personal bests, Gebrhiwet, who has medalled twice at Worlds in the 5,000 and earned Olympic bronze in 2016, should have won this race and he did. He said he raced here because he "wanted to check my body" and see where he was at after his amazing 12:45 three months ago. Although Gebrhiwet ran incredibly fast there — he moved up to #5 on the world all-time list — his races before that were nothing special: a 13:16 for 5th in a slow 5,000 in London and a 7:36 for 6th in the 3000m in Rabat. He said via interpreter in the video below that he "had a problem with his body" that limited him in the earlier track races. He showed in Brussels and today he is still a force when healthy.
Article continues below player
The women's race was won by Foten Tesfaye (who owns a 15:12 5,000 pb) in 33:43 ahead of runner-up Tsehay Gemechu (33:48.8). It was definitely an upset as Gemechu was coming off a 66:50 course-record $27,000 win at the New Delhi Half Marathon in October.
Both winners picked up 100,000 Ethiopian Birr ($3,600).
Pre-race there was talk about the Kenyan, Eritrea, Ugandan, and Botswanan athletes in the field in addition to the Ethiopians. Yet all the identified athletes in the top 10 in both races were Ethiopian. I say "identified" because, as you can see in the results below, #5 and #7 in the women's race were listed as "Name Not Given."
Here you go! pic.twitter.com/jdfowWgkpN

— Girmachew Kebede (@GirmachewK) November 18, 2018
You may find it hard to believe that 12 hours after a major race in one of the meccas of professional running, the top 10 has not been fully identified. But road racing in Ethiopia is not your typical American affair. Chip timing does not exist here, and believe it or not, in a race of 44,000, neither do porta-potties.
Yes, there were 44,000 people in the race and no porta-potties. When I asked about a bathroom, I was told the ambassador of a country that shall remain anonymous had just gone in the bushes, so should I.
When I first asked about results, I was told someone had results…for the top three. I'd be curious how fast the 100th guy ran in this race since there were so many "elites," and there was some indication they might be able to figure that out this week.
Thankfully some Ethiopian guy saw my Twitter reply to the race about results and had taken a photo of the top 10.
While the Great Ethiopian Run has an elite field of a few hundred and the top three got their recognition, this race really is first and foremost a crazy carnival for the masses.
After I spoke to Gebrhiwet following the conclusion of the elite race, I decided, what the heck, I might as well "run" the race. One of the coordinators of the race seemed surprised I wasn't planning to give it a go as I had a race T-shirt. I didn't fully comprehend that instead of bibs, the masses (all 44,000 of them), wear their race T-shirts. It makes for a cool visual with everyone in the same color. But if you've got a T-shirt, you should run, is the thinking.
So yours truly "ran" the race and finished in about 78 minutes, just 50 minutes off my 10k PR. Although I've run the New York City Marathon before, I was still running relatively toward the front of the race in that one. Never in my life had I run a mass participation race in the middle and I'm glad I picked this one for my first. It was pretty nuts. I'll write a full recap of my mass run once I return to the States, but I've got a few photos below.
The other highlight of my day was going to Haile Gebrselassie's house for a luncheon afterwards. Geb's house is palatial, and the former King of Distance Running really loves to dance. He put on quite the show. I'll have more later, but a few quick videos and photos of that gathering and the race to whet your appetite.
Video and photos of Haile dancing
The Race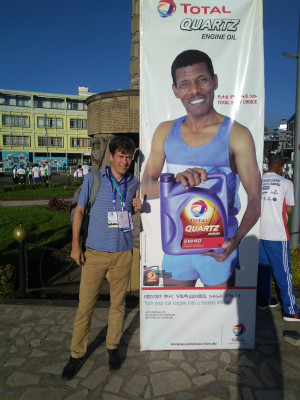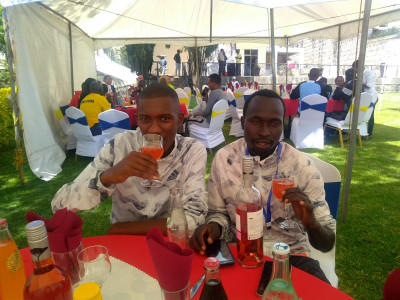 The author is one of the founders of LetsRun.com and somehow once ran 28:06 for 10,000m.
Disclosure: The Great Ethiopian Run, via its sponsor, the Ethiopian Tourism Board, paid for Weldon's plane ticket from DC to Ethiopia and is paying for his accommodations.
More from LRC Goes to Ethiopia: Day 1: LRC LetsRun.com Goes To Ethiopia, Day 1: Arrival In Addis Ababa, Meeting Haile G, & A Run-In With The Ethiopian Military
Day 2: Day #2 in Ethiopia: I went to a kids race in Ethiopia…they give out finishers medals… ask me anything
Day 3: Day 3 In Ethiopia: Hagos Gebrhiwet Wins, Haile G Dances, And … No Porta-Potties? 
Day 4: Kenenisa Bekele's Bar & Training "Camp" With A Guy Who Beat Gebrselassie At Worlds