LetsRun.com Goes to Ethiopia, Day 1: Arrival in Addis Ababa, Meeting Haile G, & a Run-In with the Ethiopian Military
By Weldon Johnson, LetsRun.com
November 16, 2018
ADDIS ABABA, Ethiopia — It may have taken 18 years for LetsRun.com to make it to Ethiopia, but I tried to make up for it with an eventful Day #1 in the cradle of humanity. Ethiopian legend Haile Gebrselassie, who is the chairman of the Great Ethiopian Run, held court with two other titans of African running, fellow Olympic champion Stephen Kiprotich of Uganda, who told the story of how Geb gave him tremendous advice in the sport, and former half marathon world record holder Zersenay Tadese of Eritrea, who was on hand to help lead a sporting reconciliation between Eritrea and Ethiopia.
Then there was yours truly having a little hiccup with the Ethiopian military, 15 of us cramming into a van, driving through a city of 3 million, yet being surrounded by goats at one point. I try to break it all down for you below.
*****
After barely escaping the snowstorm that snarled across the East Coast of the US and my neighborhood in New York on Thursday, I made it here to Addis Ababa on Friday morning at 7:15 am after 13-hour direct flight from DC. There was no time for a nap as the elite press conference for Sunday's Greath Ethiopian Run 10k was at 11 a.m.
Article continues below player.
While LetsRun.com is excited to be attending its first Great Ethiopian Run, our rookie appearance is far from the most significant first-time appearance this weekend. 2018 is the first time Eritrean athletes have ever been invited to the Great Ethiopian Run in its 17 years of existence. Eritrea won its independence from Ethiopia in 1991 after a 30-year war, but the relationship between the two countries has not been a smooth one since and the border between the two countries had been closed for the last 20 years until two months ago.
Ethiopia has a new government and prime minister, Abiy Ahmed, and he has been trying to bury the hatchet with the past, opening the border with Eritrea, inviting political dissidents and opposition leaders back, and even getting the LRC hero of the 2016 Olympics, Feyisa Lilesa, to return from exile in the United States.
(For more on Lilesa and his incredible story, read this: LRC The Bravest Olympian in Rio — Ethiopia's Feyisa Lilesa Risks Death But Speaks Out About Killings of Oromo Protesters in Ethiopia After Earning Olympic Silver in Marathon)
The Great Ethiopian Run followed in this spirit of reconciliation by inviting Eritrean elite athletes for the first time and making Tadese a guest of honor at the press conference along with Kiprotich and host Gebrselassie. (None of the big three at the press conference are running the race this weekend).
Gebrselassie got a round of applause from the crowd when he said, "Do you see anything different between me and Zersenay?" He then added, "You don't see anything difference Ethiopians and Eritreans. We are the same (people)."
Sports agent Hawi Keflezighi (Meb's brother) is originally from Eritrea. Like me, he's in Ethiopia for the first time this weekend and he said people cannot tell if he's Ethiopian or Eritrean until he speaks.
Geb Talks About the Shoes
Gebrselassie spoke about Tadese's prowess in the half marathon. In 2006, Geb ran 58:55 in Phoenix to break Tadese's world best of 59:05 (aided course) and become the first man to run under 59 in the half. Tadese would go on to drop the record all the way to 58:23 in 2010, a mark that would stand until just three weeks ago, when unheralded Abraham Kiptum of Kenya ran 58:18 in Nike's controversial new Vaporfly shoe that has a carbon plate in it.
Gebrselassie acknowledged the shoes when he said, "When you talk about a new generation [of records], you have to talk about the technology. The shoes that [Tadese] had and the shoes that [Kiptum], who ran six seconds faster, [had are different]. When someone runs close to your record, [you think about the different technology]." Geb then turned to Tadese and said, "You had to to be able to run faster [with the new technology], right?"
Kiprotich Talks about Geb Inspiring Him 5 Years Before His Olympic Glory
Geb was sporting his trademark smile all morning as he interacted with Tadese and Kiprotich. When the 2012 Olympic marathon champ Kiprotich spoke, he told the cool story of how it was Gebrelassie who really inspired him in the sport and gave him great advice. As a youngster, Kiprotich was first inspired by hearing the story of John Akii-Bua winning gold for Uganda at the 1972 Olympics in the 400 hurdles. But the first Olympic champ Kiprotich interacted with was Gebrselassie.
Kiprotich's first trip to Ethiopia was not a good one as he came for a junior cross country race in 2006. He said he finished in 72nd place (we can't find the results of this race). He raced the next year and said he finished 32nd in the race, after which, he met Haile. Kiprotich continued to improve and raced Haile later that year in a 15k in Holland that Geb won in 42:36. Kiprotich was a distant 11th in 46:15.
After the road race Haile gave Kiprotich some simple advice. "He [told] me I needed to train, train, train." Geb told him he needed five years of training. "Don't focus on the money. The cash will come," Kiprotich said Geb told him.
Five years later, Kiprotich was the surprise Olympic champion in the marathon and the cash most certainly did come. It didn't hurt that Kiprotich followed it up the next year by winning the World Championship in the marathon.
Drug Testing is Coming to Ethiopia
Despite this being an elite press conference, I don't know the names of the elites running. They weren't the focus. The field will have elites from Uganda, Botswana, Kenya, and Eritrea, but the bulk of the supposedly large elite field (the race director told us that there will be 500 "elites" — 300 men and 200 women) will be Ethiopian. Expect an Ethiopian winner, and I'll know more tomorrow on the field.
The big race related news that I got from the press conference is that for the first time ever, the Great Ethiopian Run will have drug testing. The winners will be drug tested by the Ethiopian anti-doping agency. Drug testing has not been a big focus in Ethiopia, but the race realized that needs to change.
There is an extraordinary summit with heads of state of the African Union this weekend in Addis Ababa and the race could not be held on its normal course as a result. There had been talk of moving the race to a different date so as not to conflict with the summit, but race director Ermias Ayele ruled that out, with one reason being that the race attracts a decent amount of foreign runners (500 was mentioned at the press conference, with Ireland sending the most people, China and the UK next in line).
The new course starts at a higher altitude than the old course and is largely downhill at the start and then uphill at the end. It's a difficult course and the runners had not better cook it too fast on the downhill beginning or they could hurt their backs according to Kiprotich.
****
Hobby Joggers Galore in Africa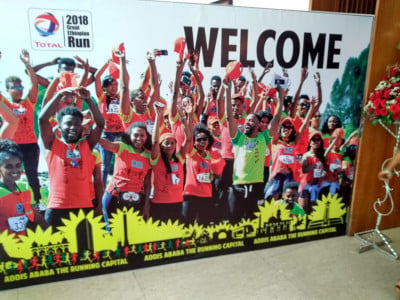 Some of the LetsRun faithful may be shocked to learn that most of the field — even in Africa — is made up of hobby joggers. Ayele called the race a "carnival of runners." There are three different starting waves. The compettive elite field goes off first. Fifty-five minutes later, there is the Green Wave with 7,000 runners, and then the rest of the masses in the red wave with 37,000 runners.
Ayele spent time in England working for and learning from the Great Run series of races and I think that is his model for what his team is doing in Ethiopia. They put on nine races over the course of 10 months in many parts of Ethiopia. The masses having fun in the back with the elites up front seems to be the model from the video they put on at the press conference showing some of the other races.
***
And that brings me to my little run-in with a member of the Ethiopian military. At public places in Ethiopia (and other parts of Africa), it is common to be searched for explosives or weapons when you enter. Security is even tighter this week, no doubt, with the African Union summit. After the press conference, I went on a course tour and there were probably nine or 10 of us in the back of a three-row van (if you think that's a lot of people, there were 15 of us total in the van, counting the driver, to and from dinner. And then somehow in a city of 3 million with wall-to-wall traffic that caused us to barely move, a herd of goats came through the traffic surrounding the car).
The van stopped to drop off Kiprotich, who is staying at the Hilton, while the rest of us were waiting to go on to the Beer Garden Inn (that's its real name). As Kiprotich was getting out of the car to get searched by the security guy (who I think is a member of the Ethiopian military), I thought, in what other sport would an Olympic champion be totally cool riding three abreast in a van for an hour or more? For some reason (I blame jet lag), I thought it would be cool to snap a pic of him getting searched by the security guard. One of the other guards was on top of his game as he somehow saw me take this pic with my phone from the middle of a row in a crowded van. He shook his head and decided to stop the van as we turned around to leave. He wasn't happy and eventually asked to see the photos (it probably didn't help that one of my other photos was of two military people with machine guns outside of some park). So he just asked that they get deleted.
No big deal. Only problem is my phone had some access issue and no matter what I did, they would not delete. Multiple people in the van tried to delete them. They kept showing up. Minutes go by. The military guy is not getting happier. I decided I was holding things up too much and told the van to go on without me, that I'd figure out a way to take a cab back to the hotel (I wasn't too worried as this was all outside the entrance to the Hilton).
Hawi Keflezighi then offered to stay with me and let everyone else go. I've always said Hawi was a class act, but this showed it. Hawi was born in Eritrea, but doesn't speak Amharic (the main language of Ethiopia); he speaks Tigrinya. Next thing I know, the Eritrean manager was also getting out of the van (he speaks Amharic and Tigrinya) to not leave us both stranded. After we got out and kept messing with the phone, eventually another guy in the military came up and went into the file explorer to delete all the photos instead of using the photo app. It worked perfectly, the photos were deleted, and then even some handshakes and smiles were exchanged with the military guys.
To top it off, we didn't even have to take a cab because the van was still there waiting for us. The runners in it decided to wait. Some cool running karma in Africa was great to have on a long day.
Disclosure: The Great Ethiopian Run, via its sponsor, the Ethiopian Tourism Board, paid for my plane ticket from DC to Ethiopia and is paying for my accommodations.
More from LRC Goes to Ethiopia: Day 1: LRC LetsRun.com Goes To Ethiopia, Day 1: Arrival In Addis Ababa, Meeting Haile G, & A Run-In With The Ethiopian Military
Day 2: Day #2 in Ethiopia: I went to a kids race in Ethiopia…they give out finishers medals… ask me anything
Day 3: Day 3 In Ethiopia: Hagos Gebrhiwet Wins, Haile G Dances, And … No Porta-Potties? 
Day 4: Kenenisa Bekele's Bar & Training "Camp" With A Guy Who Beat Gebrselassie At Worlds