Week That Was: Shelby Houlihan Loves Her Cat, Ce'Aira Brown Keeps PRing, Doping OK in Pro Sports, But Not In the Olympics?
The Week That Was in Running – July 23 – July 29, 2018
By LetsRun.com
July 31, 2018
Last week was a pretty slow week as much of the world took a break to get ready for the upcoming European, NACAC, and African championships, but a few things caught our eye.
Past editions of The Week That Was can be found here.
Questions, comments, or a tip? Please call us at 844-LETSRUN (538-7786), email us or post on our forum.
****
Oxymoron of the Week
Check out the opening paragraph from a Eugene Register-Guard article last week.
Article continues below player.
How one uses standing-room-only sections to meet a 30,000-seat requirement is beyond us.
And no, the IAAF requirement isn't that the stadium is large enough to accommodate 30,000 spectators, including those who are standing. The IAAF website very clearly states that if a stadium is going to host Worlds, it must have 30,000 seats. Of course, that's not the only rule that Eugene 2021 is violating. We were shocked when we went to the IAAF website last week and saw the first requirement for hosting a Worlds.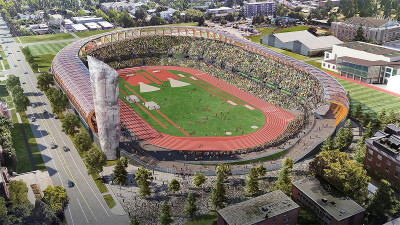 That being said, we actually think the development is a good one in the long term for Eugene. One of the biggest fears of the local track fans in Eugene who were opposed to the new stadium for the 2021 Worlds was that it would end up being way too large for your average Oregon home meet or even the NCAA championships. It appears that the powerful people behind the stadium agree and are going to make the stadium much smaller than the 30,000 requirement for Worlds.
But what irks us about the whole thing is that it reminds us of one of the most annoying things about being a track and field fan. It seems that time after time, track and field bureaucrats are absolute sticklers that the letter of the law be followed exactly as it is written. The rules are very, very important — almost sacrosanct — except when the rules apply to those in charge and then it seems that those in charge just do whatever the hell they want.
When Ezekiel Kemboi and  Colleen Quigley grazed a line on a curve in the middle of a nearly two-mile race, they are immediately DQ'd from the Olympics and World Championships as that's what the rules say. When Eugene, with a population of 166,008 (369,000 metro area) wants to host a Worlds with less than a 30,000 seat stadium — hey that's fine. The rules don't apply.
More: Hayward Field to add standing-room-only sections, 'fill-in' seating for 2021 World Track Championship
*****
Quotes of the week (that weren't quote of the day)
#1 Shelby Houlihan gives props to her cat for helping her breakthrough in 2018
"Jerry has been letting me bring my cat, Miko (to altitude camp). That has been crucial for me. I've handled altitude this year so much better than last year. It's a little bit because I've gotten used to altitude, but having my cat there has been awesome. It made it feel more like home. The biggest thing for me is that I miss my boyfriend and my cat. My boyfriend could come to visit, but Miko couldn't. He's registered as my emotional support animal. I know that sound really funny, but he actually supports me emotionally when I have to be gone so long. It's a valid thing. But it's kind of funny."
-Shelby Houlihan talking to Runner's World after her 14:34.45 5000 American record.
#2 Shelby H isn't concerned if you think she's a doper or not
"It's not my job to convince people that I'm clean. It's my job to run fast and enjoy what I'm doing. People are going to have opinions about it. I hope they can believe that this is me and I've always believed I could get to this point. I love what I do. I've worked really hard. It's not something that's happened in a year. I started running when I was 5 years old. It's taken me 20 years to get to this point."
–Shelby Houlihan, who has improved this year from 4:03 to 3:57 in the 1500 and from 15:00 to 14:34 in the 5000, talking to Runner's World. 
****
Stat of the week
2:11 – time that Ce'Aira Brown ran for the 800 in high school. The 800 was an event she only ran a handful of times as she was focused on the 400.
2:07.35 – time that Brown ran in her final collegiate race (1st round of NCAAs) for Hampton in 2016.
2:02.82 – PB for Brown in college.
2:00.84 – PB for Brown in her first year as a pro for the Hoka NJ*NY team in 2017.
1:58.01 – PB for Brown now thanks to a dominating win she picked up last week at the Karlstad Grand Prix in Karlstad, Sweden (2nd place was Laura Roesler in 2:00.63).
Until May, the 24-year-old Brown had never broken 2:00. Now she's broken it in five straight competitions, including 1:58s in her last two races — a 1:58.57 win in London on July 22 and the 1:58.01 win in Karlstad on July 25.
MB: USAs 3rd Placer Ce'Aira Brown Sets 1:58.01 PB At Lowkey Meet In Sweden
****
Yet another 800 national record
In recent weeks, a slew of national 800 records have fallen, including the Australian, Canadian, Indian, Mexican, and Spanish for the men and the Ethiopian, Jamaican, and Luxembourg for the women.
You can add Sweden to the men's side of the ledger as last week 21-year-old Andreas Kramer broke his own Swedish record of 1:45.13 with a 1:45.03 in Karlstad. Last year, Kramer ran his 1:45.13 NR in the same meet, breaking Rizak Dirshe's 1:45.45 national record which had stood since 2003.
Also last year, at age 20, Kramer became the first Swedish man to make the semifinals of a global championship in the 800 in 53 years — dating all the way back to the 1964 Olympics in Tokyo. If Kramer ends up making a global 800 final, he'll be the first Swedish man to do so since Lars-Eric Wolfbrandt and Hans Ring in 1952.
****
Slow running wins national titles in Ireland
The Irish Life Health National Senior Championships were held last weekend in Santry and the distance results were tactical across the board. Check out how slow the winning times were for the mid-d and distance events.
Men's Winning Times / Athlete / Athlete's PB
800: 1:50.82 (Mark English – 1:44.84)
1500: 3:47.45 (John Travers – 3:37.27)
Steeple: 9:02.09 (Adam Kirk-Smith – 8:37.41)
5000: 14:30.78 (Ryan Forsyth – 13:41.19)
10,000: 29:25.31 (Stephen Scullion – 28:36.05)
Women's Winning Times / Athlete / Athlete's PB
800: 2:07.93 (Ciara Mageean – 2:00.79)
1500: 4:22.47 (Ciara Mageean  – 4:01.46)
Steeple: 9:46.19 – (Michelle Finn – 9:43.19)
5000: 15:59.34 (Emma Mitchell – 15:50.55)
10,000: Not held
****
Is the US Congress really going to try and outlaw doping overseas, but not in the US?
Last week, we attended a congressional hearing in Washington, D.C., featuring testimony from Travis Tygart and Yulia Stepanova as the US Congress is considering criminalizing doping for major international sports competitions.
Our main thought is if Congress is going to start criminalizing doping we wish Congress they would start by criminalizing it for US pro and Olympic sports. It's sanctimonious for the US to be policing international sports when their own domestic leagues are dirty or perhaps very dirty.
The proposed Rodchenkov Anti-Doping Act of 2018 (H.R. 6067:) will criminalize doping at "international sports" competitions which are competitions where "four or more United States athletes are contestants or two or more United States corporations act as corporate sponsors and athletes representing at least three countries other than the United States are contestants."
Major League Baseball and the NBA have lots of foreign players, but players in the NBA and MLB aren't representing their countries; they're representing the pro teams they play for, so the proposed law wouldn't do anything do dopers in US pro sports (h/t Avocado's number). LeBron James or Timofey Mozgov would be free to dope all they wanted for NBA games without criminal penalties (we're not implying either one dopes, but just picked the most prominent US and Russian NBA players). However, if they decided to play for their international teams at the Olympics, then all of a sudden the doping would be illegal?
So US Olympic athletes struggling to get by who are caught doping would go to jail and get four-year bans from their sport, but multi-millionaire NFL players, whose teams receive billions in public subsidies, would get a quarter of a season suspension and no punishment from the government?
Sounds dumb to us. The legality of doping in professional or elite sport should not depend on the type of competition one is entering.
We'd be big supporters of the bill if it also applied to US domestic leagues.
More: Yulia Stepanova And Travis Tygart Testify Before Congressional Hearing That Would Make International Sports Doping A Crime While Congress is at it, we also think they should make MLB, NBA, and NFL doping a crime as well.
*Opinion: Why Rodchenkov Is The Wrong Name For Anti-Doping Bill "Given Dr. Grigory Rodchenkov's admitted activities supporting drug use by Russian athletes, the name of this bill is akin to naming it the 'Lance Armstrong Anti-Doping Act.'" LetsRun thinks the bill should be named for Yuliya Stepanova who went undercover and risked her life to expose Russia.
*Statement From Rodchenkov Was Read At Hearing As He Didn't Attend Out Of Fear For His Safety
*MB: Watch Travis Tygart and Yuliya Stepanova talk doping at US Congressional hearing live today (July 25) at 2 pm ET
*IOC Criticizes Proposed Rodchenkov Act For Placing All Athletes Under US Law The IOC noted their concerns with the act while taking a dig at the lack of testing in professional US sports.
****
Recommended Reads
To see our favorite reads from other weeks, go here.
****
Quotes Of The Day And Last Week's Home Pages
To see the actual quotes of the day from last week or last week's home page or any home page, go to our archive page.
Got a tip, question or comment? Please call us at 844-LETSRUN (538-7786), email us or post in our forum.