Week That Was: Frerichs And Houlihan Lead National Records Galore, Murphy Is Back, Berian Is On His Way, Cain Isn't
The Week That Was in Running – July 16 – July 22, 2018
By LetsRun.com
July 25, 2018
What a week. A stunning 8:44 world record in the women's steeplechase, a 4:14.71 mile for a woman, a 48-second 400 for a woman, a 1:42.05 and 1:42.14 in the men's 800, and two American records for the Bowerman Track Club — a 9:00.85 for Courtney Frerichs in the women's steeple and a 14:34.45 for Shelby Houlihan in the women's 5000.
Article continues below player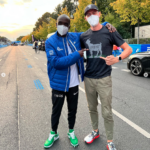 Kipchoge loves the 1:59:40 Shirt Get Yours Today
Shirts are $10 off if he breaks the world record and you order today.
Past editions of The Week That Was can be found here.
Questions, comments, or a tip? Please call us at 844-LETSRUN (538-7786), email us or post on our forum.
If you missed our coverage of the Monaco and London Diamond League meets or Houlihan's American record in Heusden, catch up now:
LRC Shelby Houlihan 14:34.45 American 5,000m Record In Heusden!
LRC 2018 Herculis – Monaco Diamond League
LRC 2018 Müller Anniversary Games – IAAF London Diamond League Meeting
****
Mary Cain's comeback doesn't start well, but the comebacks of Nijel Amos, Boris Berian, and Clayton Murphy pick up steam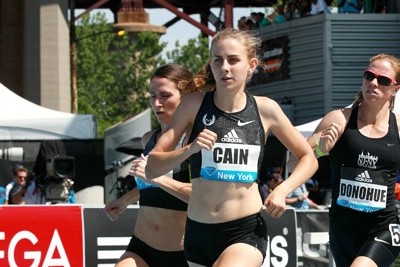 There certainly was a buzz last Monday when Mary Cain, now 22 years old, returned to the track for the first time in more than two years for a 3000 at the Cork City Sports meet in Ireland. We enjoyed listening to her talk on a recent podcast as she seems to be in a good place personally and thus we were very excited to see her race as we are big proponents of the mantra "talent doesn't go away."
The excitement soon turned to depression as Cain quickly dropped out, so she still hasn't finished a track race in more than two years. Yes, the race was being run fast — the winning time of 8:45 was 13 seconds faster than Cain's PR — but it was hard to watch the race and not conclude that the odds of Mary Cain being a player at the world level any time soon are slim — certainly not this year.
But as Tiger Woods showed the world last weekend at the British Open, you never know what the future will hold. We'd love to at least get something like that from Cain — a brief moment of brilliance where it looks like the Cain of old is going to come back, even if we never do get to quite see it.
###
While Cain's comeback didn't start off great, she should remember that it can take some time.
If she's looking for a little inspiration, there was plenty of it to find last week in the 800 ranks on the men's side of the ledger.
Case in point: Boris Berian. The 2016 World Indoor champ and 2016 Olympian missed all of 2017 with injury and then came back this year with a 1:50.17 in his lone indoor race on February 10 and then another 1:50 (1:50.70) in his outdoor opener on May 17. That's not good at all. Last week in Dublin, two months and two days later after his outdoor opener, he ran 1:45.74. Yes, Berian's PR is 1:43.34, but the key to a comeback is to get healthy and get back to where you are in the hunt for a PR.
Then it can come quickly — as Clayton Murphy has shown this year. After getting hurt trying the 800/1500 double at USAs in June 2017, he didn't return to racing until August when he ran a 1:48 and decided to shut down his season. Then this year, he opened up at 1:51 and 1:50 indoors. A 1:42 guy not breaking 1:48 in three straight races — time to panic? No. Last week Murphy ran 1:43.12 — the 2nd fastest time of his career (his pb is 1:42.93) to grab second in London.
And don't forget Nijel Amos. He ran 1:41.73 for silver at the 2012 Olympics at age 18 but had hadn't broken 1:43 since July 17, 2015. Well last week, three years and three days after his last 1:42, he ran 1:42.14 for the win in Monaco. For the record, Berian (25), Murphy (23), and Amos (24) are all older than Cain.
More: LRC Mary Cain Winds Up A DNF In Her First Track Race In 2 Years
*Boris Berian is back! He runs 1:45.73 in Ireland – Fastest time since August 13, 2016
*What A Meet: Full Monaco Recap: Steeple World Record, Sub-8 For El Bakkali, Miller-Uibo Sub-49 400, Amos Is Back
*The 800 and Emmanuel Korir 1:42.05!!! and Clayton Murphy 1:43.12!!! are BAAACK
****
National records were set all over the place last week
In last week's edition of the Week That Was, we talked about how the Indian and Mexican 800-meter records fell. Well this week many more national records in the mid-distances were set. Three 800 national records fell in a single race in Monaco.
So we compiled all of the national records in the mid-d and distance events for you below:
Men
Canadian 800: Brandon McBride ran 1:43.20 in Monaco. Old record – 1:43.68 – Gary Reed – July 29, 2008.
Spanish 800: Saúl Ordóñez ran 1:43.65 in Monaco. Old record – 1:43.74- Kevin Lopez – July 20, 2012.
Australian 800: Joseph Deng ran 1:44.21 in Monaco. Old record – 1:44.40 – Ralph Doubell – October 15, 1968, and Alex Rowe – July 18, 2014.
Norwegian 1500: Filip Ingebrigtsen ran 3:30.01 in Monaco. Old record – 3:31.46 – Henrik Ingebrigtsen – July 18, 2014.
Czech 1500: Jakub Holuša ran 3:32.49 in Monaco. Old record was Holuša's 3:32.85 in Paris on June 30. Before that, the record was Holuša's 3:33.36 from July 15, 2016.
Women
Jamaican 800: Natoya Goule ran 1:56.15 in Monaco. Old record was Goule's 1:57.69 from Paris on June 30. Before that, the record was Kenia Sinclair's 1:57.88 from July 21, 2006.
Ethiopian 800: Habitam Alemu ran 1:56.71 in Monaco. Old record was Alemu's 1:57.05 from August 24, 2017. Before that, the record was Fantu Magiso's 1:57.48 from June 9, 2012.
Luxembourg 800: Charline Mathias ran 2:00.35 in Heusden. Old record was Mathias' 2:01.30 from July 21, 2015.
Australian mile: Linden Hall ran 4:21.40 in London. Old record – 4:22.66 – Lisa Corrigan – March 2, 2007.
Kenyan mile: Hellen Obiri ran 4:16.16 in London. Old record was Obiri's 4:16.56 from July 7, 2017. Before that, it was Faith Kipygegon's 4:16.71 from September 11, 2015.
Netherlands mile: Sifan Hassan ran 4:14.71 in London. Old record was Hassan's 4:18.20 from September 11, 2015. Before that, it was Elly van Hulst's 4:22.40 from September 5, 1986.
Czech mile: Simona Vrzalová ran 4:21.54 in London. Old record – 4:22.82 – Ivana Walterová – September 5, 1986.
Kenyan 3000 steeple: Beatrice Chepkoech ran an 8:44.32 world record in Monaco. Old record – 8:58.78 – Celliphine Chespol – May 26, 2017. Old world record was Ruth Jebet's 8:52.78 from August 27, 2016.
US 3000 steeple: Courtney Frerichs ran 9:00.85 in Monaco. Old record – 9:02.58 – Emma Coburn – August 11, 2017.
Ugandan 3000 steeple: Peruth Chemutai ran 9:07.94 in Monaco. Old record – 9:15.04 – Dorcus Inzikuru – June 14, 2005.
US 5000:  Shelby Houlihan ran 14:34.45 in Heusden. Old record – 14:38.92 – Shannon Rowbury – September 9, 2016.
****
Stat of the Week I
3:48.12 – mile equivalent for the 1500 time ran by 17-year-old Jakob Ingebrigtsen (3:31.18) of Norway using the 1.0802 conversion formula. Remember, when Alan Webb ran his 3:53.13 in high school, he was already 18. At 17 years, 304 days old when he ran his 3:31, Jakob was 196 days younger than Webb was when he ran his 3:53 (18 years, 134 days). Want to feel old? Ingebrigtsen was only eight months old when Webb ran his 3:53.
And if you're wondering why our math doesn't add up, since (365-304)+134=195, it's because Webb had lived through five leap years at the time of his 3:53 and Ingebrigtsen has only lived through four.
****
Stat of the Week II
3:55.80 – equivalent 1500 time for the 4:14.71 mile that Sifan Hassan ran in London. Hassan's 1500 pb, which dates to 2015, is 3:56.05.
****
Can Matthew Centrowitz get the American 1500 record? How about doing it on US soil in September?
It's great to see Matthew Centrowitz rounding into form. Last week in Monaco, he ran the third fastest 1500 of his life, 3:31.77 (his pb is 3:30.40), and by the end of the year, we think he might be able to take a crack at Bernard Lagat's 3:29.30 American record, which has stood since 2005. But let's pump the brakes a little bit when we talk about his "Diamond League victory" in London. After the win, messageboarder "Scubacane" started a thread with the following title: No one talking about Centrowitz?
While we do believe people were talking about Centro, the reason why most people weren't going ga-ga over his win is people in the know realize that his win in London wasn't really a "Diamond League victory." The 1500 in London wasn't a DL event and the quality of the field reflected that fact.
Centrowitz, with a 3:31.77 a seasonal best, should have won in London and he did. The next-best guy in the field that finished the race (3:32.11 man Chris O'Hare dropped out) had run more than 2.5 seconds slower this year.
The 3 fastest seasonal bests heading into the London 1500
Matthew Centrowitz – 3:31.77
Justus Soget – 3:34.33
Ryan Gregson – 3:34.38
The only question as to whether Centro would win was whether or not he'd still be tired from racing in Monaco two days prior.
But Centro clearly is headed in the right direction. If he doesn't get the AR in the DL final, then he should just keep running. With the resources of the Nike Oregon Project behind him, there is no reason why he couldn't make an American record attempt in mid-September somewhere on US soil. Hell, we think Nike should pay someone like Timothy Cheruiyot or Elijah Manangoi to rabbit it.
Because as of right now, it doesn't look like Centro will even get a chance to get the American record in the DL final in Zurich on August 30. Remember, only the top 12 in the standings qualify, and right now 12th place has 7 points, with Centrowitz down in 20th with just two points from two DL events. That means Centro will have to finish in the top four or better in the next DL event in Birmingham on August 18 to even have a chance at an automatic qualifying spot in the final. It is possible Centrowitz could get in if someone in the top 12 scratches, but since this is a non-championship year and the winner of the DL final receives $50,000, we imagine everyone who is healthy will be running in the final.
More: LRC Emmanuel Korir Blasts 1:42.05!, Murphy 1:43, Centrowitz, Ce'Aira Brown Get Wins, Akeem Bloomfield Joins Sub-44/Sub-20 Club
*No one talking about Centrowitz?
****
Is Gabrielle Thomas America's next 400 star?
While broadcasting this year's Ivy League outdoor championships for ESPN+, LetsRun.com co-founder Robert Johnson witnessed Harvard's Gabrielle Thomas, the NCAA indoor 200 record holder, split 49.44 in the 4×400. Ever since then, we've been wondering if she'd move up to the 400 or at least try to become a 200/400 runner instead of a 100/200 runner. Even if a running start in a relay is worth three-quarters of a second, Thomas would be a 50.20 400 runner right now without training for it. Only nine women in the world have run that fast this year.
That being said, only five women have run as fast this year as Thomas' 22.19 for 200, which she ran last week in London to grab second behind Jenna Prandini (Thomas' 11.19 100m sb ties for 55th in the world). But the way she ran it makes us think the 400 could be her future.
Take a look at where Thomas was roughly 60 meters from the finish.
Even entering the final 25 meters, she was still just sixth.
But at the finish, she ended up 2nd, just .03 out of first. Had the race been ten meters longer, she would have been the winner.
Watch the race video here:
When we asked Thomas at NCAAs if she thinks she might be a 200/400 runner next year instead of a 100/200 runner, this is what she said, "Yes that thought has crossed my mind. You don't really want to admit that to yourself but that may be the case next year so we will see. I was hoping to prove my coach wrong in this meet but it (the 100) didn't go well (Thomas went out in the heats) so you might see me in the 400 next year."
More:
Thomas splits 49.44 in May with LRC's Robert Johnson on the broadcast
What an incredible final leg of the 4x400m relay for Gabby Thomas and Harvard wins it! #GoCrimson #IvyHeps pic.twitter.com/PNT6uz6Ld1

— Harvard T&F | XC (@HarvardTrack_XC) May 6, 2018
Thomas talks after day 1 of 2018 NCAA outdoors
MB: Sydney Who? Gabrielle Thomas (Harvard) runs epic 49.44 4×400 split at Heps (with video)
****
Now that Vin Lananna has resigned from TrackTown USA, can he please be reinstated as USATF president?
Last week Vin Lananna resigned as president of TrackTown USA and Oregon21, the local organizing committee for the 2021 Worlds. Also an associate athletic director at Oregon, he says he felt that he had spread himself too thin. We agree. There is no need for him to work on executing the details of the 2021 Worlds. He should be the idea man, not the details man.
Lananna's work with TrackTown USA also made a lot of USATF board work problematic as he was often having to recuse himself for conflicts of interest. With all of that gone, we hope USATF reinstates him as president — which carries with it a seat on the USATF board of directors — sooner rather than later. In case you forgot, Lananna has been on "temporary administrative leave" since February, when it came out the Department of Justice was looking into how the 2021 Worlds were awarded to Eugene. Five months isn't temporary.
And if there were some bribes paid, and Lananna denies he's the target of a criminal probe, guess what? Lananna wouldn't be the only one on the hot seat as USATF was also involved for the bid for the 2021 Worlds.
The idea that USATF is this ethically pure organization and their hypocritical treatment of Lananna — whose position as president is unpaid — is comical. Remember when the Washington Post reported two years ago that USATF gave "hundreds of thousands of dollars' worth of business to an Indianapolis marketing firm that once advertised itself as 'a Max Siegel company'" and spent thousands more on first-class air travel, private jet travel, and luxury hotel stays?
More: 
****
Recommended Reads
To see our favorite reads from other weeks, go here.
****
Quotes Of The Day And Last Week's Home Pages
To see the actual quotes of the day from last week or last week's home page or any home page, go to our archive page.
Got a tip, question or comment? Please call us at 844-LETSRUN (538-7786), email us or post in our forum.